Where to go for a wellness holiday? Portugal of course!
Yes, you can go to the spa in Portugal!
Find out all about the spa culture in Portugal and which are the best spa hotels and day spas we think you will love.
The best spas in Portugal
As one of Europe's leading destinations for tourism, Portugal has a lot to offer.
So, besides the beautiful beaches, clean, blue water and various national parks, the country is also renowned for its spa culture.
To help you make the right choice for your relaxation holiday in this southern European country, here are some of the best spa hotels (both international and local brands) and day spas you can visit in all parts of mainland Portugal, as well as on the islands of Madeira and the Azores.
Best spa hotels in northern Portugal
Take a city break in Porto!
Sheraton Porto Hotel & Spa
Starting in the north of Portugal in its second biggest city, Porto, the Sheraton Porto Hotel & Spa is a great place for those who want to combine business and leisure activities.
Located close to both the commercial and historic centres of the city, the hotel spa focusses its concept on seven pillars of well-being:
Beauty;
Harmony;
Water;
Vitality;
Balance;
Nature; and
Nutrition.
Address: Rua Tenente Valadim 146, Porto.
Carmo's Boutique Hotel, Ponte de Lima
Alternatively, for those who don't come to Portugal for business, Carmo's Boutique Hotel may be just the perfect place for a relaxing and nurturing vacation that will help you refuel your batteries and gain new energy.
Located in Portugal's oldest town of Ponte de Lima, the hotel is considered one of the best small luxury hotels of the world. In this respect, Carmo's Boutique Hotel focuses exclusively on health tourism and offers baths, massages and spiritual rituals to their guests, making it the perfect place to relax and find some time to distance yourself from the busy world that we all live in.
Address: Rua Santiago da Gemieira 10, Gemieira Ponte de Lima.
Best day spas in northern Portugal
If you're on a smaller budget or simply don't want to stay in a spa hotel for the entire time of your holidays, then don't worry, northern Portugal also has a great range of amazing spa facilities to offer, which you can try out during a day visit.
Taipas Termal in Guimarães
You could visit the Taipas Termal in Guimarães (website is in Portuguese), which besides extensive spa and swimming facilities, also offers thermal therapies that can complement the medical treatment of various chronic illnesses in a natural way. And if you're looking for something to take home with you, you could buy some of their natural cosmetics that are based on 100% pure natural oils.
Address: Largo das Termas, Caldas das Taipas, Guimarães.
Termas das Caldas da Saúde in Areias
Termas das Caldas da Saúde (website is in Portuguese) in Areias are another great alternative for a spa day during your stay in the north of Portugal.
Constructed in 1891, the thermal springs have, for decades, been a place for relaxation and stress relief. In addition to the thermal springs, whose facilities were completely reconstructed in 1994, the Termas das Caldas da Saúde also offers a health club with Yoga and Pilates classes, as well as specialist thermal treatments for muscle and skin problems.
Address: Rua das Termas 754, Areias.
Did you know you can keep informed about everything to do with visiting Portugal just by subscribing to our newsletter ? It's very informative and absolutely free!
Best spas in Lisbon
If Portugal's capital of Lisbon is the destination of your trip, then you will equally be able to choose from a vast range of options for your spa experience.
Best spa hotels in Lisbon
InterContinental Hotel Lisbon
For those who want to combine spa relaxation with the cosmopolitan lifestyle of a vibrating European capital, the InterContinental Hotel Lisbon might be the right choice. Located right beside Lisbon's tree-lined main shopping street, Avenida da Liberdade, the hotel is a great place for business and luxury travellers alike and offers, besides great views over the city and a quality restaurant, an extensive gym and spa area.
Address: Rua Castilho 149, Lisbon.
Pestana Palace
Looking for a more local option or ever wanted to stay in a hotel that was once the luxurious residence of a 19th century nobleman? Well, you can tick that off your list because the Pestana Palace Hotel in Lisbon's Alcântara district offers you exactly this.
Located next to the Tagus river and in proximity to the famous Belém tower, you could relax on the hotel's 33 m2 patio with a great view over the river or you could chill out in the hotel's vast swimming pool and tropical garden. Besides that, the Pestana Palace Hotel features the Magic Spa – an extensive spa area that was recently awarded the World Luxury spa award.
Address: Rua Jau 54, Lisbon.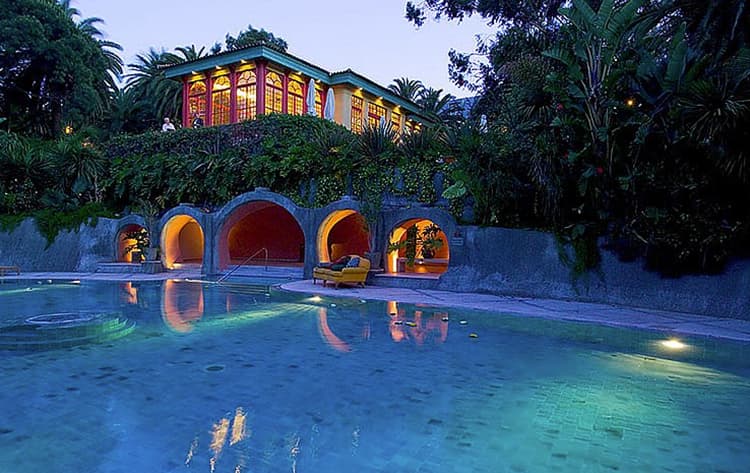 Best day spas in Lisbon
Combine your city trip to Lisbon with a spa experience.
If you are not looking to stay in a spa hotel but would rather just enjoy a relaxing spa break during your time in the Portuguese capital, don't worry, Lisbon has you covered.
Terra Heal Massage Studio
You could visit the Terra Heal Massage Studio located in the old town close to Rossio square. This massage centre focuses on oriental massages, including Thai Yoga, Shiatsu, Chinese Tui Na, Japanese Yumeiho therapy and many more. The centre has options for all budgets, offering massages with durations of 20 to 120 mins and prices of just €15 to €90.
Address: Rua da Madalena 219, Lisbon.
Float in Spa
Another great spa experience is the Float in Spa in Lisbon. They have three locations in Lisbon in Picoas, Rato and Belém and besides several massages and spa treatments, the Float in Spa focusses on an innovative method of relaxation: The Flotation Therapy.
This special therapy will help you to find a place of absolute serenity with relaxing sounds in a quiet environment, as this therapy reminds us of our time as an embryo floating in the uterus of our mother. An experience not to be missed.
Addresses:
Rua Pedro Nunes 14A, Picoas;
Rua São Filipe Neri 37A, Rato; and
Rua Damião de Góis 5C, Belém.
You might also like to read more about visiting Lisbon.
Best spa resorts in the Algarve
Moving on to the south of the country, the Algarve region equally has a range of great spa hotels and other spa facilities available, allowing you to spend your vacation in Portugal in a relaxing way.
Best spa hotel in the Algarve
The Lake Spa Resort in Vilamoura
If a spa hotel is what you are looking for, then The Lake Spa Resort in Vilamoura maybe the perfect place for you.
The luxury five-star hotel is located right next to the beach and offers a private sea water lake and a unique natural sand swimming pool. Its extensive spa area is divided into the 'Blue Spa', which focusses on water therapies and hydrotherapy treatments and the 'Green Spa', offering treatments from all five continents, ranging from Japanese Shiatsu, through Indian Ayurveda massage to a touch of African aromas.
Address: Praia da Falésia – Apartado 811, Vilamoura.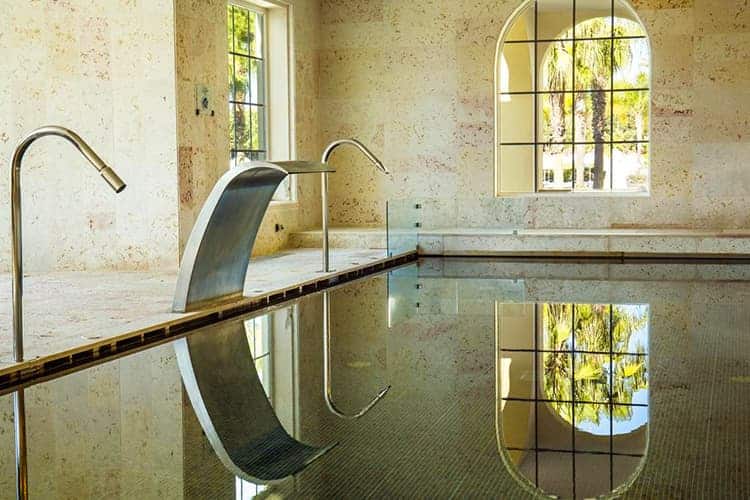 Best day spas in the Algarve
If you don't want to stay in a spa hotel, why not visit a day spa during your vacation in the Algarve?
Swan Day Spa in Alvor
Visit the Swan Day Spa in Alvor. With a combination of exotic aromas, sounds and sensations, this spa creates the perfect atmosphere for you to regain energies and rejuvenate all your senses. With a recommendation rate of 99% on TripAdvisor, this spa is renowned for its professional and friendly staff and its good value for money.
Address: Urbanização Marachique, Lote1, Loja B, Alvor.
Bali Spa in Albufeira
If you are looking for an alternative spa in the eastern parts of the Algarve, then Bali Spa in Albufeira may be perfect. Inspired by the welcoming Balinese atmosphere, this spa offers a range of massages and beauty treatments that start at just €25.
Clients are also offered a free steam shower and a homemade ginger tea to complete their spa experience. Whilst being a comparably small studio, Bali Spa is considered one of the hidden gems in the Algarve, offering quality treatments (their owners previously worked in five and 7-star hotels in Dubai) in a relaxing atmosphere for a fair price.
Address: Edifício Vera Sol Unit F, Avenida da Liberdade, Albufeira.
Get you travel guide for visiting the Algarve here.
Best spa in Madeira
Madeira – relax on this tropical refuge.
If it is not the Portuguese mainland, but instead the country's beautiful islands that you are going to visit, you can also spend a relaxing holiday there, as both Madeira and the main islands of the Azores offer incredible spa facilities.
We recommend The Vine Hotel and Spa in Funchal which is open to guests and external visitors alike. The spa of this hotel offers a range of massages, as well as beauty and wellbeing treatments that will allow you to rediscover your inner self, as well as give you time to switch off for a moment and recharge your energy for your future endeavours. The spa at The Vine Hotel is specifically renowned for its wine therapy, using beauty products produced from Portugal's finest Port wines.
Address: Rua das Aranhas 27A, Funchal.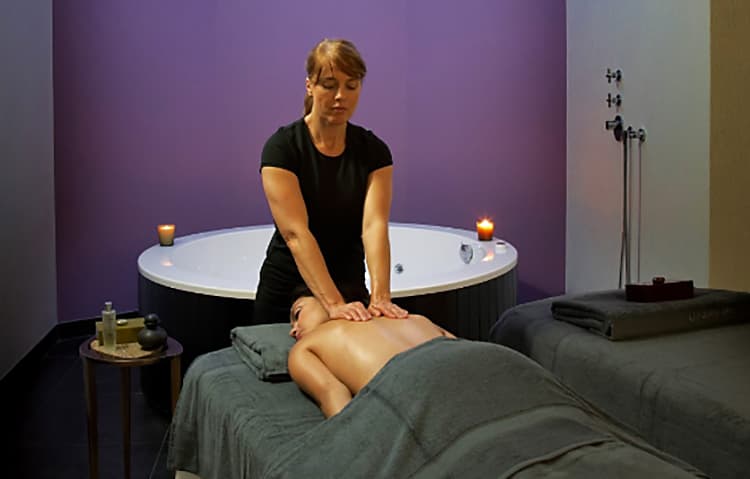 Best spa in the Azores
Enjoy a wellness holiday in the middle of the Atlantic Ocean and visit the Azores.
Located in the centre of the Atlantic, the quiet and remote Azores islands are already a place of refuge from the busy modern world. So, if you looking for a relaxing temporary home on the main island of São Miguel, then the Marina Atlântico Hotel in Ponta Delgada might the place for you.
Besides a gym and a heated indoor pool, this hotel features an extensive spa area that includes a sauna, a jacuzzi and a steam bath. Moreover, you can choose from a wide menu of massage treatments, including hot stone massages and face and body rituals with jade stones.
Address: Avenida João Bosco Mota Amaral 1, 767, Ponta Delgada.
A spa in Portugal is the best place for a relaxing vacation
As you can see, Portugal is a great place for a relaxing wellness holiday. So, whichever region you are planning to go to, why not combine your next trip with some relaxation – either in one of the country's luxurious spa hotels or simply by visiting a local spa that will enable you to regain some wellbeing for your holidays and the time after!
Did we convince you to try a spa in Portugal on your next holiday? Let us know what you think in the comments below.