Why Visit Portugal in April
Spring is gorgeous in Portugal. The countryside bursts with new foliage, and the wildflowers are in bloom. A visit to Portugal in April will mean that you can take advantage of the spring sunshine too. The preparations for Easter mean that the summer season is well and truly on its way. You can enjoy many activities all over Portugal in April, and the weather will usually be kind while you're here.
Weather in April
April showers in the northern hemisphere is a real thing, and Portugal is no different. If you visit Portugal in April, you're likely to see at least a few days of rain. The benefit of this is the beautiful lush landscape that you can enjoy on the sunnier days. April is a changeable month, but Easter heralds the gradual return of warmer weather.
If you head south for your holiday, to the Algarve, you're more likely to see the sun. Whereas in the north, particularly in the mountains, temperatures are still fresh.
The Azores islands in the mid-Atlantic are temperate all year round and have an average high of 17c in April. Madeira, also part of Portugal, lies off the northwest coast of Africa and enjoys a subtropical climate. 
The average temperatures in April, in the northern city of Braga, are between 17c and 8c. In the southern town of albufeira, the average high in April is 20c. 
You will get around nine hours of sun each day in the Algarve. Sunrise is around 6 am, and sunset is at 7 pm in the middle of April.
Timezone in Portugal
The time in Portugal changes from GMT to DST changes at the end of March. If you visit Portugal in April, you will notice that the evenings are long and light.
What to do in Portugal in April
Feira do Chocolate in Óbidos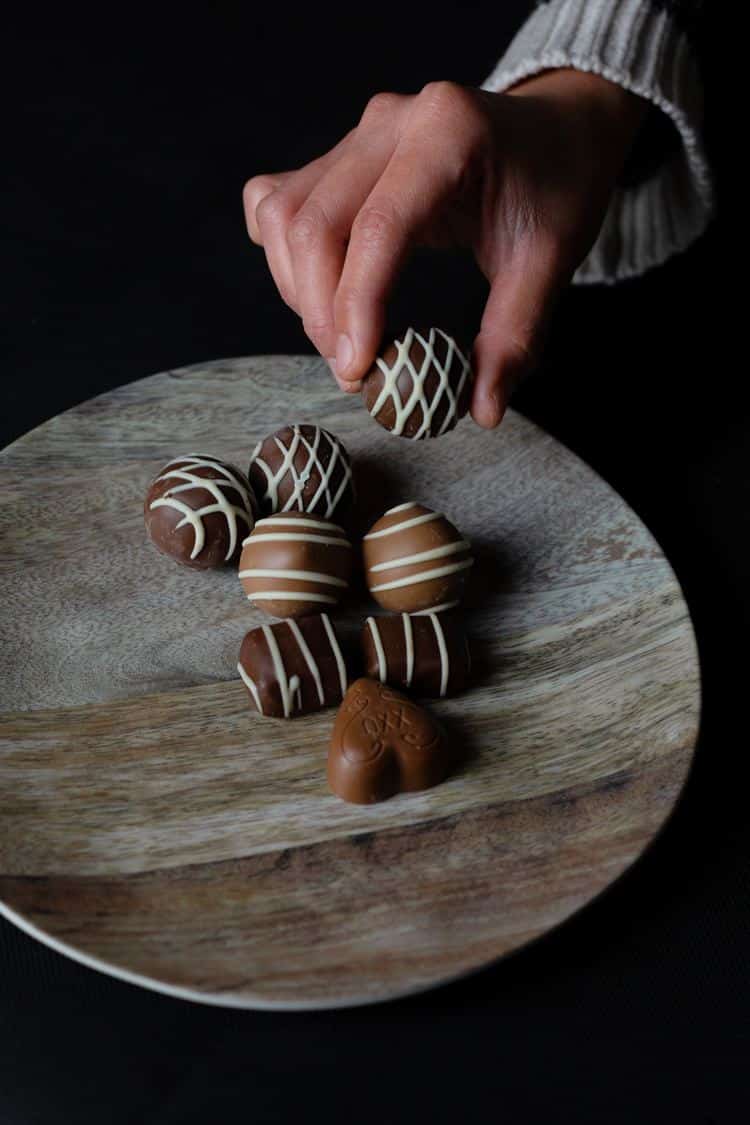 Óbidos is beautiful in any season, but in April, you can enjoy two of the biggest events of the year there. The Chocolate Festival is inexpensive and great fun with plenty of activities to take part in. You can buy tickets for the closed event in the castle area of town at the main ticket office near the car park, or at the festival gates. If you prefer you can also arrange a hotel and festival package in the area. 
There are a myriad of stalls selling a variety of sweet treats, and you must check out the chocolate sculptures on display at the catering school. All of the main streets in Óbidos are likely to be busy during the festival, but it's easy to duck off the main paths to take in the medieval atmosphere. Head down the hill a little, and you will find yourself on the winding roads that lead to the castle and chocolate festival.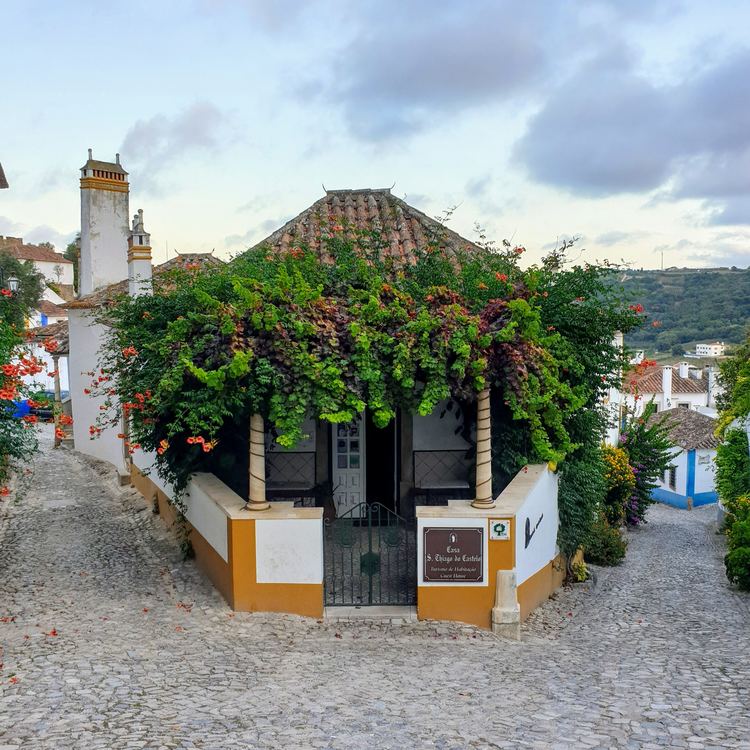 The program for all the activities during the festival is available on flyers all around town so that you don't miss the fun. There are body painting demonstrations, a fashion show, concerts, and cooking demonstrations. In 2020 the Chocolate Festival will run from April 25 to May 5.
Peixe em Lisboa
This is a gastronomic celebration of seafood in Lisbon over 11 days in April. You can enjoy cooking workshops and taste gourmet fish dishes prepared by celebrated chefs. 
From April 7 to 17, 2020, you will learn all about the traditional fish dishes of central Portugal. It is designed for visitors to enjoy and which allows them to learn about local cuisine and Portuguese wine. As part of the Lisbon Fish and Flavours event, you'll also be entertained by local dance performances and folk music groups. 
Holy Week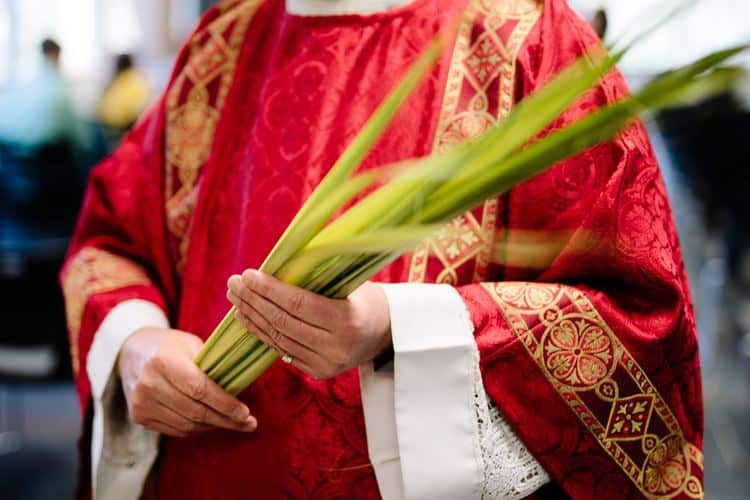 In 2020, Easter falls in April, and there is a big celebration in Óbidos over Holy Week. The festivities start at the beginning of Lent with the Procession of the Third Order of St. Francis of flower-laden floats. Then on Palm Sunday, the Senhor dos Passos procession winds through the walled town. 
Planning to visit Portugal?
Make the best of your trip with our tips.
The highlight of the Easter festivities is the solemn Good Friday evening funeral procession around Obidos lit only by flaming torches along the route. In 2020 the Holy Week processions will take place between April 5 and 12. 
Holy Week in Braga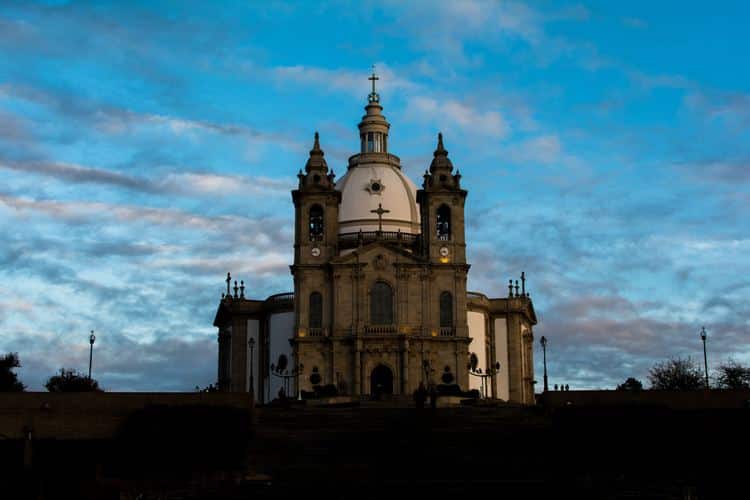 Braga, to the north of the county, also has celebrations in the Easter period. The churches are filled with flowers, and streets are decorated with lights during Easter week. 
Mundo Abreu exhibition
This travel and tourism event takes place in late March or early April in Lisbon. The exhibition consists of a variety of stands from different countries, all promoting the beautiful sites that they recommend tourists visit in their country. 
In 2019, over 700 exhibitors took part, both domestic and international. In addition to the stands, there are cultural exhibitions and shows, such as music, dancing, and storytelling. 
What to eat in April
Come the end of April, you will start to see signs in cafes advertising "Há caracois" (roughly, "Snails are here"). The appearance of these delicious tiny snails means it's time to enjoy them in the sun with a beer.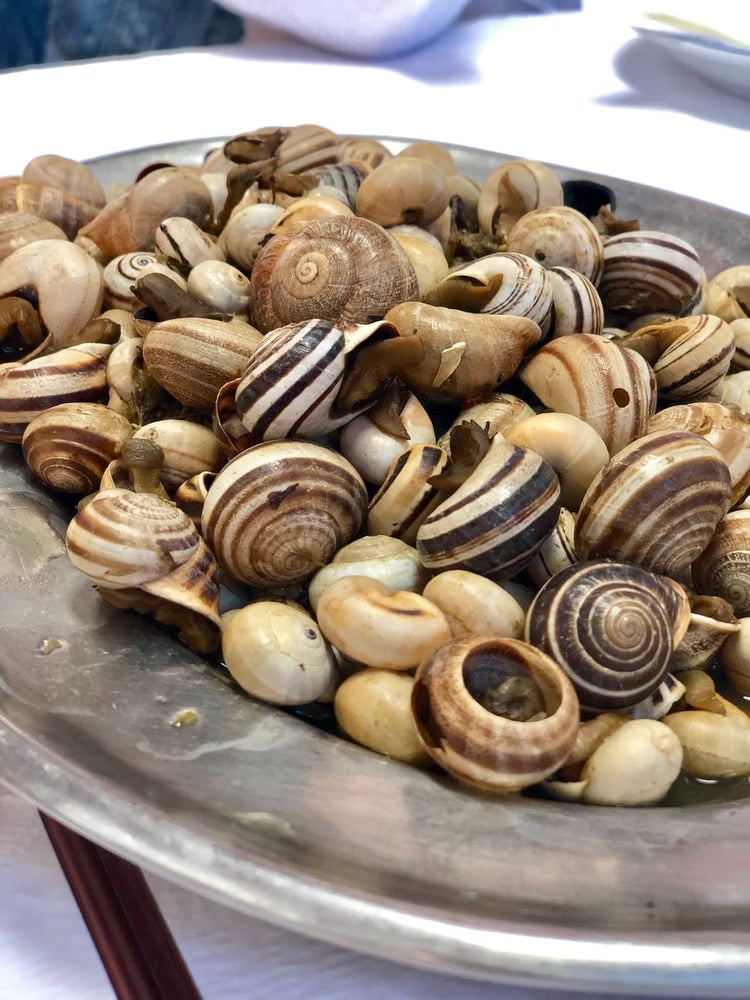 Usually cooked in broth with rosemary and a dash of piri piri, these are an excellent starter or snack with a cold drink. Lisbon is where you will tend to see caracois, and they herald the beginning of summer and the return of outdoor cafe culture. 
The end of April is also the start of the local strawberry season. If the weather has been good, you will see Portuguese and Spanish strawberries in the shops. Locally grown fruits in season, such as strawberries, apples, and rhubarb, are delicious and much more flavorful than the imported varieties. 
Where to stay in Portugal
There are plenty of hotels in Portugal, from budget to boutique. Here are a few suggestions to get you started.
Óbidos
Hotel Casa Das Senhoras Rainhas

Set inside the city walls of Óbidos, this attractive boutique hotel overlooks the castle walls. It has a restaurant serving regional specialties, plus a bar with a terrace to relax on. 
A night in mid-April costs from €95. You can find more details and book here.
Casal de Eira Branca
This hotel is also set in the centre of medieval Óbidos offers accommodation full of charm. It is a listed building with panoramic views of the old walled city. You can enjoy original ceramics and paintings in the public areas by local artists.  
An advantage of Casal de Eira Branca is the communal kitchen area that guests can use. You can also use the outdoor dining area in the summer.
In April, one night at Casal de Eira Branca costs from €50. Further details are available and reservations can be made here.
Lisbon
Browns Downtown Hotel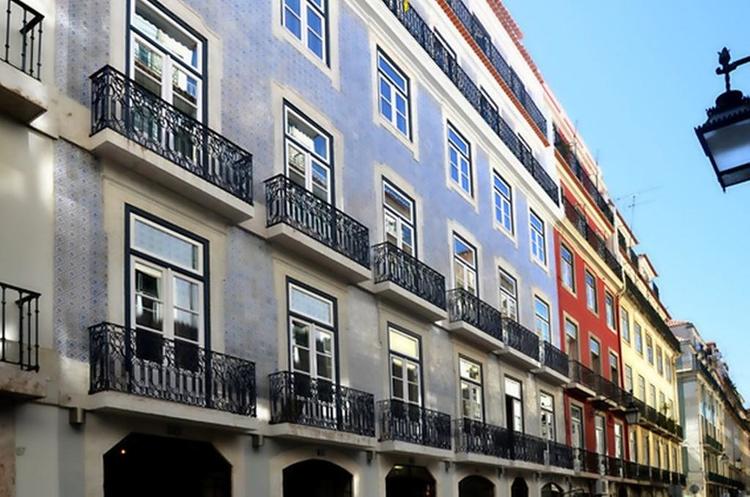 This super-hip hotel in the centre of Lisbon is a great choice. It has contemporary decor, iMac computers in every room, and is excellently situated for the main attractions. 
You are within a 15-minute walk of the bars and restaurants of Bairro Alto. It is also close enough to the stores of Baixa-Chiado to stroll around to find the best souvenirs.
Browns Downtown Hotel costs from €140 in mid-April. Book your spot here.
Braga
Vila Gale Collection Braga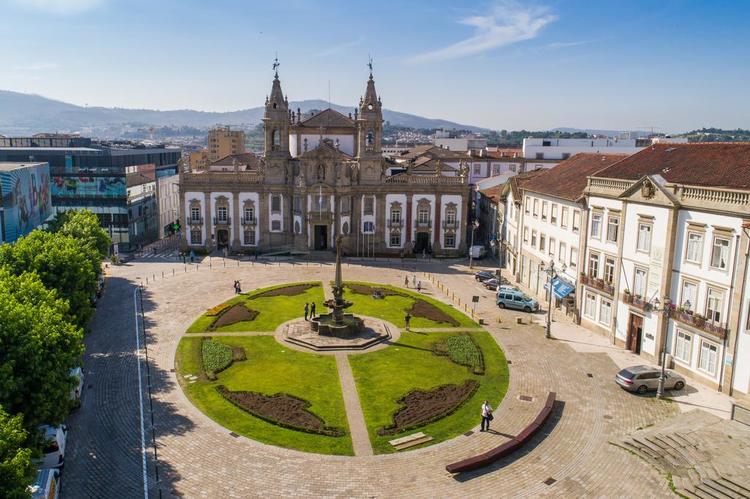 This beautiful hotel in Braga has comfortable accommodation with a restaurant, bar, and free parking. The 4-star Vila Gale Collection Braga is set in private gardens and has both an indoor and outdoor pool. 
Rooms here cost from €100 in April, and more information is available here.
Golden Tulip Hotel and Spa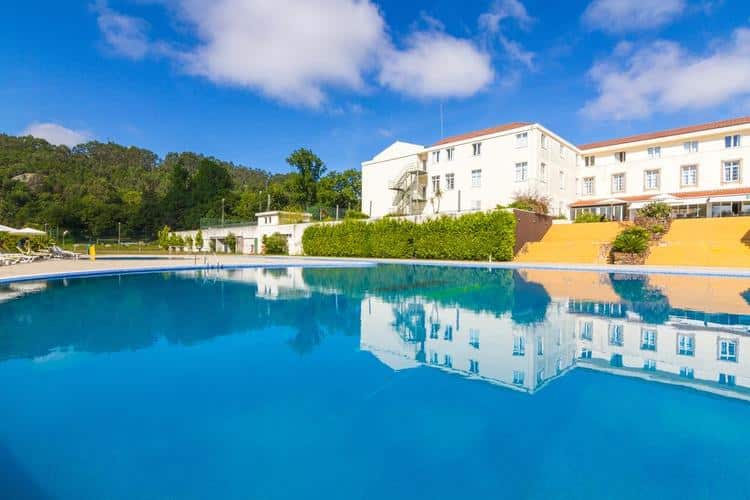 This restored 18th-century convent in the Minho region is conveniently located to enjoy Braga. It has indoor and outdoor pools for children and adults, and spa facilities to help you relax.
The hotel's Do Convento restaurant serves the best of local and international cuisine and boasts panoramic views of the valley that surrounds the hotel.
Prices in April start from €80, and you can find more information and book your spot here.
Are there any bank holidays in April?
Easter falls in April in 2020. April 10 is Good Friday, and Easter Sunday is on April 12. Easter is observed in Portugal, but supermarkets in cities will still be open on these days. 
April 25 is a national holiday every year and is known as Día da Liberdade (Freedom Day). It commemorates the 1974 Carnation Revolution that ended the dictatorship. It also celebrates the first free elections that took place a year later on April 25, 1975.
FAQ
How hot is it in Portugal in April?
April in Portugal is generally pleasant weather but not very hot. Usually in the second half of April, Portugal starts to warm up, often between 21 and 25 degrees C. You might still get a rainy day here and there, so definitely prepare to dress in layers and bring a light jacket.
What is the best time of year to go to Portugal?
The best time of year to go to Portugal depends on what you'd like to experience during your Portugal vacation. Summer months are great beach weather. Spring and fall means fewer tourists, but still fabulous weather. Winter is rainy and cool – perfect for exploring without tourists!
What country is hot in April?
The warmest European countries in April include Portugal, Greece, and Spain. The Algarve, in southern Portugal, is particularly warm during April as compared to other parts of the country. While not quite summer beach weather, it's dry, sunny, and delightful in April.
Where should I go in April?
If you're visiting Portugal in April, consider the country's southern region. The Algarve has some of the most beautiful beaches in Europe, and is already feeling early summer temperatures by mid-April. You'll be able to shake off winter's cold before the full tourist season begins.