Following Christmas time, Easter in Portugal is probably the most important celebration. Overall speaking, Portuguese people are very devoted, which makes it understandable for this time of the year to be so sacred around here.
Let me tell you about the Easter holiday and traditions in Portugal.
What happens in Portugal at Easter?
A bit of everything, I must say. Easter in Portugal is a very respected time for its symbolism, which is one of the reasons why Portuguese people are so devoted. The ones who are admittedly Catholic, live this time of the year very intensely.
As Jesus did, Portuguese people make sure they attend church and only eat fish during Lent Time. In case you didn't know, this is the liturgical period that precedes Easter and is celebrated among some of the Christian churches (such as the Catholic one).
Some celebrate this time in a very religious way and others just go on vacation.
When are the Easter holidays in Portugal?
In Portugal, Easter festivities start on Palm Sunday, the week before Easter Sunday. The entire week is celebrated with processions and religious rituals in many cities and villages.
Good Friday is a public holiday in Portugal, unlike most other European countries. In 2019, Good Friday will be on 19 April.
Easter Sunday is the family day and it is traditional to have a roast lamb for the main meal. This is also a public holiday so most shops will be closed.
Easter Monday is not an official public holiday in Portugal, however many people take the day off to spend more time with their families on picnics and other outdoor activities.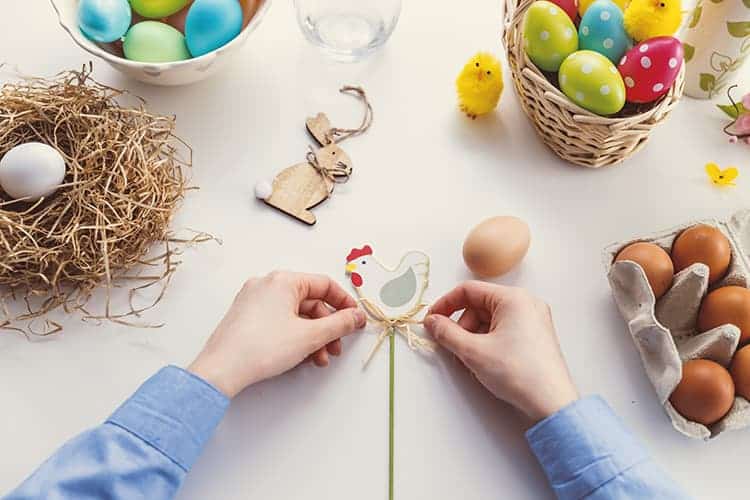 Find out what it's like to live in Portugal. By signing up for our newsletter today, you'll receive all the best tips and advice from our expat writers.
What are the Easter traditions in Portugal?
Besides the ones we already mentioned regarding religion, there are other Easter traditions in Portugal I want to tell you about – and most of them are related to food (of course!). Generally speaking, families gather together for a celebration during lunch time and enjoy some quality time together.
What is the traditional food for Easter in Portugal?
Easter is the perfect excuse to fill your belly with delicious chocolate almonds, which are very traditional in Portugal.
Especially for kids, you also find other kinds of almonds (with different colours) and chocolate eggs. These are the top gifts people offer each other during Easter in Portugal.
So, if we are speaking about food, let's not detract from our ultimate goal: To tell you everything about the traditional delicious food we have during Easter traditions in Portugal.
What's for lunch?
First of all, comes Cabrito, which is a roasted lamb served with roasted potatoes and, most of the time, roasted chestnuts (so yummy!).
So far so good, right? But let's continue, because we also have to explain to you what "Folar" is.
Folar is also a traditional Easter food that resembles a large loaf of bread, but better looking and tasting. It is made from a special flour that is later filled with sausages of every type. Some of them also have eggs on top, depending on the region.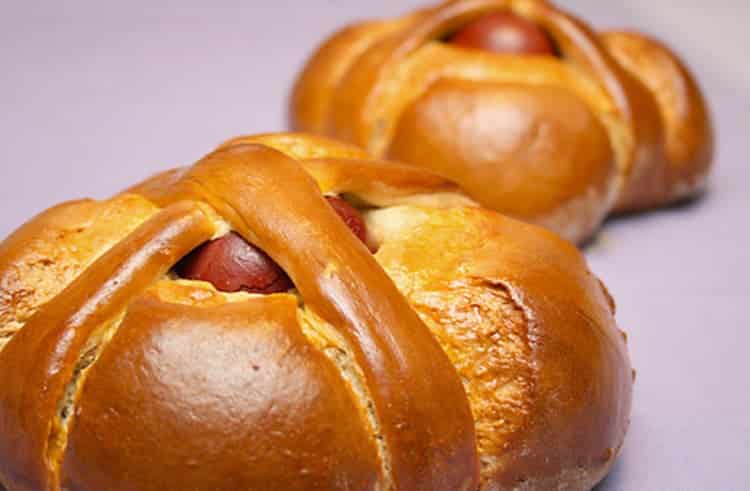 Discover other traditional foods in Portugal in Typical Portuguese Food.
The sweet stuff
Let's "sugar speak" now because the traditional Easter desserts are to die for. Easter in Portugal is also synonymous with Pão-de-Ló, a wonderful cake that can be dry or moist, also depending on your taste and the region you are in.
Both are mainly made from butter and eggs. The dry version can sometimes resemble a big yoghurt cake, let's suppose. But the moist one also as a cream made from eggs which is extremely good.
Foods vary depending on cities and regions, but these are the top examples we can give you that characterise Easter traditions in Portugal.
About Domingo de Ramos
Let's distance ourselves from all of that delicious food as I also want to tell you about "Domingo de Ramos", the Sunday that happens seven days before Easter's Sunday. It is the tradition here in Portugal for godchildren to offer bouquets to their godparents (or other kinds of gifts).
Then, on the following Sunday (Easter), it is the godfathers' turn to reciprocate the gesture and offers a gift to their godchildren.
What are the Easter celebrations in Portugal?
The Lent Time is said to prepare the faithful for the actual Passover, which celebrates the resurrection of Christ. In memory of that, most Catholics fast or do not eat meat and make proper and specific prayers of the time.
Even though this tradition seems so far away from the time we are living in, it is in fact followed by devoted Portuguese people during Easter in Portugal. They do that in memory of Jesus Christ and his resurrection, which is why Easter in Portugal is a very sacred time.
Furthermore, in some villages, there is a special celebration on Easter Sunday, that happens in specific churches. After that, a procession goes along the streets, greeting the people that are standing by, waiting for their blessings.
In some of these processions, a specific group of people goes into particular homes to bless them and their families (the ones who ask for it). In Portuguese, that group is called "Compasso" and, besides blessing each home, people also kiss a figurine of Jesus or the Crucifix to thank them for their blessings.
These actually are the most important Easter celebrations in Portugal.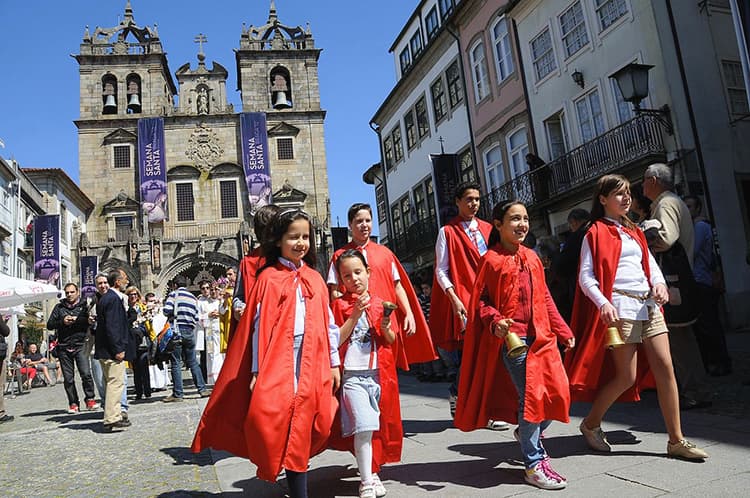 What is Easter in Lisbon like?
In bigger cities, such as Lisbon, Easter may not be celebrated as strongly as in other smaller and rural villages. However, everything depends on your beliefs and the traditions you follow. A lot of Portuguese celebrate Easter in Lisbon the same way as the people from the villages and cities as mentioned earlier.
Religious ceremonies are often bigger and broadcast on live TV, which is a plus if you are not able to go to church on Easter Sunday.
What is Easter in Porto and Algarve like?
Pretty much the same, actually. Traditions are the same all over the country and the main thing that changes is the food eaten.
Where to spend Easter in Portugal?
Traditions are all over the place, so it depends on the city or village you are closest to. If you enjoy a walk by the sea, places like Porto are perfect for you to spend Easter in Portugal.
If you want to soak up some sun and enjoy Algarve's warm weather, then head south for a different experience.
Check out what the weather is like at Easter by reading: Weather in Portugal.
What are your favourite Easter traditions in Portugal? Let us know in the comments below.