Where you stay while on holiday makes all the difference. Luckily for visitors to the Portuguese capital, there are many boutique hotels in Lisbon to make your vacation memorable.
Here are a few of our picks for gorgeous accommodations in one of Europe's most beautiful cities.
Boutique Hotels Lisbon
The rise of tourism in Portugal means that the demand for different types of accommodation has also increased. Relaxing, stylish, and decked out with luxury amenities, the boutique hotel scene in Lisbon is booming.
And we couldn't be more excited about it!
Brown's Boutique Hotel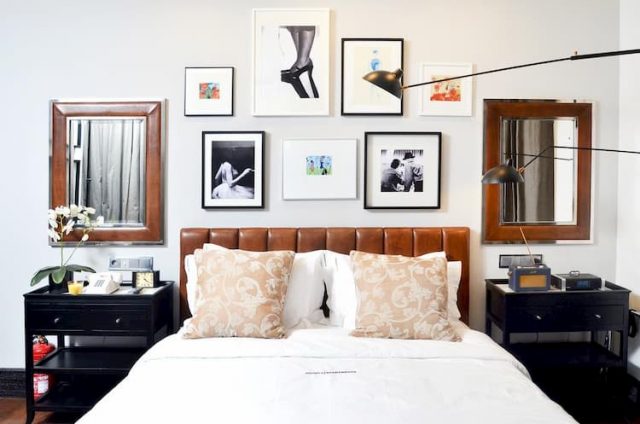 Chic, elegant, and with a super central location, Brown's is a great place to stay if you want to be in the center of the action and you have an appreciation for the finer things in life.
Designer furniture fills this sophisticated space, which has an air of urban cool and caters towards a young, professional crown.
It is located only 100 m from Baixa-Chiado Metro Station. All rooms in this hotel are air-conditioned and include an iHome docking station and a private marble bathroom. You can also upgrade to a room with a kitchenette or one with an iMac computer and an iPad.
The surrounding area is filled with restaurants, cafes, and shops, and the well-known 28 tram stops 50 m from the hotel.
A great place from which to explore the city, you can expect a complimentary bottle of wine upon arrival, a super comfy bed to sink into at night, and a delicious breakfast each morning.
Price per night: From €113.
Booking available here.
The Lift Boutique Hotel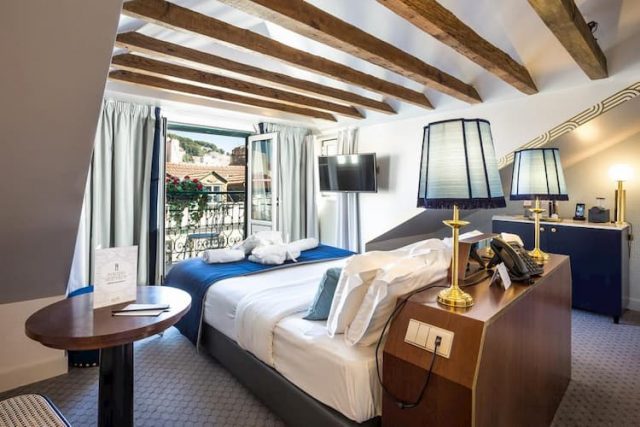 Borrowing its name from the Santa Justa Lift, which is but a minute away, this gorgeous hotel in Lisbon's historic downtown is all about ambiance.
Each of the hotel's five floors has a unique décor that has been thoughtfully designed to evoke a certain mood. With luxury Castelbel toiletries, an abundance of high-end amenities, and a breakfast served each morning in an elegant dining room overlooking Áurea Street, this is a good place to go if you feel like being spoiled.
When you do decide to leave the hotel, you'll find yourself mere steps away from many of the city's main sights and surrounded by a great selection of restaurants, cafés and pastry shops.
Every room at this guest house is also air-conditioned and equipped with a TV and a coffee machine. Service is top notch and there's a reason Lift has established itself as one of the best among Lisbon's boutique hotels.
Price per night: From €156.
Booking available here.
Book your hotel with Booking.com
With Booking.com you can book the best hotels in Portugal for the cheapest price. Get instant confirmation, pay 0 booking fees and even cancel your booking for free at most hotels. 
Booking.com -
Find the best prices and prepare your trip to Portugal today
Santiago de Alfama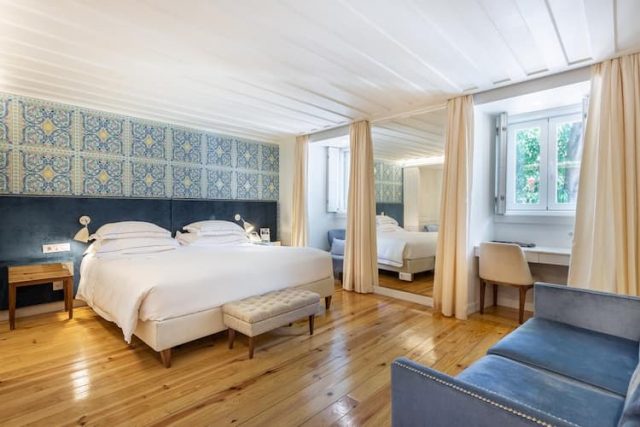 Located in a beautiful historic building and offering panoramic views of the city, the 5-star Santiago de Alfama has built a reputation on going above and beyond.
A short walk from the iconic São Jorge Castle, this hotel offers 24-hour front desk service, a tour desk, and a concierge service.
If you don't have much time to plan and just want to arrive in Lisbon knowing you'll have an incredible place to stay and a hotel staff prepared to help you make the most of your visit, this is the place for you.
There is air-conditioning in every room, a flat-screen TV, a wardrobe, a safety deposit box and a private bathroom with bath or shower, hairdryer and free toiletries. The on-site restaurant is also fantastic, offering a varied menu á lá carte breakfast each morning. Steep in history with charming and helpful staff, you can't go wrong with Santiago de Alfama.
Price per night: From €315.
Booking available here.
Memmo Príncipe Real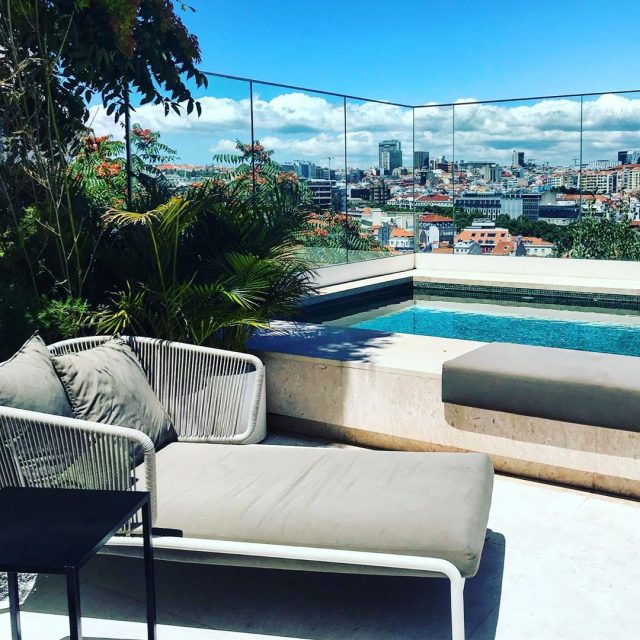 The third Memmo hotel in Lisbon is located on the trendy Avenida da Liberdade in Príncipe Real. Here you'll find an unbeatable view of the city from the sweeping terrace of their restaurant and cocktail bar.
Truly fit for royalty, here you can expect sleek modern design, valet service, and super attentive staff. With classic and contemporary painting scattered throughout, this boutique hotel offers a feast for the eyes everywhere you turn.
The rooms are spacious and stylish. And in each bathroom, you'll find premium Hermés amenities, a professional-quality hairdryer, bathrobes, and slippers.
Price per night: From €358.
Booking available here.
Portugal Boutique Hotel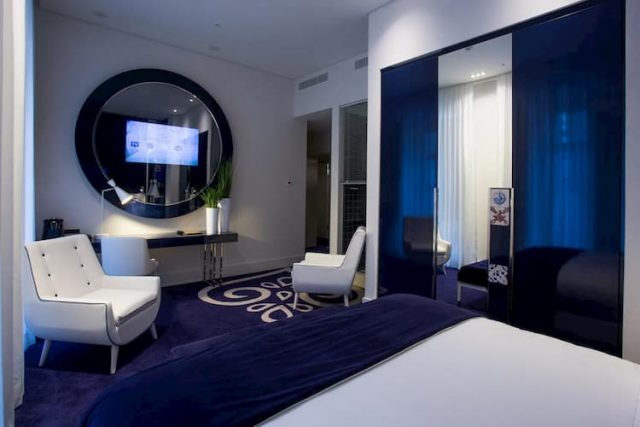 Located in Santa Maria Maior, this beautifully modernized hotel features an unusual lobby, with brass walls and marble columns. Each of the 53 carefully decorated rooms is air-conditioned, soundproofed, and have their own minibar.
This boutique hotel serves an excellent breakfast buffet that you can enjoy in the privacy of your room upon request.
The hotel now features the Golden Sushi restaurant, which has Japanese flavors with high-quality products and fresh fish, all within a unique cozy atmosphere. Jony Rules Bar offers a nice setting to enjoy a relaxing drink after a long day, including an outdoor terrace.
Price per night: From €139.
Booking available here.
Hotel Fontecruz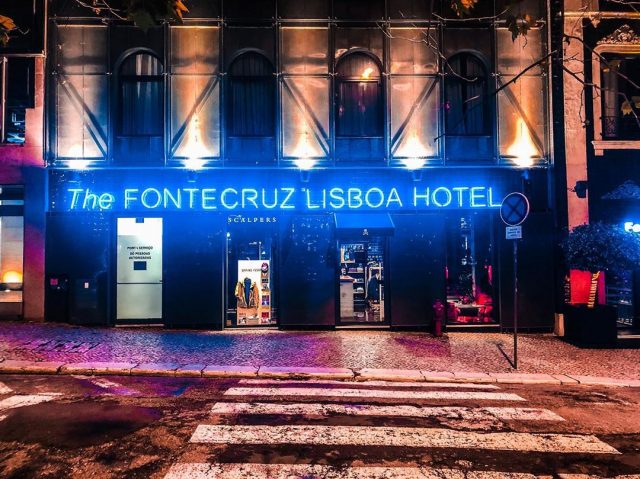 This hotel made its bold first impression with a blinking neon sign and has been garnering attention ever since.  Located on Avenida da Liberdade, this new arrival to the boutique hotel scene in Lisbon is all about fun and playfulness.
A stark contrast to some of its preppier neighbors, this hotel is full of contemporary art and features vintage details. All rooms and suites have plenty of natural light, black and white décor with Victorian-inspired details, a flat-screen TV and a minibar.
This is one boutique hotel in Lisbon that doesn't take itself seriously – but don't confuse playfulness with slackness, this level of service is top-notch.
Price per night: From €216.
Booking available here.
As Janelas Verdes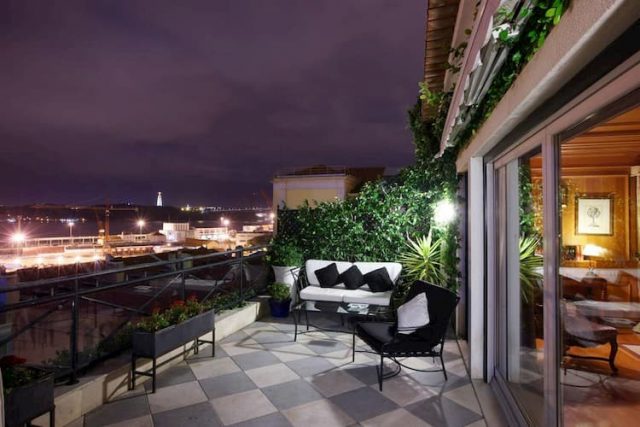 If you're looking to get in touch with the literary and artistic side of Lisbon during your stay, this is the boutique hotel for you.
Once the home of writer Eça de Queirós, largely considered to be the greatest Portuguese writer in the realist style, this gorgeously renovated manor is steeped in cultural and artistic significance this boutique hotel features a rooftop library with a terrace and views of Tagus River.
The decoration of the hotel includes art objects, books, and photos. It is also situated in a renovated 18th-century historic building.
There is a friendly mood to the place, perfect for lovebirds looking for the romantic side of Lisbon.
Price per night: From €301.
Booking available here.
Palacio Ramalhete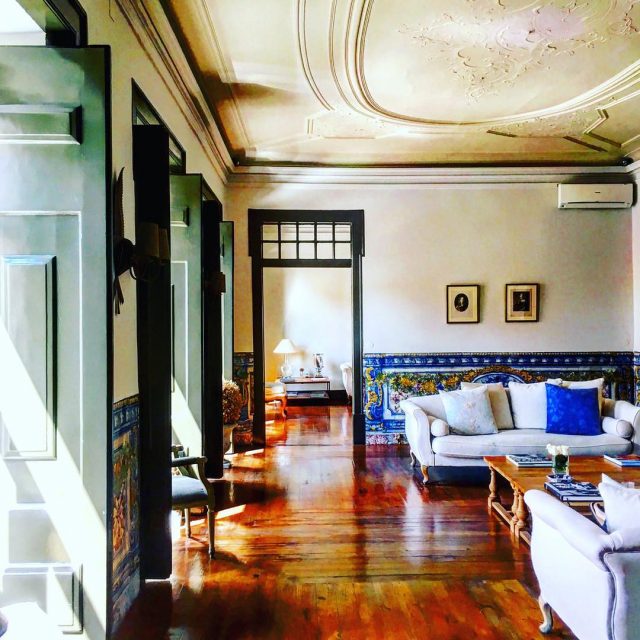 One of the most beautiful boutique hotels in Lisbon is Palácio Ramalhete. Prepare to book in advance though, as this gorgeous accommodation consists of only nine rooms and seven suites. If you're among the lucky few who get to stay here though, you'll get to enjoy original architecture, authentic wood floors, and delicately painted ceilings.
This luxurious stay also offers a heated swimming pool overlooking the courtyard.
Located in Estrela, just minutes away from the Museum of Ancient Art, most rooms offer a view of the Tagus river.
The outdoor lounge is always the perfect place to enjoy an expertly crafted cocktail. You can also watch the sun go down over another perfect day.
Price per night: From €164.
Booking available here.
Valverde Hotel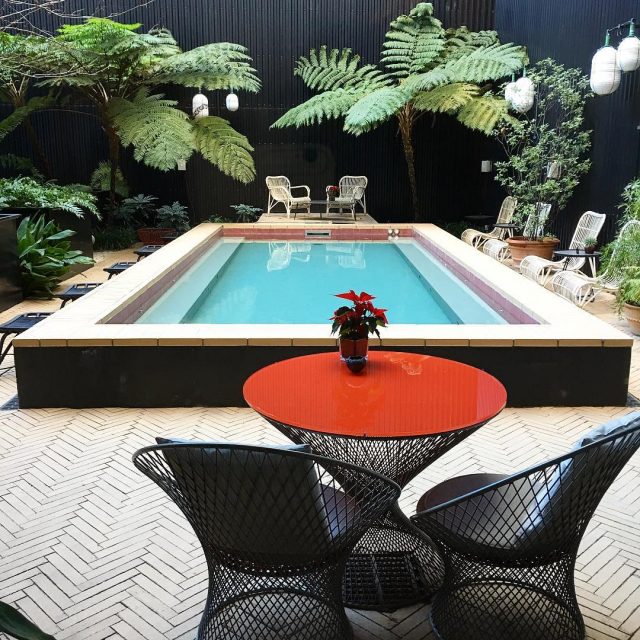 This stunning 19th-century building has plenty to offer in terms of artistic flair and bold aesthetics. If you want to feel like you're running with a posh crew, a stay at the Valverde Hotel will be right up your alley.
It is located directly on Avenida da Liberdade. There, you can also indulge your taste for everything from the antique tapestries and fine china to contemporary artworks from abstractionist Vieira da Silva.
Do you like to wind down at the end of the day with a glass of wine? Then you'll be glad to know that even the smallest of the 25 rooms on offer have big, luxurious tubs. Can't say no to that.
Price per night: From €270.
Booking available here.
Find out more about hotels in Lisbon, subscribe to our newsletter.