There's an abundance of co-working spaces to choose from in Lisbon right now and one stands out as a cool, creative hub for those with talents in copywriting, designing, illustration and marketing – Garagem Infinita.
Where is Garagem Infinita?
Garagem Inifinita is located in the up-and-coming neighbourhood of Intendente, slightly east of Lisbon's city centre. It's a short walk from the Intendente Metro station and close to the bus hub of Sapadores on the hill behind Graça.
There are plenty of facilities nearby including two large supermarkets, Multibanco machines, typical Portuguese cafés, and many, many restaurants.
Address: Rua Damasceno Monteiro 110D, Lisbon.
What's Garagem Infinita like?
It's, special. Why?
Two words: The people!
This spacious co-working office has some of the nicest, friendliest and most of all, creative, minds in Lisbon. Though they work in different industries, it's what they have in common that makes this a special place to come to work every day.
Imagine you work by yourself because you are a digital nomad or work for a startup, you don't know anyone in town yet and you find a place where you can meet new "co-workers" who you can see every day that share some of the same interests as you?
Enjoy a coffee or sit down for lunch with the guys and girls at Garagem Infinita and you will surely strike up an interesting conversation in no time.
The mix of cultures is also something special here. You will meet Portuguese, Brazilians, English, Italian, French, American and more. A great way to practice your Portuguese wherever you are from.
For more information, have a look at Garagem Infinita's website here.
bePortugal and Garagem Infinita
We're no strangers to Garagem infinita, in fact, this place is special for us as it was our first office space in Lisbon, where we kicked-off bePortugal.
What else does Garagem Infinita offer?
Work spaces
Besides a desk space, Garagem Infinita has three private meeting rooms of various sizes.
You can rent out these rooms for:
Team work;
Meetings;
Workshops; or
Events.
You can also rent out the whole space in the evening if you want to run a big workshop or event.
Artists take note! As you enter the office space, you will see a gallery area which you can hire to show an exhibition of your work. Now there's some exposure!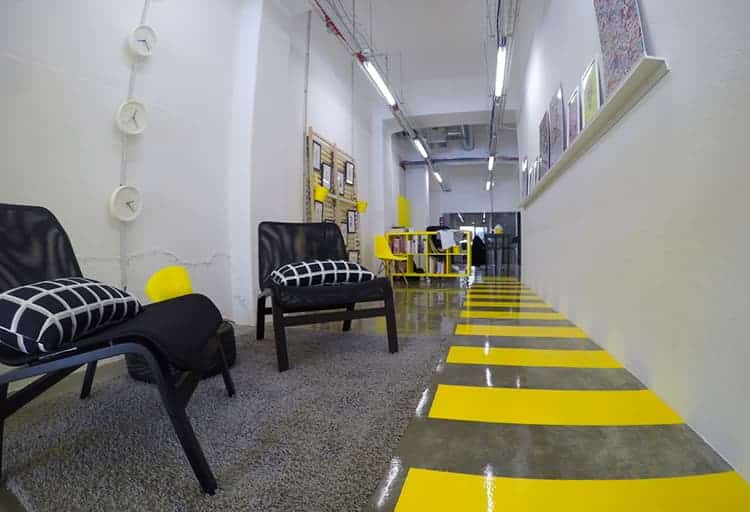 You might also like to read: Top 20 Co-working Spaces in Lisbon
Refreshment facilities
Coffee, tea, water and cookies are provided and there is a full-sized fridge with freezer, microwave, hotplates and an oven to prepare your meals. A full kitchenette really.
There are separate bathrooms for ladies and gents and also a shower if you need it.
The vibe
There are skylights to offer natural light, heaters for winter and an air-conditioner for summer
Wifi connection
Garagem Infinita also has two wifi portals both with high speed Internet connection and under each desk there are enough power sockets for everyone.
If you like this article, don't miss out on others just like it by signing up for our newsletter today!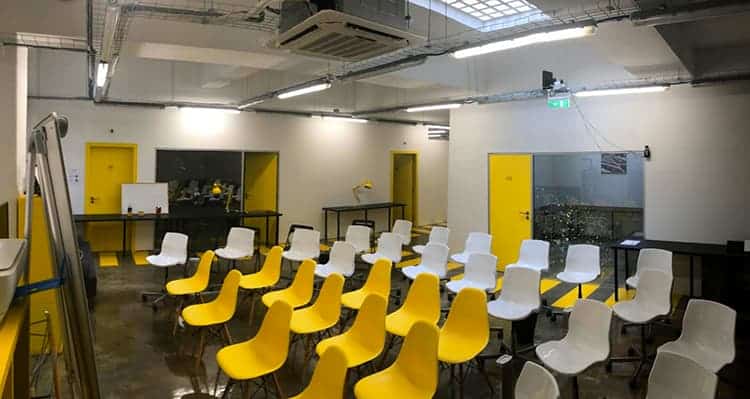 Other facilities
They have a large LCD TV for presentations and there is also a color ink-jet printer which is available for use.
If you need anything, just ask and the staff and they will find it for you.
The space used to be a garage, but it has all been refurbished into an open-plan, funky, industrial theme that is conducive to your creative flow.
Whether you like to work at a desk or on the couch, you can do it all at Garagem Infinita.
Looking for a job in Portugal? You should read Jobs for Foreigners in Portugal.
How do I sign up at Garagem Infinita?
Ok, so are you ready to meet some bubbly, creative people to share your workday with?
First of all, go and have a look at the ground floor space and have a chat with Alex, the owner of Garagem Infinita. He is there every day to show you around and talk you through the logistics that you need to know.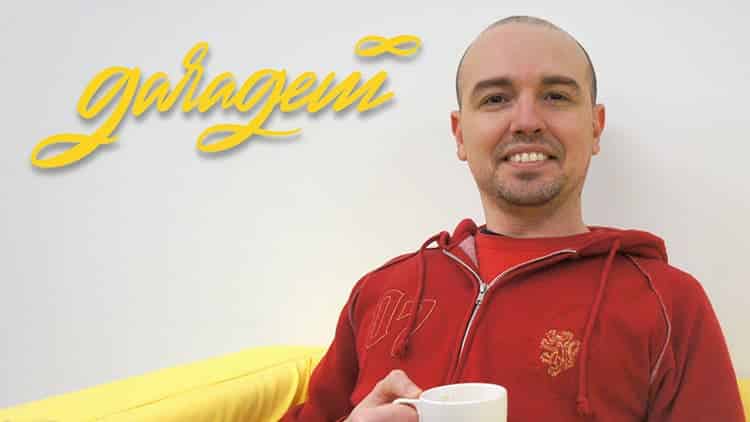 Prices start from €15 per day, €50 per week and €110 per month.
Welcome discount at Garagem Infinita
For a limited time only, fill out this introduction form to arrange a visit and you will receive a 50% discount for your first month or 25% off one of the private rooms.