Lisbon is a city brimming with history and tradition – and the Christmas season is no exception. If you've ever wanted to spend Christmas in Lisbon, we've got seven great reasons why 2019 is your year.
Christmas in Lisbon
Join us in Lisbon to say Feliz Natal (Merry Christmas) and Feliz Ano Novo (Happy New Year)!
Read on to find out about Christmas traditions and how to celebrate in Lisbon. We'll share our best recommendations for where to stay, what to do, and where (and what) to eat this holiday season.
Seven brilliant ways to spend Christmas in Lisbon
1. Christmas markets
Expats or visitors who are looking for a fun way to Christmas shop should see Lisbon's Christmas markets. Three of our favorites are:
Wonderland Lisboa
This is the largest Christmas event in Lisbon, spreading cheer for most of the month of December, right through to Jan. 1. Visit Lisbon's famous Parque Eduardo VII in Marquês de Pombal for family activities, food, and gifts for sale.
Wonderland Lisboa includes a ferris wheel and a skating rink — though the rink isn't ice, as you might expect, as it is too warm in Lisbon. There are also visits with Santa Claus and a giant lighted Christmas tree.
Admission to Wonderland Lisboa is free, with charges for the various attractions.
Rossio Square Christmas Market
In the heart of Lisbon, in Baixa, near Bairro Alto, you'll find the Rossio Christmas Market. With an eclectic mix of handmade goods and regional products, this is the perfect spot to find a really original gift.
Our recommendation is to stay warm while perusing the stalls with a cup of mulled wine.
Christmas Market At Campo Pequeno
Open for just the first few days of December, the Christmas Market at Campo Pequeno is not to be missed. More than 100 exhibitors set up stalls offering everything from vintage items to toys, clothes and jewelry.
It's a delightful space, and the best part is that everything sold is Portuguese in origin.
Admission is just €1 — and the cost can be put toward purchases of €8 or more.
Portuguese-related gift ideas
Christmas shopping in Lisbon probably isn't much different than what you're used to in the US or UK. There's always some rushing around, trying to find the perfect item, no matter where you're from!
To make the holidays just a little easier, we've put together an Amazon storefront filled with gifts from and about Portugal.
2. Dine in style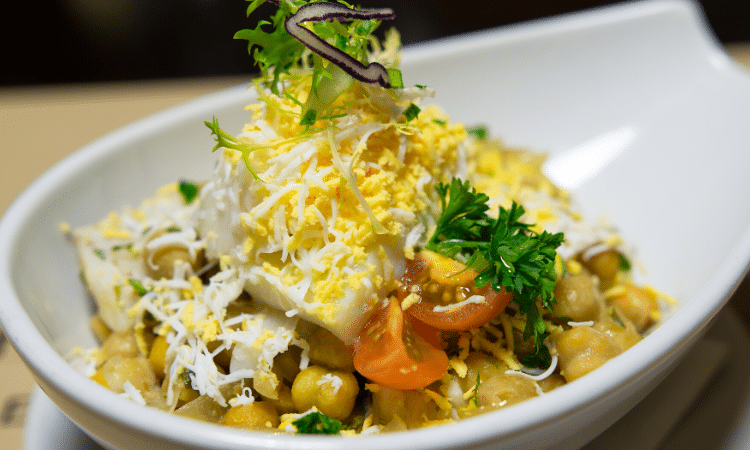 Lisbon is earning a well-deserved reputation as a "foodie" city.
If you're looking for a great dinner out, look no further than these favorite Lisbon restaurants, from traditional to fine dining. Both expats and tourists rave about these delicious destinations, and at Christmas the whole city is just a little more convivial.
Got a sweet tooth? Try the 20 Mouth-Watering Portuguese Desserts (Recipes Included).
3. Rent a villa for the holidays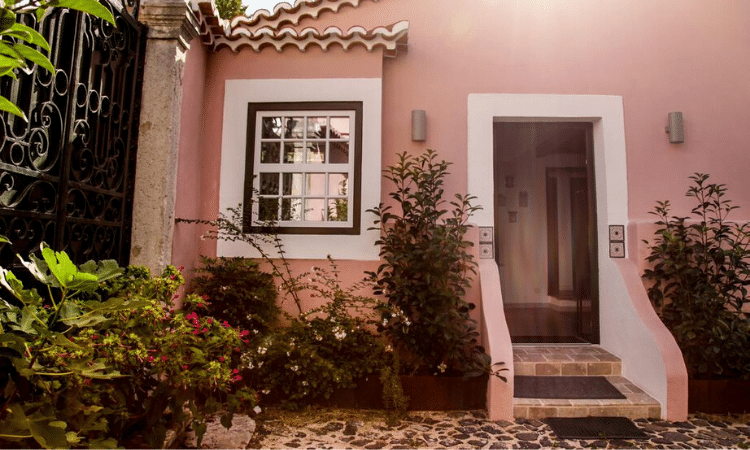 Maybe a beach villa isn't your first thought at Christmas — but why not? Portugal's wonderfully temperate in winter.
Just outside Lisbon is Cruz Quebrada Beach, a short, 20-minute drive to an adorable getaway, Villa Marquês.
Set within 200 m of Cruz Quebrada Beach, this villa receives wonderful reviews from guests. Boasting free private parking, wifi, and a garden, the holiday home is in an area perfect for walking on the beach, or just relaxing with your family.
Book Villa Marquês near Tejo River here.
Book your hotel with Booking.com
With Booking.com you can book the best hotels in Portugal for the cheapest price. Get instant confirmation, pay 0 booking fees and even cancel your booking for free at most hotels. 
Booking.com -
Find the best prices and prepare your trip to Portugal today
4. Explore Lisbon on a private tour
There's nothing more incredible than wandering around Lisbon's streets during the Christmas season – but let's face it, those hills are something else.
Keep your Christmas spirit intact with a private Lisbon Christmas Tour in an eco-friendly vehicle.
For two hours, your English-speaking guide will not only take you to see the lights, but will give you a little Lisbon history too.
You'll see the most iconic attractions in Lisbon decorated for Christmas, and some of the most stunning viewpoints. Grab your loved ones and book this unique way to celebrate Lisbon.
5. Take the kids to see the tallest Christmas tree in Europe
Fun fact: The tallest Christmas tree in Europe is in Lisbon's Terreiro do Paço, also known as the Praça do Comércio.
Our capital city opts for extravagance when it comes to decorations. In addition to the bright green and red extravaganza of an (artificial) tree, the city puts up countless decorative lights.
In the city's squares and main avenues, Christmas lovers will be delighted by the show of lights. Of course the lights depict wreaths and snowflakes aplenty — as you'd expect.
But some also weave together local culture and traditions, as shown by webs of lights designed to mimic Portuguese filigree. On average, Lisbon flips the switch on two million decorative lights each year.
6. Enjoy the single life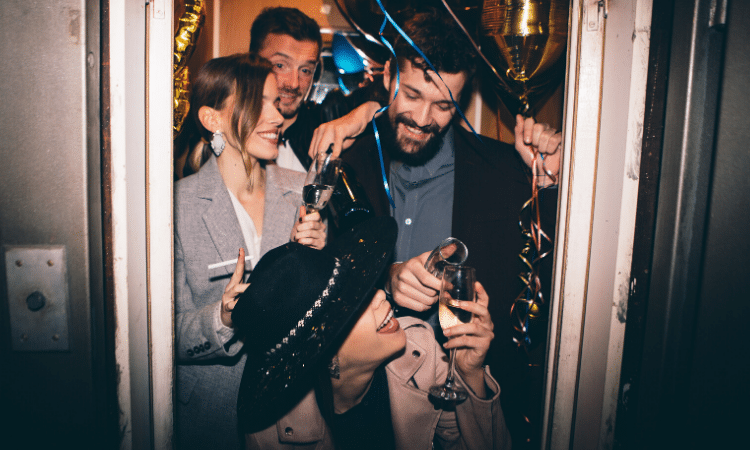 Flying solo for the holidays? Lisbon's a perfect place for that.
Explore the city on foot, and definitely visit a few of Lisbon's many bars and clubs. We've got recommendations, of course, for Lisbon clubs from electronic to fado.
Bairro Alto is probably the most popular neighborhood in Lisbon for nightlife. It can be hectic, but always celebratory, and you'll have no shortage of other vacationers to chat with.
Remember, last call in Lisbon is 3 a.m., and some clubs stay open until 6 a.m., so pace yourself!
Book your hotel in Bairro Alto now, as it's a very popular — and sometimes very crowded — destination.
7. Do a good deed (or two)
If you're feeling the Christmas spirit and want to give of yourself this Christmas, there are volunteer opportunities in Lisbon. The Banco Alimentar is a well-established organization that fights hunger throughout Portugal.
Banco Alimentar collects and distributes thousands of tons of donated food throughout the year. They distribute prepared meals and food baskets to those in need, including within Lisbon.
Across Portugal, Banco Alimentar has helped more than 390,000 people.
Their website is in Portuguese — as you'd expect in Portugal — but there's a simple form to fill out if you'd like to volunteer this Christmas, or throughout the year.
New to Lisbon? Don't worry about getting lost when you check out The Ultimate Lisbon Map Guide to Get Around The City.
Where to stay in Lisbon

The Pestana Palace
The Pestana Palace is a member of the "Leading Hotels of the World" group and is even listed as a Portuguese National Landmark.
The private landscaped grounds that surround the hotel are a riot of subtropical plants and trees, overlooking a spectacular panoramic view of Portugal's capital city.
Check their availability here. (from €198/night).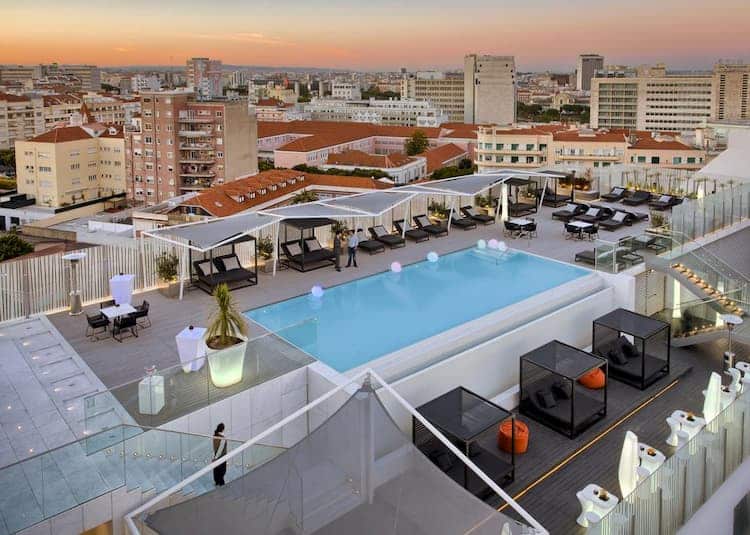 Epic Sana
You'll find Epic Sana in Lisbon's upscale area of Amoreiras.
This newly built hotel features a rooftop infinity pool, restaurant, and upscale bar — all just 700 meters from the Marques de Pombal Square.
Check their availability here. (from €143/night).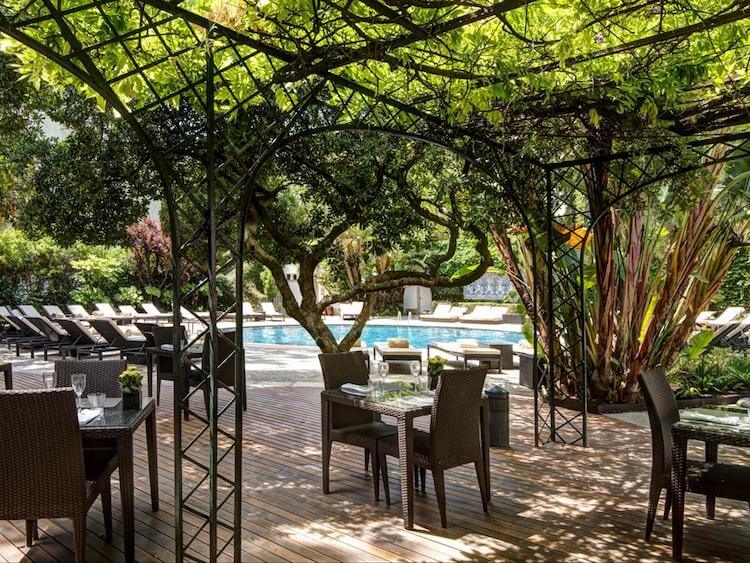 Tivoli Avenida Liberdade
Making its home in a beautiful, vintage 1930s building on the Avenida da Liberdade in Lisbon, this 5-star luxury hotel boasts a rooftop bar with panoramic Lisbon views.
Inside you will find two restaurants, the Anantara Spa, and tastefully decorated modern rooms.
Check their availability 
here
. (from €395/night).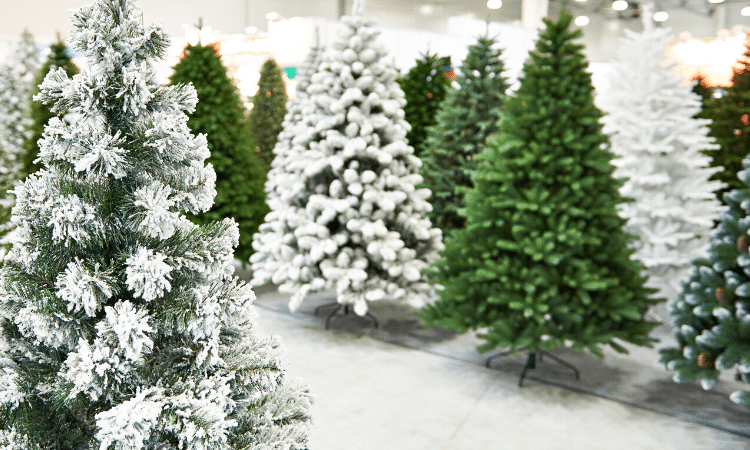 Where to buy Christmas trees in Lisbon
If you're on the hunt for an artificial Christmas tree, you'll find them at the usual spots around Lisbon, including:
El Corte Inglés
Aki
Ikea (though the closest is in Alfragide)
Christmas tree lots aren't found on every other corner in Lisbon, as they are in US cities. But one great place to find a real tree is Horto do Campo Grande. You can even order a Christmas tree from their website — but if you're planning to get one, do it early, like right now. They can go quickly.
FAQ
What are the usual business hours at Christmas?
Most shops and businesses close early on December 24, Christmas Eve. It is important to the Portuguese to spend time with friends and family on this night.
Christmas Eve is the main event here. On Dec. 24, businesses tend to close early – if they're open at all – to celebrate Christmas with their family and friends. On Christmas Day, expect just about everything to be closed for the holiday.
If you're looking for a bite to eat, you'll usually be able to find a few Chinese or Indian restaurants open — as in the US. Hotels also typically have their restaurants open, of course.
And on Dec. 26, we're back to business as usual.
What's the weather like in Lisbon at Christmas?
This southern Mediterranean city sees fairly mild winters with a bit of rain and chilly nights. Bring a fuzzy sweater, a coat, and a warm scarf for nighttime.
Even in December, though, weather in Lisbon is pretty mild. You'll most likely see sunny days, since Portugal boasts 300 days of sunshine a year.
In Lisbon proper, expect daytime temperatures around 15°C (60°F) and nighttime temps falling to an average of 8°C (45°F).
Don't forget to subscribe to our newsletter and receive the latest tips for your visit or move to Portugal.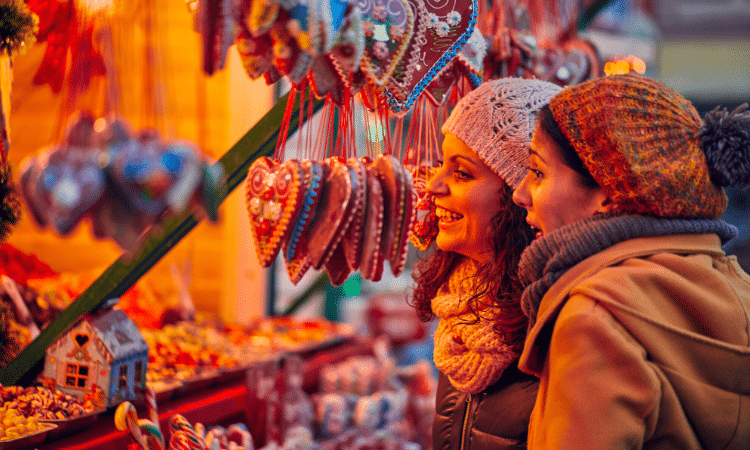 What are some Christmas traditions in Lisbon?
In early December, Lisboetas start setting up their presépios (nativity scenes) and Christmas trees. You'll even see twinkly lights on the balconies around town!
Portugal is a predominantly Catholic country, and Lisbon is no exception. That's why Missa do Galo (Mass of the Rooster) is such a beloved tradition.
Often a midnight mass, or sometimes slightly earlier, the highlight of Missa do Galo is when everyone at the church lines up to kiss an image of the baby Jesus.
Church service or no, Christmas Eve is a rare night when Lisbon kids get to stay up until midnight with their families to ring in Christmas Day and open gifts.
What makes Lisbon interesting?
If you're looking for a new spot to spend the Christmas holidays, one that is full of tradition, festivities, and Christmas cheer, look no further than Lisbon, Portugal.
Learn more about Lisbon, including our favorite can't-miss attractions, here.