We want to help you plan the perfect Alvor, Portugal holiday.
Here you will find out everything you need to get ready for the best holiday of your life. We'll tell you about getting there, when to go, things to do (besides sitting on the beautiful beach all day) and also give you some tips on hotels and restaurants you should try.
Let's go to Alvor…
Where is Alvor, Portugal?
Alvor is right in the heart of the Algarve. A small fishing village full of tradition and beautiful landscapes to see. Located very close to Lagos, Alvor, belongs to Portimão and is closer to the ocean side (west) than to Spain's side ( in the east).
How to get to Alvor
As with any other village or city in the Algarve, you only have one airport to fly to, located in Faro. From there, you can hop on regional buses (which are normally slower than city ones) or get an airport transfer which is normally the fastest way to get to Alvor.
Alvor, Portugal is about an hour by car from Faro Airport (also known as the Algarve Airport), on the A22 highway. This is the fastest route, especially if you go by car (rented or transfer). If you go to Faro Airport's Transfers site, you are able to simulate your journey, including the exact destination and also the number of passengers.
Plus, you can also rent a car directly through that Faro Airport's site, in case you do not want to lose any time looking for different companies.
If you wish, you can also check Faro Shuttle Bus for cheaper prices and see if any of the schedules fit your plans.
How to get around Alvor
By foot, for sure, since the village is not that big to rent a car (for example), which would cost a lot more. In case you find any difficulties, you can always download this Freemap of the Algarve and never lose yourself.
There is no need for a vehicle, only if you want to go to Portimão, for example, or other Algarve's known places (like Albufeira or Vilamoura, for example). If that is not the case, it is fine to move around on foot or even by bicycle.
For more on renting a car, read: Car Rentals in Portugal: Expert Advice to Save You Time and Money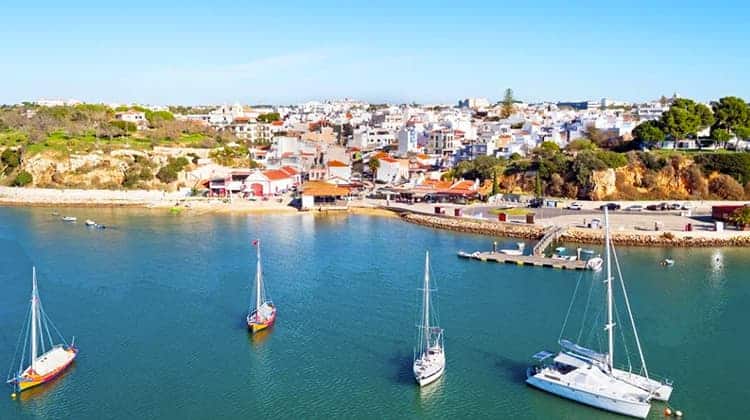 When is the best time to visit Alvor, Portugal?
The best time to visit this beautiful, sunny village is during the summer. The Algarve, located in the south of Portugal, is one of the top destinations tourists choose to spend some days away mainly because of the weather, but also for being kid-friendly and there are so many activities to do.
So, if you can, try to visit Alvor during the months of July or August, which are the warmest ones. That is also the most expensive time to visit the village and the entire Algarve region, actually. If you want, you can also visit during the month of June or even September, which are cheaper months and you already can experience some high temperatures.
Nothing better than to check the Algarve's annual meteorology at the Holiday Weather website before making your final decision. However, we can assure you will have the greatest time.
Read Algarve Weather for more details about which time of the year is best to visit.
Alvor's seven day forecast:
Top things to do in Alvor, Portugal
Visit the beaches
The best advice we can possibly give you is to visit the amazing Alvor's beaches, with extensive sandy areas that seem to have no end. Some of the most beautiful and popular beaches are Praia dos Três Irmãos and Praia do Alvor.
There, you can find some big cliffs surrounding the beach area which are so peculiar and typical of the Algarve's beaches that they do, in fact, deserve a long walk or rested mornings laying on the sand.
On the beaches, you normally can go canoeing, go on boat tours through the cliffs and also ride the banana (a very fun touristic activity, much enjoyed by groups of friends and big families). You can easily get to any of these beaches on foot.
Get the latest tips to help plan your visit to the Algarve by subscribing to our newsletter.
Enjoy nature at the reserve
Alvor also has a unique attraction, very much appreciated by locals and tourists, which is its elevated wood walkways that surround Ria of Alvor's Nature Reserve.
Besides walking, you can also go on long bicycle rides while enjoying the breathtaking views over the estuary where you can also witness the beautiful bird life.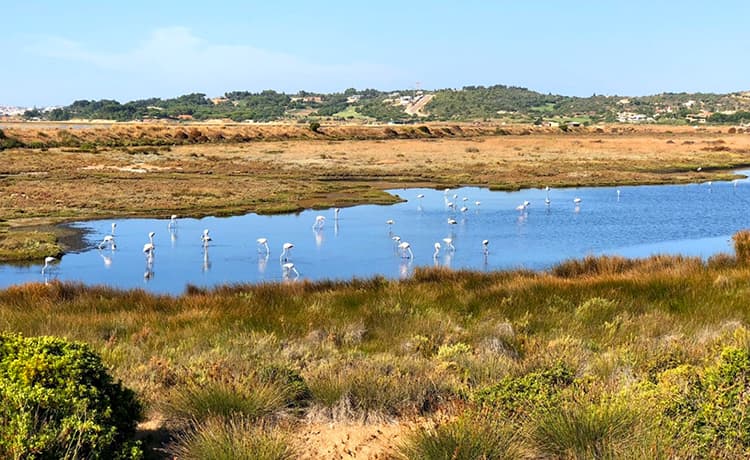 Visit the churches
If you are devoted, there are also plenty of churches to visit. The most important one is the Santa Casa da Misericórdia de Alvor.
Try a skydive
If you are a fan of radical experiences, why not trying a parachute jump from a plane (at 3,000 metres, by the way)? Book your radical experience through SkyDive Algarve and enjoy a once in a lifetime experience.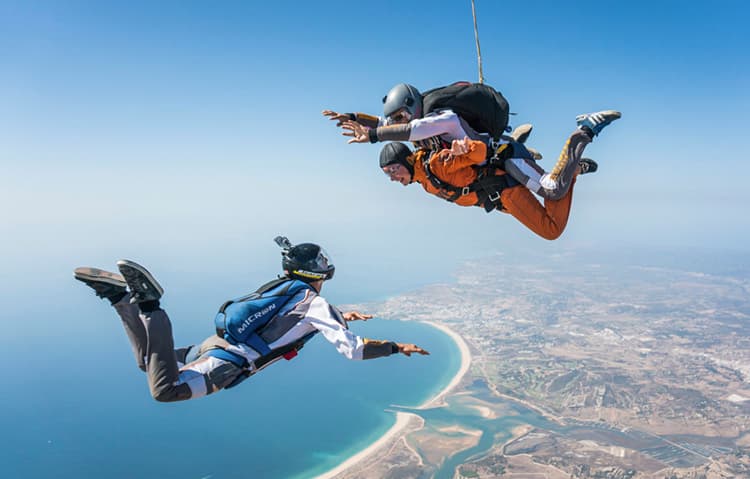 Go on a tour with Get Your Guide
There is an amazing boat tour you can take advantage of when you get to the Algarve. Cruise inside the spectacular rock formations of the Benagil caves on a three-hour boat cruise along the Algarve coast, you might also see some dolphins on the way.
This tour is very popular, so to book, just go to Get Your Guide here.
Best hotels in Alvor, Portugal
To be completely honest, there a few hotels we can see as the best ones in Alvor Portugal and all of them belong Pestana group, a famous Portuguese hotel group that owns a lot of establishments throughout the country.
The top ones in Alvor are:
How to find package deals to Alvor
You do need to search a bit throughout in order to find the best deals for your Alvor getaway. The top sites to found them are Booking.com, Expedia and also the official sites of each hotel.
A holiday for four people (two adults and two children) can come to about €3,000, staying in top hotels, for 10 days in July. But you can also stay on apartment-style hotels for a bit more than €1,000.
Best restaurants in Alvor
Gladly, there are a lot to choose from. Portugal's cuisine is one of the best in the world and the Algarve is the ideal place to enjoy some fresh fish or seafood.
Therefore, I think these are the best restaurants to eat in Alvor:
Taberna Portuguesa;
Grill Dourado;
Big Reds Steakhouse;
Mar & Serra;
El Prego;
Pôr do Sol;
Mediterraneamente.
Alvor nightlife
Even though you can find some nice bars in the village, Alvor's nightlife is not very popular, since people tend to go directly to places like Vilamoura, where the best clubs are located.
Clubs you can check out are:
Enjoy your holiday in Alvor, Portugal
This close-to-the-sea village is the perfect spot to spend your next summer break. Enjoy some time on its beautiful beaches, catch some sunsets and eat the best food you have ever eaten.
Let us know if you have been to Alvor and want to share your experiences.