I am guessing you have probably never heard of Alte and you might be thinking of reasons why you should visit this little village in the Algarve.
In this article, we'll tell you all about Alte, Portugal and the interesting things to do and see in this quaint and charming village.
Why visit Alte, Portugal?
First, a brief history of Alte.
Alte, Portugal was once considered one of the most typical villages in the Algarve. It is an unspoilt haven hidden away in the hills of Serra do Caldeirão, a strategic elevated point that once served as a reference point to the Portuguese navigators.
One standout feature of the village is the amazing number of whitewashed houses with simple roofs that have arguably the most beautiful lace chimneys of the Algarve. This common characteristic of Alte has led many to believe it was perhaps once inhabited by the Arabs.
Where is Alte?
Alte is in central Algarve, northwest of the Municipality of Loulé. It is 22km (14 miles) to Albufeira (one of the bubbliest places in the Algarve) and 44km (27 miles) to Faro airport.
How to get to Alte, Portugal
There is no direct public transportation to Alte from most parts of the Algarve. The closest municipality with a direct bus connection to the village of Alte is from Loulé.
Getting to Alte from Faro by car
Alte is a 45-minute drive from Faro via the A22 route. This is the fastest route to Alte from Faro, but you would have to pay tolls. If you want to avoid tolls you can drive to Alte via the IC4.
See this link for Google map directions.
Generally, you should also know that the best way to explore the Algarve is with a car because the public transport system is not the best.
Find out everything you need to know about renting a car in Portugal here.
Need more tips about visiting Portugal? Be sure to sign up for our newsletter today!
Getting to Alte from Faro by bus
You can go by bus or a combination of train and bus services which will take just under two hours.
You can travel by train from Faro to Messines-Alte on the Intercity train run by Comboios de Portugal which will cost between  €4 and  €7.
Then take an Eva bus from the station at São Bartolomeu de Messinesto to Alte which will cost €2 to  €4.
For more options by bus, see Rome 2 Rio's website here.
How to get around Alte?
The best way to get around in Alte is to go with a car or sign up for a jeep safari tour or a tour that takes you through the interesting villages and towns in the Algarve.
I absolutely loved this Jeep safari from Get Your Guide. It's a full day from Albufeira with lunch in Alte included.
The price was great and it was so much fun.
What to do and see in Alte, Portugal
Alte is a very small village so there isn't so much to do and see. But the following places are worth seeing.
Alte waterfall (Cascata Queda do Vigário)
This beautiful waterfall with lovely green grassland is located just on the edge of the Alte village. It is one of the major tourist stops in Alte and surely worth seeing and going for a swim. From time to time the waterfall dries up because the rainfall in the area is quite low. However, the surrounding area makes for other leisure activities like picnics and barbecues.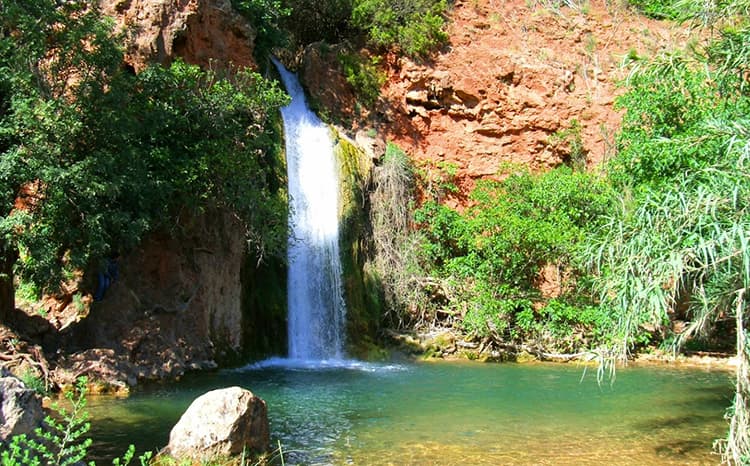 Church of Our Lady of the Assumption
Church of Our Lady of the Assumption ("Igreja de Nossa Senhora da Assunção") is in the middle of village. The construction of the church goes as far back as the 13th century when it was constructed to be a private chapel, but in 1518, it was reconstructed into what is today known as Igreja de Nossa Senhora da Assunção.
The design of the church follows the typical Manueline and Rococo style that was common in Portugal in the 16th century. This style is well depicted in the interior of the church making it a very beautiful monument in Alte. The church remains one of the oldest historical references of Alte, it is definitely worth a visit!
Fonte Grande and Fonte Pequena
In ancient times, these "Fontes" were the central point for women from the village to get water and do their laundry, but now it's a pleasant place to relax. The springs have crystal clear water that flows from the Alte river which forms a pool where many people come to swim during the summer.
Also, the surrounding area of the spring is a nice area to have picnics and engage in leisure activities.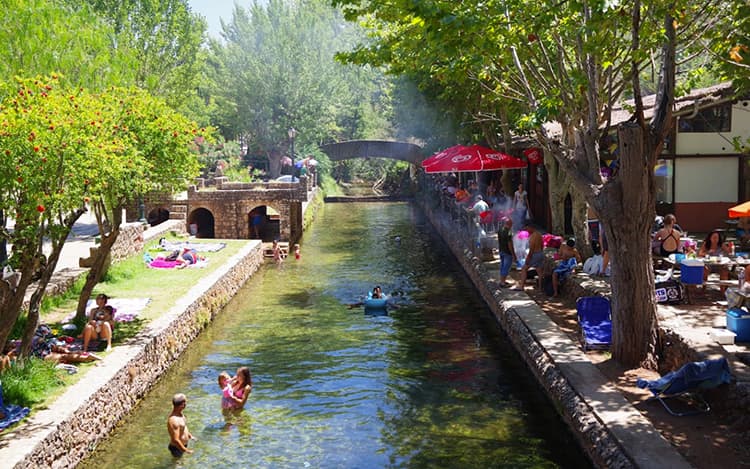 Buy traditional crafts
Before leaving Alte, you should buy some local souvenirs as Alte is known to have nice handmade crafts, regional sweets, wooden toys, esparto grass weaving and pottery works.
Discover which are the most popular things to buy in Portugal from 13 Portugal Souvenirs to Bring Home.
Weather in Alte, Portugal
The climate in Alte is mild, and generally, the same temperature as found in most parts of the Algarve. The winters are rainy and the summers are very hot.
The best time to visit Alte is usually at the beginning of spring to the early autumn months.
If you love swimming then come to Alte, Portugal closer to summer so you can enjoy the waterfall and the "Fontes".
Where to eat in Alte?
Considering the size of the village, you don't have endless options, but these few restaurants have delicious and tasty local dishes.
Most of the restaurants in Alte offer typical Algarve gastronomy. You should try some local dishes and desserts like:
Pudim de amêndoa;
Bolachas de Mel;
Arroz Doce;
Galinha cerejada;
Feijoada de Javali; and
Frango no churrasco.
Want to taste some more typical Portuguese cuisine? Have a look at our article on Typical Portuguese Food.
Where to stay in Alte?
There aren't so many options for accommodation in Alte. Below are two options you can choose from.
Alte Hotel
The Alte Hotel has amazing views, a rooftop terrace, lush gardens and a swimming pool. Prices start at  €30 so this is a very nice, affordable hotel to stay in when you visit Alte. You can find the best deals on Booking.com here.

Cerro da Janela
Cerro da Janela is a typical whitewashed, Portuguese-style guest house tucked away in the natural hills of Alte. They have a swimming pool and amazing mountain views. They also have a kitchen where you can cook your own meals.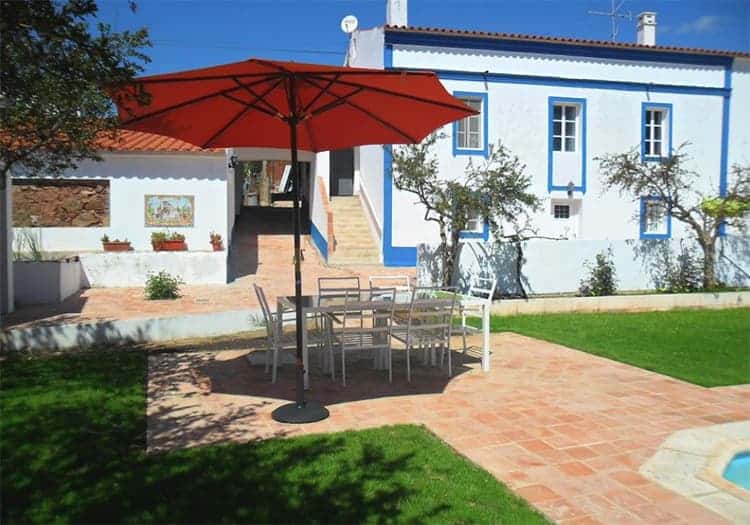 Some alternative options to staying in Alte would be to get in accommodation in Loulé, Albufeira or Messines which are neighbouring towns to Alte.
Is Alte worth visiting?
Alte is probably not everybody's cup of tea, but could be ideal for you if you are into rural tourism or looking for a nice spot for a relaxing holiday and seeing villages that have been preserved. If this is you, then this place is worth a stop.
Most people who visit Alte usually do it as a day trip from one of the major tourist hubs in the Algarve. There are also some tours that stop at Alte and some neighbouring towns like Silves, Salir and Algoz.
What about doing a tour around Alte?
I would totally recommend exploring Alte by signing up for a guided tour package mainly because of the limited transport network in the area especially if you would not be visiting with a car.
Real Algarve full-day photography tour
The nine-hour day trip will take you all around the most picturesque spots of the Algarve including Alte, Querença and Salir. The price is only  €30 per person and they'll even teach you how to take better photos. To book this tour now, just go to Get Your Guide.
In conclusion, I hope this article on Alte, Portugal guides you on your visit to the Algarve. It is one of the many day trips you can do when you visit the scenic region of the Algarve.
What are you waiting for? Start planning your visit!
Let us know in the comments below if you have any questions on Alte, Portugal.