If you're looking to visit a typical Portuguese town, you're in the right place. Almeida Portugal is a star-shaped historic village, just perfect for a weekend fairytale adventure.
And we prepared a small, but objective, guide with all you need to know about Almeida Portugal and the one thing you can't absolutely miss while visiting it.
Let's go.
Why is Almeida Portugal Special?
Or, in other-other words, why should you visit Almeida in Portugal?
Almeida is considered Portugal's second fortress, right after Elvas.
It is part of the defence line of the neighbouring Castiglia, consisting of loads of castles and fortresses. The town is surrounded by two lines of walls, still completely intact, hexagonal in shape and consisting of six bulwarks, each with its own ravelin.
Within the walls, it is still possible to find a number of military buildings and very interesting civil architecture.
Got your attention now?
Okay.
Time to start planning your journey.
Where is Almeida Portugal?
The small town, with a population of only 1,300 people, is located in the region of Beira Alta (see here our guide to Portugal map).
The small town is located in the parish of Vilar Formoso, one of the most important borderlines with Spain.
It's located right next to the highway "A25", which connects Lisbon with the north of Spain, and next to the train line that connects Portugal with the rest of Europe, with trains to Madrid and Paris.
Take a look at our latest articles about visiting Portugal?
How to get to Almeida?
The easiest way to get to Almeida is by car. But it's also possible to go by train/bus depending on where you're departing from.
Going to Almeida in Portugal by car
From Lisbon, it takes about 3 hours and 30 minutes. You can easily access the A1 and then the A23 passing through Covilhã da Guarda, once there, take the A25 towards Vilar Formoso.
From Porto it takes about 2 hours and 20 minutes; you can enter the A1 with the direction south and then at Albergaria turn to the A25.
From Coimbra, it would take around 2 hours and 15 minutes, by the A25 heading towards Vilar Formoso.
See also: Top 20 cities in central Portugal.
Going to Almeida in Portugal by train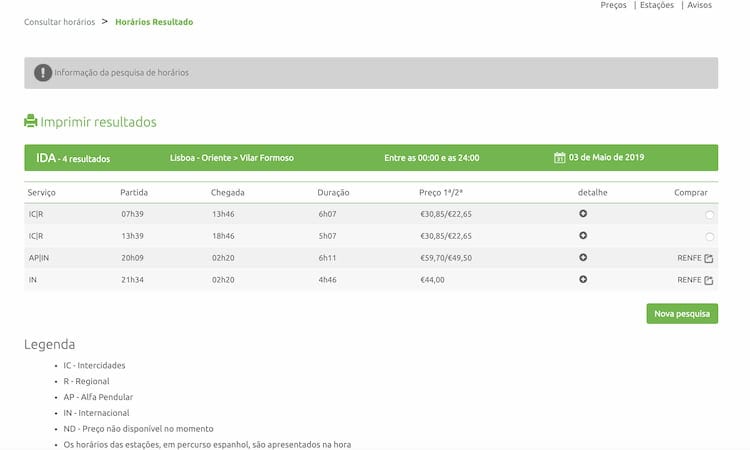 Going to Almeida in Portugal by Train is also possible.
From Lisbon, Porto and Coimbra it is accessible also by train, you would need to make a trip to Vila de Vilar Formoso where then it will be necessary to take a bus to Almeida.
The train would take, at least, 5 hours and 07 minutes. While the bus journey from Vilar Formoso to Almeida is no more than 30 minutes.
Useful links:
Is it worth going by public transport to Almeida in Portugal?
Well…
It will be a much longer journey.
And if you're taking relatives or friends with you, it will be more costly.
But at the same time, there's a unique advantage: During the trip, you can observe the beautiful landscapes.
I'd personally rent a car in Portugal, as it would be more comfortable and flexible if I want to stop somewhere in the way to Almeida.
What's the best time to visit Almeida?
The weather in Almeida is very variable, as most of the country. Generally, though, it is mainly mild and temperate.
Weather from January to March
For example, from January to March, it would easily be mostly cloudy, with a chance of rain. The temperature would vary from 6° the coldest, and 20° the warmest.
Weather from April to June
Springtime would be during the period from April to June when temperatures start raising a little bit between 10° and 28°, but it is raising also the chance of rain.
Weather from July to September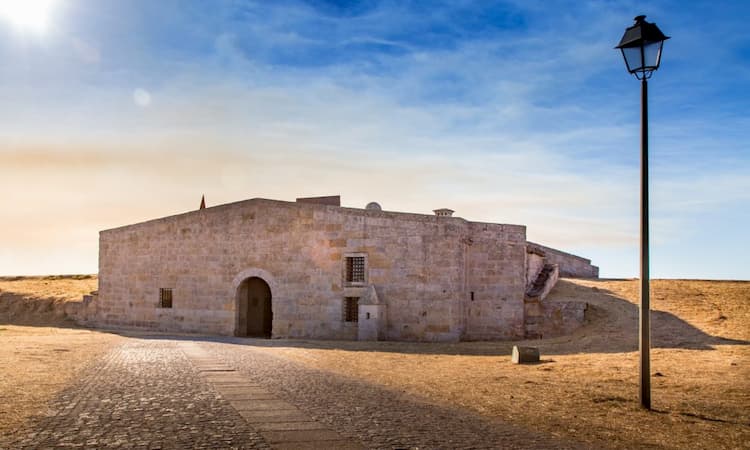 July to September are most definitely the warmest months, with a minimum of 17° and a peak at 38°, and fewer chances to meet a rainy day.
Weather from October to December
October, November and December are very cloudy, and maybe the coldest months, with a minimum temperature of 7° and a maximum of 16°.
Reading about the weather in Portugal will help you make a wise decision.
Top things to do in Almeida Portugal
At this point you might be asking yourself:
Ok, but is there even any cool attractions to see in Almeida?!
For such a small village I can tell you,
Yes, there are!
The Castle of Castelo Bom and its neighbourhood
Like a medieval castle, Castelo Bom was part of an area of disputed lands between Portugal and the
The Kingdom of León. In 1282 the Portuguese King ordered its structural reinforcement, so it is now implanted at the top of a 725 metres (2,379 ft) hilltop and its surrounded by walled fortifications encircling the settlement.
The Castle/Fortress of Almeida
It is classified as a National Monument, and taking a walk around the walls surrounding the town is definitely a must do when in Almeida.
See also the top 20 things to do in Portugal
Picadeiro Del ́Rey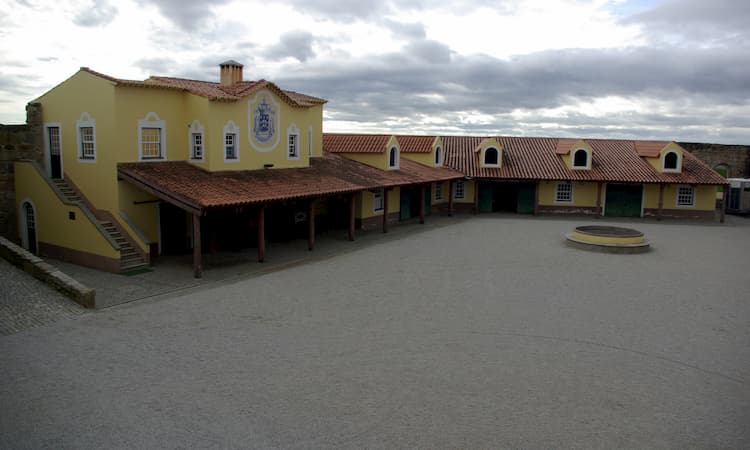 The current Picadeiro de Almeida has undergone numerous functional adaptations, but it originally served as Artillery Train. It is now composed by the Horse Stables, and it houses excellent professionals for the practice of riding.
Praça Alta
The highest point of the whole fortress, located in the Santa Bárbara bulwark. It used to be the centre for watching possible enemies movements. Today it is the perfect spot for visitors to enjoy the view of the town.
Igreja da Misericórdia
The architecture of the façade, which has an irregular rectangular layout, replicates the composition of Porta Magistral de Santo António.
Accommodation in Almeida Portugal
Bellow, we list the best Hotels to stay in Almeida
Casa Do ti Messias
It is the perfect place to feel at home in the heart of the historical village of Almeida, with an atmosphere that brings back the memories of the old town, but with all the comfort of the 21st century.
A big plus is a spacious terrace with a view of the village and its surroundings.
O Revelim
Right in the centre of Almeida's village, has five rooms available, called "revelins" alluding to five of the six magnificent "revelins" protecting the village of Almeida. The guesthouse offers homemade cakes and a taste of some of the best regional products.
You can book it (or gather more information) directly on booking.com
Hotel Fortaleza de Almeida
Located within the city walls, it is a 4-star hotel that offers spacious rooms, some with a private balcony. Fortaleza's on-site restaurant is open every day and prepares regional delicacies including fish soup and almond pudding.
Prices start at 100 euros per night, for a double bedroom.
Casa Morgado
Casa Morgado is located 200 meters from the historic fortress and only 7 km from the Spanish border. The rooms are classically decorated in warm colours.
The restaurant serves traditional Portuguese cuisine and offers buffet breakfast.
Price for a double bedroom in June is 40€.
Where and what to eat in Almeida
Restaurante O Caçador
Right in the heart of the village, the restaurant (link to Facebook page) offers a cosy and friendly environment and traditional food. For a good typical Portuguese cuisine, you will find a variety of cod recipes and octopus.
You have to try the local region wine, which most likely will be called vinho da casa, the regional cheese (Queijo da Serra) (2) and pumpkin jam (3).
See more about typical Portuguese food.
Casa D'Irene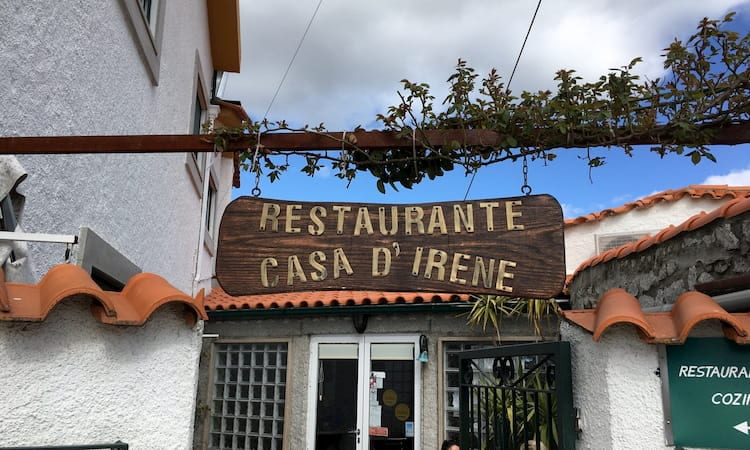 A small family restaurant (TripAdvisor link) where you can taste a wider variety of traditional food from the region.
Best food options
Delicious stewed octopus, bacalhau à brás (grilled codfish with sliced fried potatoes) or a huge beef with potatoes and rice. There are other options such a the traditional goat dish.
Overall the price per person is around 15€ including "vinho da casa"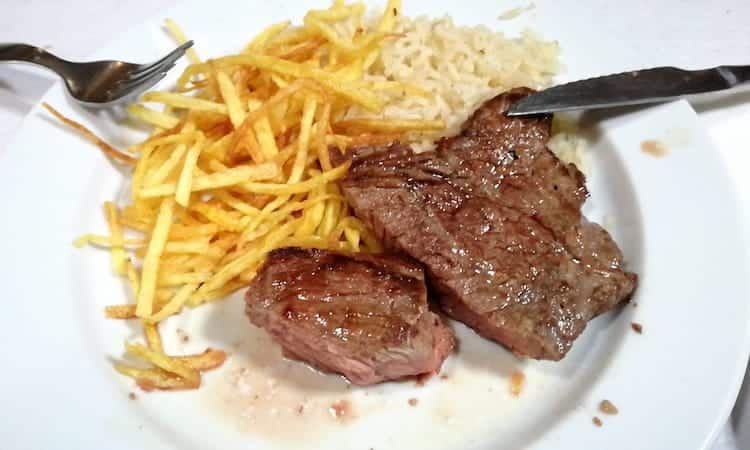 PS – Be sure to check out the backyard, where you can see much of the vegetables used in the food you're actually eating.
Granitus
Can you guess the type of food that they serve here?
Yes, you got it right.
More traditional Portuguese food.
Main features of this restaurant are the pink walls, the large rooms and a big terrace where you can enjoy a digestive drink after the meal.
Food portions are huge and there is a wide variety of cheese and sausages available to try.
You can see in TripAdvisor more information about Granitus.
Mercearia com Alma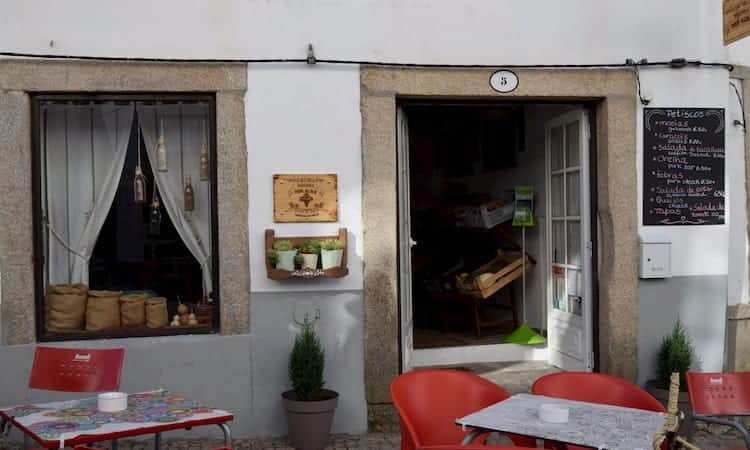 The restaurant offers biological food, and it is well known for its assorted options of teas.
A Muralha
The restaurant is located at the entrance of the historical area, it is big but able to offer a friendly environment. It has a large and varied menu, which embraces regional dishes and the dishes of the house.
More information can be found on their official website, which unfortunately still runs flash player, but who cares, as long as the food is good, right?
Is it worth visiting Almeida?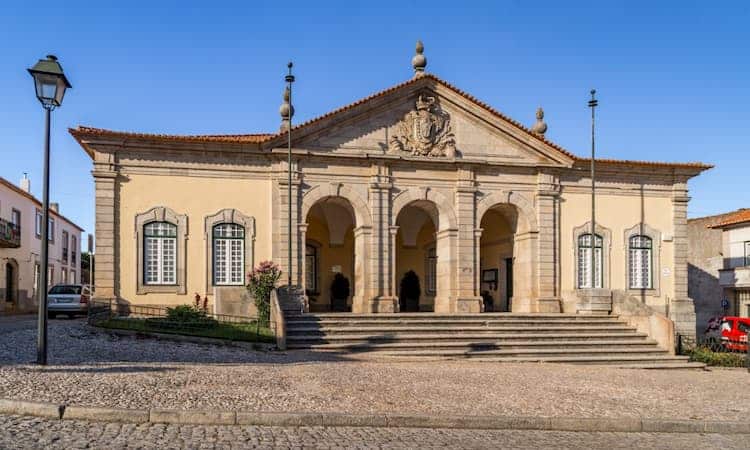 Almeida has so much to offer; a daily walk, good traditional food and historical heritage. But around there guests can as well explore the surrounding countryside by renting a bicycle, and easily arrange a variety of leisure activities, including fishing, horse riding, and hot air ballooning.
Finally, Almeida is most definitely a good place to visit if you are interested in history and traditional Portuguese culture.
If you have enjoyed this article, we highly recommend you check the complete list of the best holiday villages in Portugal.