Got some spare time in Lisbon? We have some great ideas for you.
Why not go on a day trip? Somewhere close, somewhere interesting and somewhere fun!
5 awesome day trips from Lisbon
Lisbon is undeniably a great city to visit. There are plenty of things to see and discover. But you should not limit your visit to Portugal to only the capital city as you would be missing out on seeing some other fascinating towns which will make your trip even more memorable.
We have gathered the best and most enjoyable day trips from Lisbon you should consider taking.
1. A day trip to Sintra
A day trip to Sintra is easily the most popular day trip from Lisbon and indisputably so, because of its scenic views, beautiful gardens and grand castles. If you must take only one day trip on your visit to Lisbon, it should be a trip to the magical town of Sintra.
Sintra as a town is a designated UNESCO World Heritage site. In Sintra, you will be blown away by the scenery and the greenery, you will also be spoilt with choices as there so many palaces to see starting from the Sintra National Palace in the city centre to the Castles of the Moors and then onto the fairytale castle called The Pena Palace on the hills of Sintra.
Also, do not forget a visit to Quinta da Regaleira, an opulent palace on the edge of the city with lakes, waterfalls and secret wells and tunnels.
There are a number of tours you can take with Get Your Guide, they are all worth it.
How to get there
Getting to Sintra from Lisbon is easy and quite inexpensive. You can take a train from the Rossio station in Lisbon going to Sintra and then stop at the last station. A one-way ticket to Sintra costs €2.25. The train ride is approximately 40 minutes. Once you get to Sintra station you can take the bus 434 to the Moorish Castle and The Pena Palace or you can walk to the city centre to see the Sintra National Palace and afterwards take the bus from there to the other castles.
Alternatively, you can drive to Sintra on the IC19 motorway which takes about 30 minutes from Lisbon. If you're nervous about narrow and steep roads, then it's not advisable to drive. There is very limited parking area in the town but, you might be lucky especially on a week day.
Finally, you should try to get to Sintra as early as possible so that you can visit most of the castles and avoid huge crowds.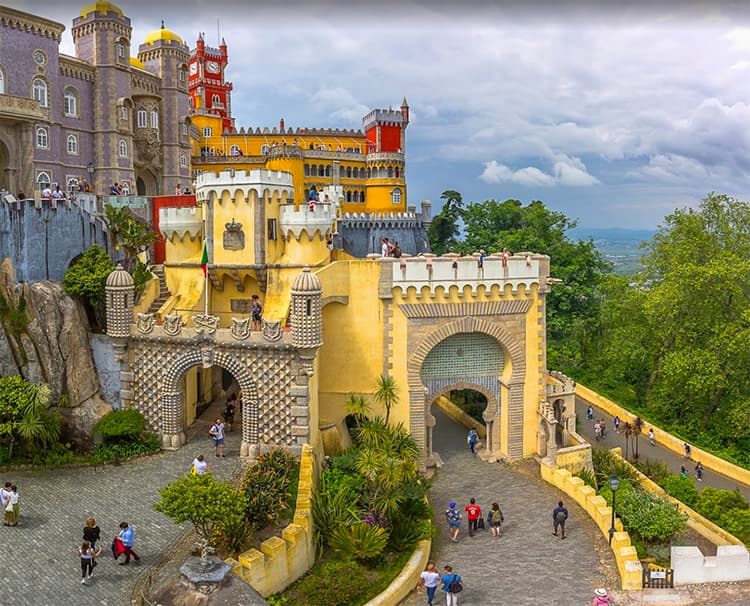 2. A day trip to Óbidos
If you are looking to go for a day trip to a small and picturesque town not too far from Lisbon, then Óbidos is the perfect place to go.
It is a charming medieval town where the entire city is encircled with town walls. It is possible to walk on the town wall and it offers a wonderful aerial view of the city, but you must be careful as there no guide railings. Then you can also go for a walk on the streets as you will find well-preserved castles and traditional houses.
Afterwards, do not forget to take a shot or two of Ginja de Óbidos, a deliciously sweet cherry liqueur. It is usually served in little chocolate shot cups which you eat after drinking.
It's an ideal place to spend an afternoon, go for a long walk, relax and travel back in time while sipping in the scenery.
Why not take a tour from Lisbon with Get Your Guide and combine it with other interesting things to see in the same area? We can highly recommend it.
How to get there
You can either go by train or bus. The bus is preferable as it takes about one hour to get to Obidos whereas, the train takes over two hours and they are not so frequent. To catch the bus going to Obidos you should go to the Campo Grande bus station. Then you look for the Green Express  ("Rapida Verde") bus and get on board. Payment for the ride is made on the bus to the driver as you cannot pre-book or pay online.
Finally, take a seat and enjoy the scenic ride to Obidos. The bus stop at Obidos is just five minutes away from the city centre and should not be hard to find. The daily bus schedule is provided by Rodotejo.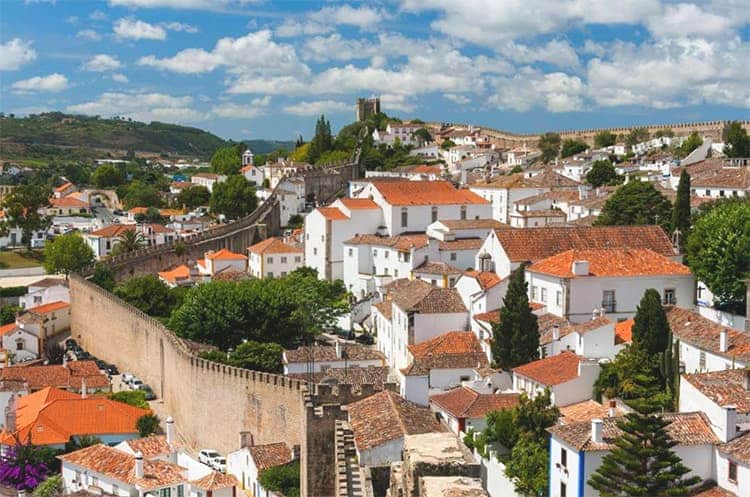 3. A day trip to Sesimbra
Head out for an enthralling day trip to the fishing village of Sesimbra located in the Setúbal district of Portugal.
Once you get there, first, head up to the Castelo de Sesimbra which was constructed by Moors from North Africa and at the summit of the castle, you will be treated to a stunning view of the city.
Afterwards, you can go to the beach to swim in crystal-clear waters or do some kayaking, the choice is yours.
To get in-depth about fishing and the Sesimbra town you can visit Museum of the Sea ("Museu do Mar") at Largo Luís de Camões, 8.
Finally, before you leave, be sure to eat some delightful, fresh seafood dishes from a "Marisqueira" restaurant.
Also, you should know it gets very crowded in Sesimbra in the summer, if you want to avoid crowds you should plan to visit late spring or early autumn.
Our friends at Get Your Guide have some amazing package deals if you would like to relax on a guided tour. For example, there is a wonderful dolphin and whale watching tour available for only €39 per person.
How to get there
There is no direct train service to Sesimbra from Lisbon, so it's better to go by bus or rent a car. The buses going to Sesimbra are found at the Praça da Espanha in Lisbon and they stop at the bus station Sesimbra. The tickets are purchased from the driver and they cost €4.35 for a one way. There are two buses on this route: 207 and 260. The bus 207 is more frequent and the journey to Sesimbra takes about an hour.
Going by car would also be a good option as Sesimbra is only a 35 minute drive from Lisbon. If you drive to Sesimbra, you can easily visit the mountain of Serra de Arrábida and Cabo Espichel peninsular which are not too far from Sesimbra.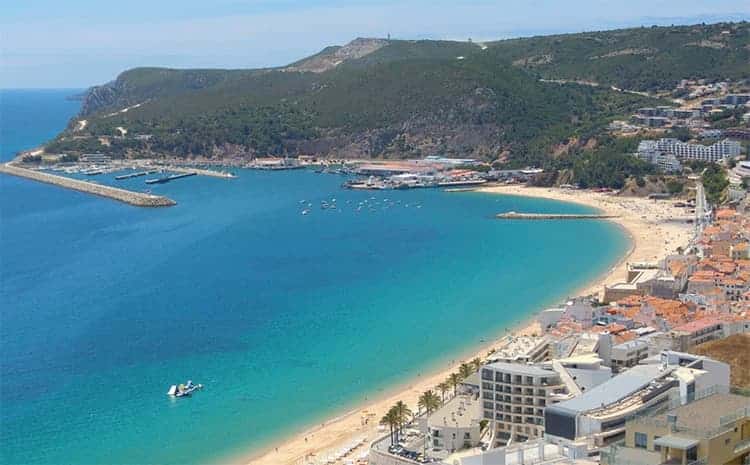 4. A day trip to Ericeira
Ericeira is a fishing town and a world surfing reserve. It is a surfer's dream town as the beaches have incredible waves. Ericeira is also renowned for having excellent seafood in Portugal.
You can try your first surfing experience in Ericeira as there many surfing schools for beginners. Try a lesson or two on a surfboard or a paddleboard. There are some great deals on Get YOur Guide.
Besides surfing, there a few other things to do like walking through the cobblestoned streets and exploring the hills of the town which provides pleasant views of the landscape.
You can also go skateboarding right by the sea at Quiksilver's Skate Park.
Ericeira is also an ideal place to relax on the beach and soak in some nature. If you are into wildlife, you can take a short trip inland to visit the National Hunting Ground of Mafra which used to be a royal hunting ground. Here you can see different species of animals like foxes and deer.
You should also treat yourself to a nice seafood delicacy before leaving Ericeria at one of the many restaurants.
How to get there
You can get to Ericeira either by car or bus. The bus to Ericeira departs from Campo Grande and it's quite cheap. There is a schedule provided by Mafrense but the buses go regularly so you won't have to wait long. Tickets can be bought directly from the driver and are about €7 for one way.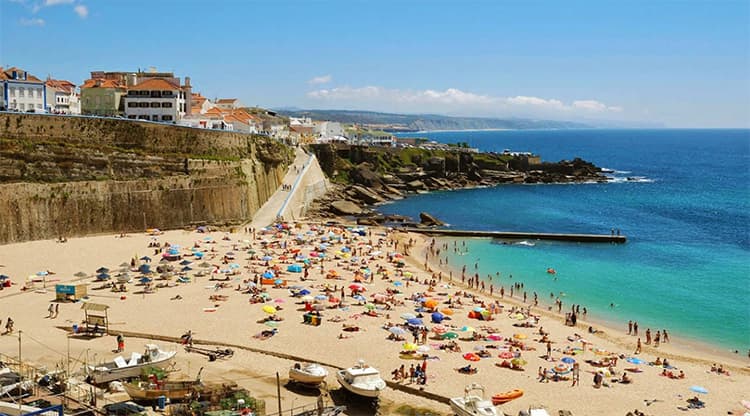 5. A day trip to Costa da Caparica
On the other side of the 25th of April Bridge ("Ponte 25 de Abril") is the stunning Costa da Caparica coastline with an almost uncountable number of beaches facing the Atlantic Ocean. It is a long stretch of sandy beaches including the popular nudist beach.
It is a place to walk in the sand, swim, sunbathe and have a little picnic. The main beach is filled with famous Lisbon lounges, restaurants and a resort.
Costa da Caparica is also a popular destination for surfers as some of the beaches have great waves. Why not try some bodyboarding? You can book a half day trip with Get Your Guide and they will pick you up in Lisbon and take your to the beach for some fun in the waves.
A day trip to Costa da Caparica makes for a short and pleasant escape from Lisbon as it takes between 30 to 45 minutes to get there from Lisbon.
How to get there
You can go to Costa da Caparica either by bus or by a boat ride to Cacilhas and then a bus to Costa da Caparica. The direct bus going to Costa da Caparica from Lisbon is found at Avenida Praça Manuel Da Nóbrega (Praça Do Areeiro). The bus on this route is 161 and a single ticket is €3.20 which is paid to the driver on the bus.
If you wish to go by boat, then you will have to catch a ferry going to Cacilhas from the Cais do Sodré station and from Cacilhas take bus number 135 or 124 to Costa da Caparica. The 135 has fewer stops and so it is a faster alternative.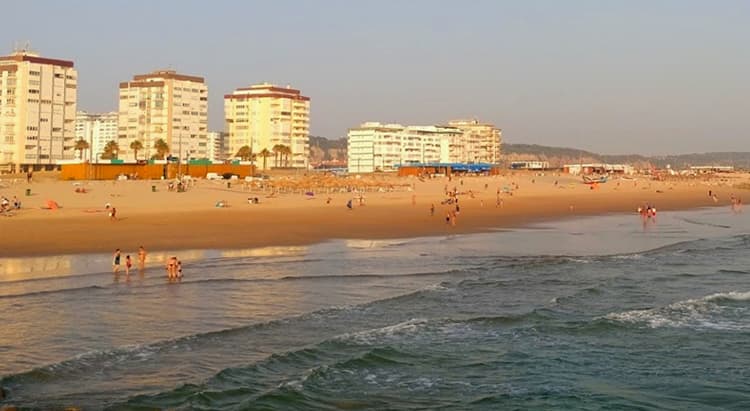 Enjoy your day trip from Lisbon
We hope that one of these ideas helps you to decide how to spend an extra day in, and around, Lisbon.
Do you have any experiences to share? If so, feel free to leave a comment below.
Join us and the bePortugal community by signing up to our newsletter . We look forward to sharing all our news and special articles with you.