Praia da Oura is one of the most well-known beaches between the party lovers in Portugal.
Located in Albufeira, Praia da Oura is the perfect spot to enjoy your summer holidays. Especially if you are keen on having some leisure and fun at the same time.
Did you become interested? Then read further and learn everything about Praia da Oura.
We tell you how to get there, where to stay and what to do on the beach, where the nights are busier than the days.
Where is Praia da Oura?
Praia da Oura, or in its English name Oura beach occupies an approximately 1km (o,62 miles) long passage between Praia dos Aveiros and Praia de Santa Eulália.
The beach is located close to the new centre of Albufeira, on the eastern side of the city.
This means that Praia da Oura is basically in the heart of the Algarve's party area.
Want to know more about Albufeira? Check our guide on it.
Praia da Oura beach views
Just like the other beaches in Albufeira, Praia da Oura is also all covered by fine yellow sand.
The beach is quite wide with a lot of space for sunbathing. So you can just lay down and be amazed by the view of the ocean and the beautiful cliffs which are washed by the water.
In case you need some more convincing, just give a look at the pictures below.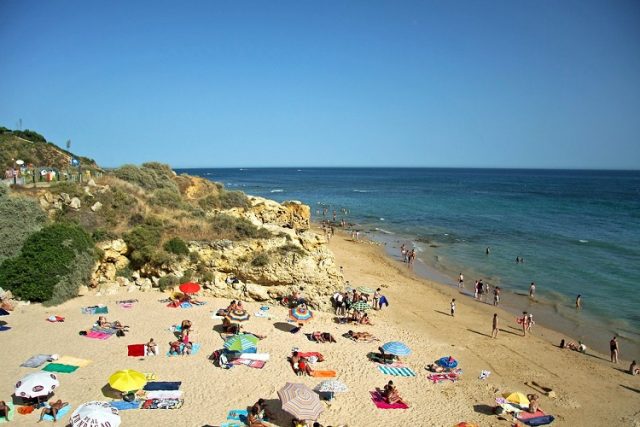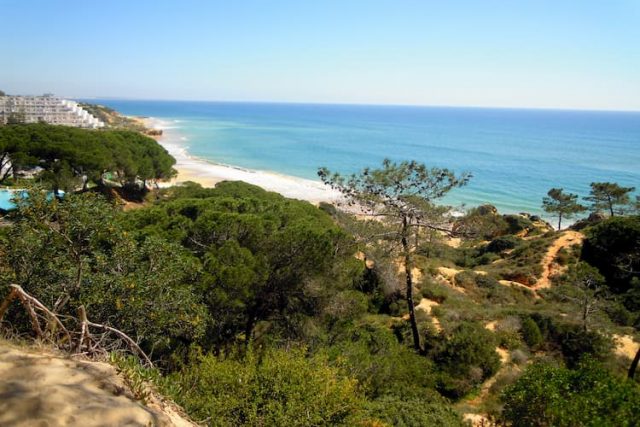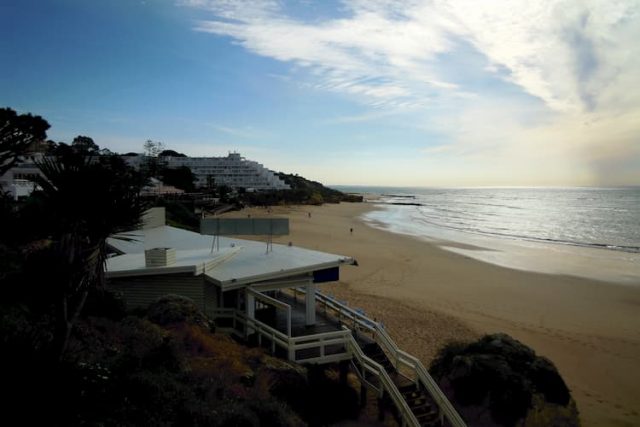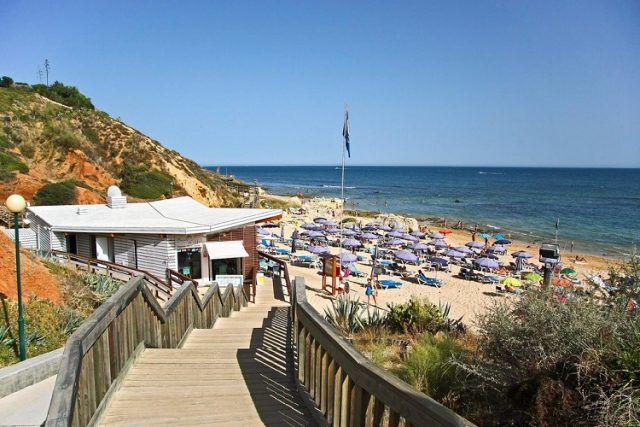 How to get there?
From the downtown Albufeira, it takes around 10 minutes by car. We recommend you to park in Rua Ramalho Ortigão since this is the closest street to the shore.
However, you have to count with the fact that it will be hard to find a parking spot during the summer months.
In case you want to avoid this stress, you can also take the bus. The blue and the green line brings you to Praia da Oura from downtown for €1,40. For the timetables click here and here.
To Praia da Oura from Faro
From Faro it takes around 40 minutes on the national road, the N125, to get to Praia da Oura by car.
The other option is to visit the beach by train. The journey is 32 minutes long and it costs you €3.25 one-way with a regional train. The IC and AP trains are 10 minutes faster, but they also cost more. The same journey by IC is €9.50, by AP is €11.50.
To learn more about the train lines and services in Portugal, just click here.
However, you have to consider that the Albufeira train station is still far from the beach, and you will need the local bus as well to get there.
From Portimão to Praia da Oura
In case you want to visit Praia da Oura from Portimão, you have two options.
The more comfortable choice is, of course, to get there by car.
It takes only half an hour through the A22 highway, although you have to pay a fee for using the expressway.
The other option is to arrive by train. There are several regional trains per day which run between the two destinations.
The journey takes around 45 minutes and costs €3.40.
Nightlife at Oura Beach
We have some good reasons why Praia da Oura is the favourite beach for party tourists. The nearby area, called Strip, is full of bars and clubs which are open all night.
In Wild&Co.  you can even have your dinner before you go wild. The bar has a separate restaurant where you can try tasty dishes in an extraordinary environment.
And the best part is that you don't have to go far for some entertainment either. In the bar area you can watch the bartending fair shows, the dancers, live bands or just dance until 4 am.
Matt's Bar is also a good choice if you want to dance through the night. They play house and urban music until 4 am, organizing colour-themed and sunset boat parties.
Check their website and book the perfect hen or stag party package for your friends!
Kiss is another emblematic disco in Praia da Oura. It opened its gates for the first time in 1981 and has been entertaining several generations since then.
In case you don't want to stop at 4 am, choose Kiss and continue the party until they close at 7 am!
There are several other bars and clubs you can also try, such as La Bamba, Renos, Pacha and Libertos.
Choose your favourite and let us know which one is it!
Find out more about Portugal, subscribe to our newsletter.
Where to stay near Praia da Oura?
Do you want to stay close to the beach and also the clubs?
Here is our recommendation on where to stay for the most comfortable holiday in Praia da Oura!
Grande Real Santa Eulália Resort & Hotel Spa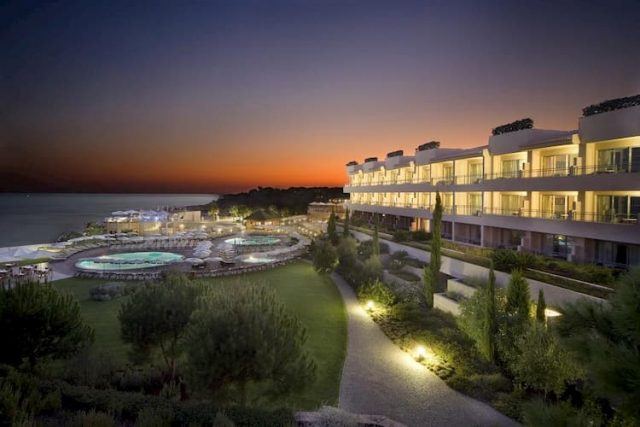 For the five-star luxury choose the Grande Real Santa Eulália Resort & Hotel Spa! You can wake up there every morning looking at the ocean since almost all the rooms have a sea view.
Perfect location, nice rooms and all the necessary facilities in one amazing hotel.
Book your room here.
Golden Beach by 3HB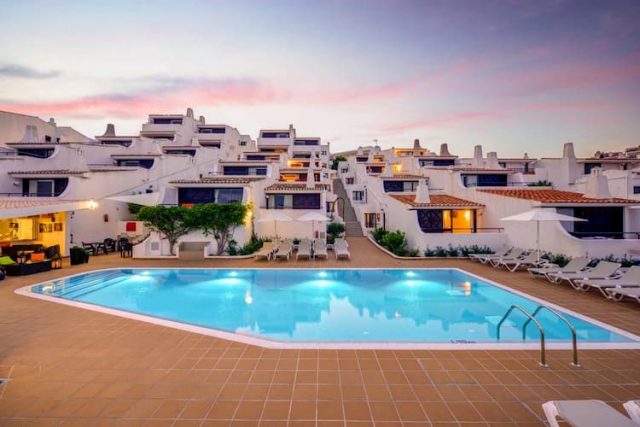 Golden Beach by 3HB is one of the most well-rated apartment hotels in Praia da Oura. Even though it is a three-star hotel, it has everything for a perfect holiday.
Good location right at the beach, swimming pools, clean rooms and friendly staff.
Would you like to stay here? Book your room.
Areias Village Beach Suite Hotel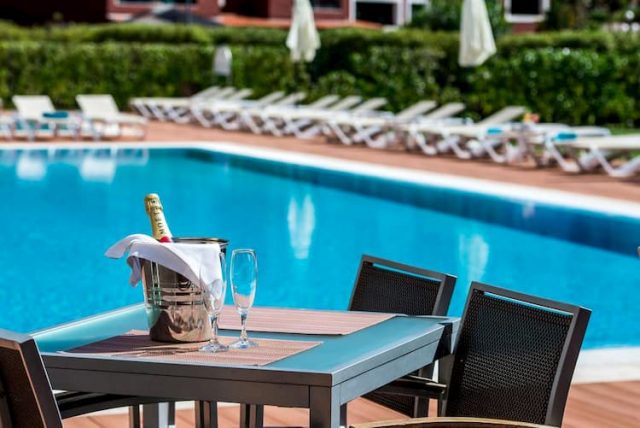 This four-star hotel is also a great choice for your holiday at Praia da Oura since the beach and the party area are only five minutes walk away. Although, you don't even have to leave the hotel to enjoy your vacation.
The rooms have a sea view and you can cool yourself down in one of the pools as well.
Make your reservation here, before you miss out the best deals in this great hotel!
For more ideas about where to stay in the area, check out our article about the best resorts in Algarve!
Where to eat in Praia da Oura?
The Market Restaurant
The Market collects all the fresh goods of the traditional market to serve the best local dishes possible.
You can book your table here for dinner and enjoy the nice and tasty plates with a scenic view.
Senhor Frogs Pizzeria
In Senhor Frogs Pizzeria they care about dietary requirements just as much as the quality of the food.
Gluten-free and vegetarian guests also leave the place satisfied after eating in one of the best-rated restaurants in Albufeira.
Whether you want a pizza, steak or seafood, you will not be disappointed!
Cuica Praia
In case you want your dinner right at Praia da Oura, Cuica Praia is the perfect restaurant for you.
The terrace is facing the sea and the food and the cocktails are excellent as well.
If you are looking for a nice view, professional service and tasty food, Cuica Praia is a great choice for you!
Facilities in Praia da Oura
Praia da Oura has all the facilities so that it could become a blue flag beach.
There are restaurants and bars nearby, free toilets and shower as well as a free WiFi hotspot. You can also rent sunbeds and beach umbrellas if you need more comfort and some shade.
A lifeguard guarantees your safety which makes your beach time less stressful as well.
However, the parking can be a bit complicated and since the beach is at the bottom of a steep hill, getting there by wheelchair is a bit difficult.
As a solution, you can take a taxi or a tuk-tuk which leaves you right at the entrance.
Water Sports at Oura Beach
There are several water sports you can try in Praia do Oura. Here we collected which ones those are and how much they cost.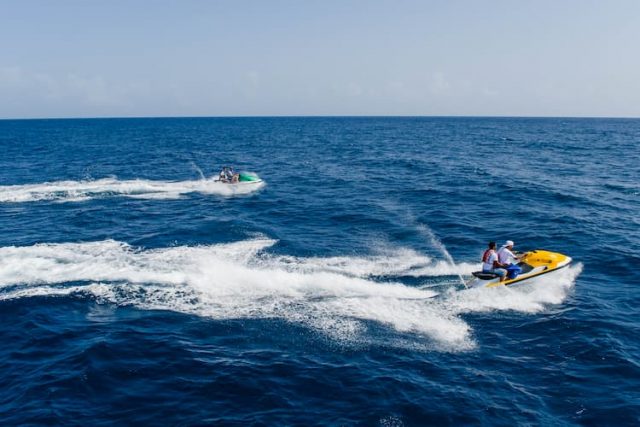 Pedal boats: without slide €15/hour maximum of 4 people. With slide €20/hour maximum of 4 people
Canoes: €7/hour for 1 person and €12/hour for 2 people. Towed diversions for 10 minutes:

Banana boat €12 p/p
Twister €15 p/p
Ring €15 p/p
Ufo €15 p/p

Wakeboard €35 p/p
 Parasailing

Single €45 p/p
Double or triple €35 p/p
Spectators €10 p/p

Flyboard is €60 p/p for 20 minutes
Jet Ski is €50 for 20 minutes and €70 for half an hour for each bike.
In case you would like to go around by boat, check the nearby caves and run into some dolphins.
Book your trip in advance! A two hours long tour costs €35 p/p and is totally worth it!
Praia da Oura offers all the facilities for an unforgettable holiday. The beach is perfect for resting during the day and the restaurants nearby, as well as the clubs and bars, are taking care of the entertaining during the night.
For an active and fun holiday, this is definitely one of the best destinations in Algarve!