Portugal is capable of offering almost anything to anyone: from world-famous beaches, to breathtaking cities and awesome wines.
But did you know that Portugal is also known for the quality of its education?
Here, you can find some of the best universities in the world. These institutions attract thousands of student from all over the globe, each year. And they're not here just for the sun!
What are the best universities in Portugal?
You may be asking: Why should I study here? Is it really worthwhile to study in Portugal?
I would say: Yes. And here's why.
First, what type of higher education are you looking at?
If you are going to end your studies this year, or maybe next year and you want to keep studying, you might find yourself in front of a crossroad: Would I choose a polytechnic or a university?
How many universities and higher education institutions are there in Portugal?
The number of options is immense in Portugal. To give you an idea, at the moment there are:
13 Public universities;
7 Private universities;
14 Private institutes and schools;
20 Public polytechnic institutes and schools; and
40 Private polytechnic institutes and schools;
The difference between polytechnic schools and universities in Portugal
If you are more a practical person, you should definitely pick the first option. Polytechnic schools are focused on practical training in order to teach the student how to apply theories in reality and to craft the world as we see it now.
If you prefer to do like Socrates and question everything, or if you have a speculative approach to reality, you should choose universities. Indeed, universities are meant to teach students theoretical courses.
Once you know which kind of university you need, I will now present you with the top 10 Universities in Portugal.
Top 10 Universities in Portugal
1. The University of Porto ("Universidade de Porto")
In the first place, we have the University of Porto.
Founded in 1911, it is the second largest Portuguese university for the number of students. It is a cutting-edge institution for those who want to challenge themselves in scientific studies and scientific research.
In addition to that, the University of Porto offers a wide variety of courses. Over 600 programmes (graduate and postgraduate) are taught there.
If you have the chance to study in this institution, it will set you up in a really good position for the job market because of the excellence of their courses and the great services made for professional integration into the workforce.
2. University of Aveiro ("Universidade de Aveiro")
The University of Aveiro was founded only in 1973 and it soon became one of the most dynamic and innovative institutions due to its attention to research. The main objective of this university is to provide first class undergraduate and postgraduate education, to promote research and to cooperate with society.
For example, 15 of the 18 types of research conducted in Aveiro were classified as excellent by international panels and by the Portuguese National Science Foundation.
3. Universidade NOVA de Lisboa
Universidade NOVA de Lisboa was also founded in 1973 and is becoming more and more popular especially for its attention to postgraduate studies (so if you want to do a master's degree instead of a bachelor's, you might end up choosing this institution).
Recognised both at an international and national level, it would be a great choice if you want to specialise in health studies and if you want to be supported in finding a position in the wild and competitive job market.
There are campuses for a variety of studies in the centre of Lisbon, Almada, Oeiras and Cascais.
4. University of Coimbra
The world-famous University of Coimbra is probably the oldest university in Portugal as it was founded almost 700 years ago. It kept its exclusive level of education, finding a unique balance between tradition and innovation.
It is a very interesting choice because this institution offers an incredible number of opportunities to study.
In Coimbra, you will find:
First Cycle Studies;
Integrated Masters;
Post-graduate studies;
Post doctoral programmes;
Non-degree courses; and
Top student exchange programmes.
On top of that, if you choose the University of Coimbra, you will live in a super international environment where you will be able to mingle with an incredible mix of cultures which is also a very important skill to have as it has the same value as the courses that are taught.
5. Universidade de Lisboa (ULisboa)
In the fifth place we find Universidade de Lisboa (known as ULisboa). This is the largest and most famous university in Portugal. It's tradition of top notch education spans over six centuries, becoming with time, more dynamic and complex, especially after the fusion in 2013 with Universidade Técnica de Lisboa.
ULisboa offers top quality courses in various fields aimed at providing students with the skills they need to succeed in the workplace. And usually, they do!
Why? Because the University of Lisbon offers interdisciplinary research, values new areas of study and promotes societal change, through the diffusion of knowledge.
6. Catholic University of Portugal ("Universidade Católica Portuguesa")
The Catholic University of Portugal is an autonomous institution privately founded in 1967. It managed to grow rapidly due to the high quality of its education, the wide scope of its research, and to its ability to create debates and discussions that helps students to form critical thinking, enabling them to better understand reality.
The crown jewel of this institution is the research centre. Their projects are funded by international institutions and societies, the Portuguese government, the European Union and by a great number of other associations. The outcome of the research made in this university is constantly monitored by external bodies with excellent feedback.
They have four institutions in:
Porto;
Lisbon;
Braga; and
Viseu.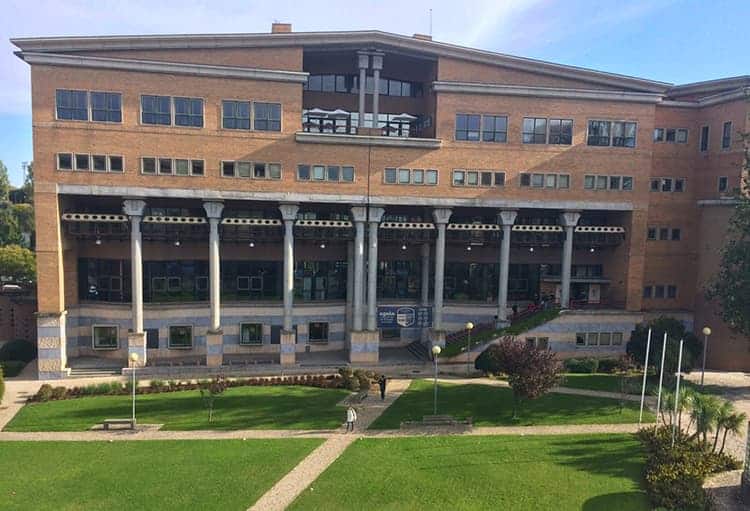 7. Instituto Politécnico do Porto (P.Porto)
Another Porto institution is the Instituto Politécnico do Porto (P.Porto). This university gives a great deal of attention to modern culture and to the most important themes of our age in order to understand the needs and the demands of a civil society. For this reason, the Instituto Politécnico do Porto has been enhancing with the cooperation of more than 700 institutions all around the world.
8. University Institute of Lisbon (ISCTE-IUL)
The University Institute of Lisbon (ISCTE-IUL) is one of the most important public universities in Portugal with its incredible number of students (approximately 9,000) and almost 600 teachers.
Founded in 1972, this institution is a benchmark to follow for research in the field of social services. Its education is aimed at supporting sustainable development both at the national and the global level.
The rate of employability from this university is incredibly high meaning that if you study here, you will have a critical role in society in the future, whether it is in a company, in government or in an independent body.
9. University of Algarve
Based in Faro, the University of Algarve was founded in 1979 and was born from the fusion of the University of Algarve and the Polytechnic Institute of Faro.
This institution played a very important role in connecting its own students with the regional businesses and the local public bodies to promote the economic and sustainable development of the community.
On top of that, the University of Algarve is in a unique location in the southern part of Portugal which is also one of the most beautiful places to enjoy recreational activities.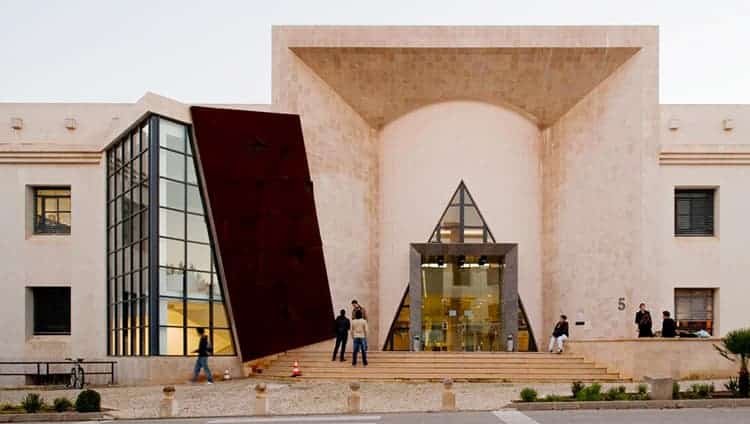 10. University Beira Interior
The University Beira Interior in Covilhã was established in 1973 and is the result of the merger of the University of Beira Interior (UBI) and the Instituto Politécnico da Covilhã (IPC). The aim of the university is to promote the diffusion of knowledge, culture and science through study, teaching and research.
You might also like to read: Studying in Portugal.
Make sure you sign up for our FREE newsletter here so you don't miss out on all the latest tips and advice about living in Portugal.
Master's degree in Portugal
What if you are searching for a master's programme?
Portugal has a lot to offer not only for a bachelor's degree but also for a master's degree.
For example, there is a MSc in Auditing and Taxation provided by the Catholic University Porto Business School.
The University Institute of Lisbon (ISCTE-IUL) offers master's degrees in many subjects including:
Accounting;
Anthropology;
Business Intelligence (Information Systems);
Computer Engineering;
Finance;
International Management; and
many more.
These are just some examples. Depending on where you want to study in Portugal, check with the university you would like to go to for their master's degree options.
How to apply to universities in Portugal
When you apply to study in Portugal, you can opt for six universities or polytechnics. You should indicate your preferences in the official DGES website (website is in Portuguese) dedicated to higher education studies.
There are three different deadlines during:
April and May;
June and July; and
August to September.
Before the deadlines set for the applications, you will have to present these documents:
The application form;
Transcripts of your high school degree; and
A motivation letter.
Therefore, in order to apply, it is really important that you contact the Embassy of Portugal in your country in order to have your high school degree recognised by its office.
If you have any questions regarding this step, you can ask the experts from the DGES Higher Education Admission Offices (website is in Portuguese).
What language do they use in universities in Portugal?
The other very important requirement to studying in Portugal is a good knowledge of English.
The most common exam accepted by universities in Portugal is the IELTS (approximately 19 universities accepts this exam in order to be admitted) and the score required is on average 6.2. However, there are other exams that are accepted by Portuguese universities like TOEFL.
It is better to double check on the site of the institution you applied for, in order to know what documents will be accepted to prove your English proficiency.
How much do the universities in Portugal cost?
When you come from abroad to study in Portugal, you will have to pay a tuition fee. The amount is decided by the university itself.
Fees at public universities
By law, the Ministry of Education sets a minimum amount (which is 1.3 times the national minimum wage) and allows the universities to choose to charge the students the minimum cost or to decide on a higher fee. The bad news is that universities rarely opt for the minimum amount.
However, if you are applying to a public university for a bachelor's degree, you are likely only going to have to pay around €980 to €1,250 per year, which it's not that expensive compared to other countries (in Italy, for instance, the tuition for a public university is about €2,000 per year).
If the cost is still too high for you, you might decide to become part-time student. This way you are going just to spend only 70% of the tuition fee.
Fees at private universities
It is another matter for private institutions. Usually, their tuition fee is much higher than the public universities. You might need to spend €3,500 to €3,800 per year.
Unfortunately, some private universities apply higher fees for students that are not coming from the EU, but there is a way to get around this scenario. Some private universities offer a total discount of the fees depending on a how good your grades are. It might be challenging, but it could also be n incentive to study harder in order to escape the tuition fees.
Where to find scholarships in Portugal
It is possible to apply for a scholarship in order to study in Portugal.
You can find government-funded scholarships that support students coming from the EU and students coming from foreign countries. However, in order to access one of them, you have to be enrolled in an institution which is recognised by the Portuguese Ministry of Education.
It is easier to get a scholarship if you are applying for a master's degree or for a postdoctoral study, but it is possible to find support for a bachelor's degree at some universities.
If you are searching for some funds to support your research and are therefore looking for a scholarship opportunity, you should check the posts on Eracareers as they often have opportunities in Portugal.
Another great site for finding scholarships in Portugal is College Scholarships. Here you will find all the necessary information to help you find the right scholarship programme for you.
The other tip I would give to you if you are searching for a scholarship is to check the website of the university you are applying to.
I hope this has helped you choose the right university for you in Portugal. Do you have any questions? Let me know in the comments below.