Inspired by aspirations of openness, peace, creativity, sustainability, transcendence and alternative culture, Boom Festival is a biennial psychedelic trance music festival that takes place in Idanha-a-Nova, in east-central Portugal.
The summer event was named by US magazine Rolling Stone as one of the world's "Seven Wildest Transformational Festivals".
It is always sold out, and here we'll tell you all the reasons why.
Boom Festival
The festival runs over seven days and is one of the biggest psytrance music festivals in history, with over 40.000 recorded visitors spanning all age groups.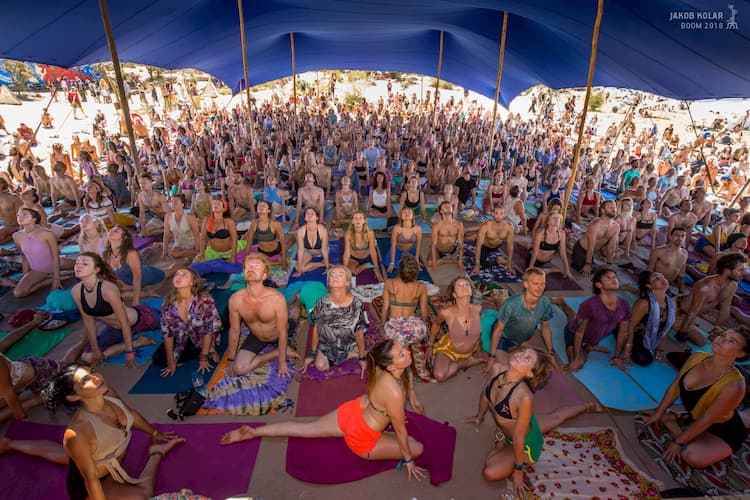 But Boom Festival is not just music and dancing. Since its birth in 1997, the festival has transformed into a multi-disciplinary art and music festival that showcases a lineup of diverse: musicians; DJs; sculpture; artistic video; paint; theatre; spiritual meetings of yoga and meditation.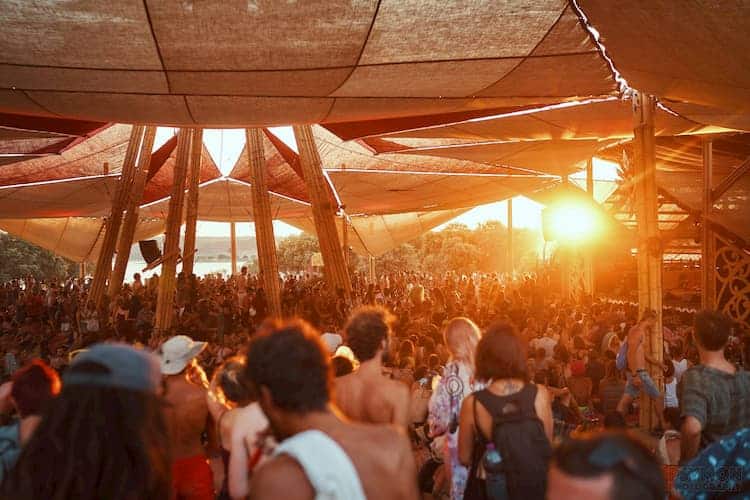 There are four dance stages – the Dance Temple, Alchemy Circle, Sacred Fire, and the Chill Out Gardens. Each stage offers a variety of sounds, from organic trance to acoustic music.
The stage designs are extravagant and the sound quality is exceptional.
Besides dancing, you can fill your days attending workshops and discussions, which are a unique way of sharing knowledge and new ways of thinking with other "boomers".
Quirky art concepts can also be discovered around the festival site in unexpected corners and made from recycled materials.
Where does the Boom Festival take place?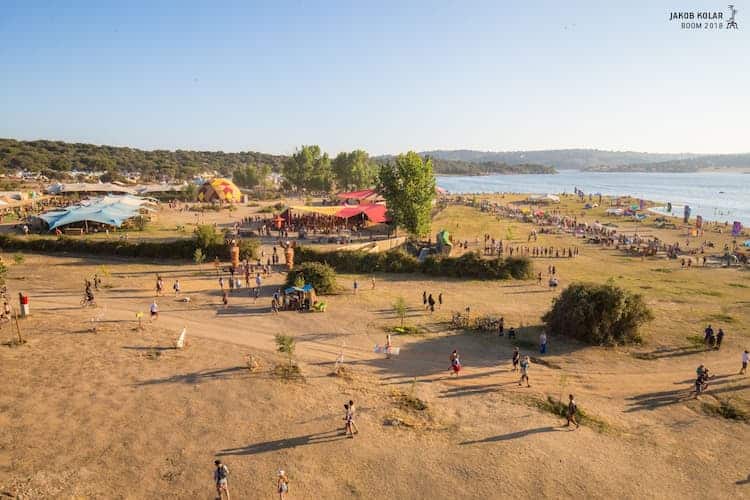 Boom Festival or "Boomland" is situated "within the stunning perimeters of Geopark Naturejo" located nearby the Spanish border in a city of Idanha-a-Nova in the district of Castelo Branco.
It is around 260km from Lisbon and 360km from Madrid in Spain.
♦ If you're planning to visit Portugal, don't forget to read some very important travel tips we have written for you.
Getting to the Boom Festival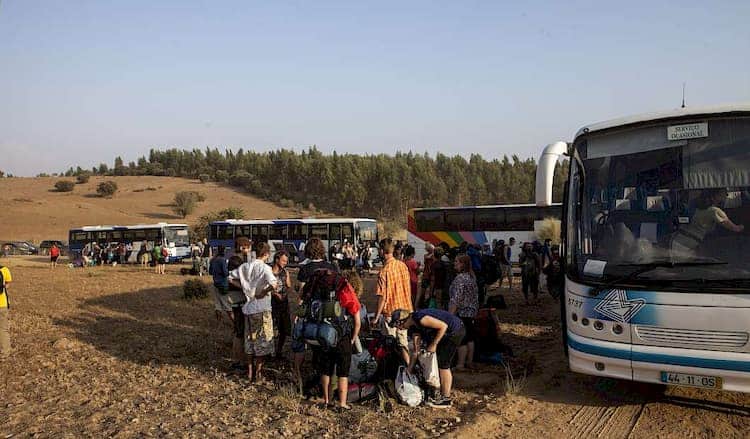 Boom Bus – The best way to get to Boom Festival is by taking the Boom Bus! The charter bus service takes festival-goers from Lisbon and Madrid airports directly to the festival and back.  France, Switzerland and Belgium also have connections for the festival. This is a comfortable, sustainable, and safe way to enjoy the ride to Boom.
Train – Take the metro to Gare do Oriente station. From here you can take the train to Castelo Branco and from there, a shuttle bus to the festival.
Bus – You can also take a public bus from Sete Rios bus station for Castelo Branco. From Castelo Branco, the Boom Bus will shuttle participants into the gates of the festival.
Car – If you prefer to drive, you can simply set your GPS to Alcafozes or Idanha-a-Nova in Portugal as your destination, and once you've reached the city, there will be plenty of signage to guide you into the festival. On the way home, make sure you are well rested and ready for the journey.
♦ We've written an article about: Transportation in Portugal, take a look. 
Boom Festival 2020
If you're wondering when is the next Boom Festival, then I'm sad to report that you've just missed the 2018 Boom Festival. There isn't another until the big Boom Festival 2020 which is happening from 28th to 4th August.
The tickets are usually sold in two phases, the first set of tickets is sold at 155€, on the second stage they're sold for 195€.
Boom Festival Lineup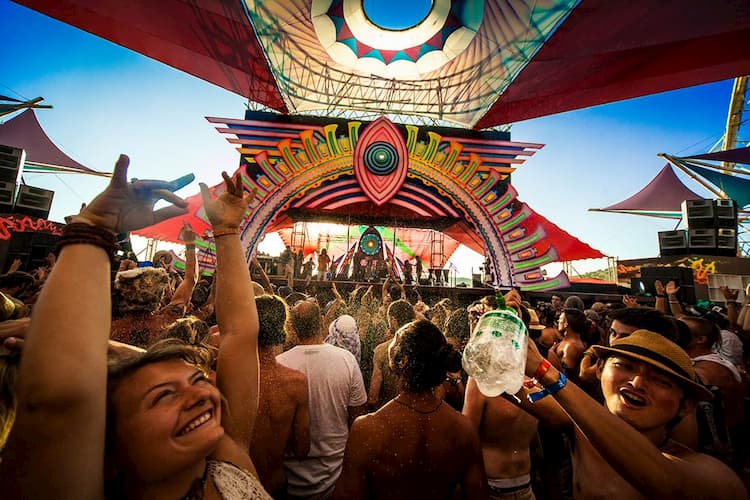 The lineup will be announced next year, but last years lineup included headliners like Ace Ventura, Perfect Stranger, Dickster, James Monro, Onkel Dunkel, and Kukangherita Sound System – all huge names in the psytrance music scene.
The festival runs during the summer so prepare for extreme Portuguese heat. Drink lots of water and apply sun cream!
Ticket Pricing for Boom Festival and Where to Buy
The Boom Festival has a unique strategy for ticket sales, which allows people from all countries and economic backgrounds the chance to purchase a ticket.
Countries with stronger economies are allocated regular ticket prices while "more fragile" countries are given "friendly price" tickets.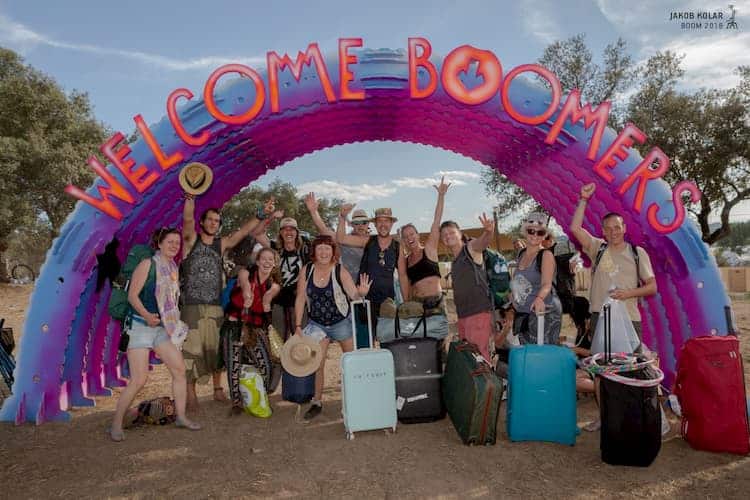 Tickets are limited to ensure the safety and comfort of all attendees, you can purchase tickets online or through Boom Ambassadors.
The tickets at the moment are sold out but stay tuned for more information and buying tickets by referring to their website. They also answer Tickets FAQ on the festival website.
Accommodation at Boom Festival
Camping in Boom Festival is free and included with your festival ticket. Not only this but it is encouraged to camp out at the festival to fully immerse yourself in the Boom experience.
You will need basic camping equipment, like a tent, sleeping bag, and mat to ensure a good night's (or day's) rest.
Boom Festival also offers alternatives to BYO camping gear with two different camping villages – The Cardboard Village and the Wanbli Tipi Camp.
The Cardboard Village offers eco-friendly cardboard tents while the Wanbli Tipi Camp offers traditional tipis and star tents equipped with more comfortable fittings.
Both camps are surrounded by trees and a beautiful lake, with toilets, showers, a communal kitchen and chill out zone for festival goers.
♦ Would you like to know more about events like this happening in Portugal? Sign up to our newsletter and find out everything about our country.
Eating at the Boom Festival
The festival will provide you with plenty of food and drink options, with a variety of food trucks set up inside the festival.
From pizza to coffee, vegetarian meals, baked goods, stir-fry, and soup – there is sure to be something for everyone's tastes.
And don't worry about staying hydrated, there are plenty of water stations inside the festival to refill water bottles.
Sustainability at Boom Festival
The Boom Festival is known for and takes pride in its strong environmental emphasis.
Back in 2004, the festival started self-sustainable projects, like eliminating chemical products from their cleaning supplies and using biotechnology to deal with wastewater, wind, solar energy, recycling, and treatment of their natural surroundings.
The festival has since been internationally recognized with the "Greener Festival Award" and "Green n Clean Festival of the Year".
Is It Worth Going To The Boom Festival In Portugal?
Last year I met so many people before and after they attended the Boom Festival. Everyone agreed it was life-changing, magical and an experience they would without a doubt do again.
They also said it was one of the most challenging festivals they had attended.
Beware, this is not a festival for the light-hearted. Expect to experience something unlike you've ever experienced before.
Boom Festival will likely transcend you, enlighten you, and possibly transform many of your societal and core values.
I'll definitely try my luck at scoring a ticket for the 2020 edition so I can experience the wonders of dancing barefoot in the dirt, raving to psytrance tunes, meditating and doing yoga, over a week of immersion in the wilderness.
Maybe I'll see you there!