On the very southern tip of Portugal sits Olhão, a sparkling gem in the country's jewel-laden Algarve region that offers a healthy dose of nature.
While not as well-known as Faro, this town offers up a unique mix of old-world charm, stunning natural beauty and some of the most isolated beaches in Portugal. Add unique local fish dishes and a festival celebrating said fare, and its easy to see why more visitors are traveling to Olhão.
Getting to Olhão
One of the best ways to get to Olhão is by train. The area has solid infrastructure with routes networking throughout the Algarve and beyond. Fares are inexpensive and the trains are punctual and fast.
To get from Faro to Olhão is a 20-minute car ride. But the train will only take you 10 minutes and set you back about €3 for a round trip ticket. If you're feeling sporty, many people opt to make a biking day of it. There is a beautiful path that runs along the coastal marsh from Faro to Olhão
The long haul from Lisbon to Olhão takes 4 hours and will cost you between €50-€65 round trip on the train. Should you take your car it's a 3-hour drive with €28 average in fuel costs and €22 for tolls each way. 
If you do opt for driving try taking the coastal route to soak up magnificent views of the Atlantic Ocean. It will add a half-hour to an hour to your trip, but will greatly increase your photo ops.
Once you arrive in Olhão it's time to take note of this city's amazing history.
History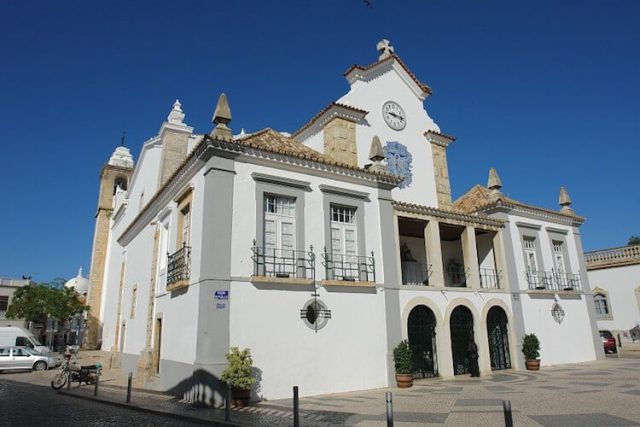 Officially known as Olhão da Restauração, the town was once an extension of Faro, but the free-minded folk found they could support themselves with the abundant fish stocks in and around the estuary. Consequently, they said 'stuff it' to the governance of Faro and have been independent ever since.
At the beginning of the 17th century, the town boomed and fishing became an integral part of life. This tradition lives on with generations of the same family working for the same shoals and using the same style of nets and fishing boats as their forefathers. The world-famous Bela brand sardines come from Olhão.
Olhão Weather
Olhão enjoys a steady Mediterranean climate with warm, dry seasons and average temps around 22°C degrees, 71.6°F. Rainfall is light with around 500 millimetres falling during an average season.
Winters are fairly mild with the sweet seasons, spring through autumn, delivering the best beach weather. 
Beaches in Olhão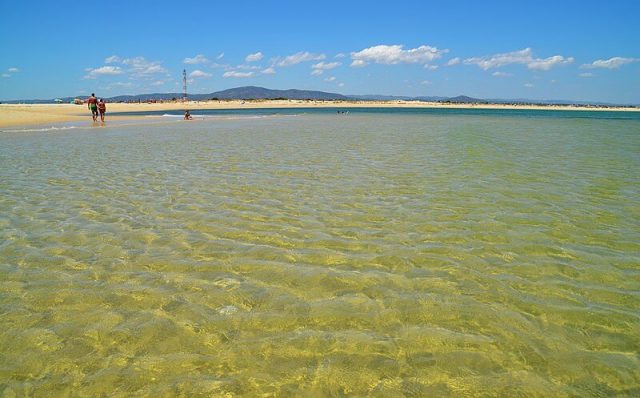 Since Olhão is nestled within a network of barrier islands and shifting sandbars, it's a good idea to take a ferry boat to one of the outlying zones to explore the beaches.
Geographically, Olhão and Faro are protected by this giant triangular shaped barrier island. The spit of sand and rock is home to several A-List beaches including Praia de Armona, Ilha da Culatra, Ilha dos Hangaros (Hanger Beach) and Ilha do Faros. 
If you don't want to take a boat to the outer beaches and prefer to stay closer to the action in Olhão, try Praia dos Cavacos just east of town.
Most of the area is a protected eco-zone that's part of the Nature Park of Ria Formosa. Enjoy a trip to the park with this popular boat, kayaking and snorkeling tour.
Looking for the most deserted beaches in the Algarve? Explore The Algarve Islands.
Olhão Town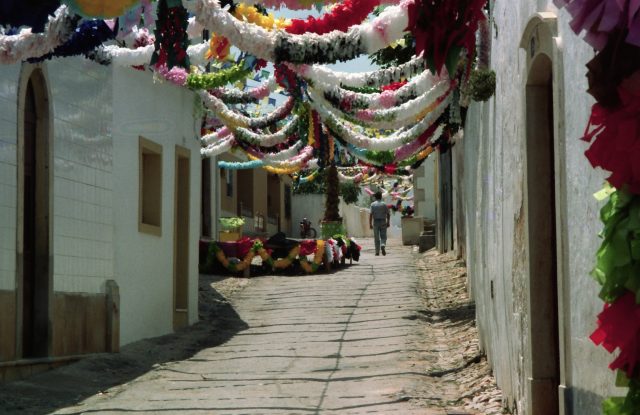 In town take in the unique North Africa-influenced architecture. The buildings are typically square, white dwellings with flat roofs that are ideal spaces to sit and soak up the old world charm, or watch a sunset with a drink in hand.
Explore the town through its small, meandering streets taking note of the beautiful tile work, traditional fisherman's houses and beautiful murals. The Our Lady of the Rosary Church is where families would come and pray for those sent to sea in rough weather. The rooftop is also home to a few families of storks.
To get a deeper understanding of Olhão's history, check out the city museum. On display is an archeological timeline documenting the many different ancient ages that called this place home. From bronze and Iron Age artifacts to dishware left by the Romans and early Islamic settlers. The rest of the museum is dedicated to the more recent fishing history.
Nature
For visitors seeking a bit of nature there are campgrounds, walking trails and waterfowl lookout points. The Ria Formosa park skirts the shoreline of the lagoon between Olhão and the islands offshore. Check-in at the park centre, Quinta de Maria, then take off and take in the beauty. Several companies offer everything from catamaran tours and fat bike rentals to wildlife sightseeing and nature photography workshops.
A favorite activity in the area is to stroll around town and watch local fishers working on their nets and hauling in their catch after a day on the outer waters.
Olhão is famous for its market (you can't miss it, it's bright red building in an architectural landscape of white stone) that gathers products from all along the Algarve. The Olhão market is open all days of the week except for Sundays and holidays. 
What to Do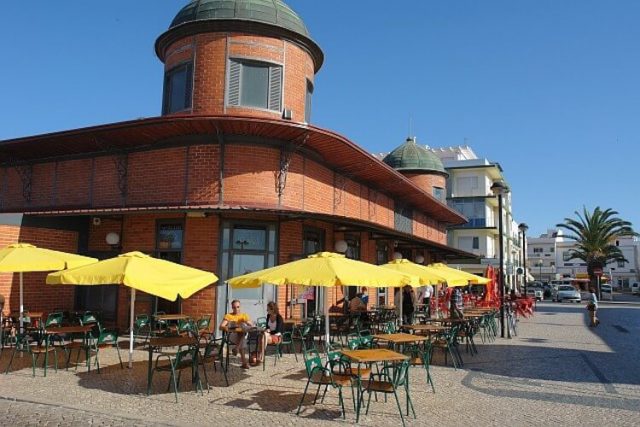 The Olhão fish market has an amazing selection of locally caught seafood and features a hefty offering of sardines for which the area is famous. So prized is Portuguese fishing that the Romans sussed out the ports and harbours back in the day to bring the best Garum (fish sauce) home to the rulers of Rome.
For the past 30 years, the town throws a party during the second week of August. The Festival Do Marisco is one of the biggest of its kind in Portugal and features music, events and more samplings of fish than possibly anywhere else in Europe.
For those with sport in mind, the flatwater and remote offshore sands make Olhão a haven for Stand Up Paddleboarding. Several groups offer equipment rentals and guided tours. 
Olhão restaurants
After you've worked up an appetite out on the water or exploring the shorelines it's time to sample Olhão's famous seafood dishes.
The English-friendly Mare Shrimp & Stuff has indoor and outdoor seating and artful takes on traditional fare. The restaurant gets creative with shrimp, serving up shrimp lasagna, shrimp waffle and a host of other prawn fares. If shrimp isn't your thing try one of their vegan dishes or the apple pie for dessert.
Bioco is just a few blocks off the Olhão fish market and specializes in Mediterranean and Portuguese cuisine but also offers vegetarian and gluten-free options. The small restaurant (just 8 tables) is noted for its great service. Dishes come tapas style and if you don't know how much to order, don't worry, the friendly staff will help you decide. 
If fish isn't your thing try Feijoada, an Algarve specialty. It's a stew made with pork, cured meats, beans and vegetables. The restaurant Kinkas Olhão is said to have the best in town.
Olhão Hotels
The Real Marina Hotel and Spa
There is quite a selection of places to stay in Olhão. The Real Marina Hotel and Spa is 500 meters from the town centre and offers doubles starting at 85€. Guests recommend this hotel for it's view of the bay, grand pool, modern amenities and free breakfast.
Check their availability here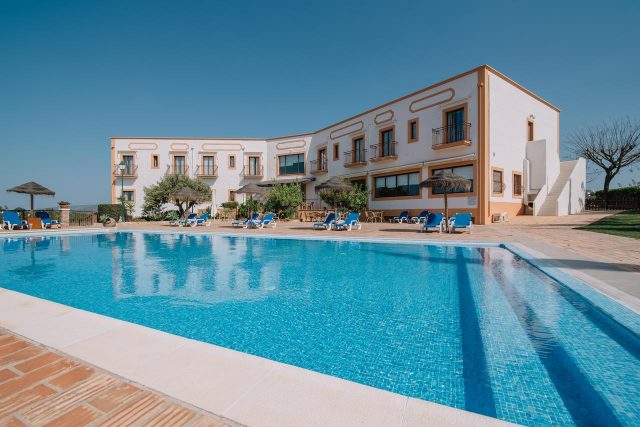 Quinta dos Poetas Natural Hotel & Apartments
The stylish Quinta dos Poetas Nature Hotel & Apartments has one of the best pools in the area and oozes quaint coastal charm. The grounds have a large garden and lake for a tranquil setting. Rooms are decorated with parquet floors and wooden furniture and will set you back about 75€ for a one-night stay.
Check their availability here
Olhão
The main draw for this area of Portugal is its rare combination of old-world charm and nature. Typically visitors to Portugal will find more of one than the other, but rarely both in the same location. Olhão easily offers both.