Breaking through the clouds in the sky, the picturesque coastline of Ponta Delgada comes into sight. A quaint white city appears which can be seen clearly as the pilot announces that the crew prepares for landing.
The beautiful view is instantly calming and gives you a sense of what Ponta Delgada, the heartbeat of the Azores has in store.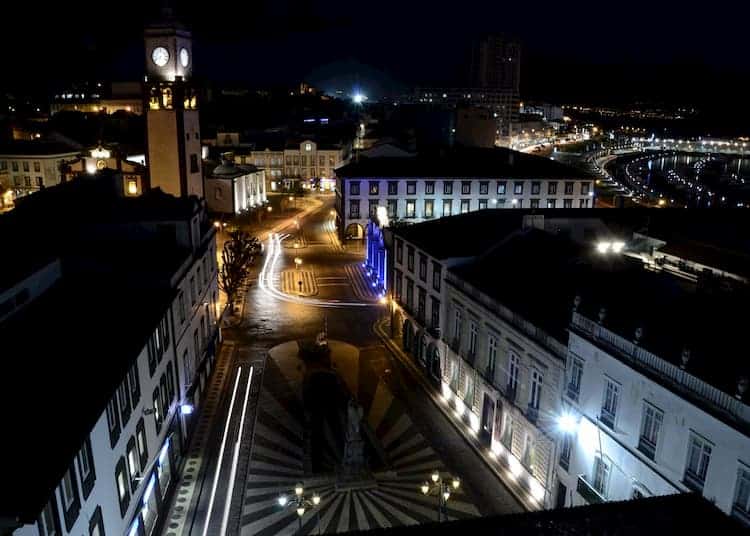 Ponta Delgada
Ponta Delgada is a tranquil and relaxing town often visited as an escape from peak season crowds.
It also serves as a gateway and perfect starting point to the breathtaking Azores, which boasts lush green hills, deep turquoise lakes and the best landscapes that nature has to offer.
Have a look at our article covering the Island of São Miguel and the Azores.
Portuguese architecture and cobblestone streets are a familiar sight in this modern and contemporary city, however, the predominantly white painted walls add a unique touch.
It is the largest municipality and heartbeat of the Azores, offering the best variety of restaurants, bars, and attractions.
Continue reading as I guide you through the full Ponta Delgada what, where, when and how.
These are just a few of the top things to see and do in Ponta Delgada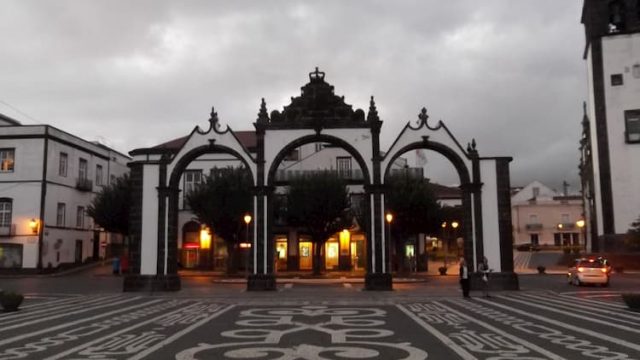 What to see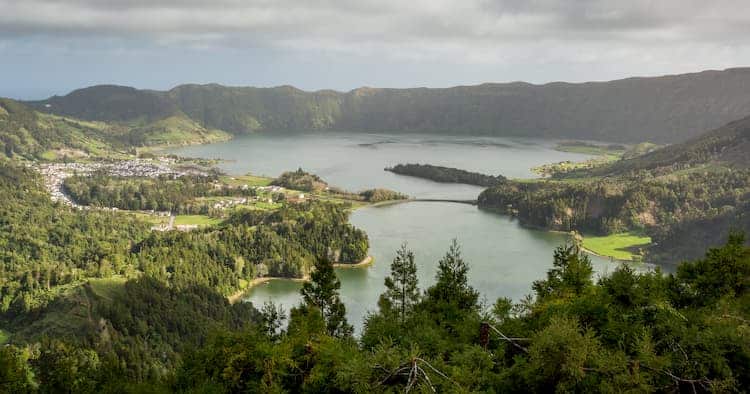 The list of things to do on the island continues to surprise, explore the caves of São Miguel (Gruta do Carvão), an adult ticket only costs €5!
Head over to the Arruda Pineapple Plantation for an interesting experience. It is free to enter and there is a gift shop with cute novelty items and souvenirs to take home.
Experience the culture and sights of Ponta Delgada through a Walking Tour
Walking Food Tour
If you are a foodie like me, you'll want to do the Ponta Delgada Food Tour – Azores for Foodies walking tour by Hungry Whales Cultural and Food Tours.
Indulge in Azorean cuisine on this guided foodie experience while you learn about the region's food culture from an informative local guide.
The 3-hour tour is priced at €65 per adult and includes 8 food tastings and 2 drinks. Enjoy complimentary tastings of meats, jams, fruit, and other local products.
Walking Tour
Ponta Delgada Walking Tour by Prazer d'Aventura, is an easy way to see top sights without doing all the research yourself.
Learn about cities history, culture and historical buildings. You will visit churches, museums, gardens and the famous traditional market "Mercado da Graça", and finally the Marina or to the port Cruises "Portas do Mar", where your tour ends.
The half-day tour costs €25 per adult which is a three to four hour guided walk around the city. Check out their website for other tours they offer in the area.
Free Walking Tour
If you prefer taking things at a slower pace, try a free walking tour. It is a self-guided tour through downtown Ponta Delgada. Enjoy a personalized experience with a small group as you walk and talk your way around.
Hidden gems tour in S. Miguel
If you are a sucker for hidden landscapes, away from all the fuss, this is the right tour for you. It takes 8 hours to go through that journey and it has a tour guide to show you around. It also includes an excellent pick-up service.
Where is Ponta Delgada?
Located on one of the nine major Azorean Islands, São Miguel is the largest and home to the capital city of Ponta Delgada.
It is 1446 km off the coast of Lisbon and 1508 from Porto which explains why it is a perfect escape from the mainland cities.
How to get to Ponta Delgada
Lisbon and Porto offer direct flights to Ponta Delgada. Travel time is 2-hours from Lisbon and a 2-hour and 25-minute flight from Porto. We have covered more details regarding travel to the Azores here.
The best part is that you land less than 3km from the city of Ponta Delgada, only minutes away from all sights and attractions.
After that, take a taxi or book a shuttle or tour bus to travel around as busses are not as frequent, and when used are slower as their routes are designed for locals and not tourists.
The João Paulo II Airport website offers information and options to book transport services, as well as your baggage and flight info.
Certain cruises may include Ponta Delgada in its itinerary, but do be sure to book many months in advance.
Renting a car in Ponta Delgada
Several car hire options are available at the airport with the lowest rate for 2 days currently at €81.12 from Goldcar. A free shuttle bus to the car hire counter is also provided.
See rates for different vehicles below.

*Rates are based on weekend dates during peak season.
What the weather is like and when its best to travel to
PONTA DELGADA WEATHER

A mild sub-tropical climate keeps visitors cool all year long and the weather here is still considered more pleasant than not.
Temperatures peak at an average of 25°C in August and 19°C in February and March, the coldest months. Minimum temperatures settle at an average of 16°C in August and 12°C in February and March.
The best months to visit are from June to September. July is the driest with November being the wettest, so if walking around with an umbrella isn't your thing best not to go then.
Hotels in Ponta Delgada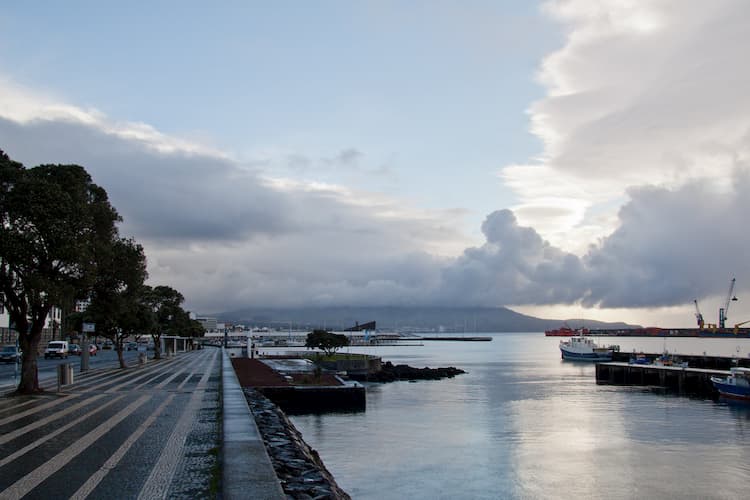 These are the best picks for hotel stays in Ponta Delgada
I always use Booking.com which I trust after years of only good experiences. Alternative booking sites which may be cheaper could be equally efficient, I just haven't tried them as yet.
Rates below are directly from the hotel where available, do bear in mind that it is peak season right now and rates may be higher than usual.
Grand Hotel Açores Atlântico
The Grand Hotel Açores Atlântico is a five-star hotel which is known for its prime location, close to the historical centre. The hotel overlooks the marina and boasts amazing ocean views.
Rates vary between €153.85 to €285 per night depending on room type and booking flexibility.
Azor Hotel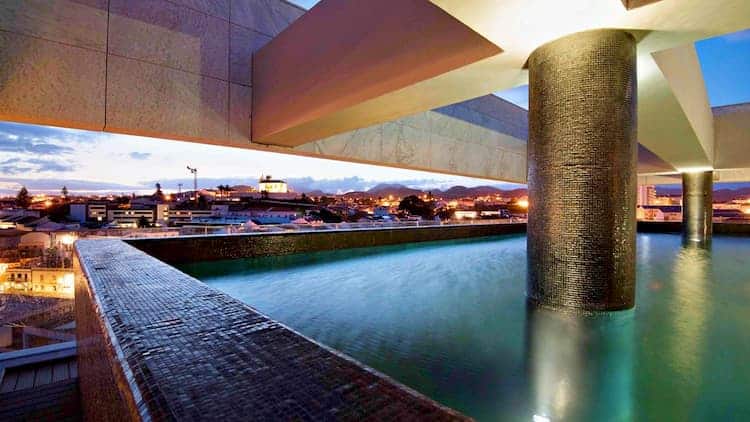 Another five-star beauty set in an excellent location is the Azor Hotel. It offers views of the harbour and ocean, and the rooftop bar and pool feature more magnificent views to enjoy while relaxing. A five-minute walk gets you to downtown Ponta Delgada.
Rates vary between €356.85 to €604 per night depending on room type. The Booking.com rate is currently at €346 per night, with some site rates as low as €225.
Hotel Talisman
Situated a short walk away from the harbour and downtown area, Hotel Talisman is a charming 4-star hotel and offers great value at €170 per night. The Booking.com rate is currently at €125 per night, with some site rates as low as €109.
Airbnb fans, I haven't forgotten about you
If you prefer to live like the locals or simply have an entire apartment to yourself, Airbnb has got you covered. Below is an excellent Superhost listing.
Ap Charme – Penthouse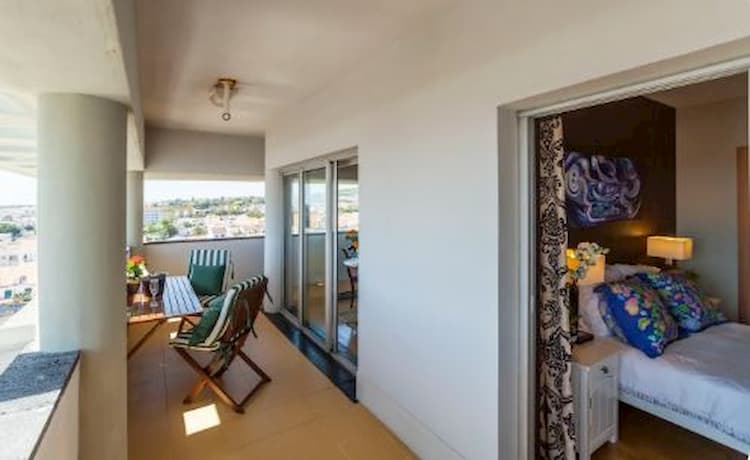 Ap Charme – Penthouse is a truly charming loft in the city of Ponta Delgada. The modern apartment boasts luxury decor, plenty of natural light and magnificent views of the city, sea and mountains. Relax on the hammock or swing on the outdoor terrace.
Including cleaning and taxes, the rate for one night is €203 (currently discounted) or €377 for 2 nights.
Eating out in Ponta Delgada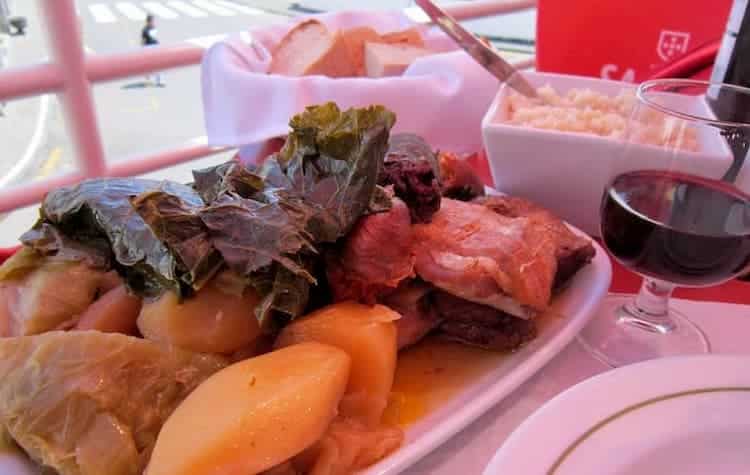 The restaurant seen in Ponta Delgada offers surprising variety for a little island in the middle of the North Atlantic. Below are a few top picks to cater to every palette and pocket.
Rotas da Ilha Verde
Vegetarian or not, an absolute must-visit is Rotas da Ilha Verde. Enjoy delicious vegetarian, vegan, and even gluten-free meals and desserts in a cosy and casual setting.
Anfiteatro Restaurant & Lounge
If you love fine-dining then make a reservation at the highly-rated Anfiteatro Restaurant & Lounge. Enjoy Contemporary, the Mediterranean or Portuguese cuisine overlooking the bay of Ponta Delgada in the restaurant or a light meal, coupled with a signature cocktail in the lounge.
Otaka
Head out to Otaka for an authentic Japanese dinner. The menu includes Japanese, Asian, Contemporary and Fusion cuisine. Vegetarian, vegan and gluten-free friendly options are on the menu as well.
Xitaka
What is a Portuguese holiday without Seafood? Xitaka, another fine dining restaurant serves the best Seafood, fresh fish and mouth-watering grills. The menu consists of Meditteranean, European and Portuguese cuisines.
Treze
For the health-conscious or perhaps those of us who'd like to keep our waistline in check for the 'gram', Treze is a modern, casual restaurant serving tasty healthy dishes.
Mané Cigano
I try to eat local as often as possible whenever travelling to broaden my cultural experience. Mané Cigano is a lunchtime favourite among locals and travellers. The meals are fresh, tasty and easy on the pocket.
Try out the sardines at only €5 for a plate of 6, do go early as they close at 3 pm.
Is a trip to Ponta Delgada worth making?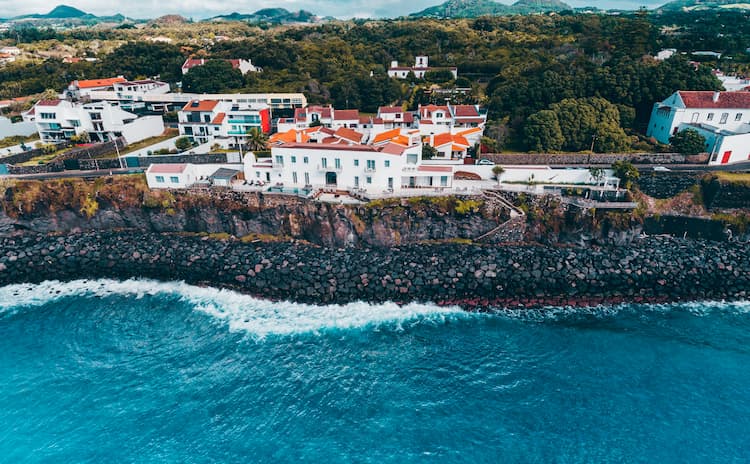 Absolutely! A trip to Ponta Delgada is certainly a trip worth making. A short weekend away is sufficient to experience Ponta Delgada, however, you may want to add an extra day or two if you would like to see the rest of the natural beauties on São Miguel.
Many travellers also do Island hopping and covering more Islands will require a considerably longer stay depending on how many of the nine archipelagos you would like to visit.
While you are here, discover Pico Azores, another one of the 9 archipelagos recently covered by us, and make sure you subscribe to our newsletter to stay up-to-date on all things Portugal!