If you are looking for an island lifestyle without losing touch with the rest of the country, Madeira, Portugal may just be the island for you.
Have you ever wondered what it's like to live on this picturesque Portuguese island?
Here, you will find out everything you need to know about the cost of living, renting or buying a home, getting a job and more.
Living the dream in Madeira
I'm not sure why, but Madeira has already been on my bucket list for many years now. I know that someday I will visit this place and maybe will stay there for a long time.
Perhaps the reason is that there is some attractive mystery about living on an island, or the fact that it is a year-round resort with lots of sun (this factor is extremely important for those who have just two sunny months per year).
Alternatively, is it because one of my favourite football players was born there? Nevertheless, I am planning to go to Madeira and trying to get as much information about the island and the life on it as possible. Thanks to my friends in Portugal, it's not a problem. I'd love to share some notes with you in case it's one of your dreams too.
Where is Madeira?
To begin with, I'd like to tell you where this island is situated.
Madeira is an archipelago in the Atlantic Ocean. It is interesting to know that the island is closer to northern Africa than it is to Portugal's mainland. It is 400 km (249 miles) from the Canary Islands, 800 km (497 miles) from Africa and 1,200 km (746 miles) from Lisbon.
What's the weather like in Madeira?
One of the most important factors for me is the weather. I can't stand when it is too hot and I can barely stand the cold. Therefore, when I saw Madeira's climate, I was pleasantly surprised.
It has a temperate climate. Temperatures will vary from 30°C (86°F) during the day in summer and 16°C (61°F) in winter. Rainfall and Atlantic storms happen a number of times each year, especially in winter (January) and they get practically no rain in summer (August). Overall, the weather is very mild and pleasant all year-round.
The best times of the year to visit is late spring and early summer as the weather is at it's best and it is not the main tourist season yet.
If you want to visit Madeira first, take a look at Visit Madeira.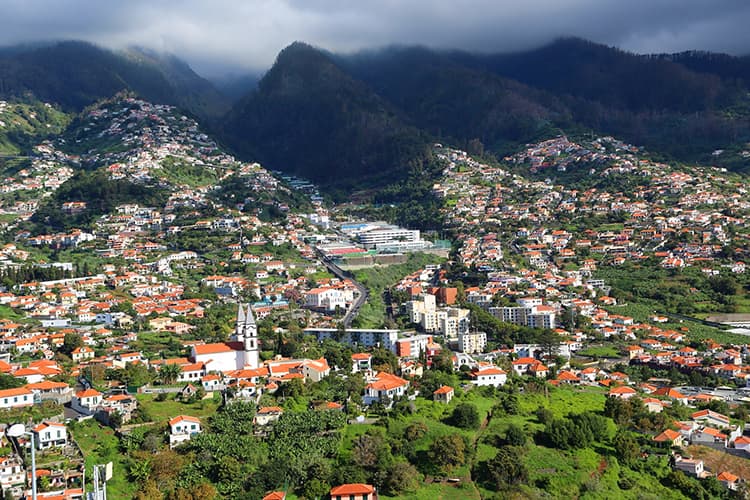 What is life like in Madeira?
Madeira has a lot to offer to tourists as well as to the permanent residents. Everything you need is possible to find on an island.
However, do remember that it is an island.
It is a good place for those who want to live away from the hustle and bustle of a city as it is close to nature and an island lifestyle. On the other hand, if you are keen on an active nightlife you will find something here too. It's not as much variety as in Lisbon, but it's not bad especially in the capital, Funchal.
Therefore, you can choose if you want to live a quiet life close to nature or spend time among the tourists in the city centre, with lots of restaurants, bars, and clubs.
Do they speak English in Madeira?
Yes, well mostly. In the touristic areas, English is very common. If you are planning to live there, it's worth learning a few words and phrase to be polite with the locals who speak Portuguese (albeit with a little accent).
Learn Essential Phrases in Portuguese.
Jobs in Madeira
If you are planning to stay in Madeira much longer than a holiday, it will be important to find out what the labor market is like.
Are there jobs for expats?
In recent years, it is difficult to find a job not only in Portugal, but in most European countries too. There is always something for those who search. It is not easy to find a permanent job in Madeira, but still possible.
One way, which is supported by the government, is to open your own business.
However, some industries continue to report a shortage of skilled workers, such as the IT sector, health and tourism sectors.
If we look at seasonal jobs, it is much easier to find one. There is always a demand for staff in restaurants and hotels during the spring and summer time.
It is possible to find some vacancies on the following job websites:
And one more good source to find a job are the newspapers in Madeira such as:
Correio de Manhã;
Diário de Notícias;
Jornal de Notícias; and
Expresso;.
What's the cost of living in Madeira?
Madeira can be as expensive or as inexpensive as you would like it to be. It is clear that if you eat in restaurants frequented by the locals, it is less expensive than eating in the 'touristy' places.
Continental Portuguese find prices in Madeira similar to theirs and some things are even cheaper. Go where the locals go and everything will be cheap.
In addition, tourists point out that things like fruit or wine cost three or four times less than in Europe, for example.
There are no extra taxes like in the US and tipping is optional.
However, some things are more expensive than in mainland Portugal, such as fuel or electricity.
Numbeo is a good site which shows the cost of products as well as clothes, transport and apartments, so anyone can check and compare with their own country or city.
Just note that Madeira uses the same currency as the rest of Portugal which is the euro (€).
Find out about money in Portugal here.
Renting a house in Madeira
I want to say that during my search, I found a great variety of offers to rent and to buy. They say that houses for rent that are in good condition are not so easy to find because everyone wants to sell.
Buying a house in Madeira
In my opinion, if you are really planning to buy a house or a flat it is better to go and to check yourself because there is a wide range of choices from the price to the quality. Moreover, there are many agencies who would love to help you with making the right decision.
Personally, I think that property in Madeira is very well priced, from the apartments in Funchal to the villas with swimming pools on the high cliffs. If you prefer peace and quiet, you will also find many houses for sale in Porto Santo, the second biggest island in the archipelago.
Some good websites you can use to search for properties are:
Which are the best neighbourhoods to live in Funchal?
While choosing apartments it is good to know where the best neighbourhoods in Funchal are.
Funchal is the capital of Madeira can be divided into 10 main neighbourhoods. They are:
Lido;
São Martinho;
Sé;
São Pedro;
Imaculado Coração de Maria;
Santo António;
São Roque;
Monte;
Santa Maria; and
São Gonçalo.
Again, it is up to one's personal taste if you prefer to live up in the hills or closer to the ocean.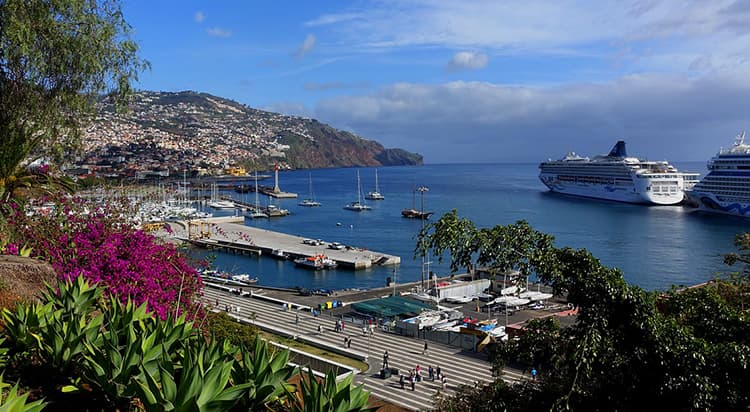 Here's the description of some of the suburbs:
São Martinho
São Martinho was primarily an agricultural suburb. Today, the highly urbanised area includes the hotel zone of Funchal known as Lido. This area is blessed with the island's natural beauty. It is recommended to tour the area around the famous beaches of Lido and Praia Formosa, which is a beach of black sand and pebbles.
Sé
Sé is the historical centre of Funchal and most developed. It includes many of the older buildings.
São Pedro
São Pedro is the central business and residential area of Funchal.
Santo António
Santo António is the most populated civil parish in the municipality, developed from a number of small craft shops since the 16th century;
Monte
Originally Monte was a summer refuge for the wealthy, due to its mild climate. Monte is famous all over the world for the toboggan drivers that race tourists down to the central town. It is one of the more populated areas of Funchal.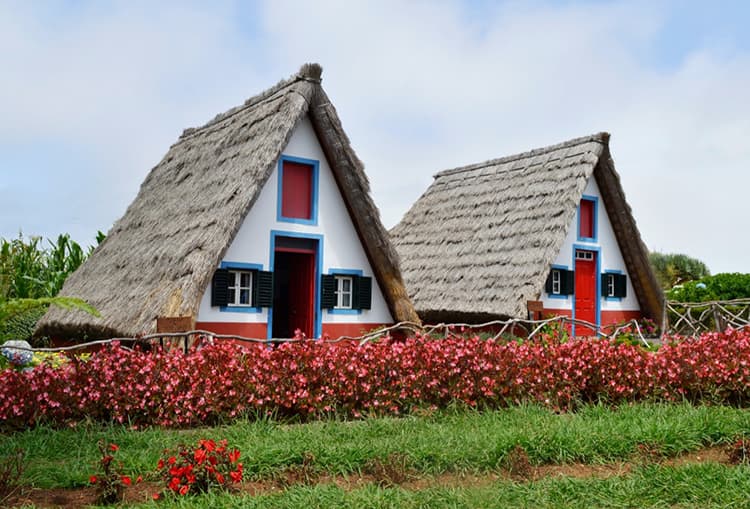 Transportation in Madeira: getting around
There is a very good road system in Madeira which connects all parts of the island through a system of fast roads and tunnels. Traffic jams occur, but never like those in European capitals. There is an excellent bus network all over the island and many tourists use these buses to tour the island.
Taxis are good and not too expensive. There are no trains.
Madeira taxis
If you need a taxi in Funchal, expect to pay around €2.70 on the metre, then €2 per kilometre after that.
Car rentals in Madeira
If you don't have your own car and wish to hire one, there are a few options in Funchal which include Europcar and Hertz, and daily rates can be as low as €10.
The airport in Madeira
Madeira International Airport Cristiano Ronaldo CR7, commonly known as Madeira Airport, or Funchal Airport is an international airport in the civil parish of Santa Cruz in Madeira.
It is the fourth busiest airport in Portugal. The airport is located 13 km (8 miles) northeast of the capital, Funchal.
The quickest and most convenient way to reach Madeira from Lisbon is on a 90-minute TAP Air Portugal flight.
Other airlines with plenty of connections to European airports include:
When at the airport, take the Aerobus, which will take you to the Funchal in 30 minutes, the price per ticket is €5.
If you are picking up a car at the airport, take the VR-1 highway and then the ER103. It should take around 20 to 30 minutes to get to Funchal.
Find out what life is like in Portugal by signing up for our newsletter today!
Leisure and things to do in your free time in Madeira
Madeira is the right place for those who enjoy an active lifestyle. There are not too many beaches so you won't spend the whole time just lying in the sun.
There are many other different activities. One of my favourites are museums and I've already made a list of them for my future visit.
I'd love to visit:
The Museum of Contemporary Art that is situated in the São Tiago Fortress. There is a large collection of Portuguese contemporary art from the 60s and works by some of the most respected artists of the region.
The Madeira Whale Museum is more expensive than the other museums, but still, I'm interested in all natural processes and animal life, so I want to go there as it shows two periods of human activities in the ocean. The first one is whale hunting from the 40s until the 80s and the second period is about the conservation and study of these wonderful creatures.
It is not the whole list, as I want to visit:
I hope to have enough time for all my plans.
If you are not a museum-goer, Madeira has something interesting for you as well: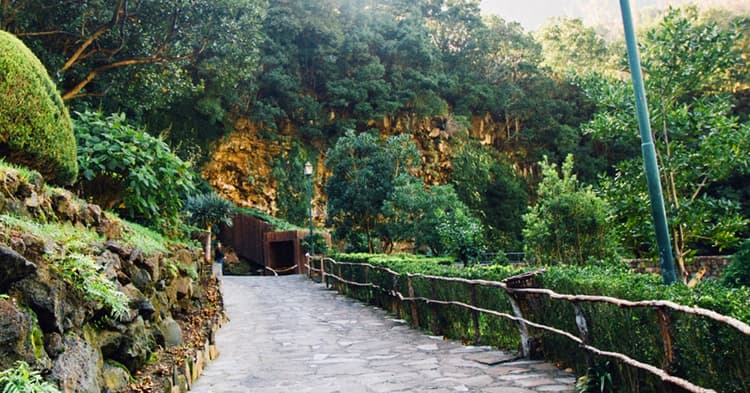 There is also the lava pools of Porto Moniz (salt-water swimming pools in Porto Moniz that are set in the stunning rock formations with views over the Atlantic Ocean.)
All sorts of tours are possible to find in Madeira here or explore some of them on your own. Personally, I prefer booking excursions with a guide who can explain and tell me about the place they live in.
You can also do many sporting activities in Madeira including:
Football;
Tennis;
Horse riding;
Sailing; and
Swimming.
There is a theatre with good shows, an active orchestra, and musical academy.
And finally, there are many restaurants, of course, as Madeira is very famous for its cuisine.
Madeira expat community
There are many expats in Madeira and most of them are from the UK, Canada or the US. Moreover, there are a lot of people who are interested in moving to the island, especially from these mentioned countries.
There are not so many communities or expat groups, unfortunately. On Facebook, I found just two groups: Expat Madeira and Madeira Expat Community.
Pros and cons of living in Madeira
Madeira has a lot to offer, but don't forget that it is an island and it's not like the big city where you may be used to. The pace of life is much slower and you'll notice it everywhere from the government institutions to local shops and cafés.
At the same time every month there is a festival and Madeirans truly know how to party! The carnival in February is a must-see. Christmas and New Year's Eve are magical with one of the biggest fireworks display in the world. Overall, in my opinion, there are more positive moments of living on such an island than negative.
Do you live in Madeira? We would love to share your experiences, so let us know what it's like in the comments below.