Laying at the bottom of the Arrábida mountain, right by the ocean, Portinho da Arrábida provides a spectacular view for its visitors.
The village is hidden in the heart of Arrábida National Park and is the secret treasure of the area. The beach there is covered by white sand, while the water is crystal clear and big cliffs make the landscape even more interesting.
It is not a surprise that Portinho da Arrábida was chosen as one of the seven wonders of Portugal in the beaches and cliffs category.
In case you want to see this beauty yourself, read further! We tell you how to get there, what to bring and what can you do in this little paradise.
Where exactly is Portinho da Arrábida?
Portinho da Arrábida is located in Serra da Arrábida, in the Arrábida National Park. It is approximately 13 km west from Setúbal and 21 km east from Sesimbra, with the Atlantic Ocean to the south.
Portinho da Arrábida belongs to the parish of São Lourenço inside the district of Setúbal, Portugal.
How to get there?
Since Portinho da Arrábida is pretty hidden, deep inside the national park, it is not easily accessible by public transport.
The best choice is to get there by car and we are here to show you how.
How to go to Portinho da Arrábida from Lisbon?
There are two ways to get to Portinho da Arrábida from Lisbon. The first one is 47 km long and takes around 53 minutes, depending on the traffic.
Just drive to the A2 highway, through the 25 de Abril bridge and then take the N10 national road. Eventually, you have to turn to the N379-1, which brings you to your destination.
The other option is through the Vasco de Gama bridge on the A33 highway. At Coina, this road connects to the N10 national, which later joins the Avenida 25 de Abril road. This street takes you to the entrance of Portinho da Arrábida.
To Portinho da Arrábida from Setúbal
From Setúbal there are also two ways to get to Portinho da Arrábida.
One of them is on the coastline, on the N10-4, which is 13 km long and takes around 26 minutes.
The other one is on the N10, which is 16 km and 25 minutes long. This way also goes through a part of the national park, showing a nice panorama of the surrounding beaches.
Portinho da Arrábida beach
In Portinho da Arrábida the beach is pretty different from the ones we got used to in Costa de Caparica, Carcavelos or Cascais.
First of all, because behind our back there are no big roads, trains or a city, just the forest and pure nature. Then, there is a dirt road with pebble stones and a few restaurants on the side.
At the shore, you will feel more comfortable, thanks to the soft white sand. You can lay your towel here, set up the beach umbrella and enjoy the sun.
However, we have to warn you, that when you get close to the water you have to say goodbye to the smooth sand. The pebble stones are back, making it a bit difficult to walk into the water.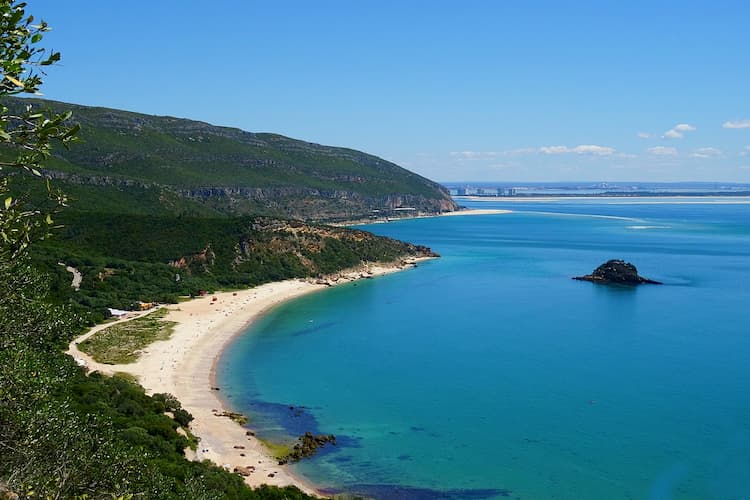 The temperature of the ocean is around 19-20 °C during the summer months and 14-16 °C during winter. The cold water is crystal clear, which makes the beach the perfect spot for scuba diving.
However, during the main season, it might be a bit difficult because of the crowd.
Since there is not much wind on this beach the water is calm, perfect for families with kids.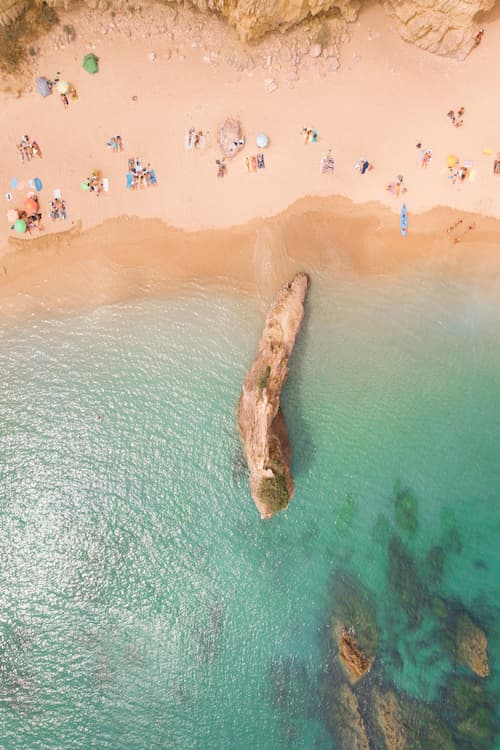 What's the weather like in Setúbal, Portugal?
This question will also give you an answer to when the best time is to visit Portinho da Arrábida.
Setúbal has a hot-summer Mediterranean climate which means its average temperature during August, the hottest month, is 23.3 °C and 11.7 °C during January, the coldest one.
The spring and late autumn are also decently warm, often just as much as summer. Thanks to that, April, May and even October can be a good time to visit the beach without it being too crowded.
If you want to know more information about Setúbal, click here and read our article.
What to do in Portinho da Arrábida?
In Portinho da Arrábida you have numerous options to entertain yourself. At the beach, you can rent a paddleboard or a kayak and go for an excursion with a professional guide.
You can also try snorkelling and scuba diving, and since the water is transparent, you have a big chance to see some pretty, colourful fish.
In case you had enough of the sun, put on your hiking shoes and discover the national park! Go for a nice walk, look at the amazing view from here or just visit the small fort at the entrance of the beach.
Nowadays, the fort is a little museum which shows the marine life of the region. The fort is open from Tuesday to Friday from 10 am to 4 pm and on Saturdays from 3 pm to 6 pm.
Gastronomy in the area
Setúbal is famous for its traditional food and outstanding wines. When you are in the area, make sure to try choco frito, the deep-fried cuttlefish served with french fries, lemon and mayonnaise.
Any other seafood is a good choice but you can find there fresh, farmed oysters which are also worth a try. And don't miss the azeitão cheese, which is a tasty local speciality.
We even tell you which restaurants you should visit. Here comes our top 5 list of the best local food.
Pérola da Mourisca
Pérola da Mourisca is a restaurant which clearly gives all the attention to the quality of the food. The decoration is poor and the place seems very simple at first sight but the dishes are outstanding.
Tuesdays they are closed but on the other days, you can visit them here for lunch between 12:30 pm and 3 pm. For dinner, they are open from Wednesday to Sunday between 7 pm and 10:30 pm.
490 Taberna STB
A cosy restaurant serving traditional Portuguese dishes as well as some contemporary popular food. You can choose petiscos, which just like the tapas, mean you get a selection of small amounts of different foods.
Come here and taste them yourself every day except Tuesdays from 12:30 pm to 11:30 pm.
In Sado Sabores Locais
Another great place for petiscos, to try as many Portuguese flavours as possible. Check out the nice, old fashioned decoration and have a delicious dinner here every day except Mondays from 10 am until 11 pm.
Tasca da Avenida
In the centre of Setúbal, you can find amazing seafood and friendly service. Visit them here every day except Tuesdays, between 12 pm and 3:30 pm for lunch or from 7 pm to 10:30 for dinner!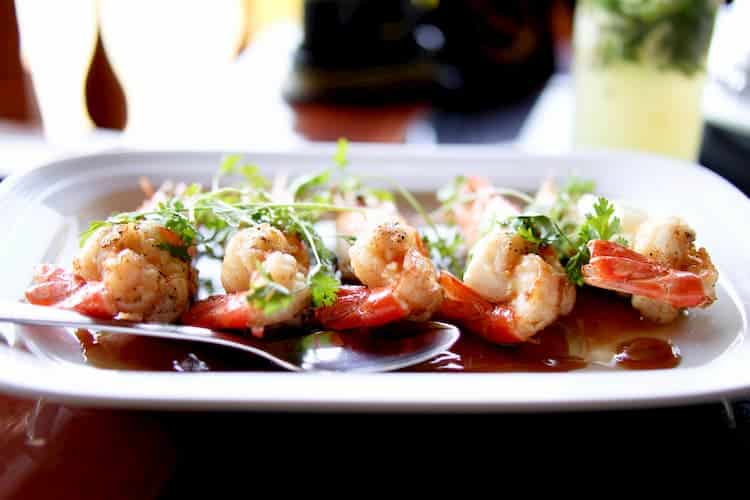 Casa Janeiro
Fresh fish and tasty seafood for great prices, that's Casa Janeiro! Make sure to be there early or have a reservation, otherwise, you might wait in the line for a while. Open every day except Mondays from 9 am to midnight.
Accommodation close to Portinho da Arrábida
Since the place is pretty hidden and hard to access, there are not too many options to stay for the night. However, we looked around and collected the best accommodation options nearby Portinho da Arrábida.
Casa da Adôa
Casa da Adôa is the closest guest house to the beach. It has eight bedrooms with sea-view and mountain-view, all of them decorated with furniture from the beginning of the 20th century. The place is calm and cosy, offering rooms from €60 per night.
Casa dos Ferros
A simple but beautiful house with an amazing view of the beach. There is space for four people and you can rent it all from  €80 per night.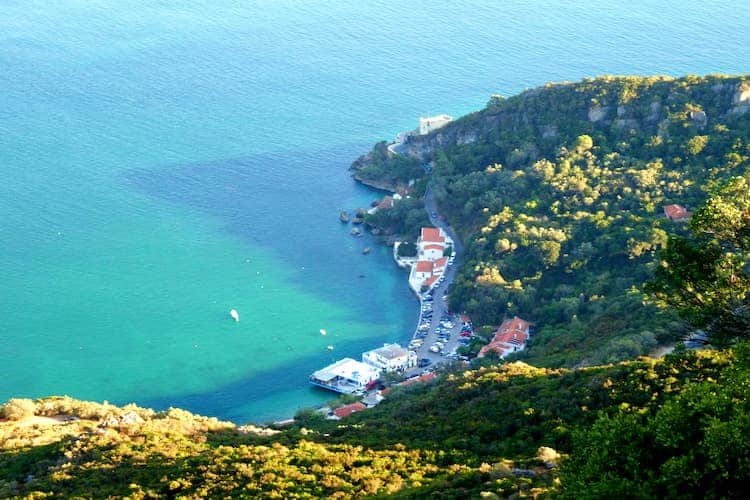 Casa da Vela
Casa da Vela has everything you need for a luxury holiday, including the pool with a view and the cinema room for the cosy nights. It can host a maximum of 6 people and the cost for a night starts from €160.
Casa Sul Mar
If you were looking for the perfect place to stay with children, now you found it. Casa Sul Mar has 4 rooms for 8 people, family-friendly decoration and separated kid rooms. Also, a nice swimming pool with a view and even a fireplace for the cold nights. The price starts at €155 per night and they get overbooked very quickly, so do not hesitate to make your reservation!
Villa Azeitão
In the border of the Arrábida National Park, just a few kilometres away from the beach you can find Villa Azeitão, the perfect accommodation up to six people. The freshly renovated house has three rooms, two bathrooms and a balcony with a grill. You can rent it all from €80 per night.
Beaches nearby
Portinho da Arrábida beach is beautiful, but the nearby beaches are also worth a visit! Look at our list and get inspired!
Galapinhos beach
Galapinhos beach was awarded as Europe's most beautiful beach by the European Best Destinations organization in 2017. Thanks to its hard access, it is not easy to find and this fact lowers the number of visitors. This way you can have your own little paradise once you get there.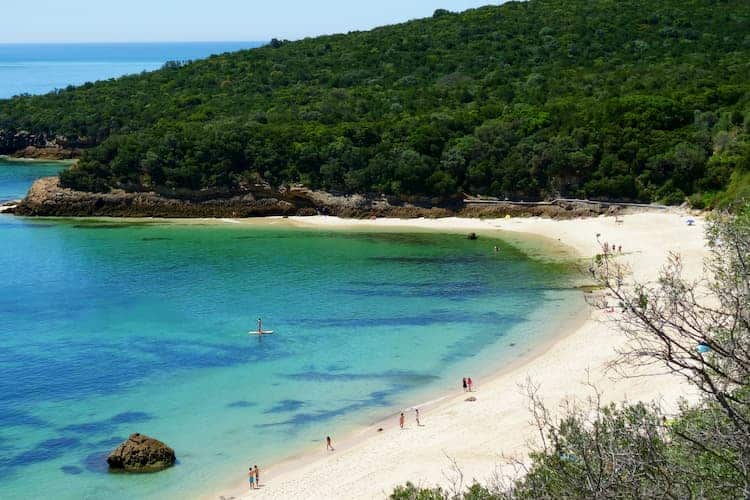 Figueirinha beach
Only seven kilometres away from Setúbal, Figueirinha is the busiest beach of the area. It is a blue flag beach, which means you can find all the facilities here from the restaurants to lifeguard for the safety and comfort of the visitors.
Praia dos Coelhos
Praia dos Coelhos is a small sandy beach with hard access but a big reward. Peaceful and calm where you can enjoy the sun and the ocean. For the exact location, click here!
The area of Portinho da Arrábida is full of natural beauties. Picturesque beaches, mountains and breathtaking panorama in one small area. The perfect destination to enjoy nature close to the cities. Although, please respect the environment, collect your litter and leave everything how you found!
For more wonderful destinations and tips and tricks about living in Portugal, don't forget to subscribe to our newsletter.