Monchique in the Algarve is popular with outdoor lovers for its proximity to the mountain, forests and thermal spas. The main town is also very picturesque, with local markets, unique architecture and art galleries to be explored.
Read on to discover more about Monchique with our guide to the weather; when to visit; how to get there; things to do; accommodation and restaurants.
Monchique Portugal
Nestled in the woody mountain ranges between the Algarve and Alentejo, is Monchique in Portugal. This small Portuguese town holds many features typical of the Algarve region such as the whitewashed houses and cobblestoned streets.
A walk through the narrow streets up the town's hillside will take you on a tour of nature's best, with an abundance of green views, blooming flowers and fruit trees, that will show you a very different side of the Algarve.
Monchique's hillside location provides visitors with many unique natural sights less frequented by tourists, worth the inland journey.
Where is Monchique?
Monchique is a town of around 6.000 people, in the Faro district, in Portugal. The town resides in between the Algarve and Alentejo region and is surrounded by mountains and forest land.
| Sign up to our newsletter and discover all about the other parts of beautiful Portugal.
How to get to Monchique from Lisbon?
There are numerous ways to reach Monchique from Lisbon, the easiest being a three-hour drive by car.
Alternative methods include a 7-hour bus ride or train and bus combination, taking approximately 6 hours. See the routes here.
| We've written a guide about the Lisbon airport if you'd like to know more.
How to get to Monchique from Faro airport?
If you are journeying from Faro Airport to Monchique, the simplest method is to travel to the city by car or taxi, which will take approximately one hour.
Other means of transport include a bus (3 hours) or train and bus (4 hours). You can find different options here.
And you can always book an airport transfer, to and from Faro for only €38.
| Learn all about Faro's Airport with our guide and start your holidays hassle-free. 
Weather in Monchique
Monchique's location in the Algarve region, in southern Portugal, means its climate is very Mediterranean year-round.
The city experiences dry periods from May through to September, with the warmest month being July and the driest month August.
The coolest month is January, which is also often the wettest month. We'd advise avoiding visiting Monchique in January, and instead, visit during the shoulder seasons.
| Plan your trip with bePortugal with our weather guide.
Things to Do in Monchique
Monchique might be a small town in Portugal but there lots of things to do when visiting the area.
Its hillside location makes Monchique a great destination for outdoor enthusiasts, with plenty of walking experiences and cycling routes.
For adventure seekers, the forest is also a hotspot for mountain biking. Here are some iconic things to do in Monchique:
Luar da Fóia
A "must-do" in Monchique, is visiting the highest point in the Algarve – Fóia. Here you'll be rewarded with fantastic panoramic views of the Algarve's south and west coasts as far as Cabo de São Vicente.
For only €39 per person, you can take a 4-hour tour to Fóia with Get Your Guide. This service includes a hotel pick-up service and a live guide.
Monchique Mountains
The chain of mountains in Monchique; explore the forested area and scenic base by foot, bike, or jeep safari.
Barragem da Bravura
A walking trail that tours the Bravura dam, which was formed by the rounded hills and narrow valleys.
The water is a stunning turquoise – the perfect match to its hillside background.
Ribeira de Seixe
A valley that divides the Algarve and Alentejo regions.
Caldas de Monchique
A spa town in the Monchique mountains, famous since the Roman ages for its waters with "healing" properties.
The waters were once used for the Portuguese royalty but today have gained much popularity with tourists, for health benefits, landscape and architecture.
Closest Beaches to Monchique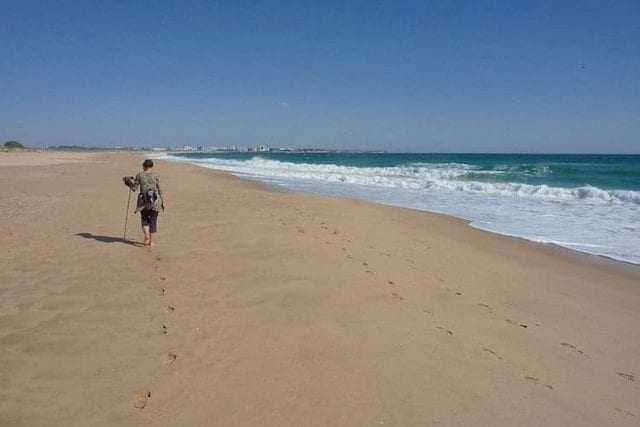 If you want to spend a day at the beach, the journey from Monchique is only about 20 minutes drive to the coast.
My favourite beach to visit is Praia da Rocha, in Lagos, which is famous for its scenic cliffy coastline and coastal walking route. Other nearby beaches to Monchique are:
Meia Praia
Alvor
Bordeira Beach
Arrifana Beach
Salema Beach
| Since you're going to Portugal's most southern region, don't miss out this opportunity to explore some of the best beaches in the Algarve. 
Hotels Monchique
| If none of these hotels suite your needs, you can check out Booking.com for some other alternatives. 
Best Restaurants in Monchique
No trip to any Portuguese town is complete without trying the local delicacies, and Monchique is no exception.
The town's specials are homemade sausages, local honey, and "medronho", which is made from a small berry that will make your eyes water, earning it the nickname "fire water".
While in town be sure to check out these restaurants, for delicious Portuguese meals and scenic views:
Is Monchique a good place to visit?
Absolutely!
Monchique is a beautiful destination in Portugal, for its stunning natural landscapes and panoramic views of the southern region.
And if the green and blue landscapes aren't enough to convince you, the thermal spas, and divine cuisine are sure to. Don't miss this hillside city when visiting the Algarve in Portugal!