Going to Madeira? Find out if the weather is going to be right for your holiday.
What is Madeira weather like?
Madeira weather is one of the best there is, seriously. People enjoy a whole year with very little rain and mostly sunny days.
If you are familiar with the Algarve, think about Madeira weather as something very similar but in the middle of the ocean.
At first, you will have quite a lot to think about, mainly the breathtaking views over Madeira's seven main islands. On any of them, the weather is quite similar, so you don't need to worry about the exact location you might be planning to go to (but most people go to Funchal first).
The best climate in the world
Most locals describe Madeira weather as the best climate in the world. Even though it can get a bit windy, the temperatures are often warm during the whole year, even in winter. In the summer, temperatures reach high peaks but is never "too hot".
Madeira's island is very mountainous, which makes it possible to see snow on top of the mountains, but not on the lower grounds (yes, at the same time). So, overall speaking, Madeira's weather is very sunny and it rarely rains.
What is Madeira weather like per season?
Madeira in spring
Flowers bloom and the weather starts to get warmer. During spring, the days get longer and it rains less and less as the days go by. By the time April and May arrives, temperatures rise and are very welcoming between the mountainous areas.
Madeira in summer
During summer, the climate is exquisite and very popular amongst tourists (especially the ones that come from the UK or the Nordic countries). The maximum temperatures can reach 24°C (75°F) and the minimums go around 17°C (63°F) on average, of course, since many times the temperatures rises to 33ºC (91ºF).
Madeira in autumn
Autumn begins in September, but the days continue to be very warm. Even though there is a probability of rain, it doesn't rain linger than seven days (on average). Medium temperatures get to around 23°C (73°F) during the day and 17°C (63°F) at night, which makes it a perfect time to visit the island.
Madeira in winter
We usually say that it's always summer in Madeira, which is a sentence as true as it can be. Temperatures normally drop around 4°C (39°F), but it is still sunny and warm. During the day, in Funchal, temperatures get to around 20°C (68°F) and never below 14ºC (57°F) at night.
Madeira weather in December, January and February
It's winter time, or not so much. Madeira weather is always much warmer when compared to the rest of the country's climate, and also abroad. Even though it rains a bit in December and January (seven days per month, on average), it gets better in February, when it rains a bit less.
In case you didn't know, this is why Madeira's bananas are still cultivated during the winter months, which is something that does not happen in other places because of the climate, that tends to be harsher and colder during these months.
Madeira weather in March, April and May
Spring arrives in March, so that means temperatures begin to slowly increase. The days are getting longer, which means the sun sets later than it does in winter. The weather in Madeira gets warmer from the middle of April on.
What's going on in Madeira in March
Madeira SUP Challenge
The dates have not yet been announced, but this is an International Stand Up Paddle competition that happens in the bay of Funchal.
Ocean Lava Madeira Long Distance Triathlon
Swim, cycle and run through the beautiful landscapes of Madeira. The Ocean Lava Madeira Long Distance Triathlon is where some of the world's best competitors go to compete.
Madeira Literary Festival
Writers, poets, journalists and critics gather at the Madeira Literary Festival (website is in Portuguese) to discuss different topics in English and Portuguese.
Festival of Wine, Embroidery & Handicrafts of Madeira
The Festival of Wine, Embroidery & Handicrafts of Madeira is a biennial festival that celebrates one of Madeira's biggest traditions: crafts.
Like this article so far? Never miss out on our new stories by subscribing to our newsletter.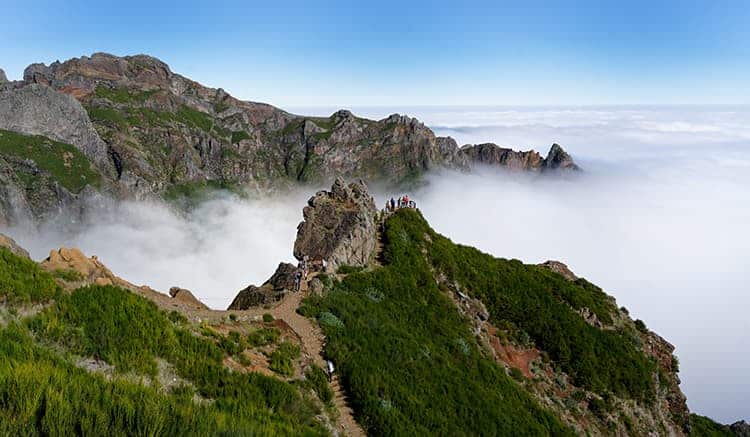 Madeira weather in June, July and August
"Welcome Summer", right? During these months, Madeira's weather is at its finest with temperatures increasing and reaching 33ºC (91ºF) on some days. Nights are also warmer, even though they can get a bit windy. It normally doesn't rain during the summer months.
Madeira weather in September, October and November
Even though it's Autumn already, days are still warm and the sun shines most of the time. Precipitation is very low but can increase when November starts.
Funchal, Madeira weather compared to Lisbon
The distance between Funchal, Madeira and Portugal's capital, Lisbon, is approximately 973km (605 miles) and both have a hot climate, even though it gets windier in Madeira. There are, however, more rainy days in Lisbon than in Funchal, Madeira.
Annually speaking, Madeira weather is warmer when compared to Lisbon. The difference is not that big, only 1ºC (2ºF) in fact. The real difference can be found in the number of rainy days. In Lisbon, there is 48% higher chance that it will rain than in Funchal.
Most accurate Madeira weather forecast
There are a few platforms we can name that are extremely reliable to get the precise Madeira weather forecast.
These include:
Madeira's seven day forecast:
10 reasons to visit Madeira
Levadas: these are small irrigation canals that are just too beautiful to miss;
Monuments: Madeira has a unique history that deserves to be explored;
Food: Well, when you talk about Portugal, this is one of the top reasons mentioned to visit this beautiful island;
Events: The biggest one is Carnival, which fills the streets with colourful parades that are worth watching. Also, if you can, spend New Year's Eve on the island: the fireworks are magnificent;
Nature: Madeira is full of beautiful landscapes, forests and much more;
Beach of Porto Santo Island is one of the best Portuguese beaches;
Cristiano Ronaldo is a top Portuguese football player is originally from Madeira and besides having his own statue at Praça do Mar, the main airport was also named after him;
Fireworks which welcomes the New Year and are launched all over the island;
The hotels are top-quality and affordable;
Climate: It's summer all year.
Find out about more about going to Madeira in our handy traveller's guide: Visit Madeira.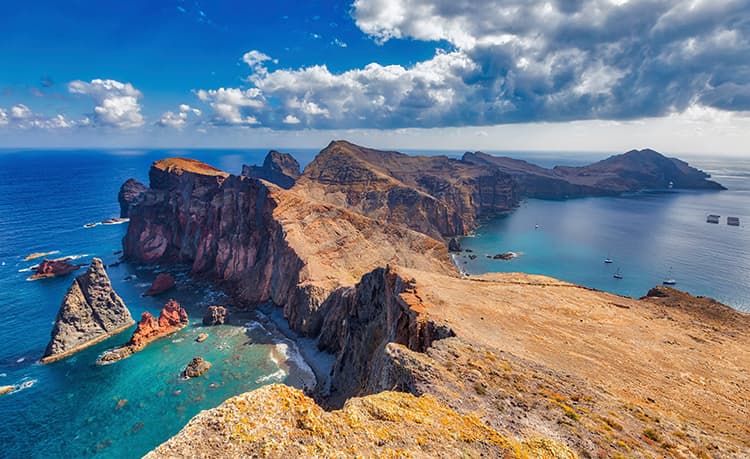 The best time to go on holiday to Madeira?
As quickly as you can! The weather is great all year and perfect for a dive during the spring months. Even if you choose to visit in February, for example, most days are already warm and the water is so crystal-clear that you will truly enjoy this Portuguese island paradise.
And if you decide a holiday is not enough, you may also like: Living in Madeira.
Let us know in the comments below if you have any questions about Madeira or the weather there.