Across the Atlantic Ocean, on an island archipelago belonging to Portugal, is the stunning paradise that is Madeira, and its capital city Funchal.
Historically, the city was known for its "white gold" Madeiran sugar but tourists visit it today for its warm weather, delicious wine, and incredible picturesque views.
Thinking about a trip to Funchal? Read on for a complete guide to Funchal in Portugal.
Funchal
Funchal is Madeira's largest city, with a population of 111 982 people, making it also the sixth largest city in Portugal.
It is one of Portugal's main tourist attractions, attracting travellers mostly because of its splendid nature, natural beaches and celebrations such as New Year's Eve or the Carnival.
Do you want to learn more about Madeira? We've created an all you need to know guide about the island, read it here.
Where is Funchal, Madeira
Funchal is located on the main island of Madeira and it's the capital of this Archipelago. The Madeira island is located 560 km off the coast of Morocco,  978 km south of Portugal, in the middle of the Atlantic ocean.
How to get to Funchal
Funchal is a major tourist town with easy access to an international airport "Funchal Airport" (FNC), located in the Santa Cruz municipality. It takes around 25 minutes to get to the city centre from the airport.
Another popular means of visiting Funchal is on a cruise ship! Funchal is actually the leading Portuguese port cruise liner docking, with cruise ships coming in from every direction to stop off at the stunning island.
Discover more about the other Portuguese airports with our Portuguese airport guide.
Funchal Weather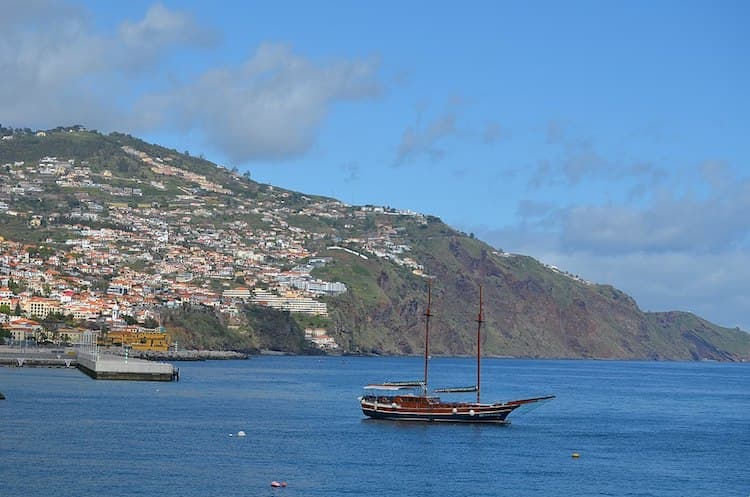 Bring your swimming gear! You can expect a sub-tropical Mediterranean climate year-round in Funchal. Instead of four seasons, the city generally experiences two main seasons – the "wet" season from October to March with temperatures averaging 20-25 °C (68-77 °F).
The "dry" season from April to September with averages of 21-26 °C (69-78 °F).
Humidity levels remain pretty consistent at about 70 per cent, and sea temperatures will reach as high as 26 °C (78 °F) in August and as low as 18 °C (64 °F) in January.
So really, there is no "best" time to visit, rather you can visit any time for enjoyable weather!
Nothing like knowing exactly what weather to expect when you visit Portugal. Check out our guide.
Things to do in Funchal
Besides taking in the extraordinary views and Funchal's famous cuisine, there are plenty of adventurous outdoor activities to enjoy while on the island.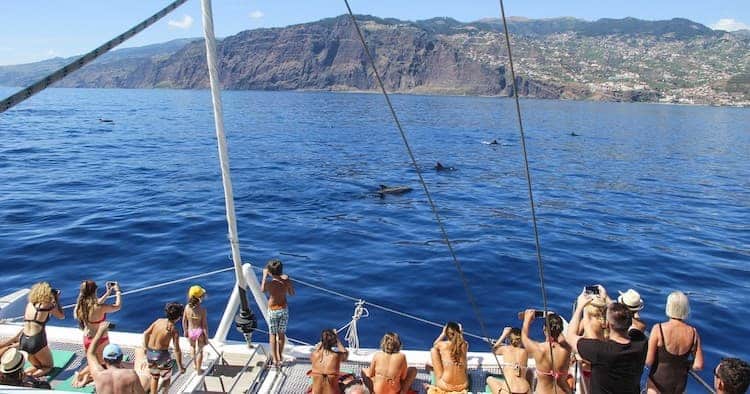 Tourists can explore the wonders of the deep Atlantic Ocean through dive trips or by surfing waves at the various beaches, swimming with dolphins or even whale-watching.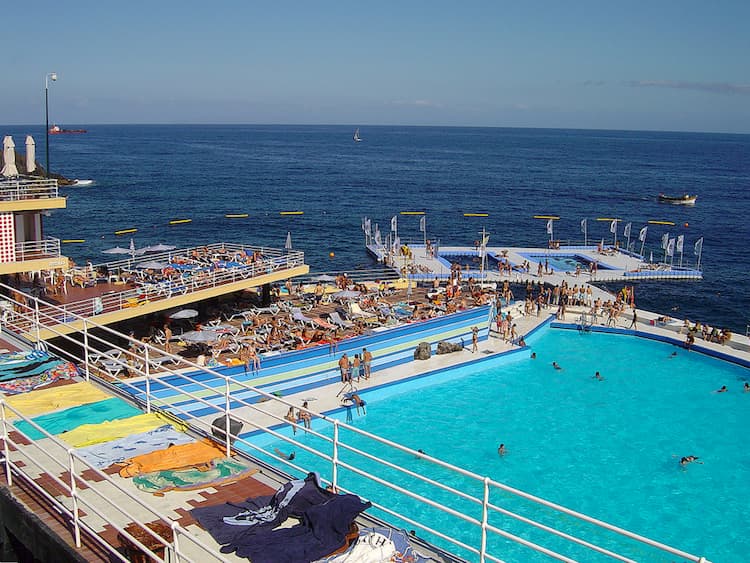 A trip to the beach becomes very interesting when you realise the "beaches" in Madeira don't all have sand and if they do, they are black sandy beaches (not yellow!). Instead, swimming pools and the warm sea temperatures have to make up for the lack of sand. The locals will often lay their beach towel on the cobblestone waterfront anyway!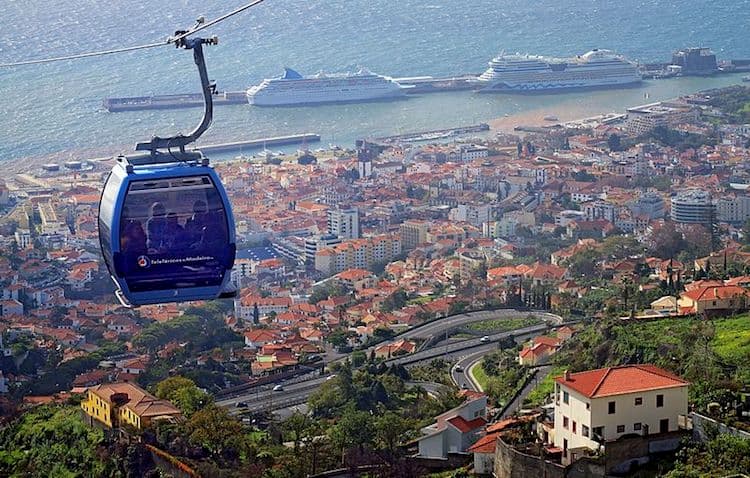 The Funchal Cable Car (open 9am-6pm) is another popular attraction, taking tourists on a journey from the lower section of Funchal to the parish of Monte, which has beautiful botanical gardens.
The inclined ride takes about 15-25 minutes and gives you a chance to see the magical island views from above.
Visitors could also a day trip to other regions of the island to explore the beautiful gardens, hiking routes and mountain woods.
The island is also home to some of Europe's finest golf courses. Read our other article here about the best golf courses in Portugal and what else to do around the island of Madeira.
Best Restaurants in Funchal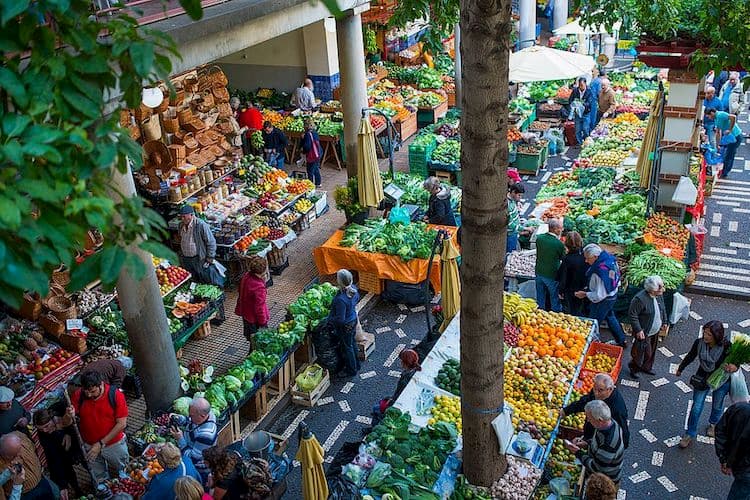 Funchal is a city with unique flavours and delicacies that you should try when visiting! Caco bread (bolo do caco), honey cake, Annona, guava, tuna, and Madeira wine, just to name a few!
Here are some of our favourite Portuguese restaurants to try dishes with these ingredients:
Real Canoa – Bruno's – a welcoming restaurant in the centre of the city, with great value and delicious food to suit all tastes.
Bruno is renowned for making his guests feel very welcome with a hearty Portuguese meal. The prawn curry, sea bass, and steak dishes are all excellent choices.
Restaurante Hemingway – As a fan of the Lost Generation author, I cannot help but recommend Restaurante Hemingway in Funchal.
The venue is great for a cosy romantic dinner or for families. The beef wellington, stuffed mushrooms and tiramisu and notable dishes.
MadMarket – Located in a food market court, this restaurant offers guests an authentic Portuguese experience.
The menu includes the flavours and delicacies of the island, prepared with love and passion for the region. The grilled shrimp, octopus, and sweet potato fries are definitely worth trying.
Discover more about Portuguese cuisine when you read Portuguese food: the dishes you need to try.
Best Hotels in Funchal Madeira
If luxury is what you're looking for, Funchal has plenty of choices. The island is a paradise filled with 5-star hotels, some even residing in palaces!
Luxury Hotels in Funchal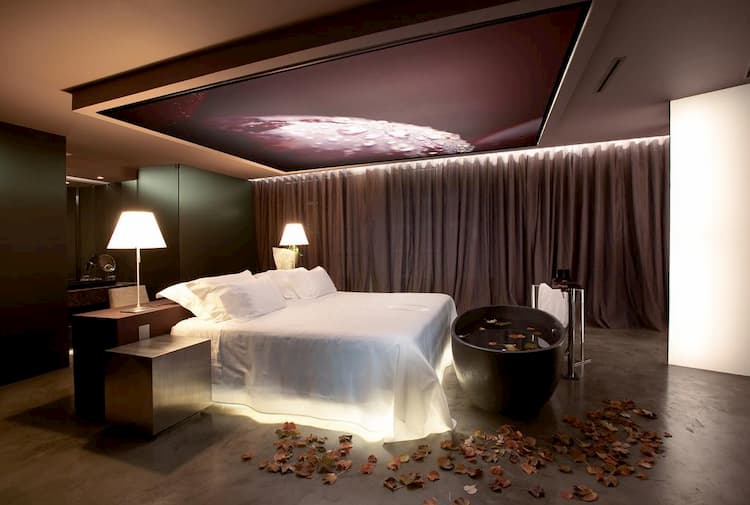 The Vine (from €144/night) – Modern design meets the tradition of wine-making in Madeira and brings you The Vine, a divine hotel.
The hotel has a trendy design with a different colour scheme, reflecting the four seasons for rooms on each floor.
They also provide first-class dining, a swimming pool and spa, meeting room and gym. For a chic island holiday, this hotel has it all.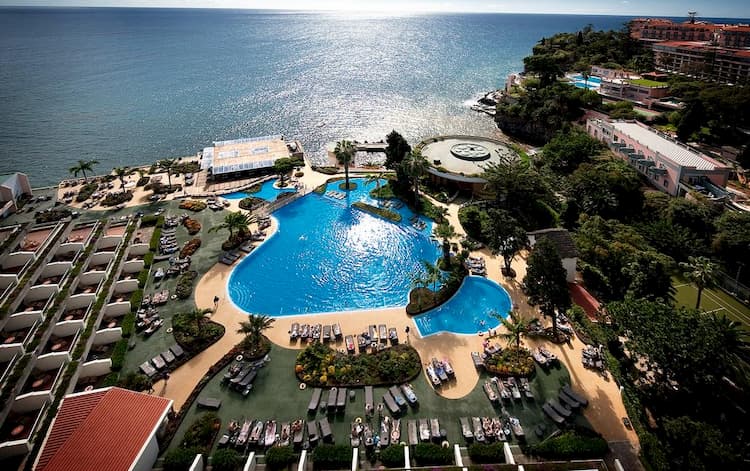 Pestana Carlton (from €100/night) – A luxurious and charming city hotel with views of the Atlantic Ocean, garden, swimming pool, and Funchal bay.
It features two outdoor saltwater swimming pools and a dive centre for visitors wanting to learn how to scuba dive. There is also a Turkish bath, jacuzzi and relaxation rooms for guests to immerse themselves in relaxing spa treatments.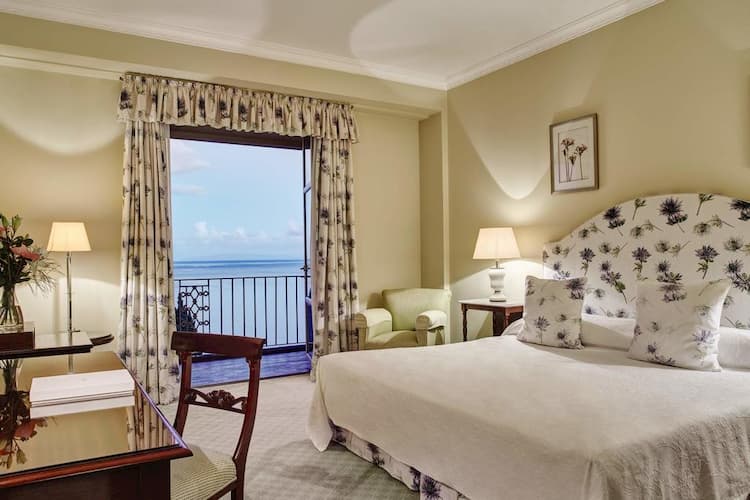 Belmond Reid's Palace (from €383/night)– A clifftop haven perched above the picturesque Funchal Harbour is Belmond Reid's Palace.
Inside the palace are tastefully decorated rooms with floral fabrics and wooden furniture.
The hotel offers four high dining restaurants, an afternoon tea terrace, cocktail bar, heated swimming pools, tennis courts and spa.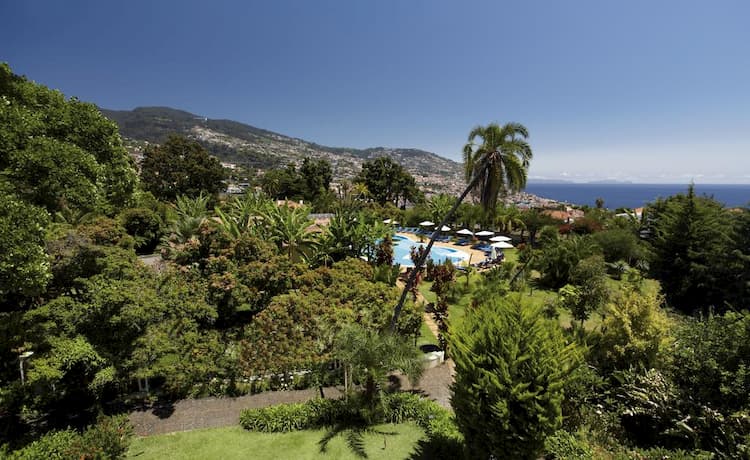 Quinta Jardins do Lago (from €227/night) – An elegant luxury botanical garden hotel on the island, this charming hotel resides in an 18th-century building.
The interior has been passionately designed to offer the best mix of traditional comfort and style with modern functionality.
The lush gardens outside are breathtaking with over 500 different plant species to be discovered and admired.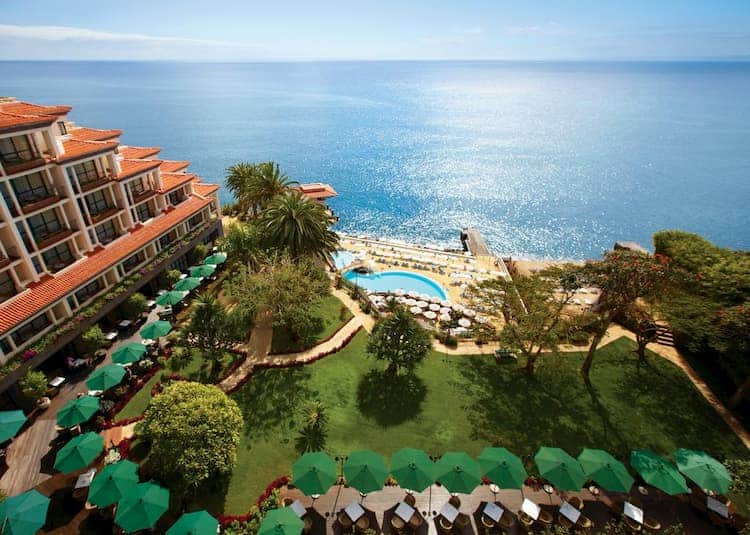 The Cliff Bay (from €198/night) – A five-star hotel in the centre of Funchal, with direct access to the sea and gardens.
The hotel has three swimming pools, an outdoor jacuzzi, eight different spa treatments, and incredible island views. The famous Il Gallo d'Oro restaurant, with two Michelin stars, is also located here.
Budget hotels
If you are looking to visit Funchal without the cost of a luxury hotel, don't worry. Here are some of the best budget-friendly hostels in the city:
Phil's Haven Hostel – A cosy, comfy, good value stay located 5-minutes from old town Funchal. The hostel features a big patio, equipped kitchen, and free breakfast.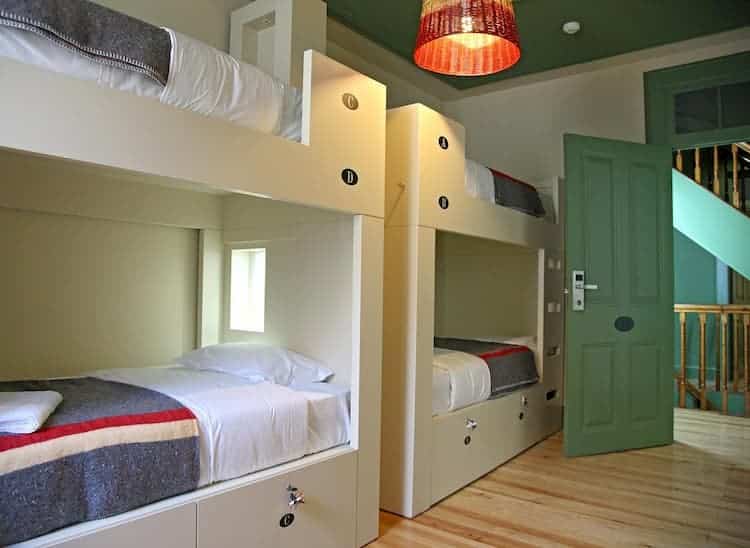 29 Madeira Hostel by Petit Hotels – Residing in a historical building from 1937, this hostel offers modern comfort and casual style fit for backpackers passing through. They also have a patio, great for watching the sunset.
Hostel Residential Parque – This guesthouse is in the old town in a newly renovated building, with 24 rooms. They offer a bar and coffee and are in prime location.
Is it worth it to visit Funchal?
Funchal in Madeira is not the cheapest city to visit in Portugal. €25 is the average price for food in one day and €83 the average price for a hotel per night.
However, there are plenty of places to splash the cash on this dreamy island oasis, so you can expect to spend a little or a lot more.
And that's all about Funchal in Portugal. If we've missed anything or you'd like to find out more about a certain topic, let us know in the comments.