Why should you visit Lousã in Portugal?
Did you know that Lousã is the natural habitat for many rare animal species in Portugal?
It is also a natural beauty with preserved schist villages and numerous trails for cycling, walking and hiking in Portugal.
In this article, you will discover Lousã, what to see and do, where to stay, where to dine and more.
A little history about Lousã, Portugal
It is believed that humans inhabited Lousã as far back as the second century to the time of Roman occupation of Conímbriga (the most important Roman settlement in Portugal).
Lousã became prominent when the emir, Arunce de Conímbriga, came to seek refuge there due to incessant attacks on Conímbriga during the Arab invasion. It was during his stay in this village that he built the Castle of Lousã, also known as Castle of Arouce, but some legends say that it was constructed by Mozarab of Tertúgal.
Where is Lousã in Portugal?
Lousã is in central Portugal in the mountain range of the same name ("Serra da Lousã"). It is about 27km (16 miles) from the city of Coimbra. As a municipality of the district of Coimbra, Lousã is made up of four civil parishes:
Foz de Arouce e Casal de Ermio;
Lousã e Vilarinho;
Serpins; and
Gândaras.
How to get to Lousã, Portugal
Though there are no trains to Lousã at the moment (the lines are being refurbished), you can get there by car or by public bus.
Getting to Lousã by bus from Coimbra
In Coimbra, you should take a bus going to Lousã from the São José station. The bus ride is about an hour and stops at Lousã station.
Getting to Lousã from Lisbon
Travelling to Lousã from Lisbon is not so straightforward as there is no direct bus or train service to the area.
However, here are some ways to get to Lousã from Lisbon:
By train and taxi
Go to Santa Apolónia station and catch a train going to Coimbra. Then from Coimbra you take a taxi to Lousã. The taxi ride is about 30 minutes from Coimbra.
By car
This is the best way to get to Lousã from Lisbon. The drive from Lisbon to Lousã is just a little over two hours.
It is advisable to plan a visit to Lousã via Coimbra because generally there are no good public transport connections to the town from other major cities in Portugal.
Find out more about Coimbra here.
How to get around Lousã?
Getting around Lousã can be very tiring because it is a very hilly town so, it is advisable to have a car to explore the area easily.
Things to see and do in Lousã
The town of Lousã is very small but it is home to some of the most historic national monuments in Portugal and several schist villages.
Here are at the top things to do and see in Lousã.
See the ancient Castelo da Lousã
The castle sits at the summit of Lousã's mountain range 2 km (1.2 miles) from the town centre in the village of Arouce. It has existed for many centuries, though no one knows for sure the exact date of construction. Many people believe it was constructed sometime in the second half of the 11th century to be the first line of defence to the southern access to Coimbra.
It's worth a visit because of its vantage point in the city.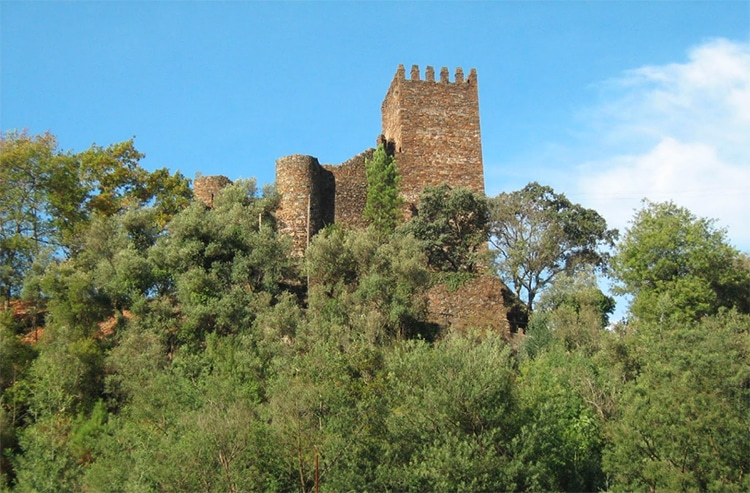 Do some rural tourism in the schist villages in Lousã
Of the 27 schist villages in central Portugal, five are situated in Lousã and make for pleasurable day of walking. The most charming of them is the Talasnal village (main picture), here you can go hiking and explore the unique and beautiful vegetation in the village. You will also get a panoramic view of the Castle of Lousã.
Another lovely schist village in Lousã is the rocky Cerdeira village with lots of natural green surroundings. It is also a good place to retreat and revitalise yourself if you want a more relaxing holiday.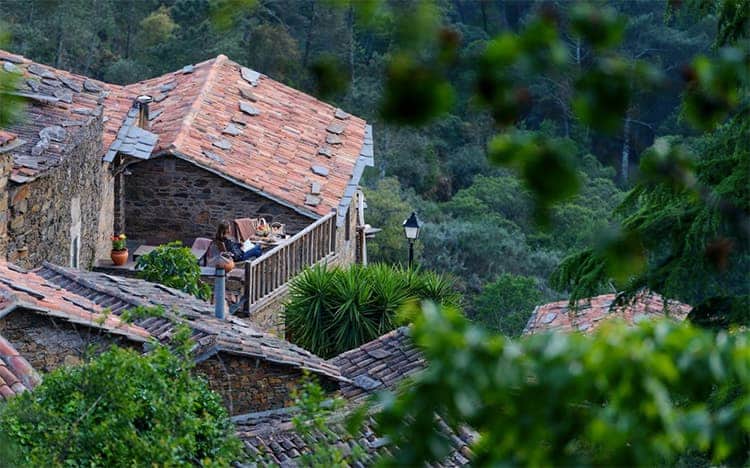 Other villages you can visit in the area are:
Looking for an adventure? Do you want to explore in the mystical valleys of the Serra da Lousã? Combine nature, history and stunning views in this adventure that's off the beaten track.
Interested? Click here for your own personal guided tour!
Visit the Biological Park of Lousã Mountain ("Parque Biologico Serra Lousã")
See some of the rare, protected animal species in Portugal at the Biological Park of Lousã. Here you can see bears, mouflons, lynxes and many other animals. In the park you can also get lost in a labyrinth of fruit trees which are unique in the world. There is also an equestrian centre, an eco-museum and cooperage museum.
Why not make a day of it with the kids? For tickets, click here.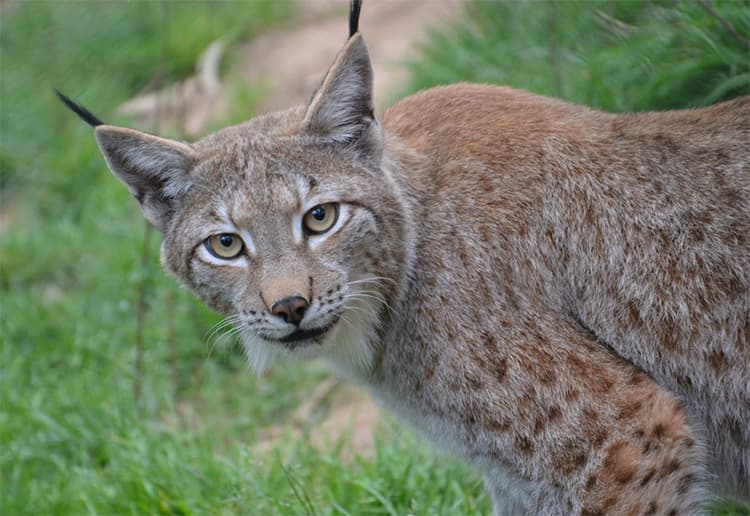 Go for a swim at the river beach of Senhora de Piedade
In a hidden river in the Lousã mountain range, you will find a river beach ("praia fluvial") at Senhora de Piedade,  a natural cascade with breathtaking views and incredible scenery. If you visit Lousã in the summer, you should stop here for a dip in the river.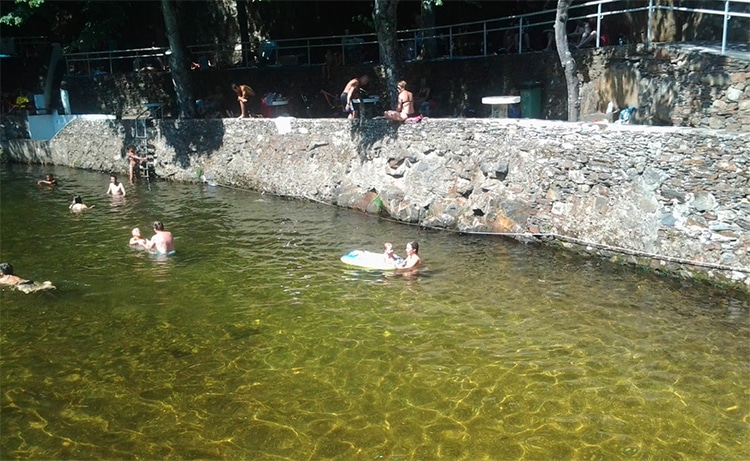 There are also some other river beaches in the area like Senhora da Graça and Bogueira that are suitable for camping activities and picnics.
If you like camping, check out Camping in Portugal.
In Lousã you can also engage in some recreational activities like canoeing, cycling, hiking and mountain biking.
While you are hiking in the mountains of Lousã, you might see some wild animals like:
Roe deer;
Mouflons; and
Wild boars!
What's the weather like in Lousã?
The winter in Lousã is very long and wet while the summer is short and mostly dry. However, the temperatures are mostly pleasant throughout the year and there is a high chance of rainfall at any time of the year. If you are looking to avoid rain and enjoy some warm weather, July and August would be the best time to visit Lousã.
What and where to eat in Lousã
The Lousanense have local delicious dishes like:
Chanfana;
Cabrito;
Sardinha Albardada;
Migas;
Serrabulho; and
Tigelada Lousanense.
Any of these traditional dishes can be enjoyed at the following restaurants in Lousã;
Where to stay in Lousã
In Lousã you will find diverse accommodation options ranging from boutique hotels to youth hostels in and around the town.
Some nice accommodation facilities that we can recommend in the town centre are: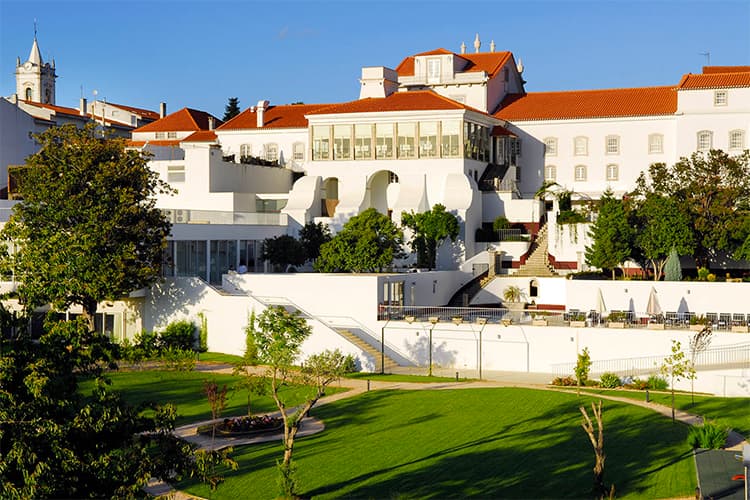 If you want to stay away from the centre and be closer to nature, these places also make for a great stay:
Is Lousã worth visiting?
If you are interested in a walking and hiking holiday, Lousã is the perfect place especially in the schist villages and it also makes for a nice day trip from Coimbra. It is also worth visiting for people interested in rural tourism and travellers interested in staying in a very tranquil environment.
Explore central Portugal and Lousã, I can assure you that you will be more than pleased with the sheer beauty Portugal has to offer.
You may also be interested in exploring Serra da Estrela, another beautiful mountain range in central Portugal.
We hope we've convinced to visit Lousã. Let us know what you thought of it in the comments below.
Want more information about holidays in Portugal? Don't miss out on our free newsletter. Sign up here.