If you have visited Lisbon, I can guarantee you that you have seen 'azulejos'.
They are mostly blue and white glazed tiles that are on the outside of many buildings in Lisbon and you are probably curious as to why there are so many and where did they come from?
In this article, you can learn about the history of tiles in Lisbon and why they are so common.
Here we go…
The history of tiles in Lisbon
The use of tiles on the buildings of Lisbon can be traced back to the 16th century when they were introduced to Portugal from Spain and ever since then, they have become a prominent feature of Portuguese architecture.
We can thank King Manuel I for this as it was he who decided to have his palace built with tiles after being intrigued by the design he saw when he visited Seville in 1503.
Following the trend set by the King, it became a constant feature for the interiors and exteriors of churches, palaces, schools and houses all over Portugal.
Fun fact: Tiles on the outside of buildings are not only beautiful, but they also keep the insides cooler in the summer.
Best places to see tiles in Lisbon
"Azulejos" as they are called in Portuguese, can practically be found on any building in Lisbon, even in the Metro stations. They form a distinctive design style and are especially beautiful in the Alfama neighbourhood which typifies the use of these tiles.
If you want to see an extensive collection and mind-blowing designs of Portuguese tiles, you should visit any of the following places:
National Tile Museum ("Museu Nacional do Azulejo")
Tiles are important in the history of Lisbon so, it's no surprise that a museum was dedicated to preserving and sharing their unique story. The National Tile Museum is set in the former Convent of Madre de Deus which was built in the 16th century. The Convent itself is also a pleasure to visit. This museum houses the most extensive collection of tiles in the whole of Portugal.
You can also learn about the artistic evolution and use of tiles in Portugal from the 15th century to today.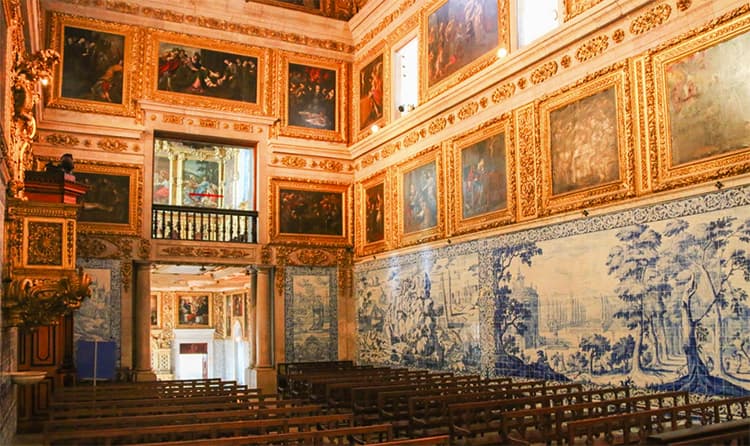 Fronteira Palace ("Palácio dos Marqueses da Fronteira")
After the National Tile Museum, Fronteira Palace (website is in Portuguese) in the Benfica Stadium neighborhood must be the next best place to see an incredible use of tiles in Lisbon. It was built in the 17th century and was immensely decorated with the best and probably the largest collection of tiles from the era. It is a must-see for tile lovers or ceramic work enthusiasts.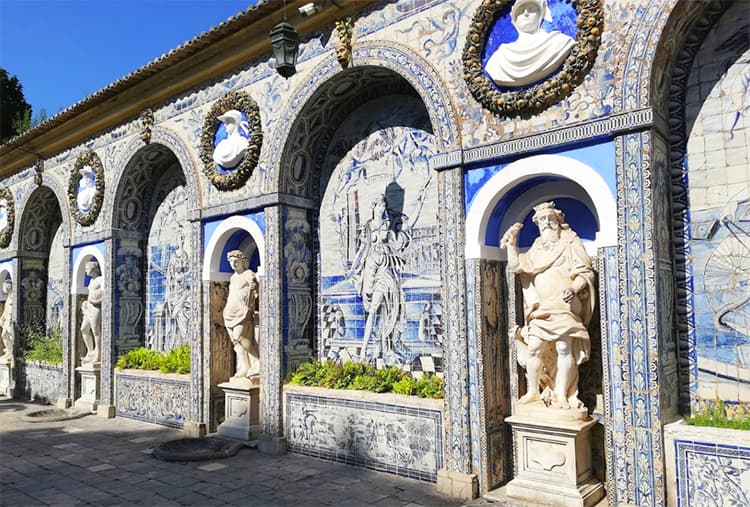 Sintra National Palace ("Palácio Nacional de Sintra")
Another great place to see an elaborate decoration and use of tiles in Lisbon is at the Sintra National Palace (website is in Portuguese). The palace is known to have the largest collection of Mudéjar tiles in Portugal. Within the palace, the rooms are decorated with tiles that date as far back as the 15th century while the Sala dos Brasões (Coat of Arms room) walls are decorated with blue and white tiles from the 18th century.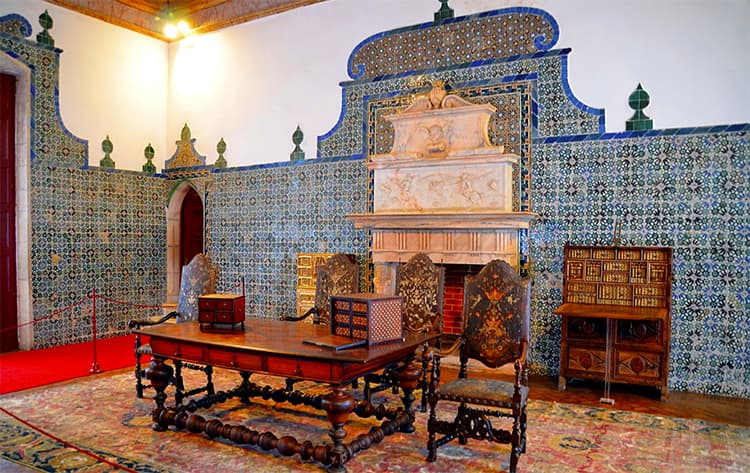 While you are visiting Sintra, you might like to read about the famous Pena Palace.
Monastery of São Vicente de Fora
The Monastery of São Vicente de Fora is famously known for its great views over the city of Lisbon but this 17th-century monastery houses over 100,000 beautiful baroque tiles which are noticeable throughout the building, from the entrance to the hallways and the cloisters.
Another highlight of the monastery is the 38 tiled panels titled "Fábulas" which is based on fables written by Jean de la Fontaine.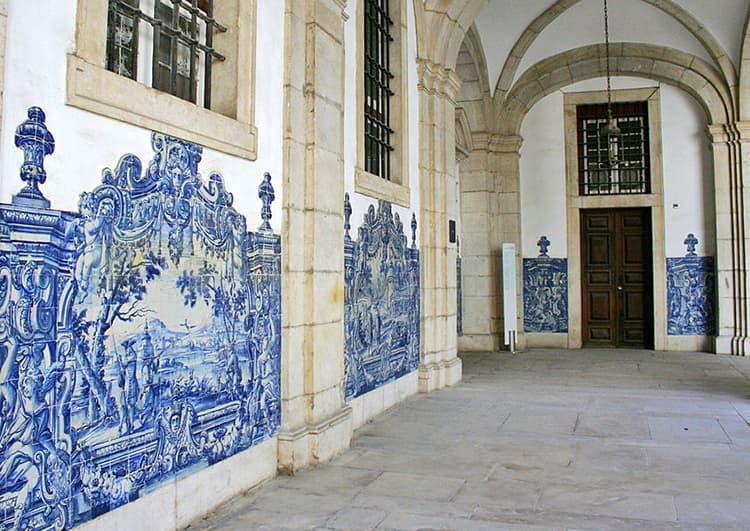 Viúva Lamego
Viúva Lamego used to be a ceramic factory but it's now a shop that has a large collection of handmade tiles with designs from the 16th to 18th century. The exterior of the building itself is a feast for the eyes with its imperious decorative tiles.
If you are also looking to buy traditional Portuguese ceramic tiles in Lisbon, Vuiva Lamego in Intendente is the perfect place to buy them.

If you want more information about visiting Portugal, subscribe to our newsletter and never miss a thing.
Where to buy tiles in Lisbon
Solar Antiques
Solar Antiques is one of the best places in Lisbon to buy antique tiles. They have a vast collection of vintage tiles from the 16th to the 18th century. They also have beautiful murals although they are a bit expensive.
Address: R. Dom Pedro V 70.
Fabrica Sant'Anna
If you are looking to buy contemporary tiles in Lisbon, then Fabrica Sant'Anna is probably the best tile store to buy one. The beautiful collection of hand painted tiles is reproduced using the exact methods from the 18th century. They also have a nice collection of decorative ceramic works.
Address: Calçada Boa Hora 96.
Loja dos Descobrimentos
Loja dos Descobrimentos is a great store in the Alfama district with lots of quality hand-painted tiles. They have both traditional and classic tiles with vibrant and elegant designs. You can even have one custom made for you. They also have extensive collection of ceramic works from all over Portugal.
Address: Rua dos Bacalhoeiros 12.
Shopping for souvenirs in Lisbon? Find out what are the most authentic Portuguese souvenirs.
Tile making and painting workshops in Lisbon
If you are interested in making your own tiles in Lisbon, you can book a full day workshop and tour of the National Tile Museum here.
You can also go to Loja Dos Descobrimentos that we mentioned earlier as they also have tile painting workshops. See their website here. All you have to do is email them with a date and time that you would like to do the workshop and they'll get back to you.
Did you enjoy learning about tiles in Lisbon? What were your favourite places? Let us know in the comments below.