Oh, the famous yellow Lisbon tram. The picture is imprinted in our minds. How charming is the image of the old tram, passing by the Lisbon Cathedral.
However, the Lisbon tram is more than just a tourist attraction. It is an important part of the city's public transport network since it can reach the areas that the metro can't.
Read further and learn more about the city's most emblematic vehicle, the Lisbon tram.
History of Lisbon trams
The history of Lisbon trams dates back to the 19th century. The very first tramway was a horsecar line and it opened to the public on 17th November 1873.
28 years later, in 1901, the first electric tramway entered service. It didn't take long to abandon the horsecars. Until the end of the following year, all the tramways were powered by electricity instead of being horse-drawn.
The golden age of Lisbon trams lasted until 1959. That year the city had the most tram lines in its history. There were 27 tram lines and six of them operated as a circle line.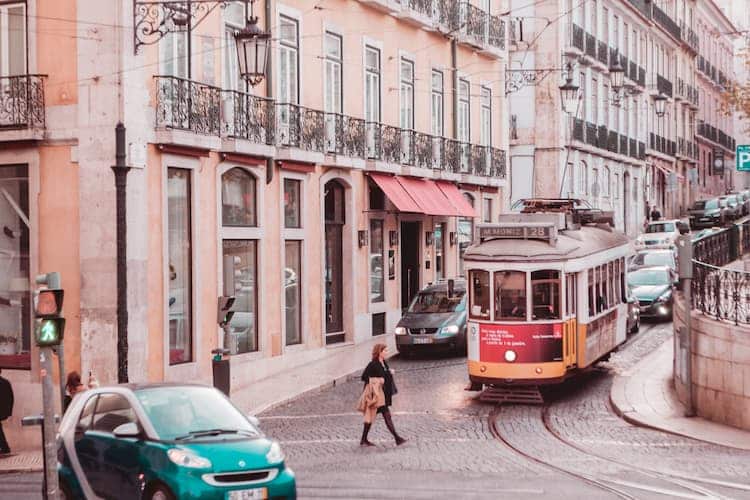 In the following years, the metro system and the expanded bus network slowly diminished the trams' domination. Nowadays there are only six lines left, and all of them are in the southern and western parts of the city.
What are the different tram lines and their routes?
There are two kinds of Lisbon trams. The most famous are the old ones which are called "Remodelado". They run through the narrow streets and go up and down in the downtown's hills, just like Tram 28, Lisbon's most emblematic vehicle.
This route is very popular among tourists since it passes by most of the important sightseeing spots. The other trams are different from the "Remodelado". They are modern Siemens trams, called "Articulado". They only operate in the flat parts of the city, for example, Tram 15 between Praça da Figueira and Belém.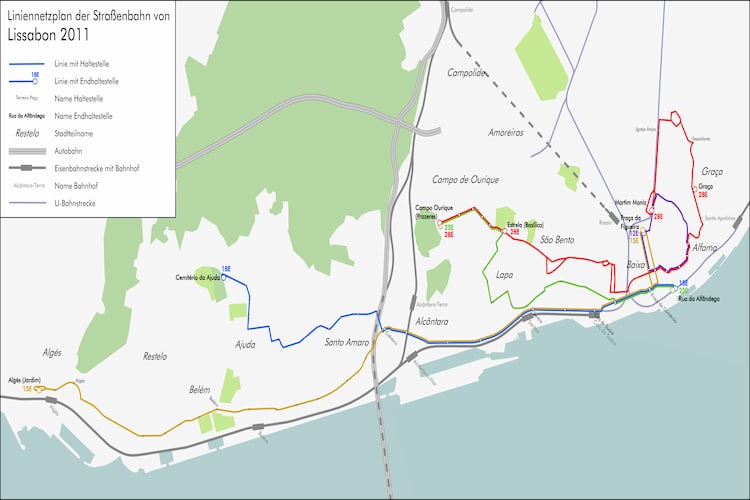 Currently the following six tram lines operate in Lisbon:
12 – Praça da Figueira → Miradouro de Santa Luzia circular route
15 – Praça da Figueira ↔ Belém ↔ Algés
18 – Cais do Sodré ↔ Cemitério da Ajuda
24 – Praça Luís de Camões ↔ Campolide
25 – Rua Alfândega ↔ Campo de Ourique (Prazeres)
28 – Praça Martim Moniz ↔ Graça ↔ Estrela ↔ Campo de Ourique (Prazeres)
You can click here to find out their routes.
How much do the Lisbon tram tickets cost?
A ticket for one ride on a Lisbon tram costs €3 if you buy it on board. However, that is far from the cheapest option. You should purchase a reusable Viva Viagem card at a metro station and charge it with money.
That way a one-way ticket costs €1.50. Charging with Zapping is an even cheaper solution. You can put on your card €3, €5, €10 or more. That way a ticket costs only €1.35.
Since the Lisbon tram network is operated by the same company, called Carris, you can use the same card and tickets on the metro and buses.
The best part is that those tickets are valid for an hour, not only for one journey. So if you want to hop off a Lisbon tram, you can just hop on again within an hour without paying for another ticket.
Are there special discounts?
There are no special discounts on the Lisbon trams, but there are some clever solutions like the above mentioned Carris card and the Zapping option. Make sure you go to a metro station and get the card before you board a Lisbon tram!
There is also another option – the Lisbon Card. It allows you to use public transport and enter several museums for free. For more information about the Lisbon Card, click here.
Daily, weekly and monthly passes
Buying a pass might be worth it if you use public transport frequently. Even if you spend just a few days, a week or a whole month in Lisbon. Let's see how much they cost.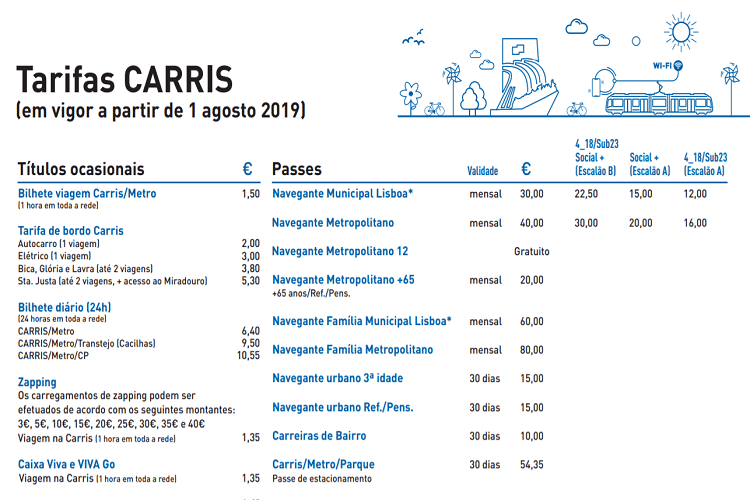 Daily passes
There are three different daily passes for public transport in Lisbon. For €6.40 you can use any Lisbon tram, bus or metro line for 24 hours. For €9.50 the ferry to Cacilhas is also included.
You should buy this pass if you want to cross the Tejo and visit the other side of the river. The last one costs €10.55 and it includes the trams, buses, the metro and the CP trains inside Lisbon.
Weekly passes
There are no weekly passes for Lisbon's transport. The good news is that it is not necessary to buy one. There might be some days during your holiday when you need a daily pass, but otherwise, you can just walk around the city.
If you are staying longer and need to use public transport daily, we recommend that you purchase a monthly pass.
Monthly passes
For a monthly pass, you need to order a plastic card with your picture. It is called Cartão Lisboa Viva and you can purchase it at the biggest metro stations. The card costs €8 if they mail it to your address, but if you want it on the spot it is €12.
Once you have the card, you can charge it at metro stations. A monthly pass costs €30. For kids under 12, it is free. For a youngster under 23, it costs €22.50 and for seniors over 65, it is €20.
Tram timetables
Do you want to know the timetable for the famous Lisbon trams? Then go to the Carris website and select your line. Here you can find the timetables for all the lines.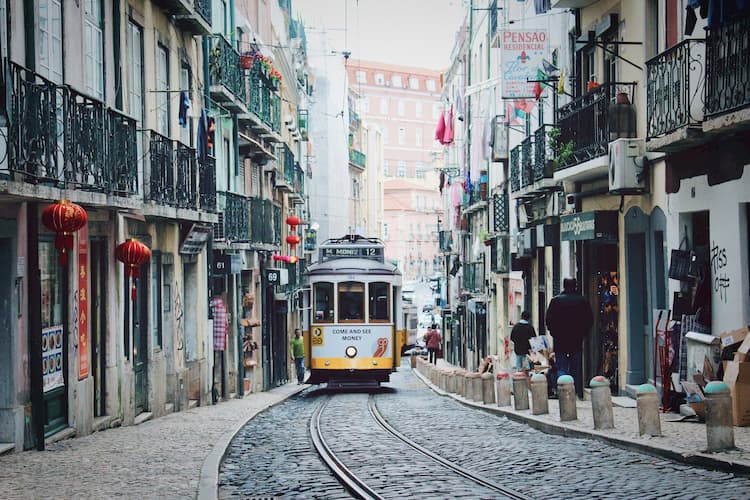 What time do they start and stop running?
Different lines have their own schedules with different start and end times, although most of them start running at around 6 am and stop between 8 and 9 pm.
You can look for the timetable under the link above or download the Carris app for live information. For the iOS version click here, the Android version is right here.
The best times to go on a tram journey in order to avoid the rush hour
The most popular Lisbon tram, Tram 28, is almost always packed with tourists. To avoid the crowd and get a place to sit, follow our instructions!
First of all, you have to avoid the rush hour, which means almost all day, except in the early morning and at night time. For example, if you visit during the summer, taking the tram at around 8 pm is a good solution. It's still bright outside but most tourists will already be done with sightseeing by then.
The other trick is to take the Lisbon tram at one of the terminus points and start your journey at Campo de Ourique or Martim Moniz. That way you might be lucky and get a window seat.
Beware of pickpockets!
A crowded tram full of tourists is a real pickpocket paradise. You never know who will go for your wallet or camera.
Pickpockets can be men or women of all ages, so it's better to be attentive throughout the whole journey.
Keep your backpack in front of you and hang your camera in your neck instead of on your shoulder!
What is the most famous tram in Lisbon?
You might have already worked out that the most famous Lisbon tram is Tram 28. It is super popular with tourists because it crosses through the most beautiful parts of downtown, from Campo de Ourique to Martim Moniz.
It goes through the Estrela district, Baixa and also the unmissable Alfama.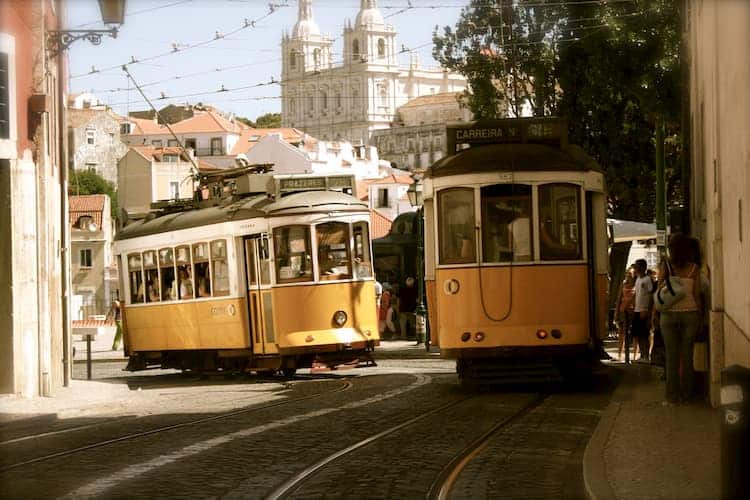 For a detailed article about Tram 28, click here.
Pros and cons of taking the tram
The old remodeled trams have their special atmosphere and they can drive you through the places where you can't go by bus or metro.
Those parts are the most picturesque areas in Lisbon. However, you have to deal with the crowd and take care of your belongings, since you can become a target of pickpockets.
Should you go on a tram journey
The Lisbon trams are definitely a must-do if you come to visit the city. Just choose the right time to take it and enjoy the views from the open windows.
The old vehicles are one of the most emblematic symbols of Lisbon and they provide a great experience. Sometimes you might feel as though you were on a roller coaster but its imperfection makes it an unforgettable memory.