Caminha is a historic city in northern Portugal where it is still possible to see traces of prehistoric civilization.
Read on to find out more about this hidden jewel in northern Portugal.
Where's Caminha Portugal?
It's situated in Alto Minho, near the mouth of River Minho between Portugal and Spain in Viana do Castelo district, in the north of Portugal.
How To Get There
There are a few ways to go to Caminha from Porto;
By Train
This is the cheapest way to go from Caminha to Porto. The train costs between 7€ – 11€ and takes 1h 50m.
Want to know more about how train services work in Portugal? Click here.
By Car
If you would like to go by car to Caminha from Porto. See here for driving directions. The drive takes a little over an hour from Porto.
To see other transport options please visit Rome2rio.
Top Things to Do in Caminha
Torre Do Relógio De Caminha
Also called Porta da Viana because it is the exit of the town that leads to Viana do Castelo. The clock tower is a national monument in Portugal in the city of Caminha. It forms part of the old city walls which was built in the 12th century.
In the 17th century, a clock was placed at the top of the tower and then the named changed to what is it is known as today Torre Do Relógio De Caminha (The Clock Tower of Caminha). You can climb to the top to see to get views of the town and the city centre.
Rua Direita (Ricardo Joaquim de Sousa street)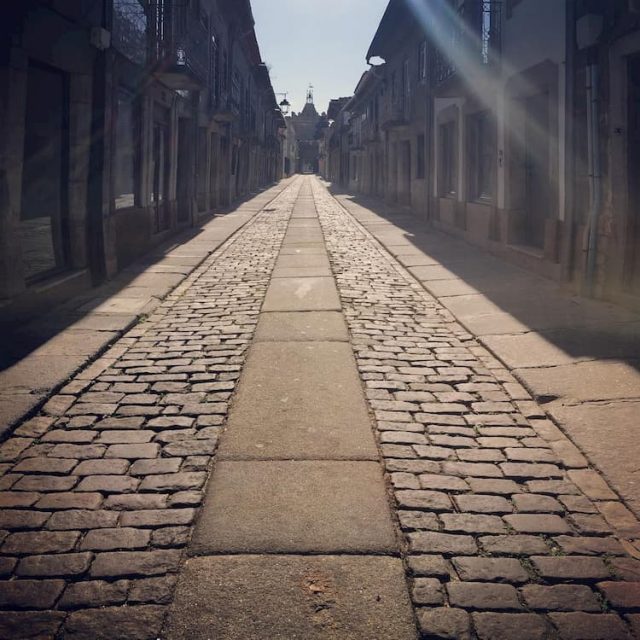 This is the main street in the historic centre of the city. It is close to the clock tower. You can wander down this narrow-cobbled street and admire its emblematic houses, artistic facades as well as the medieval architecture.
Foz do Minho Beach
The Foz do Minho Beach is a beautiful located next to River Minho in an area of great natural beauty surrounded by Camarido Pine Trees. It is a nice beach where you can sunbathe, go sailing and windsurfing. Alternatively, you can go for pleasant walks along the lines of pine tree woods.
Igreja Matriz de Caminha
Situated in the centre of the city, this church is also a historic monument in Caminha. The outer part of the church might seem uninspiring as is built with granite stones. Do not be discouraged as the interior of the church is striking. It has a renaissance façade as well as a Manueline and gothic style. Also, inside the church, you can see glazed tiles from the 17th century.
Miradouro da Fraga
Caminha has so many beautiful viewpoints but one of the most magnificent is Miradouro da Fraga. It is an astonishing belvedere only about a 25 minutes' walk from the city centre.
At Miradouro da Fraga, you will get stunning views of River Minho and the entire surrounding landscape of the city. Another viewpoint with equally gorgeous views is Santo Antão Viewpoint
Praia de Vila Praia de Âncora
Asides Foz do Minho, this is also a nice beach you can also visit. It forms parts of the Lagarteira fortress which was built in the 17th century to serve as a defence on Portuguese coastline.
If you also like windsurfing, this is a good place to do that as well as enjoy a nice scenery. Also, near the beach, there are nice restaurants where you can get typical dishes.
Explore Serra D' Arga Mountain
If you make it to Caminha, this is a place you must visit. It is a magical place that would leave you speechless and in awe. Here, you will fall in love with nature as well as see beautiful natural lagoons and waterfalls.
There are also marked walking trails, so it is possible to hike and enjoy the spectacular views of the entire area.
How many days is it worth staying in Caminha?
Generally, to see all the major sights in Caminha a two-day visit would be perfect. However, it is also possible to visit as a day trip from Porto. You can also visit Vigo in Spain which is only an hour's drive.
What's the weather like in Caminha?
In Caminha, there is a lot of rainfall except in the summer season. The winters are also usually cold and very wet. You should avoid visiting in the winter if you absolutely do not like rain. On the other hand, the summers are usually very pleasant with warm weather that isn't extremely harsh.
The best time to visit Caminha is anytime between May and October. In these months, the weather and temperature are usually pleasant with little or no rainfall. In August, July and September Caminha also make for a good sun vacation as these months are usually the warmest months.
Read all about Portuguese weather here.
Best hotels in Caminha
Hotel Porta do Sol Conference & SPA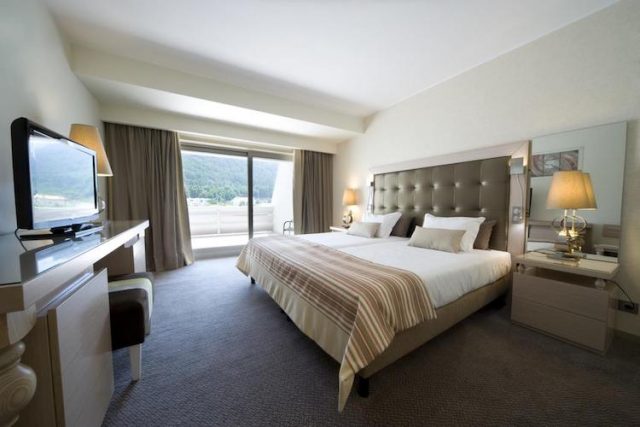 Situated only 2km from the Moledo beach, this hotel offers great views of the Minho river. The average price per night is €82.
Check their availability here.
Palacete Villa Idalina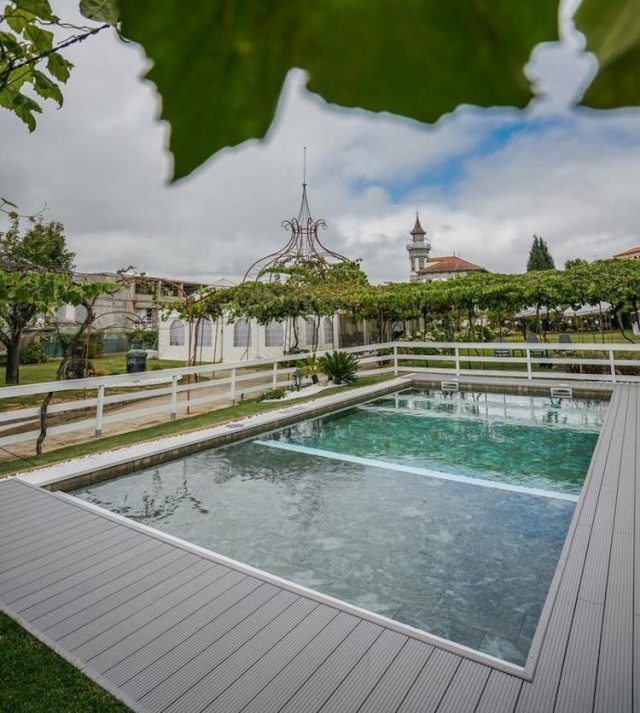 Set in a 20th-century Brazilian mansion situated by the river beach; this retro-styled hotel also offers great views of river Minho. The average price per night is €129.
Check their availability here.
Rinoterra Minho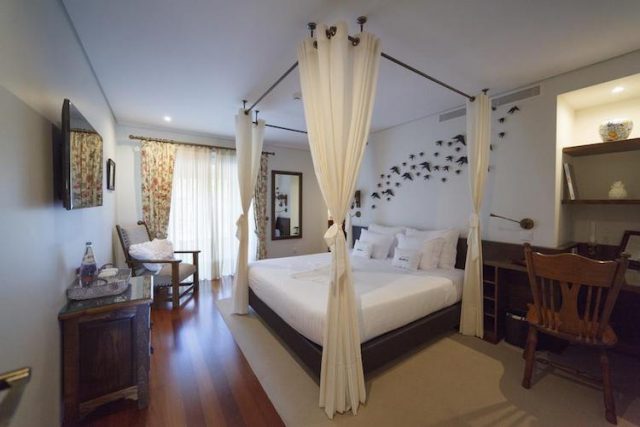 This is also a good accommodation option with great mountain views, wellness facilities as well as a swimming pool. The average price per night is €130.
Check their availability here.
Design & Wine Hotel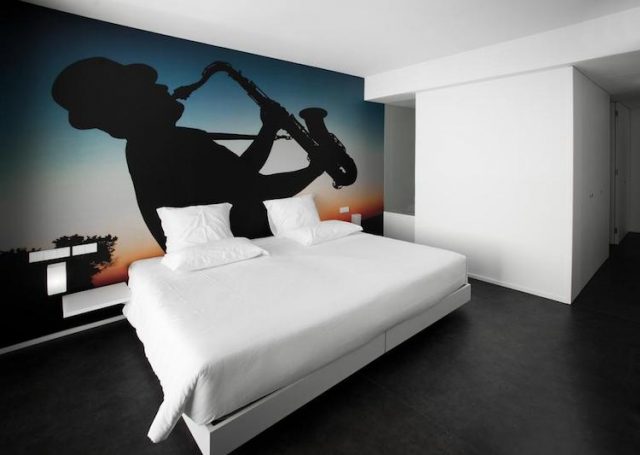 Located in the centre of the city, it is a good base to explore the city from. The rooms offer nice views of the Minho River and Santa Tecla Mountain. The average price per night is €55.
Check their availability here.
Aldeamento Turistico do Camarido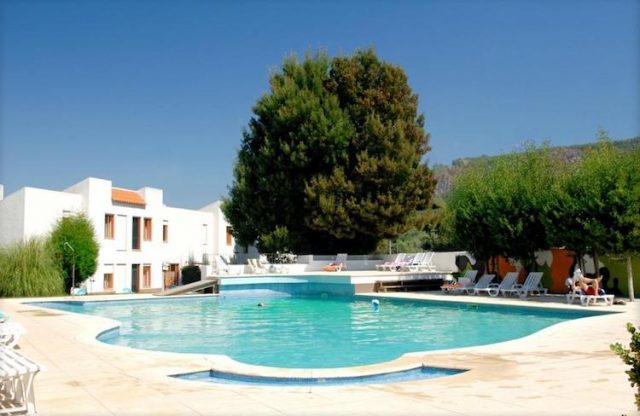 Set in an area surrounded by nature, pines and eucalyptus, this hotel is a great choice for travellers looking for a quiet place to stay in Caminha. The average price per night is €95.
Check their availability here.
Where to eat in Caminha
Caminha is gastronomic heaven. Some of the typical dishes to try here are Cabrito à Serra d'Arga (roasted lamb dish), Farinha de Pau com Bacalhau (codfish dish made with manioc flour), Arroz de Lampreia (lamprey dish with rice) and Sável Frito (fried shad dish).
If you have a sweet tooth, some delights you must try here are Caminhenses and Mocas.
Below are some restaurants where you can eat in Caminha;
O Chafariz
Situated in the city centre, here you can enjoy a good variety of Portuguese dishes. Also, the pork ribs served here are very good.
Baptista Comidas E Bebidas
This is a cosy restaurant that serves mostly typical delicacies that are found in the Iberian Peninsula like the Portuguese stew or lamprey.
Muralha de Caminha
Situated in the Muralha de Caminha hotel, this restaurant offers traditional Portuguese dishes and a host of other Mediterranean dishes.
Solar do Pescado
This is a restaurant in Caminha where you can enjoy a variety of fish, seafood and meat dishes.
O Portão
Also situated in the centre of the town, O Portao is a good restaurant with a wine bar where you can eat some authentic regional dishes.
Should you visit Caminha?
Caminha is a city with great landscapes, beautiful river beaches (Coura and Âncora rivers), lush green hills and of course incredible gastronomy. The town is also known for its numerous festivals and fairs which attracts people from all parts of Portugal.
The above are just a few reasons why you should consider visiting Caminha. Don't miss an opportunity to see them for yourself.
If you do visit, don't miss a chance to visit Viana do Castelo.