Headed to the Azores and want to bring back souvenirs? We all know how tiring and difficult choosing exciting souvenirs while travelling abroad can be. If you are sick of purchasing postcards, fridge magnets, and tea towels, then you have come to the right place!
We guarantee the souvenirs you take home from the Azores can be as fun-filled as your holiday there! Here, we have created a list of 10 unique Azores souvenirs that are as special as the Portuguese islands themselves!
What are the Azores known for?
Head west of mainland Portugal and deep into the Atlantic Ocean, and you will discover the Azores. The Portuguese archipelago is a set of islands between the European, American and African tectonic plates. Here, nature lovers will be happy to find a world of mud pots, hot springs, bright blue lakes, fresh forests, and a seemingly endless image of picturesque landscapes.
Besides the stunning landscapes, the Azores is home to some of the world's best golf courses, unique types of liquor, traditional Portuguese cuisine, local handicrafts and more. It is fast becoming an adventure-lovers paradise and even a desirable retirement home for a lot of internationals who fall in love with the untouched islands.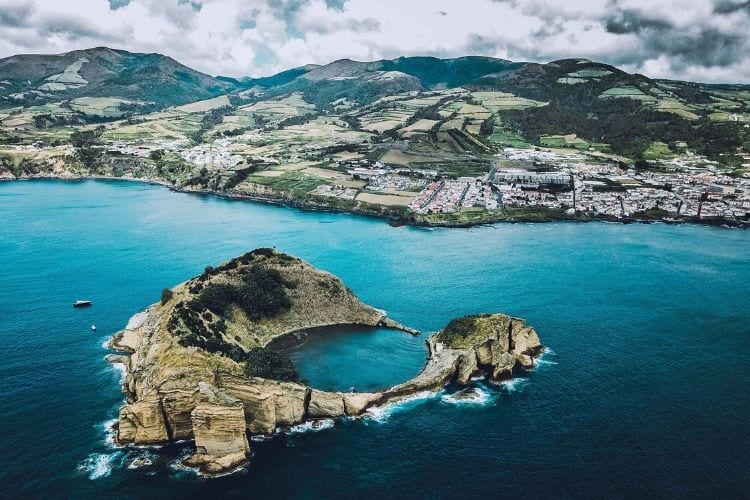 Read more about living in the Azores, with our guide to Life on the Island and Weather. 
10 unique things to buy in the Azores
1. Azorean liquor
There are so many varieties of liquors ("licores") in Portugal to choose from and try. The Azores, in particular, is well-known for its large list of flavours including ginger, raspberry, cinnamon, blackberry, pineapple, passionfruit, and even milk liquor! The flavours are surprisingly delicious. The fruity flavours can make for an incredibly refreshing summer drink.
You can find these different liquor varieties at almost any liquor store in the Azores or online websites such as Made in the Azores where you can have a preview of the coloured bottles. You can also easily pick up a bottle from the duty-free section to and from the Azores.
2. Azorean beer
The warm Mediterranean climate that blesses the Portuguese island calls for a refreshing beer. On mainland Portugal, the question is always: Sagres or Super Bock? However, in the Azores, the traditional beer from the islands is "Especial".
On the island of Sao Miguel in Ponta Delgada, Especial has been brewing since 1892. The first spots to buy and sell the traditional beer were the Tabacaria Phenix and the Funchal's Ship, which during those days was the only point of connection between the islands and mainland Portugal.
Especial is a Pilsner type beer, white and moderately aromatic. It is also referred to as "Saint beer" because the production factory resides in the back of the Convento de Esperanca church.
You can also try a variation of Especial, called Especial Preta, which is a black non-alcoholic beer. Especial Preta is made from malt extract, cornstarch, hops, and caramel. It has a very unique flavour and can be a good ingredient for cooking with its rich and characteristic flavor.
You can find Especial at most local taverns and supermarkets on the Azores. It can be a great Azores souvenir to bring home if you are a fan of beer.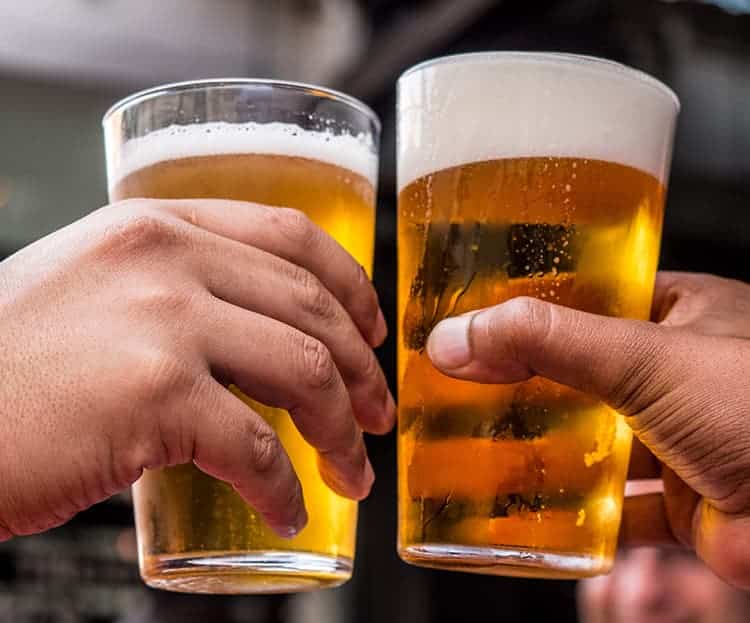 Visiting Lisbon and unsure whether Sagres or Super Bock should be your beer of choice? Read this Sagres versus Super Bock article and decide for yourself!
3. Wickerwork
Like many places in Portugal, numerous stores in the Azores have begun selling wickerwork products. The unique Portuguese handicraft has become very popular in recent years with plenty of furniture options available.
The wickerwork furniture is sturdy, has a clean finish, and is a great Azores souvenir to bring back home as a memory of your adventures in Portugal. It is only of the only places where wickerwork products are available so is considered a very unique purchase to make.
4. Canned tuna in olive oil
If you have visited Portugal before, you will understand the hype surrounding canned fish. In the Azores, tuna is considered a delicacy matched perfectly with a glass of wine or a cold beer.
Slices of tuna in the Azores are preserved in olive oil and are seasoned with salt for extra flavour. It is considered a super healthy and staple delicacy of the Portuguese islands thanks to the richness of the olive oil. The tuna can be preserved for days and taken back home as a souvenir without any fear of going rotten.
You can find many canned tuna brands in supermarkets in the Azores. One of the top brands, Santa Catarina, also has an outlet in the centre of the Azores so you can do all your souvenir shopping there!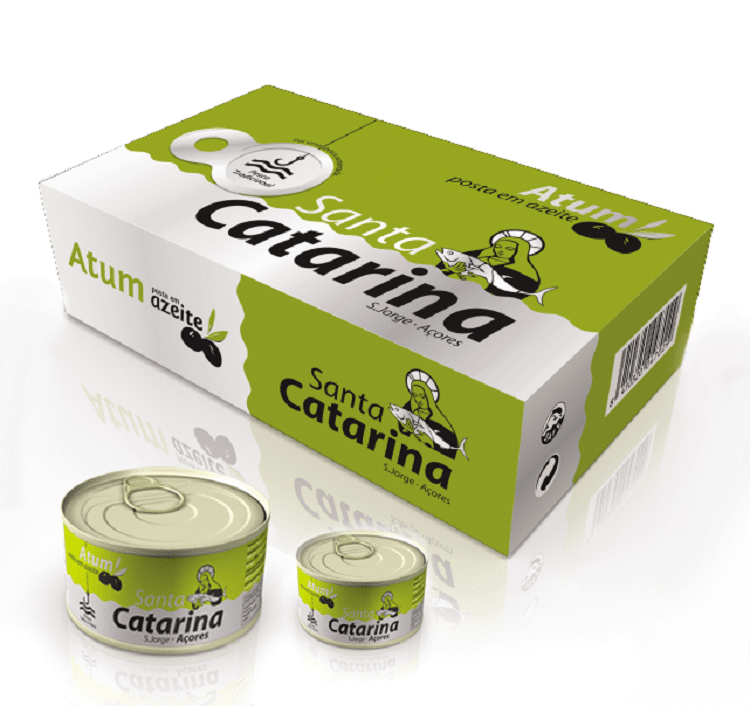 Want to know more about canned fish in Portugal? Read all about the craze surrounding sardines with this guide to the Lisbon Sardine Festival!
5. Azorean pineapples
You might be surprised to discover that pineapple is a speciality on the Azores islands! An Azorean pineapple is unique, with a small crown and intense flavour.
Grown in greenhouses on the island of Sao Miguel, the local pineapple or "ananas" was first introduced to the Azores by Portuguese navigators in the 17th-18th centuries.
Initially regarded with curiosity, pineapples were first grown and sold to wealthier homes on the islands. Its production increased in the 19th century, however, thanks to a new generation of farmers who perfected its agricultural techniques.
In 1864, the first industrial-scale greenhouse was built, which could hold 800 pineapple plants! From this period on, the pineapple became a new export and an economic source of revenue with the potential for driving the Azorean economy. Ultimately, there were a total of 4300 production greenhouses cultivating the fruit: during the "Golden Age" of its exports.
Today there are still an estimated 6,000 greenhouses in the Azores. And not only can you buy an endless supply of Azorean pineapples, but also pineapple cakes, flavoured liquors, jams and more!
You can visit the Arruda Pineapple Plantation on Sao Miguel, just a few minutes from downtown to learn all about these fantastic fruits and of course, take some home as your Azores souvenirs.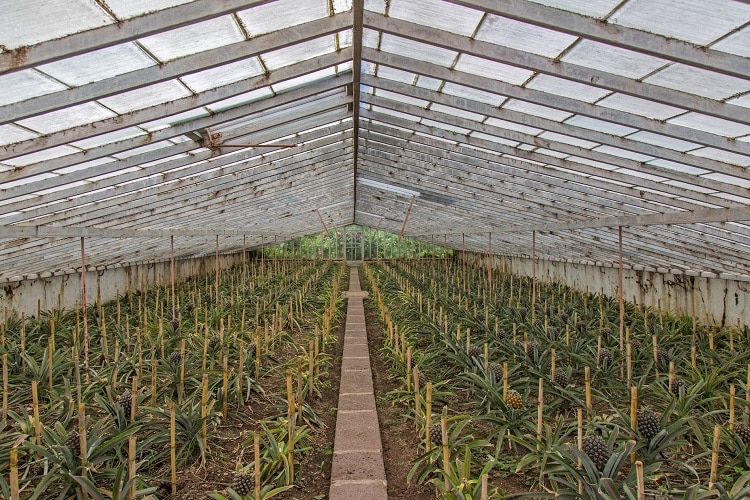 6. Azorean typical charcuterie
A charcuterie board usually includes a plate of cold meats such as salami, cured meats, and chorizo. In the Azores, you'll be excited to find that these meat boards can also come with cheese and even the local Azorean pineapple.
A great place to enjoy a typical charcuterie board is A Tasca, Ponta Delgada, in Sao Miguel.
7. Tea from the Gorreana tea factory
The Gorreana Tea Factory has been in operation since 1883. Known for its undisputed quality, the factory produces varieties of black tea (Orange Pekoe, Broken Leaf, and more), and green tea (Hysson).
The tea factory has a very large plantation and still uses machinery that dates back to the 19th and 20th centuries. The factory is also used as a museum for tourists interested in tea production, as well as tasting and buying high-quality tea leaves to take home.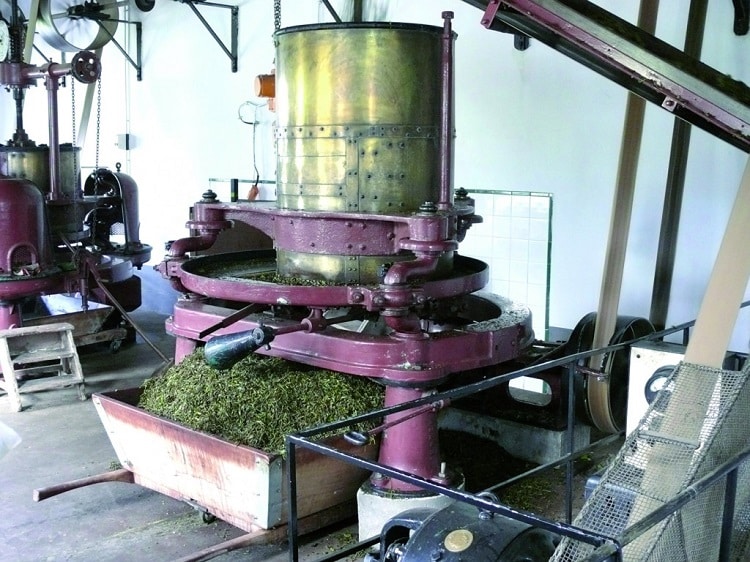 8. Kima
If you enjoy an iced soda or classic Coca Cola, then when visiting the Azores, you should definitely try a bottle of Kima.
Kima is a passionfruit flavoured soft drink that can only be found in the Azores. It tastes delicious and is the perfect drink to cool down with on a warm day!
You can find these Azores souvenirs in just about any supermarket or local mini-market on the islands.
9. Traditional cheese
You cannot visit the Azores without trying the local cheeses! Locals have been making cheese in the Azores since they first settled in the 15th century. We guarantee that some of the best cheeses in Portugal are produced in the Azores. Whether you like creamy, buttery, or soft cheeses, there is plenty of variety to taste in the Azores.
There are a variety of cheeses produced across the islands. The main two varieties are from Sao Jorge, which are usually aged two-three years and have a salty and spicy flavour. While the other main variety is from Pico, which has a creamy and slightly salty flavor.
You can try and purchase cheeses at any local supermarket or cheese factor on the island. Alternatively, you can also find these Azores souvenirs online from stores such as Made In Azores.
10. Queijadas da Vila
There are many famous sweet pastries in Portugal, and the Azores is no exception! Here you can discover the Queijadas da Vila, a traditional pastry first created by nuns in convents during the 1600s in a small town on Sao Miguel.
The main ingredients are milk, eggs, and sugar. The pastry has a very unique taste and texture – a must-try in the Azores. My favorite place to visit is Queijadas da Vila, also the namesake of the pastry. Don't miss it!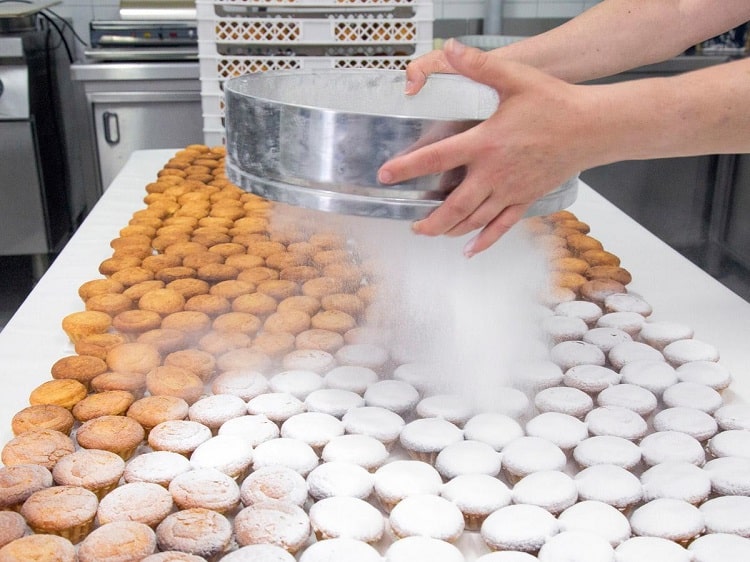 Enjoy desserts? Discover the 20 Best Desserts in Portugal, with this mouth-watering guide!
What about buying souvenirs in the airports? Is it expensive?
Buying souvenirs in airports is always a bit more costly than buying in the centre. However, if you forget to buy something or simply prefer the convenience of buying gifts at the airport, you can.
Common souvenirs found at the airport are liquor, cheese, and tea.
Now that you have everything you need to know about the local delicacies, try them out for yourself!
Find out more about the Azores, subscribe to our newsletter.