Finding a place to rent in Portugal for medium to long-term stays can be a daunting task especially in Lisbon and Porto.
One way to find accommodation in Portugal is Uniplaces.
I've used it myself, so I am here to give you a full guide on how to use it and what to watch out for.
What is Uniplaces?
Uniplaces is an online accommodation marketplace that was founded in 2012 with its headquarters in Lisbon and a branch office in London.
It was originally designed to help students studying away from their home countries to find accommodation easily in cities where they would be studying, but now it is widely used by almost anyone looking to book accommodation in the major cities in Europe like Berlin, Madrid, London, Paris, etc.
As of right now, Uniplaces is available in the following countries:
United Kingdom;
Spain;
Italy;
France;
Germany; and
Portugal.
In Portugal, Uniplaces has properties listed in the following popular student cities:
Lisbon;
Porto;
Coimbra; and
Braga.
Is Uniplaces only for students?
No. Uniplaces is available to anyone who wants to book accommodation.
However, some apartments or bedrooms listed on the Uniplaces platform are exclusively rented to students.
If you are in doubt when trying to book a place, contact the help centre for clarification. When contacting the help centre, send the URL of the apartment you are trying to book so you can be assisted easily.
How does Uniplaces work?
The booking process is very straightforward and done entirely online.
Step 1
First, you put in the location, city or neighbourhood you want to stay in, then fill in your move in and move out dates.
Step 2
After you have done that, you will see a list of properties available for the dates you want, check through the payment terms and cancellation policies closely and then select "Book Now" for the one you want.
Step 3
You will then have to fill in your details and make a payment (usually it's the first month's rent and the Uniplaces service fee).
Step 4
Once you have concluded all that, Uniplaces will get back to you within 48 hours if the landlord accepts or rejects your offer.
Uniplaces service fee
Once your booking is confirmed, you will be immediately charged with a one-time service fee along with the first month's rent. This service fee is usually calculated based on the first month's rent. As such, there is no fixed service fee for Uniplaces, therefore, the service fee charged depends on the property you're booking.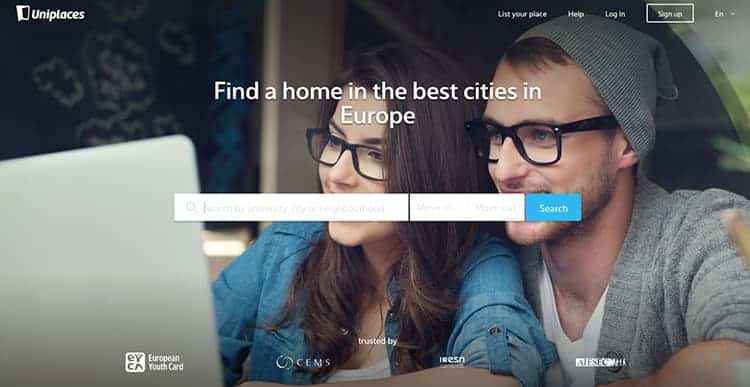 Types of Uniplaces contracts
Fixed Contract
When you choose a property with a fixed contract on Uniplaces, the landlord sets a fixed start and end date for the contract, and you will be required to pay for the full period whether you stay for the full duration of the contract or not.
Monthly Contract
For a monthly contract on Uniplaces, you will be charged for a whole month, regardless of how many days of that month you stay. That means, if you move in on the first or 20th of a given month, you will still pay for the full month. It is usually advisable to move in at the start of the month if you will be getting a monthly contract.
Fortnightly contract
In a fortnightly contract, the month is split into two halves. The first fortnight starts from the first to the 15th of a given month while the second fortnight is from the 16th to the end of the month. For example, if you move in on the 22nd of a month and move out on the 21st of the following month, you will have to pay for three fortnights.
Daily Contract
When you choose a daily contract, you will be charged for the number of days you intend to stay. You should know that Uniplaces doesn't allow renting or booking for a single night.
Important notes
When choosing an apartment to rent on Uniplaces always look at the contract the landlord specifies to avoid confusion. Most landlords also always state the minimum number of days you can rent their property for and the type of contract they want.
Also, Uniplaces always charges for one month regardless of the length of the contract and payments are made with a credit card or PayPal.
Want more tips and advice about Portugal? Make sure you sign up for our FREE newsletter. ASAP!
Uniplaces cancellation policy – how does it work?
Uniplaces has different cancellation policies. With the most flexible cancellation policy, you can receive a full refund if you cancel a booking 30 days before the move-in date and 50% refund for cancellations 15 days before the move-in date.
However, you should also be aware that the one-time Uniplaces service fee is non-refundable and that refunds are limited to the first rent payment.
It is also important to know that the cancellation policy of listings on Uniplaces are not all the same because the house owners fix the type of cancellation policy.
The cancellation policy options are:
Flexible;
Moderate;
Strict; or
Non-refundable.
In a situation whereby the landlord cancels the reservation, you will be refunded the full amount paid including the service fee charged by Uniplaces.
For more on the about this, please visit the Uniplaces cancellation policies page.
Is Uniplaces reliable?
From my personal experience using Uniplaces in Portugal, I can say it is a very safe online accommodation booking site for finding bedrooms or apartments in Lisbon.
The booking and payment process is smooth and your money is guaranteed to be returned if the place is not the way it was described on the site.
However, some landlords or landladies can be difficult to deal with once you have moved into the apartment and at this point, there is very little Uniplaces can help you with. I should also say that this problem is not unique to Uniplaces, but a general problem many people deal with when using accommodation booking platforms in Portugal.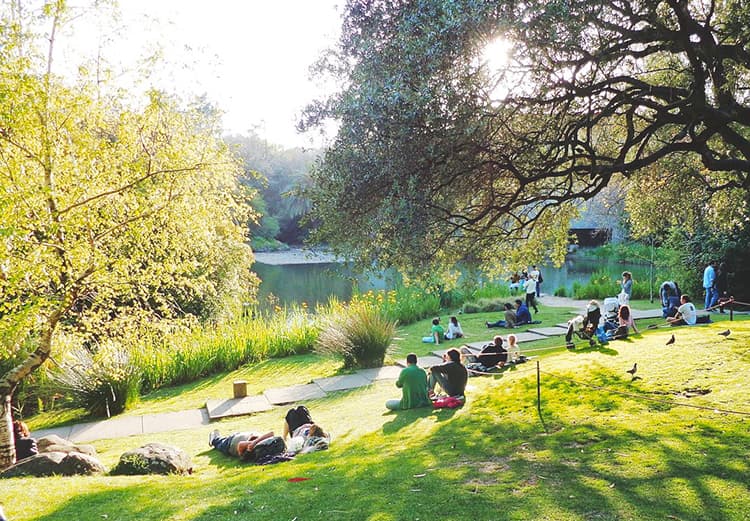 Uniplaces comparisons
Versus Airbnb
Airbnb and Uniplaces are both good online booking accommodation sites but I would recommend Airbnb for short-term stays in Portugal as it is more suited for tourists or visitors staying a couple of days to a few weeks. Long-term rentals on Airbnb are very expensive.
Learn all about Airbnb in Portugal here.
Versus Spotahome
Both Uniplaces and Spotahome offer similar online booking accommodation rental services especially for medium to long-term renting in Portugal. The prices of bedrooms and apartment are almost the same on both sites. You could always use both to compare prices before renting a place.
Is Uniplaces a good alternative?
I would say Yes. Especially for medium-term rents for international and exchange students in Lisbon and Porto.
Also, the properties are usually verified by Uniplaces and the prices are generally the same when compared to other medium to long-term rental deals.
Uniplaces is also a good alternative for students coming from outside the EU countries that need to get proof of accommodation as part of the requirement for a Portuguese study visa. Uniplaces provides a document that shows proof of accommodation after you have rented a place via their platform.
Is there a Uniplaces promo code?
Uniplaces has a referral programme which helps you make some quick cash and save your friends some money on the service fee.
All they need to do is to book using your Uniplaces promo code. Also if you are an Erasmus student you can get a 25% discount when you book accommodation in Portugal with the ESN promo code. Check out ESN Card for more details.
If you are an Erasmus student, you should read: Erasmus in Portugal for some expert advice.
5 Expert tips for booking with Uniplaces
Tip 1
Start searching for apartments a few months before your scheduled arrival date.
Tip 2
Always make payment through the Uniplaces platform, this way your money is secure, and you will avoid being scammed.
Tip 3
When you move in, make sure you get a contract from the owner of the house.
Tip 4
Get receipts for payments. Subsequent payments after moving in are paid directly to the landlord.
Tip 5
If the apartment is not in the condition as described on the listing, contact Uniplaces immediately.
In conclusion, I would say Uniplaces is better suited for exchange students or expats that intend to find a place to stay in Portugal for three to six months, because you can finalise your rental agreement and payment before you arrive in the country.
For long-term rentals in Portugal, I would suggest some other platforms like Idealista.  Have a look at this local's guide if you are looking at renting in Lisbon or Porto.
Do you have any experience with Uniplaces? How did you find them? Let us know below.