In one of the four corners of Portugal, between the Atlantic Ocean and friendly neighbour Spain, there is a land called Castro Marim.The weather is great and if you are looking for fun, sports, contact with nature and relaxation, this is the place to be.
Where exactly is Castro Marim located?
It is situated in eastern Algarve, near the Guadiana river, which separates it from the Spanish border.
Weather in Castro Marim
The weather condition is generally pleasant all year round with low possibilities of rain and snow. The yearly average temperature is between 16°C to 28°C with July and August being the warmest and driest months.
What are the main attractions in Castro Marim?
Castor Marim has much to offer especially nature and incredibly lovely beaches with excellent support facilities.
The Blue Flag beaches
In Castro Marim, there are three beaches, which spread over 3.7km of the coastline: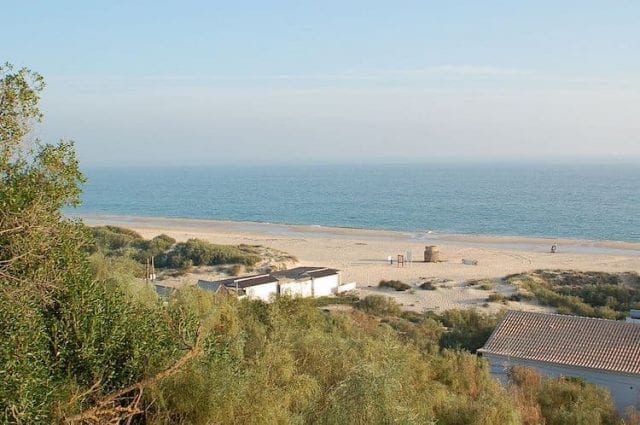 Praia de Alagoa or Altura
Praia Verde
Praia do Cabeço
They have excellent conditions for bathing, extensive white sand and fine sand and calm waters.
These beaches are of internationally recognised standards and have blue flag awards as well as accessibility for people with disabilities.
Castro Marim Golf
One of the standout attractions in Castro Marim is the Castro Marim Golf and Country Club. It is a lovely designed golf resort with great views and amazing scenery.
There are three nine-hole courses (The Guadiana, The Atlantic and The Grouse) with the Grouse course being the newest one. The courses offer far-reaching inland views and are teeming with wildlife including wild boar, birds and rabbits.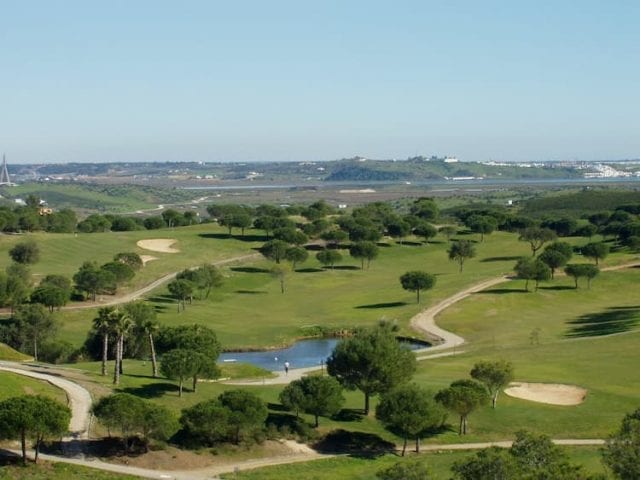 Castro Marim nature reserve (Reserva Natural do Sapal)
This was the first natural reserve to be created in Portugal. It's situated near the mouth of the Guadiana River spreading over 5000 acres which consist of salt marshes and brackish water bodies.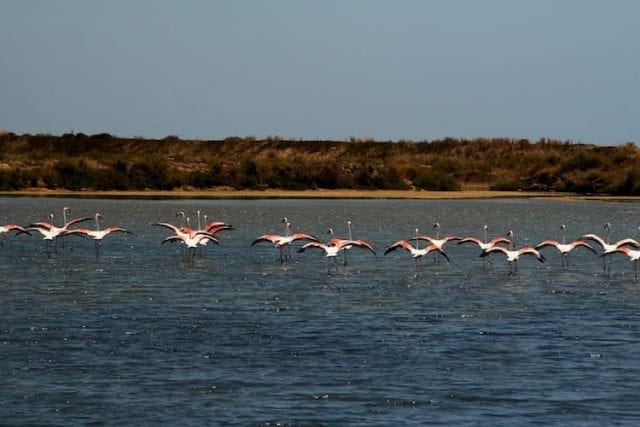 Here you can go for nature walks and see bird species like the sandpiper, the white stork, flamingos and the black-winged.
You will also get to see traditional Salinas as it makes up about 30% of the protected area.
In this place, you will enjoy the tranquillity and see a refreshing part of the Algarve.
The Spa Salina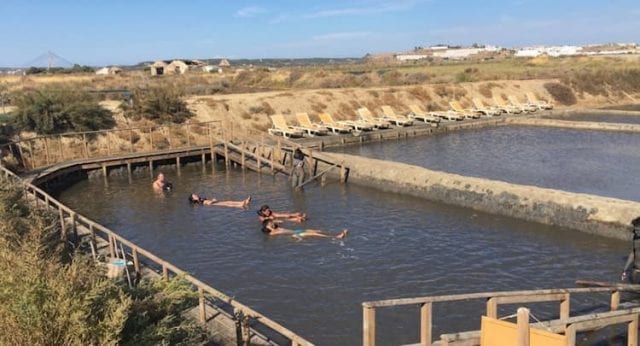 This is a natural and outdoor spa in Castro Marim. Here you can relax, and bathe in salt pools as well as have mud baths.
Castro Marim medieval festival
In August, the medieval festival takes centre stage. It usually lasts four to five days. During these five days, time stops, and Castro Marim transforms into a medieval village.
Throughout the streets and alleys of Castro Marim, you will see historical recreations of life as it was in the middle ages.
You can expect to see medieval banquets and hear medieval music as well as lots of entertainment, tournaments and medieval games and an exhibition of instruments of torture and punishment from the medieval times.
Castro Marim Castle
The remains of this medieval castle seats at the top of the hill in the village. It is over 700 years old. From the top of the castle and its walls, you will get fantastic views of the salt marsh plains, the Guadiana river and the entire town.
Castro Marim market
If you happen to visit on the second Saturday of the month, you can shop for some local products in the large monthly market. You will find a wide variety of products ranging from fresh fruits and vegetables to cheese and local honey.
How to get to Castro Marim
By Bus from Faro
From the Faro bus terminal, you should take a bus going to Vila Real de Santo António. Stop at the Vila Real de Santo António bus terminal and take a bus going to Castro Marim. The journey by bus is almost three hours.
By Car from Faro
The drive to Castro Marim from Faro is approximately 50 mins. See here for driving directions.
Getting to Castro Marim from Lisbon
By Bus from Lisbon
Take a bus from the Sete Rios bus terminal in Lisbon going to Castro Marim. Sete Rios bus terminal can be reached easily by metro (Jardim Zoológico stop) or surface train (Sete Rios stop).
You should also know this bus service is available only once a day and the journey takes about 5 hours. You can book your tickets at Rome2Rio.
By Car from Lisbon
Driving to Castro Marim from Lisbon takes about three hours via the A2 motorway (this route has tolls). If you want to avoid tolls you can go via IP2 and IC27. See here for driving directions.
Hotels in Castro Marim
There is a wide range of accommodation options to choose from. You can choose to stay in hotels, resorts or villas. Here are some of my suggestions.
Castro Marim Golf and Country Club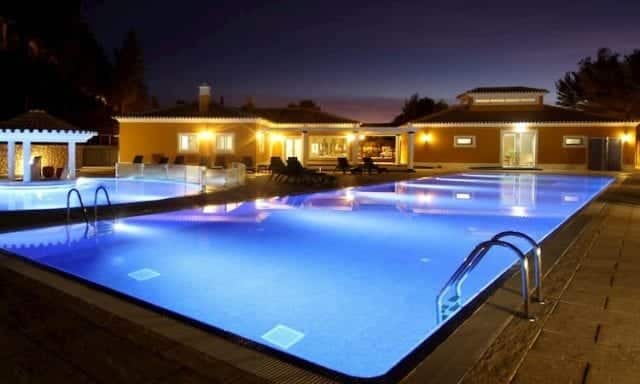 This is a 230 hectares property with private villas, swimming pools and great views of the Guadiana river and the Atlantic. It is only a 40 minutes' drive from the Faro airport and 155km from Sevilla international airport. You can book it here.
Monte Do Malhão
This is a rural tourism unit situated 5km from the city centre. It has modern rooms, great ambience and tranquillity. The average price per night starts from €100. You can book it here.
Quinta de São Gabriel
Another place you can stay is Quinta de São Gabriel. It is set in a relaxing environment in the countryside with a beautiful landscape. The average price per night starts from €140. Bookings can be made here.
Quinta da Fornalha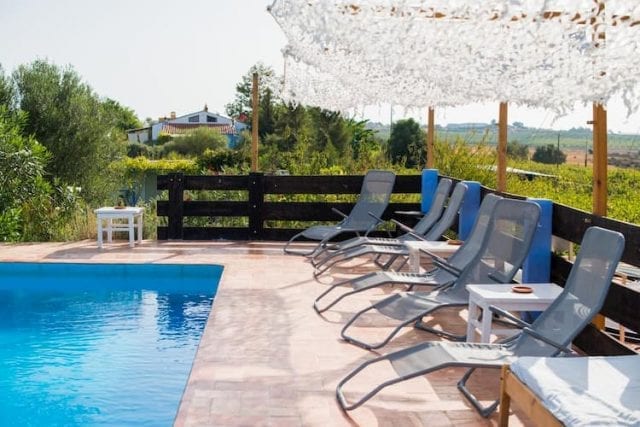 Situated in a place filled with lots of nature and green, this is an ideal place for anyone looking to stay in a calm and quiet place during their visit. The average price per night starts from €55. Book it here.
Praia Verde Boutique Hotel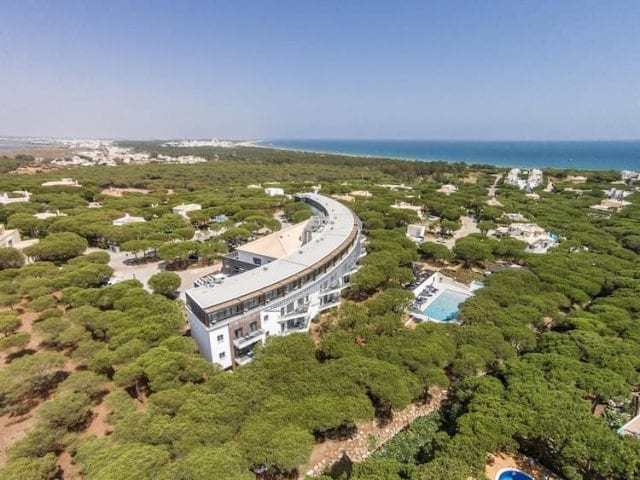 Located right in the centre of the town, surrounded by pine trees you will find this 4-star hotel. It has excellent facilities and an amazing restaurant with varied dishes. The average price per night starts from €138. Book it here.
Want to discover more places to visit in Portugal? Sign up to our newsletter!
Restaurants in Castro Marim
If you are wondering where to eat and drink in Castro Marim, take a look at this list of my favourite restaurants in the area.
Pezinhos N'Areia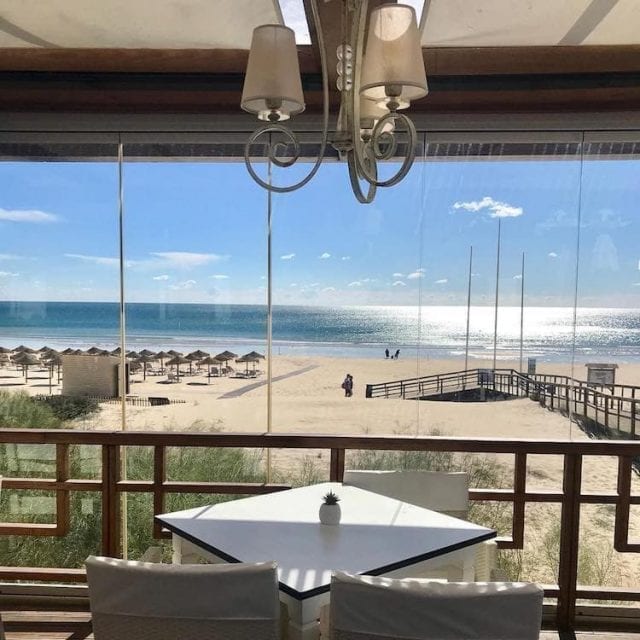 Located on the beautiful Praia Verde you find Pezinhos N'Areia. Here you will get amazing views and enjoy fantastic Portuguese dishes and seafood.
Restaurante D. Rodrigo
This is a traditional restaurant that offers typical Portuguese dishes. Dining here is also very pocket-friendly. Find more details on Tripadvisor.
A TERRA Restaurant Praia Verde
The Terra Restaurant Praia Verde is right inside the Praia Verde hotel. It has great ambience and a wide variety of dishes and wines.
Infante Panorâmico
At this restaurant, you can expect to get great Portuguese food, fantastic views of the ocean and nice ambience.
Sem Espinhas Cabeço
Another great place to dine in especially for lunch and dinner meals. At Sem Espinhas Cabeço you will also get nice views and catch a perfect sunset.
Visit Castro Marim
What are you waiting for! Discover one of the typical Portuguese villages in Eastern Algarve. It is a charming Algarvian village which makes for a quiet and peaceful vacation with lots of contact with nature while also enjoying spectacular views of the coast and Spain.
Are you looking to explore more of the Algarve? Read our other guide here.