With a fascinating blend of medieval infrastructure decked out with 19th- century and contemporary buildings, Lisbon is undoubtedly a feast for the eyes.
Although the many hills of the Portuguese capital are sure to give your legs something to remember, it truly is worth walking the city if you really want to experience all it has to offer.
Street Art in Lisbon
One of the most exciting things you'll get to take advantage of when exploring the city on foot? A treasure trove of street art. Street art in Lisbon is extensive, diverse, and hides around every corner.
Boasting some of the biggest names in international urban art, including Vhils and Bordalo II, the street art scene in Lisbon is thriving.
Informed primarily by history and pop culture, street art in Lisbon captivating to look at. It will also give you a deeper appreciation for this fascinating city and its complex cultural makeup. Here are some of the top places to get a taste of what street art in Lisbon has to offer.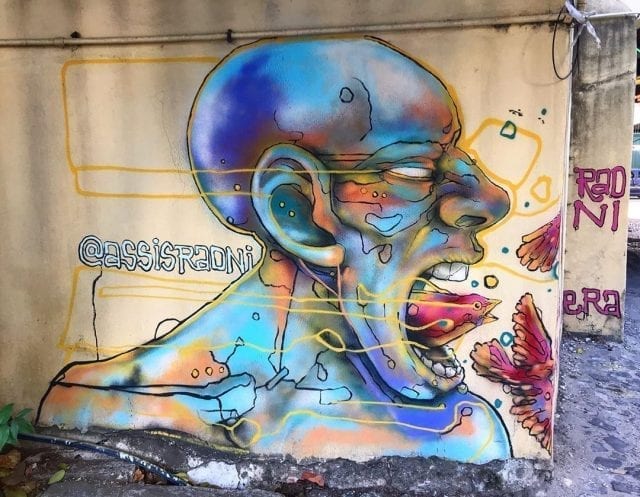 Walking tour through Lisbon's street art
One of the most rewarding ways to experience street art in Lisbon is simply to wander around. To allow it to reveal itself to you.
Are you working with limited time, or simply like having a destination in mind? There are definitely a few places you can always count on seeing.
Book a Street Art Tour here.
Escadinhas de São Cristovão
In Mouraria, an oasis of local life in the heart of Lisbon, you'll find street art that pays homage to Portuguese culture. There are several walls dedicated to Fado, a musical style that developed in this part of the city.
The Escadinhas de São Cristovão is also a must-visit spot. It is lined with a stunning mural that was created by different artists.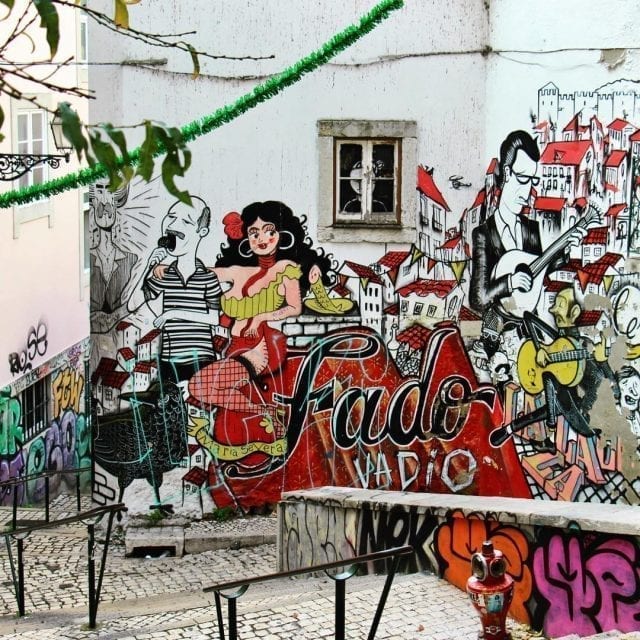 Calçada da Glória
The Elevator da Glória is one of the three funiculars in Lisbon, linking Praça dos Restauradores to Miradouro de São Pedro de Alcântara.
The fascinating street art found here turns a steep climb into a rewarding cultural experience. The elevator opened in 1885 and still retains its original characteristics.
Rua das Gaivotas
Rua das Gaivotas is another rich place to discover street art in Lisbon close to Chiado and Cais do Sodré.
Here you will also find Rua das Gaivotas 6, a space that aims at gathering, sharing and experimenting, bringing together the most recent and diverse artistic production that takes place in Lisbon.
Avenida Almirante Reis
When it comes to street art in Lisbon, you have to mention the Cargo Collective.
This group of artists is responsible for amazing displays of street art. These can be found between Alcântara, Avenida Almirante Reis (a long street that runs from Martim Moniz to the airport), and the fashion-focused Avenida da Liberdade.
Once you recognize their iconic style though, you'll find it scattered throughout the city.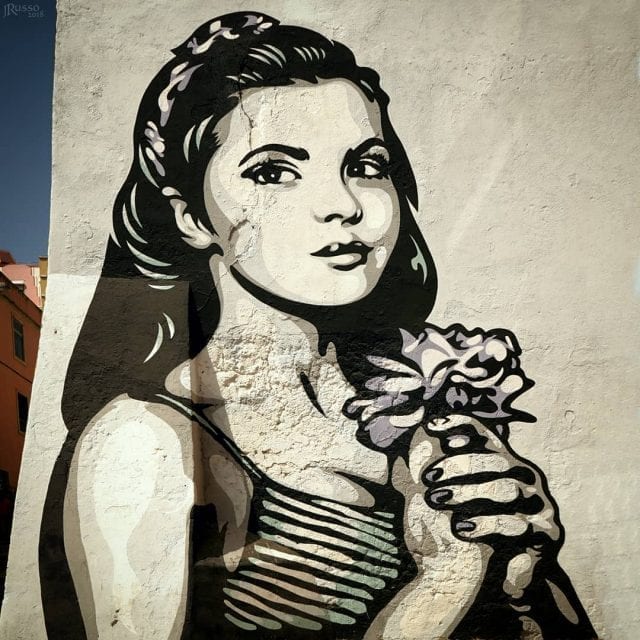 Street Art in Lisbon you shouldn't miss out on
Street art in Lisbon is a dynamic and ever-changing phenomenon.
To ensure you never miss out on something new and exciting in the city's street art scene, check out the ongoing projects of Galeria de Arte Urbana and Street Art PT.
Here you will find a catalog of current artworks.
Street art at LX Factory
A place worth visiting whether or not street art is on your hit list, LX Factory in Alcântara is a hotspot for entrepreneurs, freelancers, and artists.
This neighborhood of restaurants, bars, stores, and offices was converted from old factory buildings that had been abandoned for decades.
A great place to take in a unique cultural event or pick up a handmade souvenir, the street art certainly adds to the vibe of this social hub near the center of Lisbon.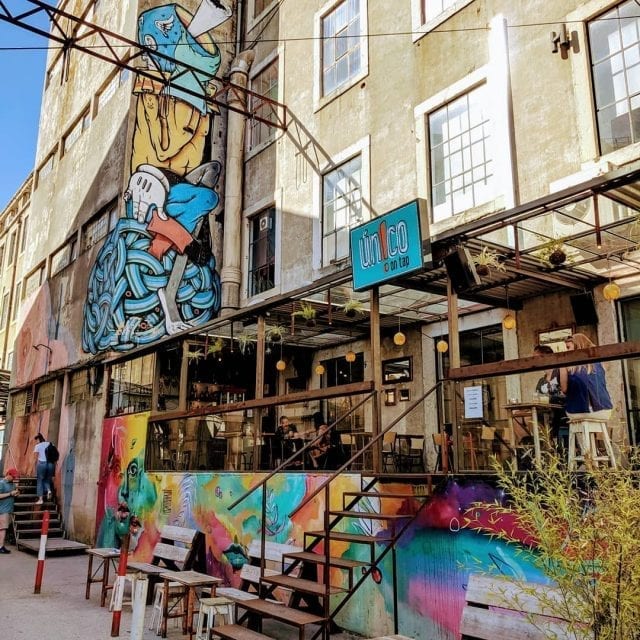 Street art on the Pink Street
Rua Nova do Carvalho, which is most commonly known as the Pink Street, is one of the most popular streets in Lisbon. If not Europe. As a consequence of being a central hub for the city's nightlife, this place really comes alive when the sun goes down.
This is a great place to make meet some interesting characters. Also, it is packed with trendy places to enjoy a cocktail or dance the night away.
It was once known as a crossroads for criminals and prostitutes. However, there is plenty of evocative street art to be found in and around this street. There are also several chic galleries nearby that offer a rotating program featuring local artists.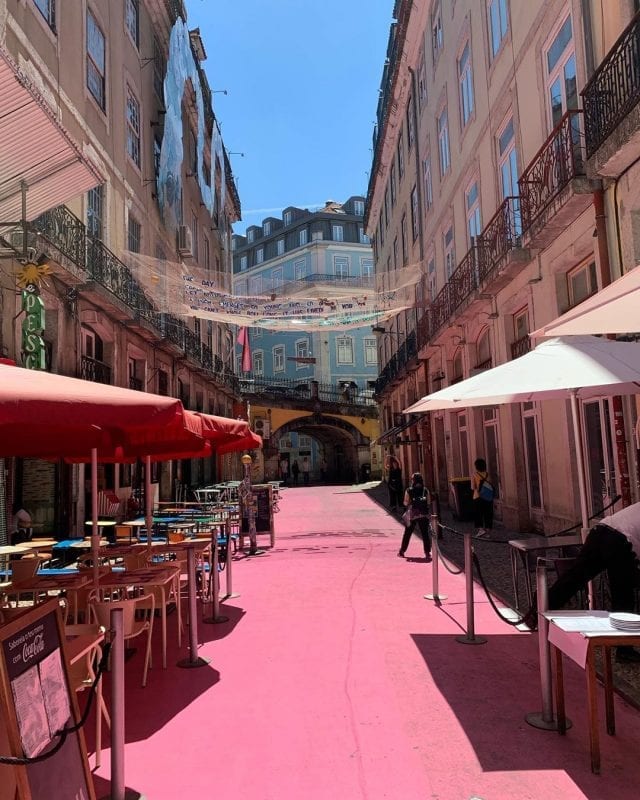 Street art along the 28 tram
On the other side of Lisbon's downtown, Alfama, São Vicente, and Graça are full of winding narrow roads. These are lined with eclectic street art.
While riding on the 28 tram through Graça, you'll be able to see the work of many different street artists. Along the same route, you can also experience the Graça Literary Walk, a project by the Ebano Collective.
They were invited to do murals depicting the Portuguese writers who lived in the neighborhood. Showing how generations of different artists working in different mediums can connect over time.
Find out more about the art scene in Portugal, subscribe to our newsletter.
Lisbon's King of Street Art
You will quickly discover that not all of the street art in Lisbon is based in paints.
Street artist Alexandre Manuel Dias Farto, aka Vhils, is an internationally recognized artist. Furthermore, his work is a product of drilling and carving.
Vhils started as a graffiti artist in his teen years in his hometown of Seixal, a city on the south bank of Tagus river, and his work is strongly influenced by the industrialized environment of the city where he grew up and the intense urban development in Portugal in the 1980s and 1990s.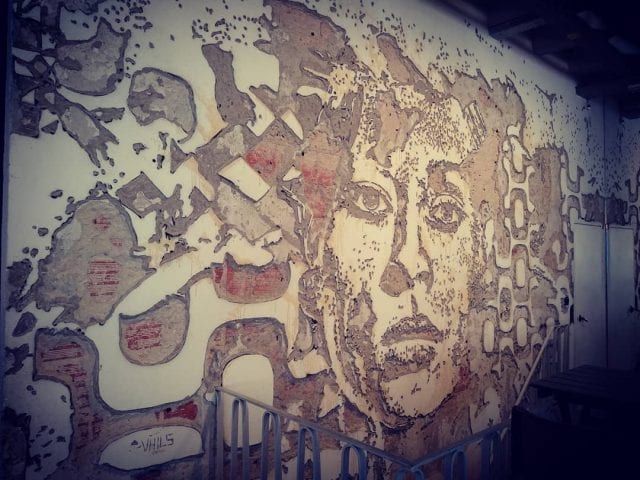 His work has become one of the most famous signatures in the urban art world, in Portugal and abroad.
You can experience Vhils' unique artistic style throughout Lisbon, including the urban art shop/café/working space Underdogs Gallery, Fábrica do Braço de Prata, and at the Wall of Amália Rodrigues, an homage to the queen of Fado, Vhils style.
Street Art Tours in Lisbon
If you're interested in street art in Lisbon but wouldn't mind paying someone to help you find it and provide some context, check out of these great tours from people who know the Lisbon street art scene inside and out.
Lisbon Graffiti & Urban Art Tours has a variety of different options and with Lisbon Street Art Tours, you can even go semi-private.