Just outside the city centre and under the iconic '25th April Bridge' in Lisbon, is the LX Factory, a 17th-century industrial space restored into a creative hub of culture, food, fashion, art, and nightlife.
Think of LX Factory as the Shoreditch of London, the Brunswick of Melbourne, and the Brooklyn of New York – it is where the hipsters from far and wide flourish. Now, as a Melbourne girl, let me tell you why I love it!
Want to know more about Lisbon? Here we wrote All About the Capital of Portugal, check it out!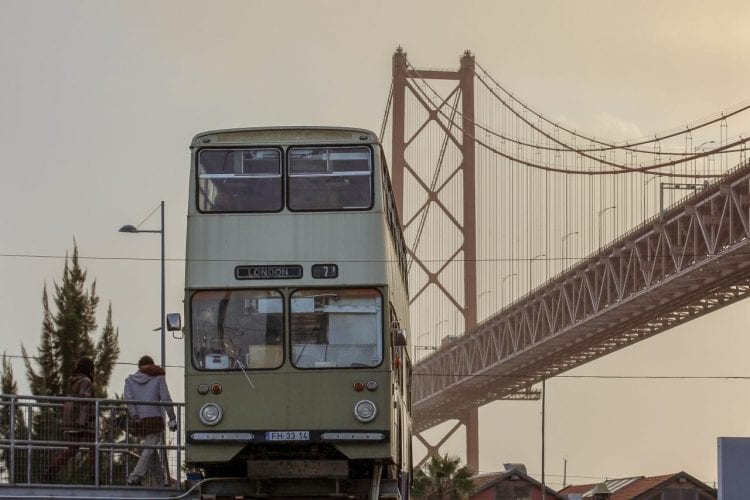 LX Factory's History, From 1846 to 2019
The factory complex that makes up the LX Factory was once the manufacturing site for a thread and fabric company in the Alcantara district. Over the decades, other companies began to occupy the space, until it was eventually abandoned and considered an isolated part of the city.
Come 2008, this 23,000 m2 site was transformed into a trendy factory full of creativity and cultural experiences. The site has maintained its industrial spaces, but opened up arts and culture related shops, cafes, restaurants and companies inside.
Today visitors can expect a bit of everything – from coffee, beer, fashion, books, international foods, tattoos, vintage furniture, and an array of street art. It is one of Lisbon's most visited spots by tourists for its quirky setup, colourful graffiti murals and frequent events.
To get notified of the latest tips for your visit to Portugal be sure to subscribe to our newsletter.
Where is the LX Factory?
The creative mini-city can be found halfway between Lisbon and Belém, in the Alcântara district, and under the iconic '25 de April Bridge'. Its exact location is Rua Rodrigues de Faria 103, Lisbon.
How To Get There?
We recommend using public transport to get to LX Factory – it is easy and quick. You can either take Tram no. 15, buses no. 714 or 727, or the train from Cais do Sodré to Alcântara. You can even spend an hour walking from the city centre if you please!
If you decide to take the car, just remember, you might end up spending a whole 15 minutes trying to find a parking space. This is a very busy area.
Discover more about Transport in Lisbon here.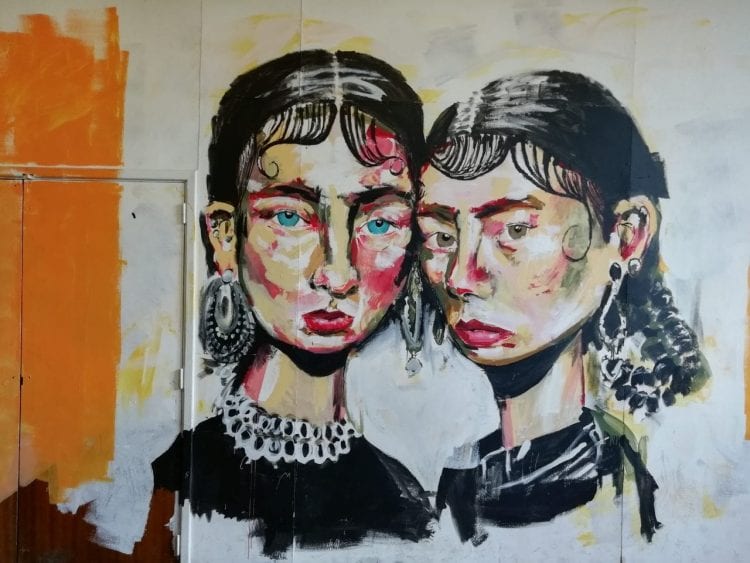 9 Classic Hipster Things to Do in One Day at LX Factory
On arrival at LX Factory, you will soon find that there are plenty of stores to shop in, restaurants to eat at, and no shortage of picturesque spots to enjoy a cold beer or cocktail in the sun. Here's my recommendation on what you should do in one day at LX Factory…
1. Start the Day with A Vegan Brunch
The team at Chef Nino Creparie e Gelateria serve up delicious brunches, lunches, homemade ice-cream, crepes and pancakes. There are vegan and vegetarian options, so tastes suited to every need.
2. Shop for Unique Gifts
There are plenty of gift stores in LX Factory that sell handmade, quirky products unlike the typical tourist items found in the city's downtown Baixa Chiado districts.
Want to shop in Portugal? Read this guide for our tips to Shopping in Lisbon!
3. Read a Book in A Very Picturesque Bookstore
I love reading, and there are some beautiful bookstores in Portugal to discover, such as the famous Livraria Lello in Porto, which inspired JK Rowling to write the legendary Harry Potter series.
In Lisbon, the Ler Devagar Bookstore at LX Factory is considered one of the prettiest bookstores for readers and Instagrammers. It has a grand staircase inside, antique printing machines, the famous flying bicycle installation, and thousands of books from all over the world. The venue also hosts regular concerts, exhibitions and events; it is a fantastic place to have a coffee and get lost in a book.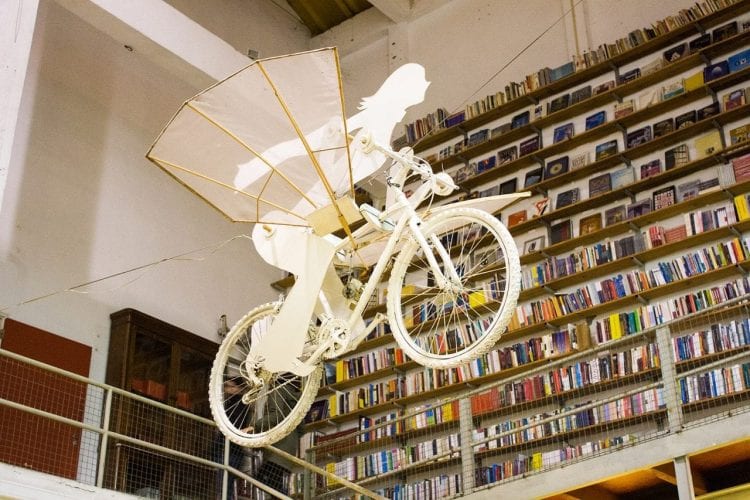 4. Relax! Get a Massage
Need more than a cocktail to unwind? Try out The Therapist at LX Factory! The clinic offers different remedies including Chinese medicine, Ayurveda, naturopathy, and bibliography sessions (in partnership with Ler Devagar).
They also host classes and workshops on topics such as carpentry, healthy eating, and time management. Open 9.30am to 6.30pm.
5. Solve Tricky Problems, in an Escape Room!
Ready to put on your thinking cap? LX Escape's game challenges your intelligence in a setting that stimulates analysis, creativity, sharpness and reasoning.
You have 60 minutes to find clues, solve puzzles, and work with your team with the goal of escaping the room. LX Escape is considered the best, and only, burlesque escape room in Lisbon.
6. Do Some Wine Tasting
After a stimulating escape room, treat yourselves to a glass (or bottle) of wine. 1300 Taberna in the LX Factory is a modern restaurant with trendy decor and gourmet food. They also offer wine tasting!
The restaurant is large so suitable for big groups and even private parties. Open Tuesday to Saturday 12.30pm – 3pm for lunch, and 8pm – midnight for dinner. Book your table on The Fork.
7. Enjoy the Sunset from one of the Best Viewpoints in Lisbon
If you do anything on this list you must watch the sunset from the Rio Maravilha lounge and cocktail bar in LX Factory. The bar has a rooftop and one of my favourite viewpoints for watching the sunset in Lisbon.
Rio Maravilha occupies the former worker's room of the original factory; now it is colourful, simply decorated, with board games, live music, and great signature cocktails.
Its name is also a tribute to the Tejo River and to Rio de Janeiro, which you'll soon understand when you spot the rooftop statue. Open hours vary throughout the week so check their website here.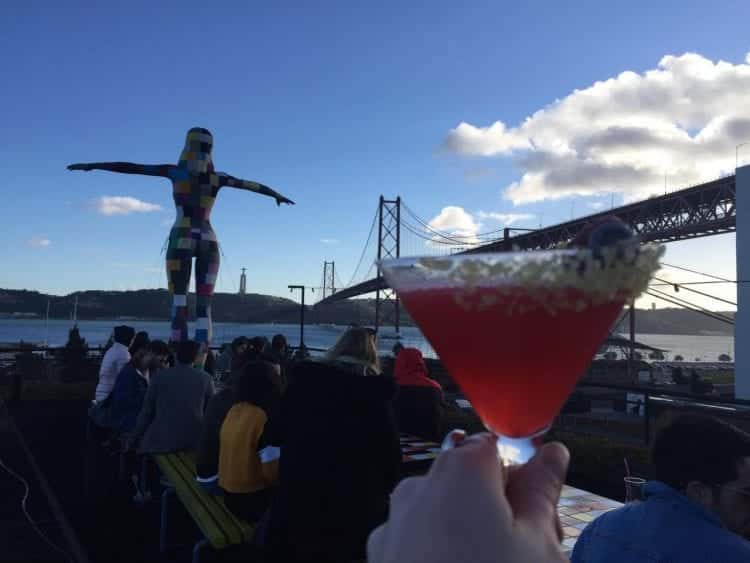 8. Have Dinner in one of LX Factory's Many Restaurants
A day exploring LX Factory will call for a hearty meal at the end. Here are some of our favourites that will take you around the world and back to Lisboa.
Cantina – The kitchen here blends Portuguese traditions with international flavours while the decor uses furniture and equipment that once belonged to a printer warehouse.
Burger Factory – If you're craving burgers, chips, milkshakes, and sweet desserts, then the Burger Factory has got you covered. The burgers are big and the atmosphere very cool, decorated with game machines, vibrant colours, and neon lights. This is somewhere I (weirdly) recommend using the washroom – it has cool lights!
MezCais LX – This a Mexican restaurant serving fresh, creative meals that will excite you! The flavours, aromas, and the decor make for a fun gastronomic experience.
A Mesa Do LX – A fantastic pizza restaurant serving some of the finest crunchy pizza's in Lisbon!
Sushi Factory – The first sushi restaurant in LX Factory! Come here to satisfy those quenching cravings for avocado rolls and tempura.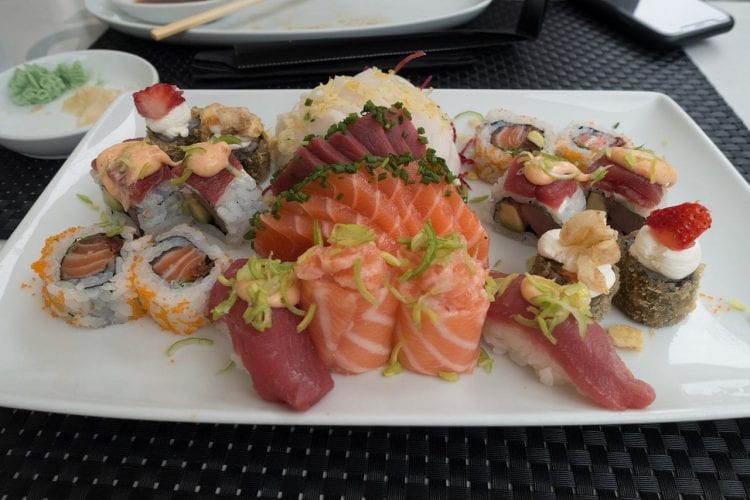 Looking for more delicious restaurants in Lisbon? Read our guide here!
9. Go to the Sunday Market
Every Sunday at LX Factory from 11 am to 7 pm, the venue becomes an open-air market offering original pieces from handmade jewellery, vintage clothes, plants, food, vinyl records, books, and much more.
See you at LX Factory!
The LX Factory is a large open space in Lisbon that has become a hub for innovation, production, and creation. I fall in love with the setting every time I visit, and I think you will too. What are you waiting for?
Are you a proud hipster? Check out our True Hipster Guide to Lisbon for all the hot spots!