You've probably heard of Cristiano Ronaldo, an iconic Portuguese footballer. He has played for big clubs in Europe like Manchester United, Real Madrid and is now at Juventus.
However, before all the stardom and glory with other top European sides, he started in Sporting Clube of Portugal.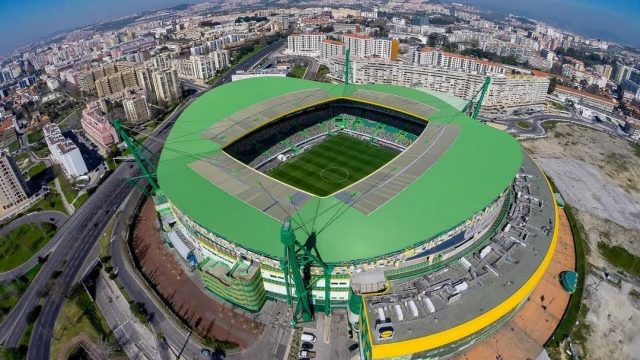 A little bit about Sporting CP
It was founded on 1 July 1906 and is also the third most decorated Portuguese football team, with a total of 50 trophies including the European Winners Cup in 1964.
Sporting Lisbon is also one of the "Três Grandes" (Big Three) clubs in Portugal, along with their city rival S.L. Benfica and FC Porto.
The sporting stadium is also named after the founder of Sporting, José Alvalade.
So, are you ready to know more about the sporting stadium?
Well, here's everything you need to know about the sporting stadium before your visit!
Where is Sporting Stadium?
Sporting Stadium also is known as José Alvalade Stadium. It's situated in Lisbon, the capital city of Portugal.
It is only 7 kilometers from Lisbon's historic center and about 3 kilometers from the Benfica Stadium (Estádio da Luz).
How to get there?
Sporting's stadium is quite central and easily accessible by both public and private transportation. It's located to the north of the city of Lisbon next to the E1 motorway.
If you are using public transport, the stadium is best reached by metro.
By Metro
The closest metro stop to the stadium is Campo Grande. This stop is on both the green and yellow metro lines in Lisbon.
By Bus
There are several buses (city, suburban and regional buses) that serve the Campo-Grande Bus Station. One bus that serves both Sporting and Benfica stadium is BUS 767. Another bus route is 736, it goes from Odivelas to Cais do Sodre and has a stop at Campo Grande.
By Car
From the center of Lisbon, it will take about 20 mins to get to the Sporting Stadium. You can see directions here
For those who prefer to catch a taxi or Uber, the estimated cost from downtown Lisbon will be between €10 and €15 depending on traffic.
This might also interest you Lisbon Public Transport Guide
Sporting Stadium capacity
The sporting stadium is adjacent to Sporting's old Estádio José Alvalade. It was designed by Portuguese architect Tomás Taveira and forms a part of the complex called Alvalade XXI which features a health club, the club's museum, a sports pavilion, a clinic, and an office building.
The Stadium was officially inaugurated in 2003 with a match between Sporting and Manchester United. Sporting won 3-1 as Ronaldo played a starring role. A performance that led to his transfer to Manchester United.
Estádio José Alvalade is a modern stadium with a capacity of 50,095. It's also classified as a 5-star stadium by UEFA.
It has also played host to some major events as it was a playing venue for the Euro 2004 tournament. The stadium also hosted the 2005 UEFA Cup final between CSKA Moscow and Sporting.
Sporting Stadium tour
If you are interested in touring both the museum and Sporting's stadium it is possible. There are guided tours that last between 45 minutes to an hour.
A tour of the stadium will allow you access to parts of the stadium which are usually restricted to the public on match days; like the presidential tribune, press conference room, access tunnel to the field, the dressing room, and the pitch.
While a tour of Museu Sporting will give you a history lesson of Sporting Clube de Portugal from its inception till date. In the museum, there are about 1000 objects in the permanent collection and 5000 in reserve.
Museum Schedule: The tours are from Tuesday to Sunday. Closed on Monday. From 10H30 am to 1H00 pm and 2H00 pm to 6H00 pm
The Guided tours are at 11:30 am, 2:30 pm, 3:30 pm, and 4:30 pm.
Ticket office schedules: 10H00 am to 5H00 pm. (closes for lunch between 1H00 pm to 2H00 pm)
Entrance to the museum costs €8.00, the museum + tour €14.00.
See also 10 Free Things To Do in Lisbon
Buying game tickets
If you would like to see a Sporting match live you can buy the ticket online, or at the ticket windows of Estádio José Alvalade or on the Sporting App. iOS or Android
It is usually advisable to buy the tickets ahead of the game, but you can also buy at the gate on the matchday as the tickets rarely sell out. However, if it is a high-profile match against Porto or Benfica or a European game they sell out before the match day.
Also, you may need an ID when you are buying the ticket.
Price of tickets
The price of the ticket usually depends on the opponent, but for a regular match, you can expect to pay as low as €17.00 for an upper-tier seat behind the goal.
The most expensive tickets are usually the ones for the VIP Seating while the cheapest tickets are usually the ones with a seat in Stand B – Goal End.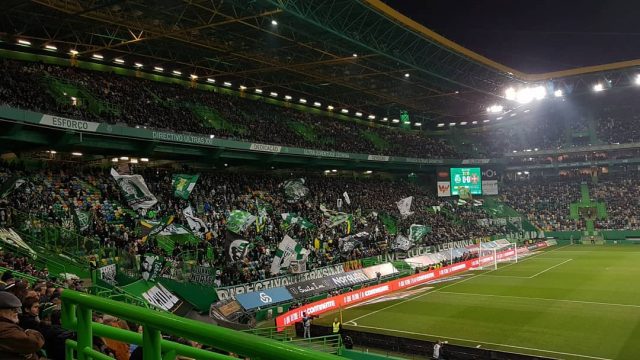 The atmosphere in the stadium
The atmosphere in and around the stadium on match days is indescribable. Before the game, you will see fans around the stadium eating and drinking just outside the stadium. They are mostly eating the famous "bifanas" sandwiches and drinking some beer.
Once you enter the stadium the atmosphere is electric. The Sporting ultra-fans behind the goal end never stopped singing and keep chanting & waving their huge flags from start to finish cheering on their team.
It is usually impossible to get a seat there. If you would like to sit close to them, you should try to get a seat in the next section right beside them.
Is it worth going to the stadium to see a game?
Seeing at least one Sporting match at Estádio José Alvalade is worth it. The match you probably do not want to miss is the Lisbon derby.
The match is played against Sporting's main city rivals Benfica. This is usually the most interesting and biggest match of the season for Sporting Lisbon as they contest in what is known as "the eternal derby"
This might also interest you Visit Lisbon: Your Guide on Weather, Hotels, Things to Do and more
How to see sporting Lisbon fixtures?
To see sporting Lisbon fixtures, you should check the Sporting website.
So, that is all about Sporting Stadium. Hopefully, you visit Lisbon soon and experience the Portuguese football passion first-hand.
Find out more about sports in Portugal, subscribe to our newsletter.