Like any other European capital, Lisbon is pumping with new stores, bars and restaurants every single day.
Tourism is steadily increasing, making this city one of the best out there. If you are looking to spend a few days in the capital of Portugal, and perhaps buy some goodies, get to know everything about shopping in Lisbon.
Shopping in Lisbon
Being a capital city means not only having political status, but it also means being the preferential city to find the best hotels, restaurants, bars and stores. From the cheapest to the most expensive ones, every day you seem to find a new store around the corner.
Shopping in Lisbon is, therefore, easy in the sense that you do not need to lose time looking for that pair of jeans you need to buy – since you most likely will find the right store two steps in front of you. The offer is immense and adequate for any pocket really.
Besides finding stores on the streets, mainly in downtown Lisbon, Portugal has a great tradition in shopping centres where you can buy anything you want, from clothes to shoes, accessories, electronics, home décor, etc. You will also usually find a supermarket and a food court in these centres so they really are convenient for a full day's shopping experience.
Is shopping cheap in Lisbon?
If we are speaking about souvenirs, for example, or other small products, we can say that it is relatively cheap shopping in Lisbon. You can find, however, all sorts of offers that, in some cases, can get really expensive.
In the main chain stores, the prices are a bit cheaper when compared to other European cities – so that is a plus and you can find cheaper things regarding clothes, shoes, accessories and purses. The difference between the prices you find in the mentioned stores when compared to other European cities (such as Amsterdam, for example) is around €20.
Lisbon has the following chains where you can find some great deals:
What are the best things to buy in Lisbon?
Because Portugal's cost of living is a bit cheaper than other major European cities, in Lisbon, it's better to buy clothes, accessories, shoes and perhaps makeup. So, if you have a budget set aside for shopping, these products are definitely worth the shot.
Therefore, you can find it relatively cheap to shop in Lisbon, but the same does not apply to products such as electronics, for example, since the prices are very similar from country to country (in Europe) and are much more expensive than in the United States and China, for instance.
If we speak about luxury brands, such as Louis Vuitton, Gucci, Armani or Prada, we can say that prices do not vary much in Europe and in Lisbon, prices are about the same.
Top 7 places for shopping in Lisbon
We know you love great tips, especially when it comes to shopping and saving some money.
Well, look no more! In the following list, you can find some of the greatest places to go shopping in Lisbon (outlets included!):
1. Downtown Lisbon
If you enjoy shopping in the open air, take a stroll in Chiado. Generally speaking, stores open at 10 am and close at 10 pm (except for Sundays, in which they close one hour earlier). You can find stores selling clothes, shoes, electronics, makeup, souvenirs, accessories and much more. There's a nice shopping centre called Armazens do Chiado and the streets are full of interesting shops and boutiques.
2. Freeport Outlet
To make room for new collections, brands open outlet stores in places such as Freeport, where you can find up to 70% discounts on brands like:
Freeport opens at 10 am and closes at 10 pm (except for Fridays and Weekends, when it closes at 11 pm).
It is easier to get there by car since it is located on the other side of the Tagus River over the Vasco da Gama bridge. However, you can get in a taxi or catch a bus, but the best way is if you go to Praça Marquês de Pombal, you can catch the Freeport Outlet Shuttle for €10, which can drop you off at your hotel when you return from your shopping spree
Or even better, book a shuttle service from the city and back with Get Your Guide here for only €10 and you'll also receive a voucher for a VIP Card which will give you an additional 10% off at participating stores.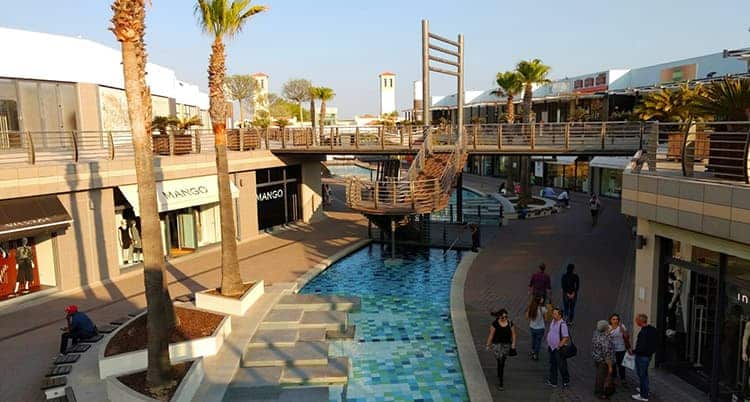 3. Strada Outlet
Strada Outlet (website is in Portuguese) is another great outlet you can find in Lisbon. It's 10 minutes north of the city centre and you can get great deals in brands such as:
Strada Outlet opens at 10 am and closes at 11 pm and the best way to get there by car or taxi.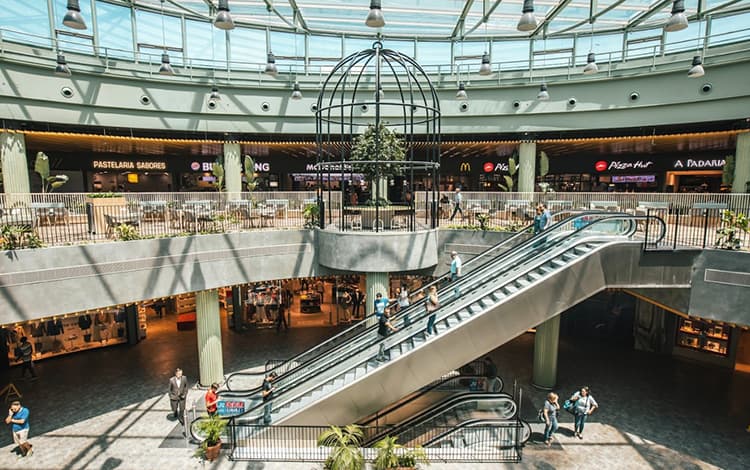 4. Centr0 Vasco da Gama
As we mentioned, Portugal has a great tradition in commercial centres and Centro Vasco da Gama is one of those. This shopping centre is huge and has many options in clothes, electronics, shoes and even banks. The food court is very convenient for a snack or a meal and they also have a lot of restaurants nearby.
Centro Vasco da Gama is open from 9 am to 12 pm every day. As it is in the heart of Parque das Nações (Lisbon's Expo neighbourhood), you can get there by train and Metro to Oriente station, by bus, car or taxi.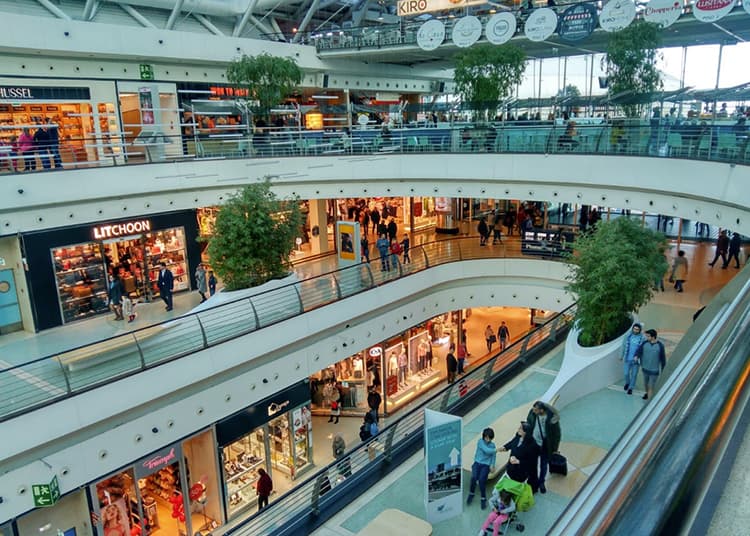 Visiting Portugal soon? Make sure you sign up for our newsletter for all the best tips and advice to help plan your trip.
5. Colombo
Colombo is another commercial centre you can find in Lisbon. It is a massive complex with a supermarket and food court, and to be honest, it's easy to get a bit lost inside, but that's part of the fun.
Colombo has stores like:
To get there, you can go by car, bus, taxi or Metro (Blue "Azul" line to Colégio Militar/Luz). Colombo shopping centre opens at 9 am and closes at midnight every day.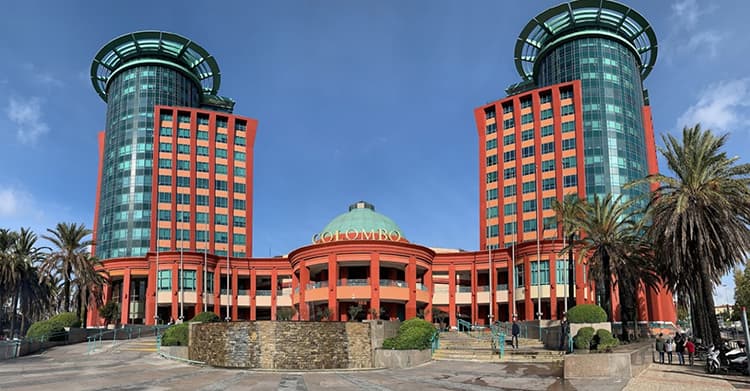 6. El Corte Inglés
This one needs no introduction, right? El Corte Inglés (website is in Portuguese) is one of the most prestigious and well-known places to shop, and also one of the best places for shopping in Lisbon.
Here, you can find brands such as:
Besides buying clothes, purses or accessories, you can also buy electronics from:
Just name it and you will probably find it in El Corte Inglés. It opens at 10 am and closes at 10 pm from Monday to Thursday and on Friday and Saturday it closes at 11.30 pm. On Sundays it closes at 8pm. You can walk to El Corte Inglés from the city centre or go by car, taxi, bus or Metro (Blue "Azul" or Red "Vermelha" line to São Sebastião).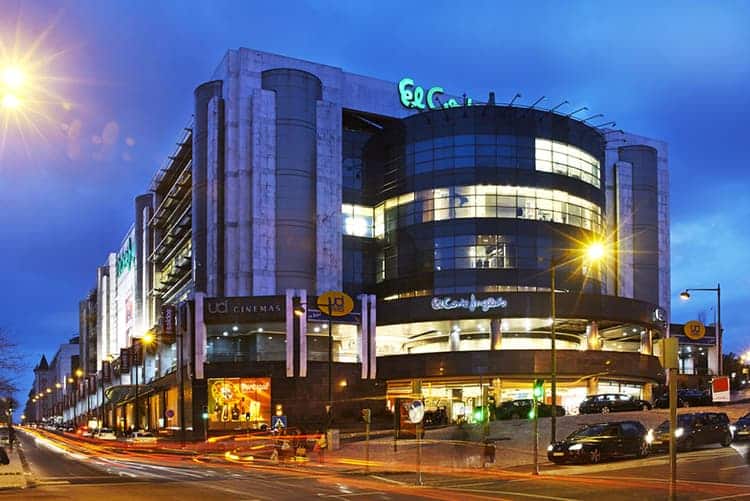 Going to Porto and want to know where to go shopping? Check out: Shopping in Porto.
7. Alegro
Another commercial centre where you can go shopping in Lisbon is Alegro (website is in Portuguese) located in Alfragide, not too far away from the city centre and close to Belém. Besides getting there by car or bus, you can also hop on the Alegro Bus (website is in Portuguese), which is free, to get there.
Once you get there, you can find all kinds of stores, hairdressers and also a supermarket. It opens at 10 am and closes at 11 pm (except for Fridays and Saturdays, when it closes at midnight).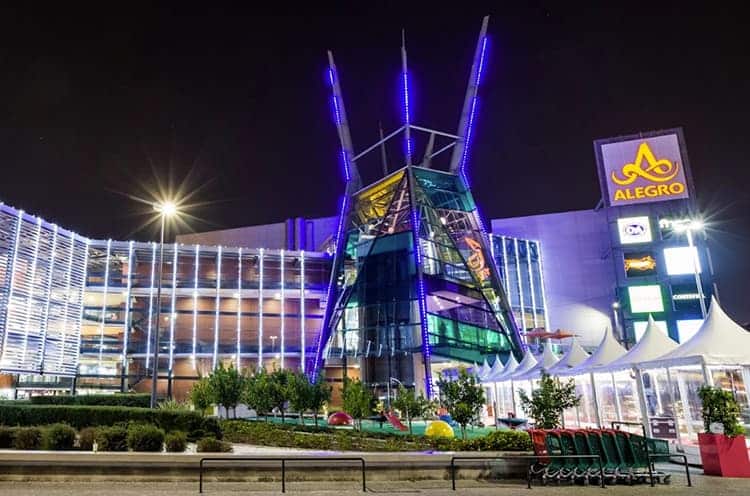 After all this shopping, if you are still looking for typical Portuguese souvenirs to buy, make sure you have a look at: 13 Portugal Souvenirs to Bring Home to Your Family and Friends.
Where is your favourite shopping place in Lisbon? Let us know in the comments below.