For me, hop on hop off Lisbon tours are a great way to see a lot of this city in a short amount of time.
I mean, what's not to love? You're given an audio guide, giving you guidance and at the same time freedom to venture out from the group when something else captures your attention.
Stay with me and find out if a hop on hop off tour in Lisbon is really worth your money, get to know the itineraries, costs and how to book the tickets.
Hop on hop off tours in Lisbon
Although generally more expensive than a regular transit pass, hop-on-hop-off tours are focused on getting you to all the main sights in a timely fashion, and you might even meet some likeminded tourists along the way.
Lisbon is one of many cities that has welcomed the hop on hop off tour industry and has several different companies offering comparable tours around the city.
Check out also our guide to visit Lisbon.
One or two days hop on hop off tours in Lisbon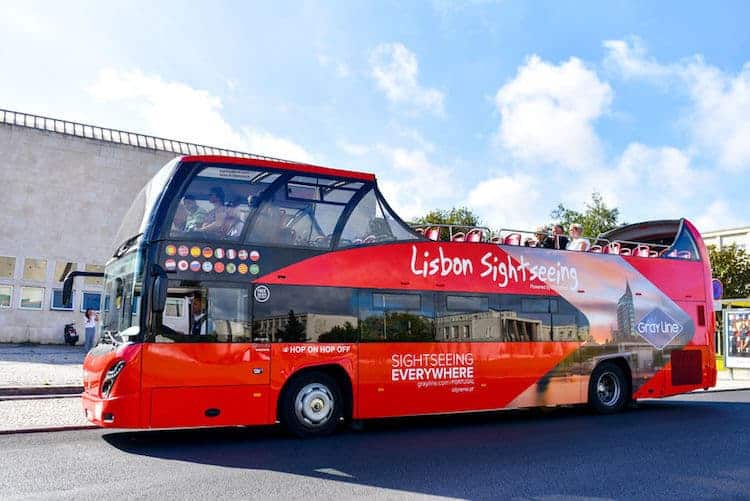 Only staying one day in Lisbon? Take a hop on hop off Lisbon tour.
Seriously.
Bus tour around Lisbon can be a great experience
Hop on hop off tours are a good option for tourists, especially those who are visiting for the first time or who are working with a limited timeframe.
Each hop on hop off tour provider operating in Lisbon delivers a convenient method to view all of the major tourist sights and districts in a single day while indicating to visitors which areas can be explored in further depth later if time permits.
Assuming you're looking to pack a lot into a day, you probably won't regret choosing a hop on hop off Lisbon tour. That being said, be warned that you're sure to have lots of company.
Due to the rapid growth of tourism in Lisbon, there are many tourists for the hop on hop off tours to accommodate.
Tours are popular during summer
Especially during the summer months, you should expect full buses and long waits for popular routes.
Staying more than one day in Lisbon
If you are planning to stay more than one day in Lisbon, it might still be great to have do an hop on hop off tour as it will allow you to meet faster all the places in Lisbon and afterwards re-visit your favourite one's.
Consider also visiting Sintra, one of the most beautiful places in Portugal, and it's only 30 minutes from Lisbon.
Hop on hop off Lisbon tour providers
There is a multitude of different vendors scattered throughout the city selling tickets for the three main hop on hop off tour companies:
Lisbon Yellow Bus Official operates yellow buses while Gray Line and City Sightseeing run red buses.
As Yellow Bus Official, or Carristur (tram tour), are owned by Carris, the public transport company of Lisbon, they have their main hub in the centre of Baixa in the Praça da Figueira.
The other two companies have their hub at the Praça Marquês de Pombal, a little way from the historic centre of Lisbon.
Lisbon hop on hop off tours by tram
If you'd rather experience the city by tram, you can ride up and down the hills of Lisbon on Lisbon Hills hop on hop off tour. You can bounce around any of the 9 stops on the route, in the traditional quarters of Alfama, Graça, Chiado, Bairro Alto, and Lapa with a 24-hour ticket.
You can discover Lisbon on a vintage tram for 24-hours for only €18! Buy it now and check out one more thing from your to-do list.
Hop on hop off Lisbon tour, understand the costs and features
Most hop on hop off tour companies now offer different types of tickets that extend over various periods of time or incorporate addition sights, in general though, a 24-hour ticket costs around €20.
Let's take a look at the offers now.
Gray Line hop on hop off Lisbon bus tour
The Gray Line hop on hop off Lisbon bus tour includes the following features:
Hop on Hop Off bus tours around Lisbon
48-hour Lisbon sightseeing hop on hop off ticket (Belém Oriente Lines)
Free Wifi on board of the buses
More than 54 Stops throughout Lisbon and the surrounding area
You can visit UNESCO World Heritage Sites (ex: Jeronimos Monastery)
Discounts on major attractions or holiday destinations of Portugal such as monuments, museums, restaurants and shops
1-hour Segway ride
Passengers' insurance and helmet
Historical itinerary with photo stops
20-minute Tuk-Tuk tour
This tour costs 44€, it's the most expensive one available, but also the one with more features included.
If you wish, you can book it in advance through get your guide.
CitySightseeing hop on hop off tour of Lisbon
Hop on hop off ticket valid for 24 hours
Headphones
Stroll through delightful city squares, including Praça do Município, Praça do Comércio, and Praça do Rossio
Wander through beautiful gardens – Jardim da Estrela and Jardim do Principe Real
Marvel at Lisbon's cathedrals
Discover the fashionable bars and clubs at the docks of Alcântara and the district of Santos
CitySightseeing includes a tour for the must-see points of interests in Lisbon.
The price for the tour is €20 and you can book it through getyourguide and get your tickets now.
Lisbon Yellow Bus hop on hop off tour
Lisbon Yellow bus hop on hop off tour includes the following features:
Ticket for 2double-decker bus tours
Free access to the public transport network (Aerobus, trams, funiculars, and the Santa Justa Elevator)
Audio guide in 12 languages (Portuguese, English, Spanish, French, Italian, German, Dutch, Japanese, Russian, Portuguese in Brasil, Swedish and Mandarin)
Including exclusive free access to public transportation in Portugal, such as the tram, the Yellow bus hop on hop off Lisbon tour is also a good choice.
It costs 18€ and you can also buy it online through getyourguide, avoid queues and get instant access to your ticket.
Lisbon Hills hop on hop off Tram Tour
Lisbon hills hop on hop off tram tour includes the following features:
24-hour hop on hop off tram tour
Audio guide available in 12 languages (Dutch, English, French, German, Italian, Japanese, Mandarin, Portuguese, Brazilian Portuguese, Russian, Spanish and Swedish)
Yellow Bus discount booklet with savings at restaurants, bars, shops, and attractions
Entrance to the Santa Justa Lift
The price for this tour is 18€ and you can book it here.
For comparison, this is significantly better value than a tuk-tuk tours, which could run you upwards of €50 just to visit one or two sights.
What's the itinerary of the hop on hop off tours in Lisbon?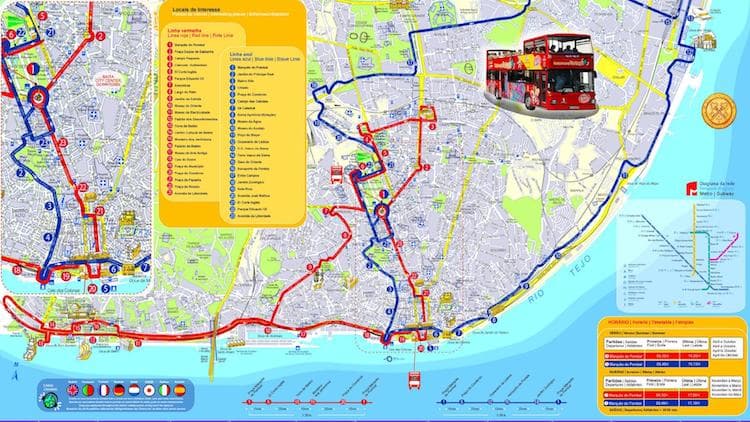 At the core of each company's itineraries will be one route heading from central Lisbon west to Belém and a secondary route covering the eastern and northern sides of Lisbon.
If you have to choose one, the tour to the west and Belém should always be the first route taken as it provides the best overview and allows you to properly orient yourself in the city.
This is the Tagus Bus Tour (Carristur), Belém Line (Grayline) and Red Line (City Sightseeing).
Castle of Alfama
The hop on hop off tour operators may include tour routes of the castle or Alfama, but keep in mind that due to the narrow roads only small buses or trams can make this route.
On summer routes can be crowded
During the summer, these routes, in particular, can become extremely crowded and traffic-clogged.
Districts to discover on foot
When planning how you want to tackle the city, keep in mind that the districts of Alfama and Baixa are really best discovered on foot. If you insist on taking a bus to see these areas, be aware that you're likely to end up spending just as much time waiting as you are exploring.
While you're wandering through the Lisbon streets why don't you try some of Portugal's best cuisine?
Main stops on the Lisbon hop-on-hop-off tours
The Tagus Route of the Yellow Bus Official Sightseeing provides a good overview of the city and beginning with The Eden Theatre in Restauradores, one of the finest examples of Art Deco in Portugal, through to the infamous Torre de Belém, you will be able to cover most of the major sights.
In Restauradores you'll also see the start of the funicular Elevador da Glória, which from here, begins its slow grinds up a steep hill. I really recommend this tour.
You'll also get to see the tree-lined Avenue da Liberdade, which is the central attraction during the popular saint festivities.
The hop on hop off tour also stops at the top of the large park, Parque Eduardo VII, which is a lovely place to relax, offers views down the park and over the historic areas of Rossio and Baixa and is just up from Marquês de Pombal roundabout.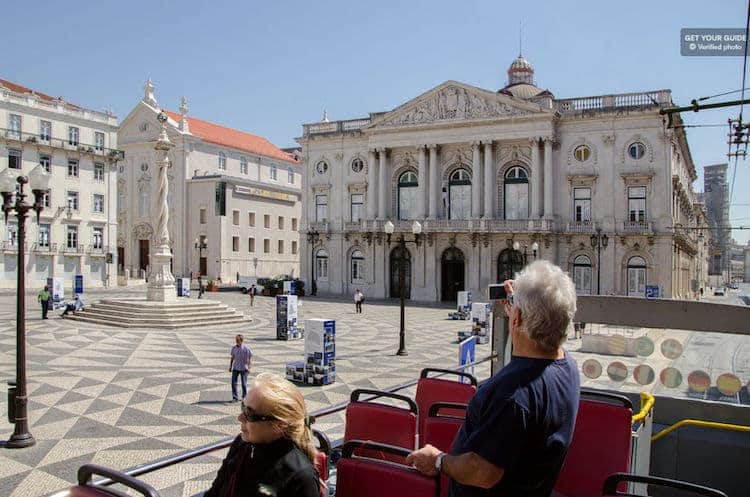 You'll then continue on to Praça de Espanha, a square that contains the imposing Arch of St Benedict and is just minutes away from the Foundation Calouste Gulbenkian, a world-class museum and cultural centre.
You'll also get the chance to explore Estrela, a pleasant stop for the 18th century neoclassical Estrela Basílica and the Jardim da Estrela.
You can also see our guide on the top 10 momenuments of Lisbon
Moving further west, you'll approach the docks, a trendy bar and restaurant district close to the bridge Ponte 25 de Abril, where you'll also find the Fundação Oriente, and Oriental Museum (Museu do Oriente).
In Belém, you can expect to see the Torre de Belém and the grand Mosteiro dos Jerónimos, a beautiful monastery built on the site where Vasco da Gama spent his last night before his momentous voyage.
You'll also stop right by the home of Lisbon's world-famous custard tart, the pastel de nata. Close by you can also check out the Museu de Arte Antiga, an ancient art museum that contains important European works by artists such as Bosch, Dürer, and Raphael.
You're going to be very close to some of the coolest museums in Lisbon, why don't you take some time and go see them?
Are the hop on hop off tours Lisbon tours worth it?
Doing an hop on hop off lisbon tour is a great experience. While some may prefer to walk, there are many people who enjoying taking the bus to get to know the city in a comfortable (and fast) way.
Advantages of doing the Lisbon hop on hop off tour
Hop on hop off tours definitely offer some notable advantages. For example, it's nice starting out already knowing the cost of the day's transportation and not having to deal with the stress of navigating.
Likewise, if you're trying to soak in as much as possible, hop on hop off Lisbon tours allow you to see a lot that you would miss if using Lisbon's underground transportation system.
In general, the tour buses offer the convenience of movement throughout the city and give you the option to come and go as you please.
Disadvantages of Lisbon hop on hop off tours
The biggest drawback in the fact that the buses can get extremely crowded, and especially if you're travelling with a group, you might not be able to sit together and will have to deal with reaching over strangers to plug in your audio guide headphones or adjust the volume.
That being said, if you don't mind being in the mix with other tourists, hop on hop off tours really can't be beaten in terms of allowing you to see the most in the shortest amount of time.
All the tours mentioned here offer reliable services and thanks to multiple providers, prices are kept competitive.
Did you find this article helpful? If yes, consider seeing more articles about visiting Portugal and prepare your journey better.