A historical glitzy casino, endless sandy beaches of Portugal, and an effortlessly cool cosmopolitan vibe, it's no wonder Figueira da Foz is nicknamed the 'Queen of Beaches.'
Ever wanted to go to Figueira da Foz but aren't sure what you'll find?
Let us show you the way. There's a lot more to do there than you might first expect.
Whether you're there to catch the great waves or eat and drink by the beach until the sun goes down, find out why this beautiful coastal town has long been a favourite holiday spot for over 100 years.
Where is Figueira da Foz?
A beautiful coastal city in the centre of Portugal, just 40 km (25 miles) from nearby Coimbra, Figueira da Foz translates as 'fig tree at the mouth of the river', located where the River Mondego spills into the Atlantic Ocean.
Figueira da Foz is 180 km (112 miles) north of Lisbon and 120 km (75 miles) south of Porto, with Francisco Sá Carneiro Airport in Porto being the closest airport for travellers wanting to visit Figueira da Foz.
How do I get to Figueira da Foz?
The most direct way to visit Figueira da Foz is by train, with multiple trains departing Porto-Campanhã station each day. The average return ticket on the train from Porto costs around Є34.
If you prefer to travel to Figueira da Foz by car, there are numerous car rental companies available at Francisco Sá Carneiro Airport in Porto. The average toll cost driving to Figueira da Foz is just Є9 each way.
If you are coming from Lisbon, you can visit Figueira da Foz by catching a train at Santa Apolónia station, where you will need to change trains again usually at Coimbra or Alfarelos station. The return ticket will be around  Є40.
There are also direct buses with Rede Expressos to Figueira da Foz from Lisbon Sete Rios, which usually take around the same time as the train but is cheaper at around Є25 return.
Once in Figueira da Foz, getting around by foot is quite easy as it is a fairly small city. If needed, you can also access local buses and taxi services.
Top 10 things to do and see in Figueira da Foz
Visitors come to Figueira da Foz for the beaches but stay to explore all the charming pockets of the resort town. Here's our hot list of the top 10 things to do and see in Figueira da Foz.
1. Casino Figueira
Casino Figueira (website in Portuguese) is the oldest casino in the entire Iberian Peninsula, which has been operating since 1927. The casino has a rich history in Figueira da Foz and with its recent refurbishments, remains a popular attraction for visitors. Here you will find all your favourite casino games, a great selection of Portuguese gastronomy and a classical-style theatre with various shows throughout the year.
2. Praia da Claridade
The widest urban beach in Europe, Praia da Claridade is a gorgeous sandy beach with everything you need for a great day in the sun. The beach features a boardwalk for strolling and cycling, restaurants, bars and dedicated sports areas for windsurfing, sailing or rowing. All these activities are available by the beach and right in the centre of Figueira da Foz!
3. Cape Mondego Lighthouse
Cape Mondego Lighthouse is located in the Forest Park of the Serra da Boa Viagem and was built in 1922. The lighthouse offers a picture perfect view of the Atlantic Ocean – ideal for all those dreamy sunset pictures.
4. Casa do Paço
Casa do Paço was built at the end of the 17th century and is home to one of the largest and rarest collections of single figure, Dutch tiles in the world with almost 6,700 magnificent tiles decorating the "noble floor" of the palace. A must see for design lovers.
5. Sotto Maior Palace
One of the most famous tourist attractions in Figueira da Foz is Sotto Maior Palace. The grand palace was commissioned at the end of the 19th century by Portuguese businessman Joaquim Sotto Maior. Besides now being a museum, this extravagant cultural spot also stages exhibitions, concerts, fashion shows, talks, meetings and conferences.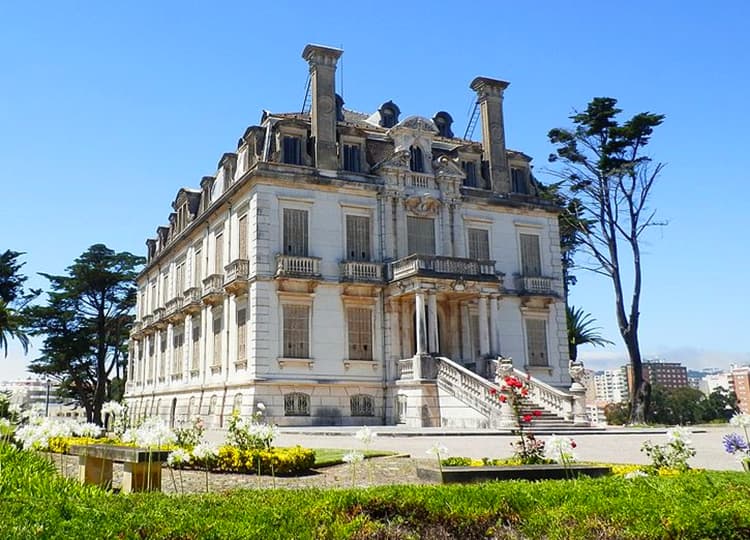 6. Museum Centre of Salt ("Nucleo Museologico do Sal")
The Museum Centre of Salt (website in Portuguese) was inaugurated in 2007 with the purpose of recognising the importance of salt production in the region. This museum proves that salt production is far more interesting than it sounds and the beautiful landscape provides a unique and informative attraction for you to visit.
7. Mercado Municipal Engenheiro Silva
Mercado Municipal Engenheiro Silva is a lively market full of fantastic fresh Portuguese produce. Situated near the harbour of Figueira da Foz, this bustling market with produce, fish, meat and flowers is the perfect stop for foodies wanting to grab an authentic slice of Portuguese culture and cuisine.
8. Municipal Museum Santos Rocha
Municipal Museum Santos Rocha opened in 1894 and houses a vast collection of archaeological collections, stunning Indo-Portuguese pieces of furniture, religious artifacts and weapons all used during both world wars. A must-visit for history buffs!
9. Serra da Boa Viagem
Serra da Boa Viagem is the perfect change of scenery to add some adventure, located 7 km (4 miles) away from the city centre. This mountain provides lush walking trails, a beautiful waterfall, perfect picnic spots, an adventure park and best of all, Miradouro da Bandeira – a beautiful viewpoint that awaits at the top of the mountain.
10. Fortress of Buarcos
Fortress of Buarcos (website in Portuguese) was built between the years of 1570 and 1602 to protect the population from pirate attacks coming from the sea. It has two wall fronts and three bastions and provides a great walk along the water, with a suggested stop at the Senhora da Conceição Chapel
How many days should I stay in Figueira da Foz and what's the weather like?
Figueira da Foz is a relatively small city so we think the ideal time to visit everything would be around two to three days. Like most small coastal cities, Figueira da Foz is busy and vibrant in the summer but fairly quiet during the rest of the year.
During the summer months, the average temperature reaches 29°C  (84°F) with only three days of rain on average, per month. If you want to visit Figueira da Foz before all the other tourists arrive, then we suggest visiting around June before it gets too crowded!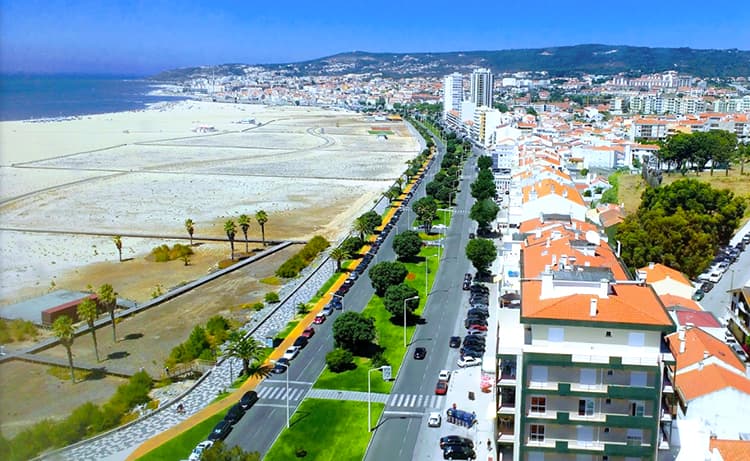 Where should I stay in Figueira da Foz?
Figueira da Foz offers great value for accommodation with four-star hotels averaging €74 per night and three-star hotels averaging just €49 per night.
Some of the top rated hotels in Figueira da Foz which are each on the medium to high end of price range include:
Our picks for great accommodation for medium to low price range accommodation are: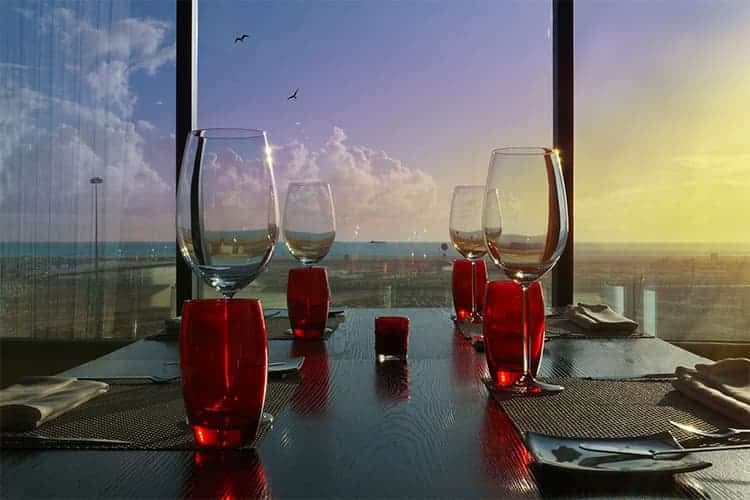 Best places to eat in Figueira da Foz
Figueira da Foz offers great selections of Portuguese gastronomy and just like every coastal city, the typical cuisine revolves around fish and seafood with many trademark recipes.
A few dishes to look out for at traditional restaurants include:
pataniscas de bacalhau (battered and fried cod pieces);
enguias de escabeche (fried and pickled eels);
caldeirada de petinga (a stew made with tomato, onions and baby sardines).
Some of the best picks for restaurants are in the centre of Figueira da Foz, conveniently located by the beach with great ocean views and an average price point of €20 per person! Our picks for best places to eat are:
Is Figueira da Foz a good place to live in?
In short, yes! If you are the type of person who enjoys a small city surrounded by nature, beaches, good food and local people, then Figueira da Foz is the perfect place for you. With easy access to the two biggest cities in Portugal, it's also located just 40 km (25 miles) from the best hospitals and oldest universities in nearby Coimbra.
Figueira da Foz is ideal for families, students and people ready to escape living in the big city but still want to be close in case they need!
We hope you enjoyed this article. Please let us know if n the comments below.
Did you know that we have a free newsletter that you can subscribe to? Join our community and never miss a thing from bePortugal.