You probably have never heard of Elvas.
Hopefully, after reading this article you will like to visit another one of Portugal's hidden gems in the heartland of Alentejo.
This is a historic border town that tells so many stories of Portugal's struggles and strife against their lovely neighbours Spain.
Elvas as a city was also classified as a UNESCO world heritage site in 2012.
Where is Elvas
Elvas is the easternmost town in the central region of Portugal in the district of Alentejo. It borders Spain and is only about 8 kilometres from the city of Badajoz.
This location once made it a city of great strategic importance to Portugal military wise, because of this it was heavily fortified with city walls, especially during the War of Restoration in which Portugal fought for its independence from Spain.
There are more and more expats moving to the Alentejo. Learn about what it's like to live there.
How much time should you stay in Elvas
Elvas is a small city and so most of the major sites can be seen in one day. At most, you can spend two days to see everything in the town.
How's the weather in Elvas
In general, the weather in Elvas is good all year round with a low chance of rainfall.
However, the summer temperatures can be very extreme with an average temperature of 32°C. The winters in Elvas are mild but somewhat colder than Lisbon.
If you're planning to visit, the best time would be to visit either in the spring or autumn as the weather is neither extremely hot nor cold. If you do not like extreme heat you should avoid visiting in the summer.
What to see in Elvas
It is a small city but there is a fair share of historical monuments and sites in the city some which played a role in Portugal's fight for independence from Spain.
Elvas castle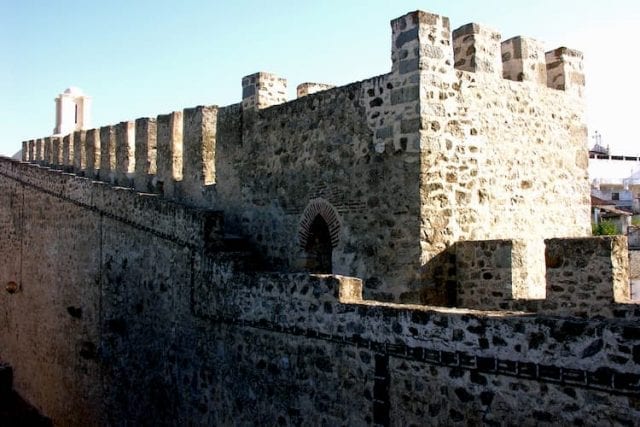 This castle is quite different from other castles in Portugal as it is more of fortress castle than a royal residence. It is located to the north of the town with very thick and tall castle walls.
Also, due to its strategic location on the highest point of the city, the summit of the castle and its walls offer superb panoramic views over the surrounding landscape.
Elvas aqueduct (Aqueduto da Amoreira)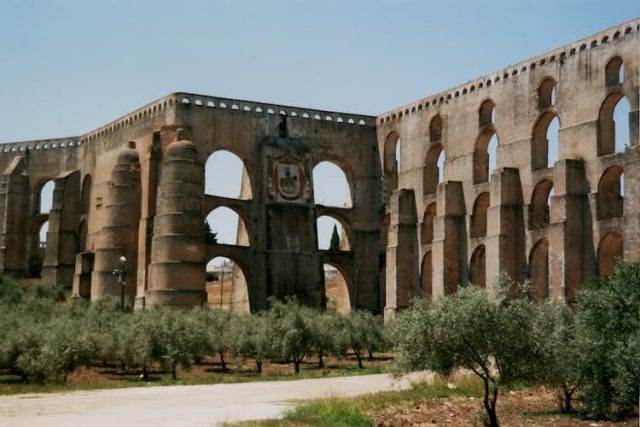 This one of the most standout architectural sites in the town. The Elvas aqueduct is a UNESCO world heritage site that was constructed between the 16th and 17th to serve as a water supply channel to Elvas from Amoreira.
It stretches over 7km and is as high as 31 metres. This is a must see!
Forte de Nossa Senhora da Graça
Located on the hill of Monte da Graça, this fort was constructed in the 18th century to strengthen Portugal's stronghold in the city against Spain.
Forte de Santa Luzia
This star-shaped fortress is located to the south of Elvas. It also served a stronghold during the restoration war against Spain.
If you can walk on the walls of the fort, and you will be treated to a spectacular panoramic view of the city, its surrounding area and peak at Spain city of Badajoz.
Museu Militar de Elvas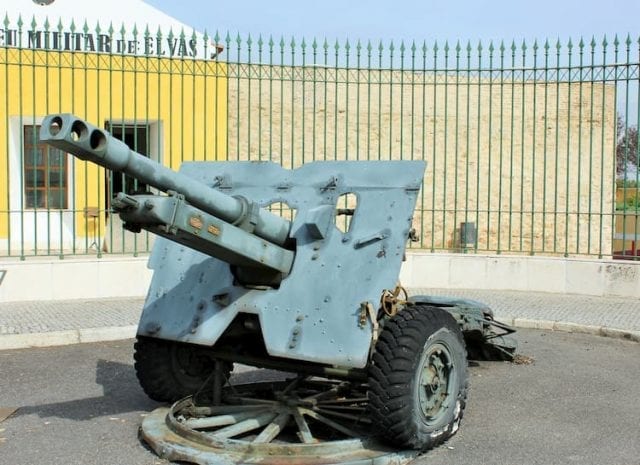 It is one of the largest museums in the country, situated in a former military barracks for the 8th Infantry Regiment.
This museum houses an extensive collection of military and warfare pieces such as Military Medicine, Army Military Vehicles, Artillery Parts from the mid-nineteenth century as well as an Interpretive Centre of Elvas Heritage (CMMEs).
Curious about Portugal? Subscribe to our newsletter today so you don't miss out on everything about Portugal.
How to get to Elvas
Elvas is connected by a good road network which is the only means of reaching the town as there is no railway service to Elvas.
From Lisbon
The bus service to Elvas from Lisbon takes between 3 to 4 hours and costs €17.60. The bus departs from the Sete Rios bus terminal in Lisbon which can be reached via Jardim Zoologico on the blue metro line.
Tickets for the bus can also be bought online at Rede Expressos.
Going by car to Elvas from Lisbon takes approximately two hours and thirty minutes via the A6 motorway. See here for directions.
Do you like Alentejo? Why don't you check out Visit Évora in Portugal: Top Things to Do, Best Time to Go and More.
Hotels in Elvas
Despite being a small city, you'll be spoilt for choices when deciding where to stay in Elvas. Take a look at some of my suggestions.
Hotel Dom Luís
Located close to the aqueduct of Amoreira and just a short walk from the historic centre of the town. The average price per night is €70. You can book it here.
Varchotel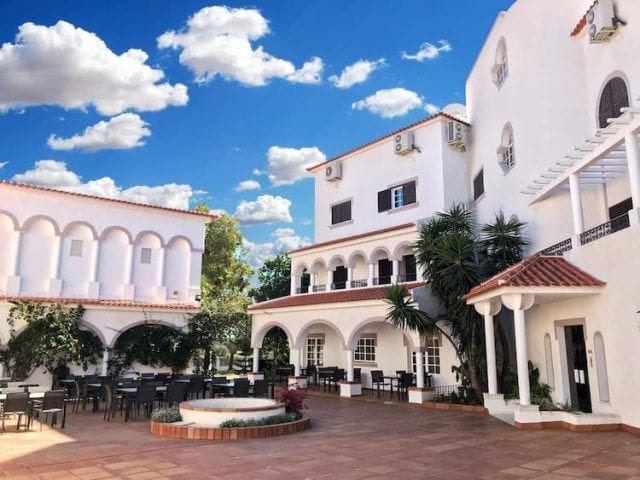 This a nice and spacious hotel about 5km from Elvas with nice a restaurant and beautiful surroundings. It is also pet-friendly too. The average price per night is €45. Book here
SL Hotel Santa Luzia
Situated in the former Pousada da Elvas, SL Hotel Santa Luzia features a lovely garden, restaurant, swimming pool and offers nice views of the city. The average price per night is €84. You can book it here.
Hotel São João De Deus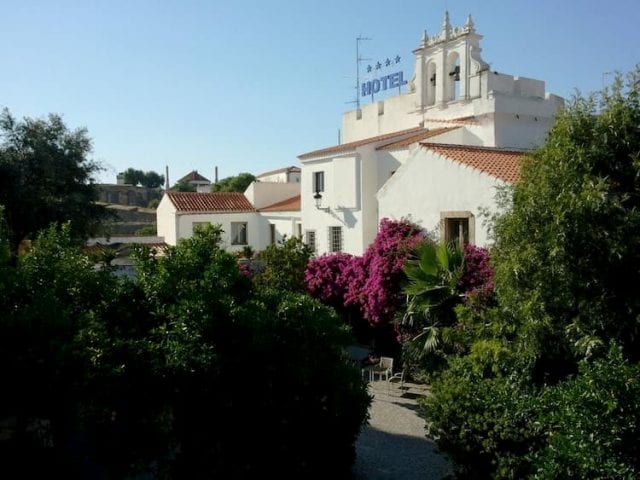 Located close to the bus station in Elvas, Hotel São João De Deus is situated in a former convent with a pool that offers lovely views of the city. The location also makes it a perfect base to explore the city from. The average price per night is €70.
Restaurants in Elvas
Almost every Portuguese city or town have their special delicacy. For Elvas, the special delicacy you must try is the Elvas plums (ameixas de Elvas). It is a sweet crunchy dessert.
Some places restaurant you can try some of the local gastronomy in the town are;
Taberna do Ardo
This is a small and cosy restaurant in the Elvas that offers excellent traditional local cuisine. Find more details on TripAdvisor.
Acontece Restaurant
Another place to enjoy quality food and lovely dessert in this fortified town is at the Acontece Restaurant.
Adega Regional
Located right in the centre of the town, Adega Regional offers lots of traditional Alentejan dishes which are very affordable.
Mercato
This is another restaurant in the centre of the town that offers tasty food and some regional dishes. Find more details on TripAdvisor
Pompilio
Pompilio is a typical traditional Portuguese restaurant. They offer great local cuisine and a good selection of wines.
Curious about what to eat in the Alentejo? Here are some of our favourite dishes.