There's a lot of hype around Comporta in Portugal and if there's one thing I can guarantee you is that the hype is real.
Influencers, bloggers, travel journalists and Europe's elite have discovered this eco-chic paradise, only one hour away from Lisbon, and now I want to show you why this should be your next holiday destination.
Keep reading, as I'm about to give you an overview of the best things to do in Comporta, restaurants where to eat at, my favourite hotels and Airbnb's to stay in.
Comporta Portugal
Comporta is unlike anywhere else in Portugal. This charming town has become popular with European holidaymakers as a chic, stylish and laidback town. It offers wellness retreats, delicious seafood restaurants, and seemingly endless pristine beaches.
In which region can you find Comporta?
Comporta is a small beachside village about an hour's drive from Lisbon, residing in the old district of Setúbal, on the Tróia peninsula.
Comporta beach
The region is characterized by rice fields, and its main attraction, the Comporta beach: 20 kilometres of uninterrupted white sand, a beach lover's paradise. Days in Comporta are unhurried.
With such a dreamy beach to spend the days at, it's easy to understand why.
10 Best things to do in Comporta
Eat like the locals! Try the local dish – beans with rice and linguiça served with bacon, chorizo and coriander cooked in an earthen pot or wood fire.
Catch waves with Surf in Comporta – They offer surf lessons for kids and adults, as well as board and wetsuit rentals.
Ride horseback along the beach, kayak in the water or go cycling.
Snap some Insta-worthy pictures of the picturesque beach and town.
Camp by the beach. Check out the local campsites here.
Sip on signature cocktails at Sublime Comporta.
Visit the Rice Museum, Museu do Arroz, the town's oldest restaurant, specializing in rice dishes. It resides in a 1952 rice-husking mill and showcases a museum of tools and implements used for harvesting rice.
Lay on the sand and splash around the water at Comporta beach.
Explore Cais Palafitico do Porto da Carrasqueira, a unique harbour with old wooden docks and fishing boats.
Browse through local Portuguese handicrafts at the Casa da Cultura pop up shop.
Don't forget to sign up for our newsletter for all the best advice on planning your holiday to Portugal.
Weather in Comporta Portugal
As with the rest of Portugal, you can expect sun-blessed weather year-round in Comporta. The best months of the year to visit Comporta for long beach stays are from June to September, while the spring and autumn months are still suitable for picnics or day trips.
In winter, the beaches will be quieter and the sea colder, but you can still enjoy the pretty views or even go horse-riding.
Curious about the weather in Portugal? Check out our article about the different seasons, so you know exactly what to expect when you visit us.
How to get to Comporta from Lisbon
There are no direct means of transport from Lisbon to Comporta, and for this trip, a car is required.
Your options are to either drive or take the train (€3-5) to Setúbal, and from there take the ferry (€5) to Tróia Cais Sul, and then drive to Comporta.
While the route does seem a little difficult, the journey only takes around one hour and is definitely worth it!
I like to use Rome2Rio to plan my trips, check out how to get there here.
Best Comporta Portugal hotels
If you're looking to stay longer than one day in Comporta, you've made a wise choice. Just be aware that you'll need to make a reservation quite in advance if you want to get a spot at some of the best hotels in the area.
I personally like to book with booking. It's fast, it's easy and it lets you unbook for free most of the time.
Here are some accommodation tips for your stay.
AquaLuz Tróia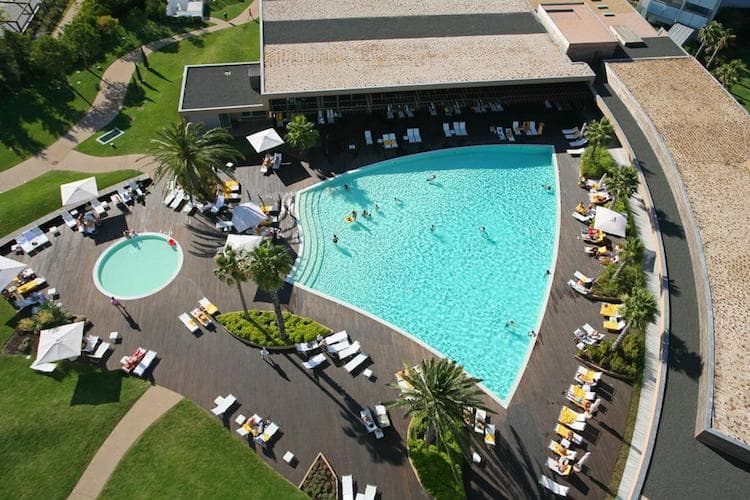 For luxurious holidays, couples will find all their needs at the AquaLuz Tróia (€150-200/night), part of the S. Hotels Collection.
The 365-room hotel is modern with contemporary décor; it offers both wellness activities like a sauna, swimming pool, and fitness room, as well as kids clubs for all ages.
It even offers an event centre and equipped meeting rooms for business trips.
Book in advance, this hotel sells out quickly.
Sublime Comporta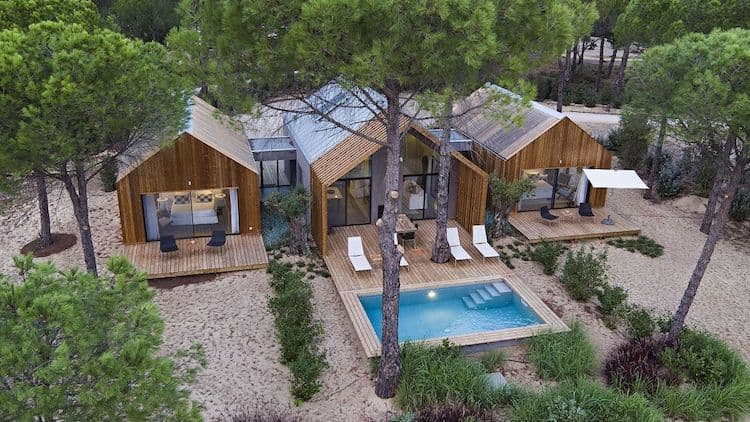 Reopening in March for the on-season, the Sublime Comporta is one of the region's favourites. It is a country house retreat offering guests a choice of villas, suites, cabanas, or luxury rooms.
There are several restaurants and bars inside as well as the Sublime Spa, which includes a spa pool, gym, and beauty treatments.
For the month of March, you can also claim the special re-opening offer of €190/night for a double room and buffet breakfast. 
Tróia Design Hotel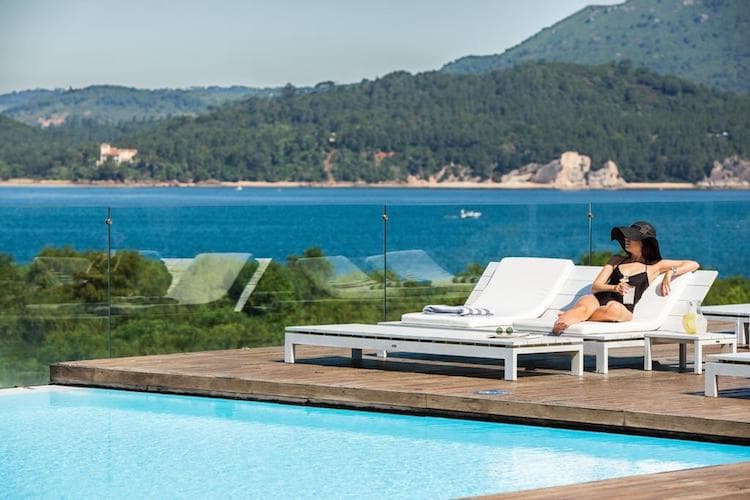 Tróia Design Hotel (€110/night) is another stunning hotel including a spa, kids club, roof-top swimming pools, restaurants, lounge bar, casino and conference centre.
There are 14 floors of residential suites and luxury rooms offering guests the perfect beach holiday.
Casas da Comporta
For a simpler beachside stay, Casas da Comporta (€95-250/night) is a gated resort of townhouses and flats with a swimming pool and kids activities, ideal for families. All located within walking distance of the beach and local restaurants.
We've also made a list of Lisbon's best hotels: Lisbon Hotels, How to Find the Best Options For Your Budget.
Pestana Tróia Eco-Resort & Residences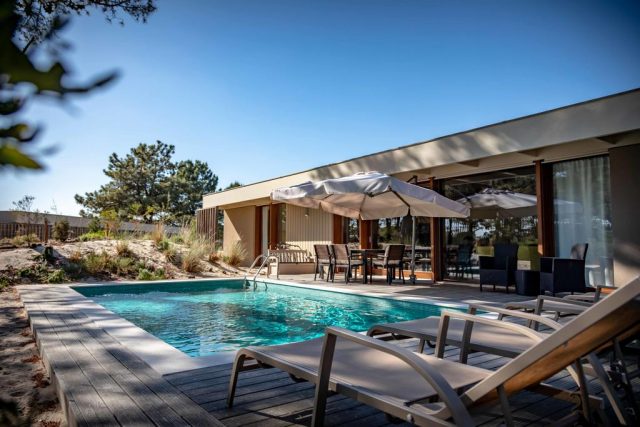 An exclusive area of apartments and villas. This place is located inside a condominium and it has all the commodities and services. It seems handmade for anyone who feels adventurous and wants to seek an escape while interacting with mother Nature!
Book your stay here.
Best AirBnBs in Comporta
For large groups or families, an Airbnb is an alternative to staying in a hotel.
Comporta has some seriously stunning homes available for rent year-round.
Check these out!
Casa das Pergolas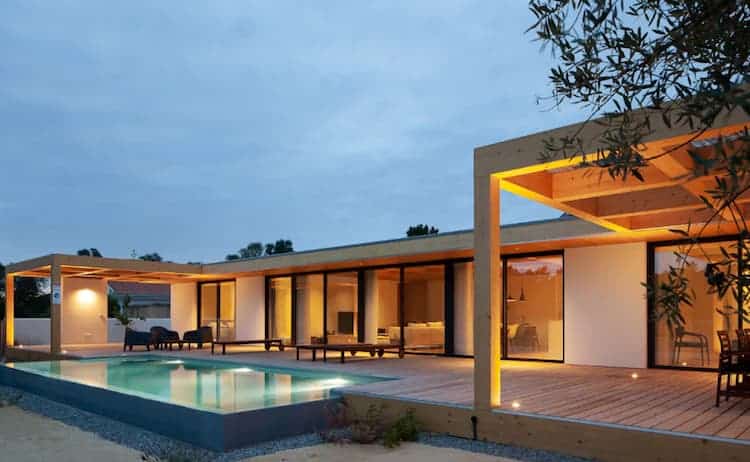 Casa das Pérgolas (€260/night) is a brand-new beach house, located 5-minutes' drive from the beaches of Comporta.
What makes this house so cool, is that it was designed by the Portuguese architect duo MIMA Housing and was awarded the 2013 Building of the Year Award by ArchDaily and has been featured in several international architecture magazines.
The house is complete with a swimming pool, three baths, and accommodates up to six guests. This is definitely on my to-do list this summer!
Casinha da Tia Emília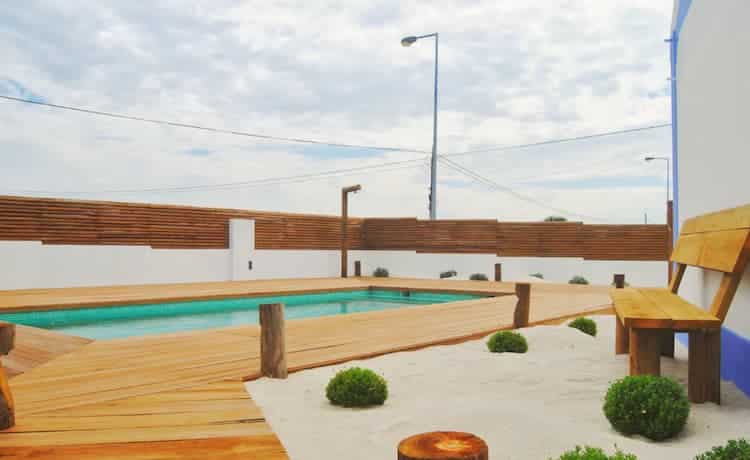 Casinha da Tia Emília (€90/night), is a two-bedroom beachside escape, perfect for couples. The house has a swimming pool and is very picturesque.
Herdade da Comporta
Next is Herdade da Comporta (€220/night), a simple yet beautiful beach villa accommodating six guests with a swimming pool. It retains many traditional Portuguese architectural elements and is fit for families or groups of friends.
Precious Cabin Comporta
If you'd like to rent a beachside cabin, then Precious Cabin Comporta (€190/night), is the place for you. It's a stylish modern cabin with five beds, well equipped and decorated, close to Pego and Carvalhal beach.
Eco Resort Comporta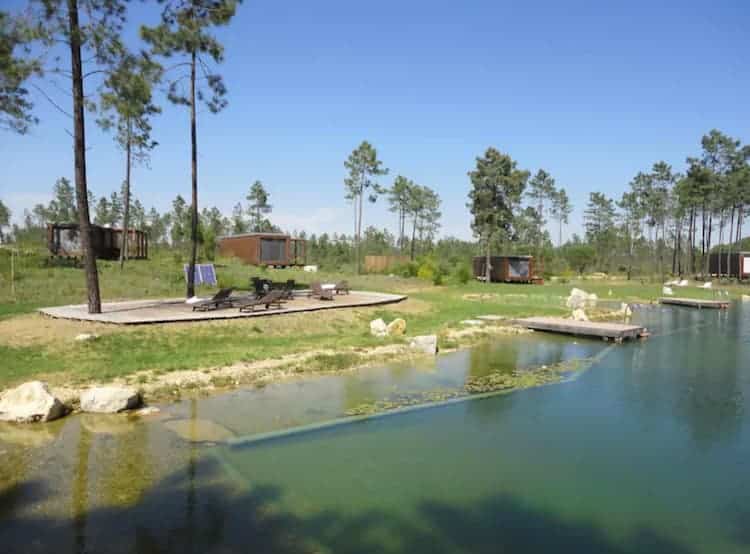 Another option is to stay in a bungalow! Eco Resort Comporta (€60/night), is a charming house in the middle of a pine forest, perfect for escaping the bustle of city life. It also includes a biological swimming pool, television, kitchen and is surrounded by a beautiful lake.
Book your house with Airbnb and get up to €41 discount when you use this link.
Best Comporta Portugal restaurants
There are plenty of restaurants in Comporta with all sorts of cuisines to satisfy your cravings.
Here are some of my favourites:
Restaurante Sal
Sal is an international reference and ideal for anyone who likes fresh seafood and an amazing landscape, right next to the ocean. This restaurant is also known for its amazing tapas.
A Escola
For traditional Portuguese meals and unusual recipes, located in an abandoned schoolhouse from the 1950s. Book in advance to avoid long queues. You can find the number here.
5 Sentidos
For a mix of Mediterranean and Portuguese cuisine, 5 Sentidos is a cosy restaurant with great seafood along the main street.
Restaurante São João
São João is another of the region's best seafood restaurants, with great clams, and cataplana.
Marisqueira O Tobias
This is a family run restaurant in Comporta – you may even see Tobias cooking himself! The staff here are very friendly, and the food is delicious.
Comporta Café
For beachside meals, eat at Comporta Café.
The location is well, the best and meals are just as good. Here you can sip on cocktails, eat fish and a special homemade chocolate mousse, all while overlooking the beach. Stay for sunset if you can!
Learn more about the delicious Portuguese food with our Typical Portuguese Food: You Guide to Authentic Regional Cuisine. If you're planning a trip to Lisbon, here's where you can find some of our favourite restaurants in Lisbon.
Is it worth visiting Comporta?
I wouldn't miss it. Comporta is a stunning coastal region in Portugal, full of fun activities for adults and children.
No matter the purpose of your trip, business or leisure, travelling with families or as a couple, Comporta has plenty to do or not do for those of you looking for a relaxing holiday.