Armação de Pêra is the ideal location for a relaxing beach holiday.
Check out our guide below to learn everything you need to know about this sandy paradise, including how to get there, things to do, and where to stay.
Where is Armação de Pêra?
Situated in the south of Portugal, Armação de Pêra is a beautiful beach village in the Algarve region, more specifically in the Silves municipality.
It is a popular spot for beach holidays among locals and foreigners, mostly due to its wide bay and a long stretch of beach, as well as a host of restaurants, cafes, bars, and shops.
A brief introduction to Armação de Pêra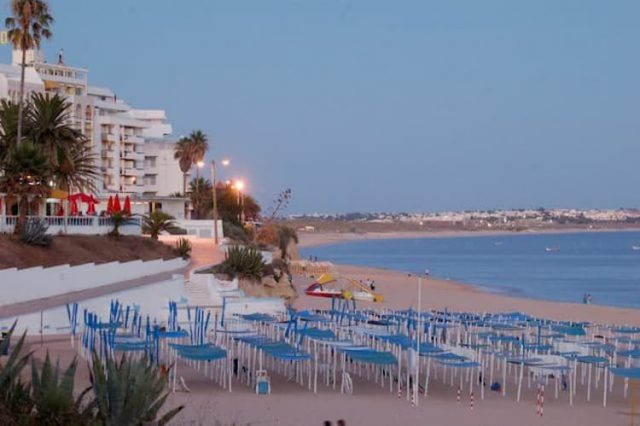 Similar to other cities in Portugal, this used to be a small fishing village which has now developed into a beach holiday resort area.
Due to a rise in tourism, a casino was opened in the 60s, and fishing activities have greatly diminished, opening the door to an influx of beach villas, hotels, and apartments.
How to get to Armação de Pêra
Armação de Pêra can be found about 270 km from Lisbon, and the nearest airport is in Faro. This is one of the three airports in continental Portugal.
You can easily fly from Lisbon to Faro, and then take a bus from Faro city center to Armação de Pêra, or book a private or minibus transfer (between €45 and €60 per person one way). You also have the option to take the bus or train from Lisbon to Faro or Albufeira, a journey that would take about 3 hours, give or take.
The tickets usually cost around €20 – €30 one way. If your train or bus from Lisbon ends in Faro, you could then take the train or bus to reach this village.
There are two main bus stops there, but no train station in town. The closest train station is Alcantarilha Gare, about 12km away from the center of the town, and you would need to take a taxi from there, which could cost between €5 and €10.
Weather in Armação de Pêra
The warmest month is July, and the driest months are during the summer, from May to September.
Hence, it's no surprise that the majority of people prefer to visit during those months, looking for clear blue skies and warm weather.
The average temperature fluctuates between 20 degrees Celsius (68°F) and 25 degrees Celsius (77°F), meaning that it is pleasant and does not generally get too hot. The wettest and coldest month is January and it tends to not have many visitors flocking there.
Things to do in Armação de Pêra
The main attractions in Armação de Pêra are, without any doubt, the beaches, which we will cover in the next paragraph.
However, if you need a break from the sun and sand, there are plenty of other things to discover in this tiny paradise.
For one, pay a visit to the old village, away from the resorts and villas, to discover a bit of the history of this gorgeous town. Walk along the cobbled stone streets to the old fort (Fortaleza de Armação de Pêra), which was built to defend the town against pirates.
Along with the amazing views of the ocean, there is also a small chapel located inside the fort.
Another attraction is the main church in Armação de Pêra. This is a relatively new church from the 1950s called Igreja Matriz de Armação de Pêra. It can be found near the beachfront.
Finally, do not miss a visit to Nossa Senhora da Rocha, a headland located between Praia Nova to the west and Praia da Senhora da Rocha to the east. The headland is located on a cliff and is a medieval fortress, with a small chapel inside.
You can also rent a jet ski here.
Best beaches in Armação de Pêra
There are many beaches worth visiting in this town.
Armação de Pêra beach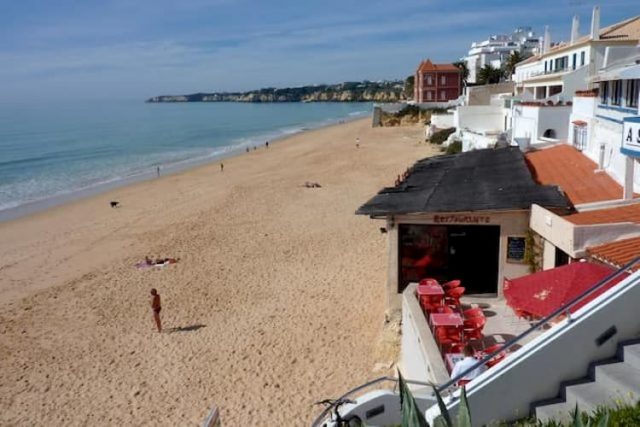 The first one is the beach that bears the name of the town: Praia de Armação de Pêra. It is a long stretch of beach, lined with restaurants and cafes, as well as a few caves nearby.
There are various parts of this beach that have distinctive features, such as Praia da Fortaleza – located in front of a majestic fort, and Praia do Mini Golf – which used to be located by a mini-golf course that has now been converted into a garden with benches.
Praia Nova and Praia da Senhora da Rocha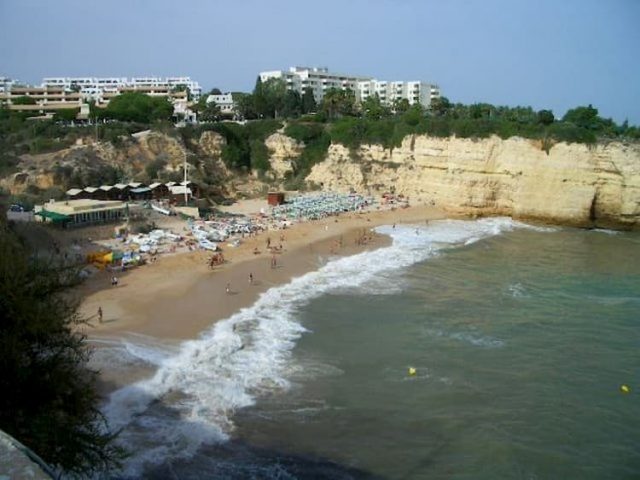 As mentioned above, Praia Nova and Praia da Senhora da Rocha (where you can find fishermen's boats) are also beautiful beaches that are worth your time.
You can walk from Senhora da Rocha and reach Praia Nova through a tunnel that goes straight through the cliffs. If you keep walking west along Armação de Pêra, you will eventually reach the small but turquoise beach of Praia da Marinha.
Benagil beach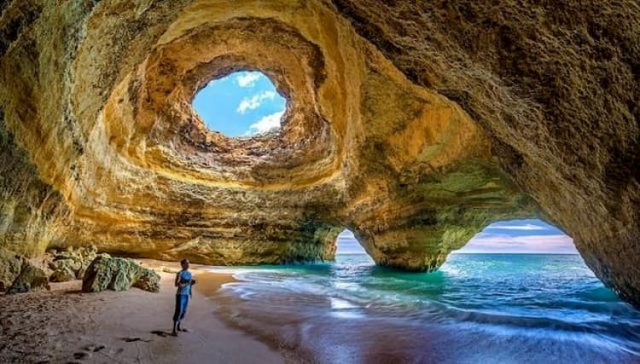 Another important beach nearby is the famous Praia do Benagil, well-known for its natural cave that has a round hole in its ceiling.
While the soft sandy beach itself is quite attractive with its clear blue water and is a great spot for snorkeling, it is tiny and can get crowded during the summer months.
In general, most people tend to go there for the cave, which is reachable by kayak or booking a boat trip.
Find out more about the Algarve, subscribe to our newsletter.
Oura beach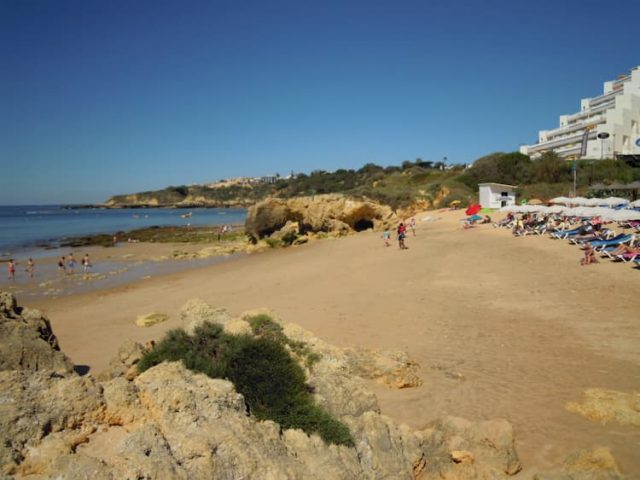 To the east of the village, you can find the popular town of Albufeira, home to the beautiful Praia da Oura.
Close to the center of Albufeira, this beach is very popular for its nightlife, with bars and restaurants which become lively at night.
It is therefore not surprising that this is a must-visit spot for people looking to enjoy a fun night out.
During the day, the area offers plenty of soft sandy beaches, which are pleasant to walk on, surrounded by rock formations, along with some small caves.
There are also plenty of opportunities to engage in sports activities on this beach, such as diving, jet-skiing, and parasailing.
Best restaurants in Armação de Pêra
There are tons of choices for great restaurants in Armação de Pêra.
There are, of course, local Portuguese restaurants offering fresh seafood, as well as restaurants offering other types of foods, such as Indian, Chinese, Italian, and American.
A popular restaurant is Casa de Pasto Zé Leiteiro, known for its all-you-can-eat fish dishes. Since they don't accept reservations, it is best to get there early.
Another restaurant worth the hype in town is Ocean, a restaurant with 2 Michelin stars! However, be prepared to spend a lot of money.
There are also plenty of bars where you can grab drinks and food, such as Pedro's Bar or Rocha da Palha, where you can sit right on the beach and enjoy a nice view.
Many enjoy watching the sunset there while sipping on fun cocktails.
Best hotels in Armação de Pêra
Holiday Inn Algarve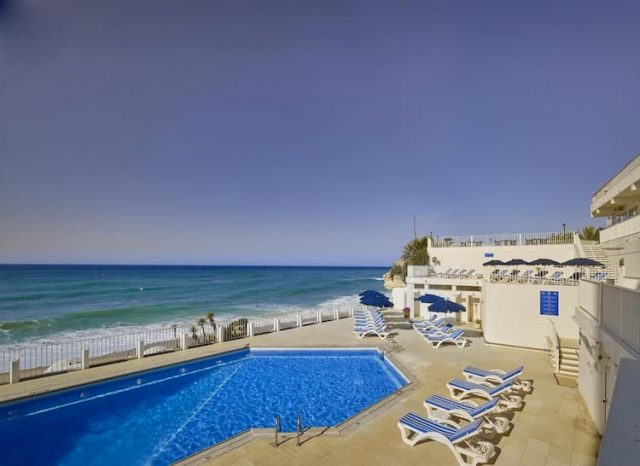 Being such a popular spot for the summer holidays, there are lots of housing and accommodation options available to you in Armação de Pêra.
One of our favorites is the Holiday Inn Algarve. With a beachfront location, 3 restaurants, a sea-facing terrace, an outdoor pool overlooking the ocean, family-friendly amenities, and a conference room.
Surrounded by small villages and beaches, it's no wonder the Holiday Inn is sought-after when looking for places to stay in this region.
Book your room here.
Pestana Viking Beach & SPA Resort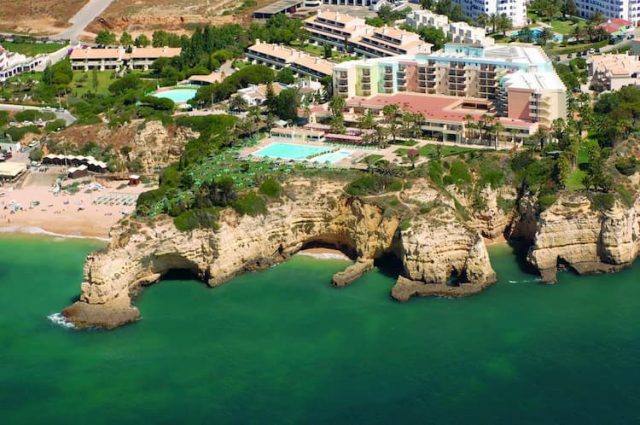 Another excellent option for accommodation in Armação de Pêra is the 4-star Pestana Viking beach & spa resort.
Located directly on the beach, this resort offers a large outdoor swimming pool, a large garden area, an indoor heated swimming pool, a jacuzzi, a gym, a Turkish bath, 2 restaurants, a bar, and a unique spa.
Furthermore, it's only a 2-minute walk to reach the Senhora da Rocha beach. The Pestana Viking is also family-friendly.
Book your stay here.
Is Armação de Pêra worth a visit?
Without a doubt, this place is an excellent choice for a beach holiday in Portugal.
With plenty of sea-filled activities, cultural exploration outings, restaurants and bars, a nightlife scene along with more private and calm areas, and warm weather, why even hesitate?
Book your trip now.