There's red wine, white wine, rosé, of course — and green wine? If you've never heard of Vinho Verde ("green wine" in English), keep in mind it's not really green. What it is, however, is a refreshing, delicious — and underrated — beverage that's unique to Portugal.
What is Vinho Verde?
Fresh, fruity, and floral, Vinho Verde is typically a white wine. It's lovely and crisp, often with just a bit of fizz, perfect for summer — and ubiquitous across Portugal.
Virtually every supermarket or restaurant you visit will offer Vinho Verde, so whether you've made a permanent move to Portugal or you're a first-time visitor, you'll always have plenty of opportunities to try it for yourself.
Anyone who lives in Portugal also knows Vinho Verde is produced as a red or rosé wine, in addition to white. Relatively low in alcohol content, all versions of vinho verde come in between 8.5 percent ABV and 11 percent ABV.
Why is Vinho Verde called "green wine"?
The first thing you should know is that Vinho Verde is not a grape — it's a region in northern Portugal. And while some say the green hills of the Vinho Verde region gave the wine its name, that's perhaps only partly true.
Mostly, the moniker comes from the fact that Vinho Verde is drunk as a fairly "young" wine — meaning that it ages for just three to six months after harvest. Compared to, say, a Cabernet Sauvignon wine that can (or should) age for 10 to 20 years, Vinho Verde needs no such time to mature.
So Vinho Verde is a "green" wine in the sense that it's "young."
A number of grape varietals can go into Vinho Verde, including Alvarinho, Arinto, Avesso, Azal, Loureiro, and Trajadura. Alvarinho and Loureiro are the most popular varietals you'll see.
By the way, Vinho Verde was the first Portuguese wine to be exported to European markets; In the 16th and 17th centuries, the wine was regularly transported to northern Europe.
However, it wasn't until 1908 that Vinho Verde was demarcated as an official wine region, and laws governing the production of Vinho Verde didn't come into effect until 1926. In 1984, Vinho Verde became a DOC — a protected designation of wine.
Vinho Verde tours
What's the best way to try Vinho Verde? Traveling through Portugal, of course. There are lots of Vinho Verde tours available, so we've pulled together a guide to point you toward some of the best:
Vinho Verde Tour with Wine Tastings and Lunch
This tour starts in Porto, and takes guests into the heart of the Vinho Verde region. Plan for a 10-hour day!
You'll visit Ponte de Lima, Melgaço and Monção, with lunch at a typical Portuguese restaurant, and a chance to try Vinho Verde Tinto (red Vinho Verde).
More info about this tour here.
From Braga and Guimarães: Vinho Verde Full-Day Wine Tour
Give yourself a whole day for this one, too. The 9-hour tour will take you through two estates producing Vinho Verde, so you can taste the differences between various producers. At lunchtime, you'll enjoy a delicious meal at a local restaurant — because nothing keeps you going like traditional Portuguese cuisine.
You'll get to visit the national monument of the Route of the Romanesque.
This rural adventure is great for anyone looking for an introduction to the delights of Vinho Verde.
Book this very fun tour here.
Vinho Verde Full-Day Private Wine Tour
To start your day, meet your private guide in the lobby of your hotel in Porto, Braga, or Guimarães. From there, you'll be whisked away on a journey into Portugal's wine country on the Romanesque Route.
On your journey to Vinho Verde country, you'll see churches, memorials, castles, and ruins along the route. After that, your guide will deliver you to the first Vinho Verde producer of the day.
You'll see first-hand the unique methods used to create Portugal's famous "green" wine. Whet your appetite by sampling the wines they have on offer, then head to a local restaurant for an authentic Portuguese lunch.
Well-rested after your meal, you'll get to visit another vineyard, where you can compare flavors and build your tasting skills. End the day back at your hotel with a newfound knowledge of Vinho Verde.
Find out more details about this tour here.
The Connoisseur Tasting: Portuguese Wine Experience
This tour takes place in Porto, one of Portugal's most scenic cities. It's perfect for lovers of wine, food, and history. You'll start your day at the Mercado do Bolhão — the Bolhão open market — then explore different cheeses, olive oil, and five varieties of Portuguese wine.
You'll refuel with a typical Portuguese lunch — and from there, walk the inviting city streets, taking in the sights.
This is a fantastic way to see Porto while savoring a range of Portuguese wines and foods. Book this tour here.
Picking a Vinho Verde vacation spot
If you're planning a visit to Portugal, here are some of our suggestions for accommodations close to wine country:
Hotel Casa da Calçada Relais & Chateaux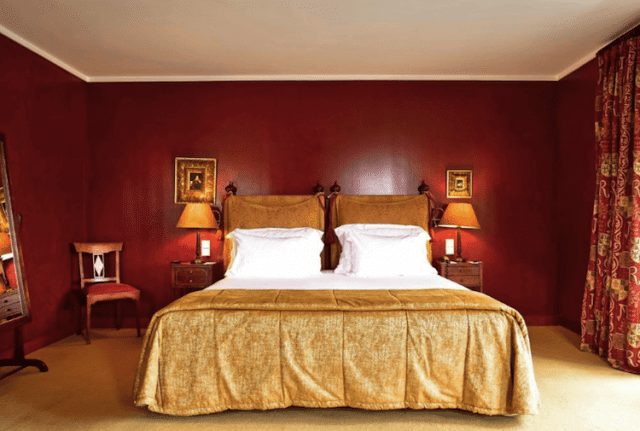 This lovely hotel is located less than an hour from both here and the Douro Valley. Porto's airport is also less than one hour away and the hotel provides a private shuttle service.
Located in central Amarante with views over the Tâmega River, it has an outdoor pool and free parking. All rooms have satellite TV and air conditioning, too — not to be overlooked during the warm Portuguese summers! Book it here.
Douro Royal Valley Hotel & Spa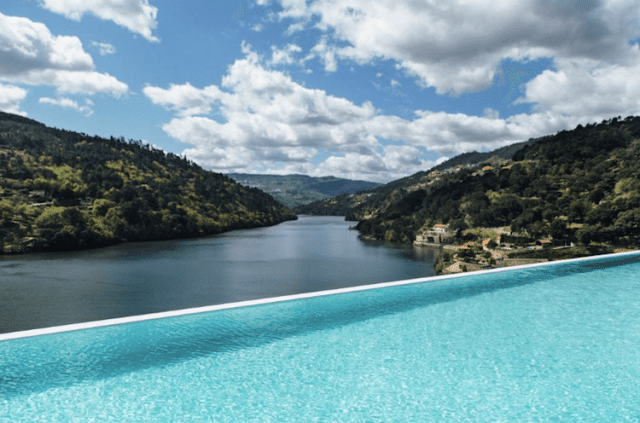 Douro Royal Valley Hotel & Spa is 73.5 km (46 mi) from Porto's Francisco Sá Carneiro International Airport. The nearest train station to the Douro Royal Valley is the Pala Station, a short 1.1 km (.6 mi) away.
This five-star hotel has a restaurant, indoor and outdoor pools, a tennis court, and a spa — perfect for relaxing after a day in the vineyards. Book it here.
Hotel Residencial Dora
The hotel offers air-conditioned double or twin rooms, a breakfast buffet, and a bakery, and is located just 5 minutes from the Minho University Campus. Reviewers say the photos don't do it justice, and that it has a great cost-to-value ratio. Book it here.
Casas do Ermo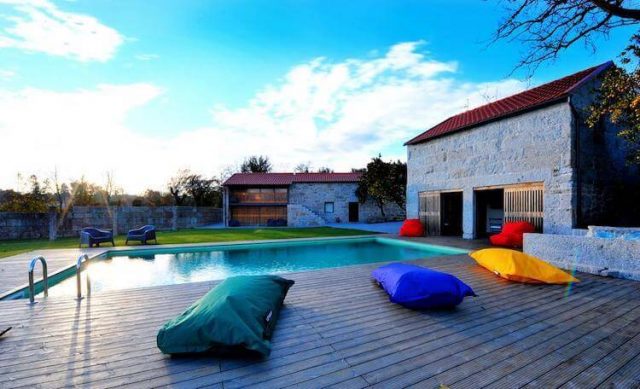 Casas do Ermo are villas located 20 km (12.5 mi) from the historic city of Guimarães. Porto International Airport is 70 km (43 mi) away. Each villa has either a kitchen or a kitchenette, plus satellite TV. Book it here.
Food, wine, history, and beautiful weather — there's so much to love about Portugal. What better way to celebrate all that Portugal has to offer than with a glass (or two) of Vinho Verde and a trip to "wine country"? Saúde!