Are you looking to explore a typical Portuguese town without the constant rush of tourists?
On the eastern side of the Algarve, approximately 30km east of Faro is Tavira, an old Moorish town offering visitor's a more authentic taste of Portugal.
Tavira
Like most cities in the Algarve, Tavira is a small city full of winding narrow streets that make for a pleasant sightseeing experience.
What is unique about Tavira though is its well-preserved mix of Roman, Arab and Christian heritage that characterize its charm today.
Tavira Weather
Are you wondering what's the best time to visit Tavira? Well, anytime really!
July is the hottest month in Tavira with average temperatures of 30° C (89.6° F), while the coldest month is January with an average of 16° C (60.8° F).
The wettest month is December, and in July you will usually experience the most sunshine hours.
Best time to visit Tavira
The best time to visit Tavira is in July when the sea temperatures are above 20° C (68° F). But from May through September, the region will offer visitors great Mediterranean weather.
The shoulder seasons, Spring and Fall, are also great to visit to avoid large crowds.
Unlike other cities in the Algarve like Faro or Portimão, Tavira has a large permanent population, so most restaurants and cafes also remain open during the winter.
| Sign up to our newsletter and discover amazing cities that you should visit in Portugal.
Things to do in Tavira
On my visit here, I was amazed to discover the remains of castle walls, churches and bridges from different eras combined with picturesque beaches all in one city.
So, I've come up with a list of things to see and do in Tavira, when to visit, where to stay, and whether it's worth heading east in the Algarve.
1. Sunbathe on Tavira Island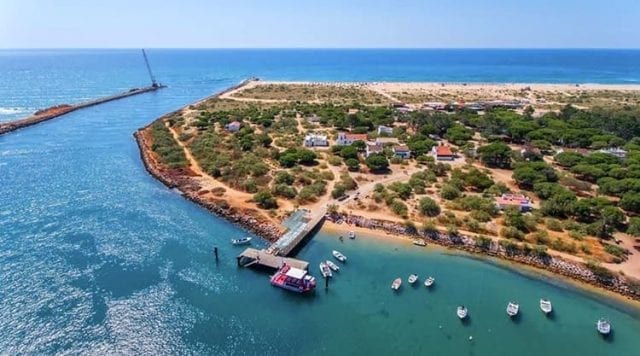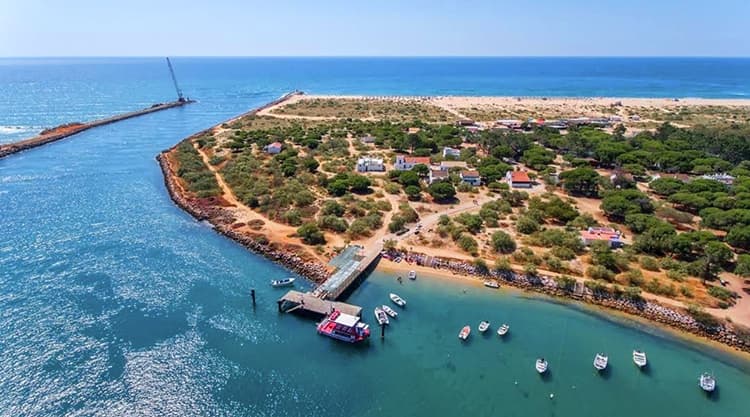 Forget the crowded Praia do Camilo in Lagos or Praia da Rocha in Portimão, Tavira has one of the most pristine beaches in the Algarve Region – Tavira Island.
Set over 7km of sandy shoreline, the sandbar island never seems overcrowded and is easily accessible to the town by an inexpensive ferry.
| Read about this and other Algarve islands right here. 
2. Swim in a Waterfall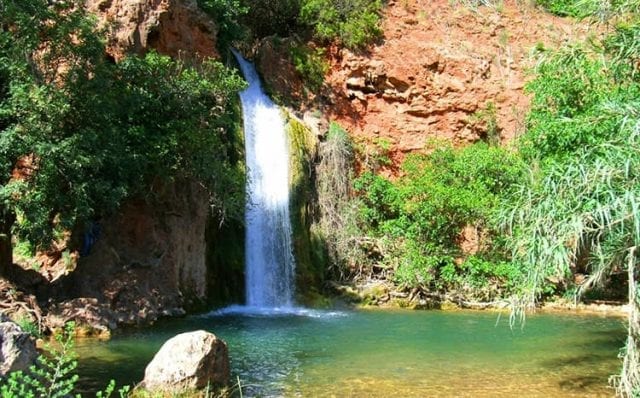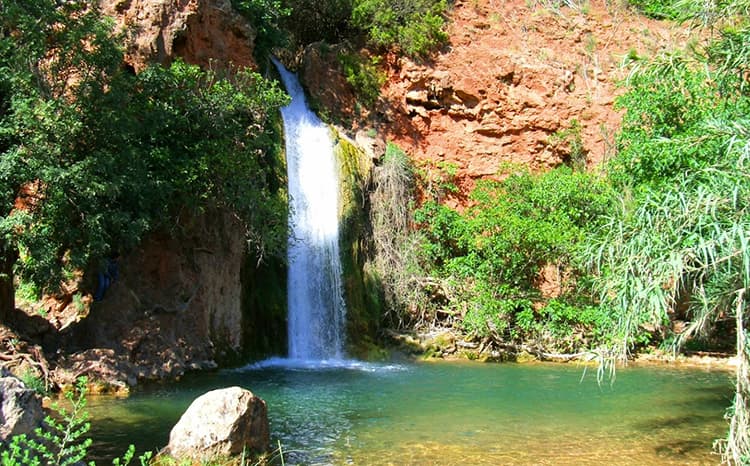 If you like chasing waterfalls as much as me, an idyllic waterfall tucked away in Santo Estevão awaits you. "Pego do Inferno" is a natural waterfall forming around a green pond, perfect for a swim and updating your Instagram feed.
The roads are not well signposted, so getting there can be tricky, but the falls and natural swimming pool are there to reward you when you find it.
Tip: Best to visit in Spring when there is more water.
3. Visit the Ria Formosa National Park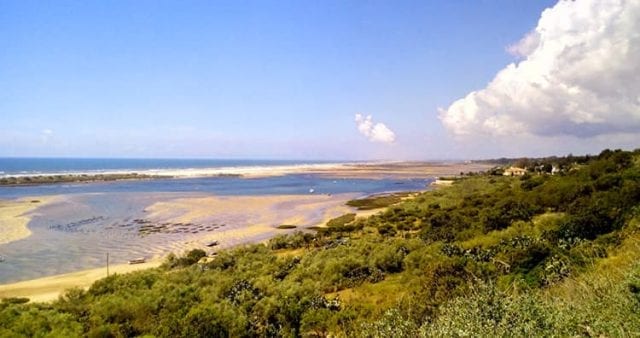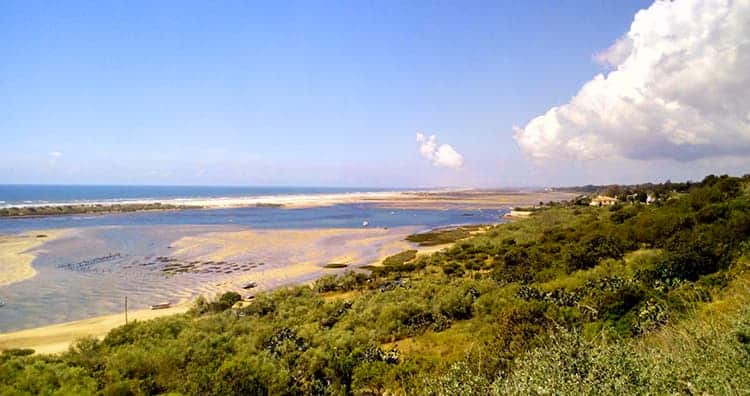 This is one of the most beautiful places in the Algarve and was recently elected as one of the 7 Natural Wonders of Portugal.
It is a unique coastal lagoon, which constantly changes due to continuous natural movements of winds, currents and tides.
It is, therefore, a haven for numerous species of flora and fauna and definitely one of Portugal's best places to enjoy all Mother Earth has to offer.
4. Visit a Church or Two or … 36!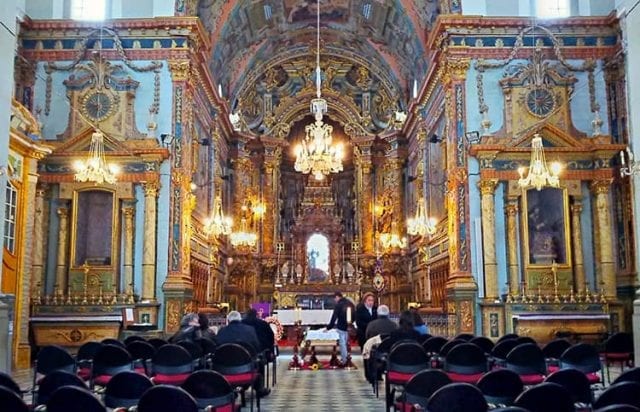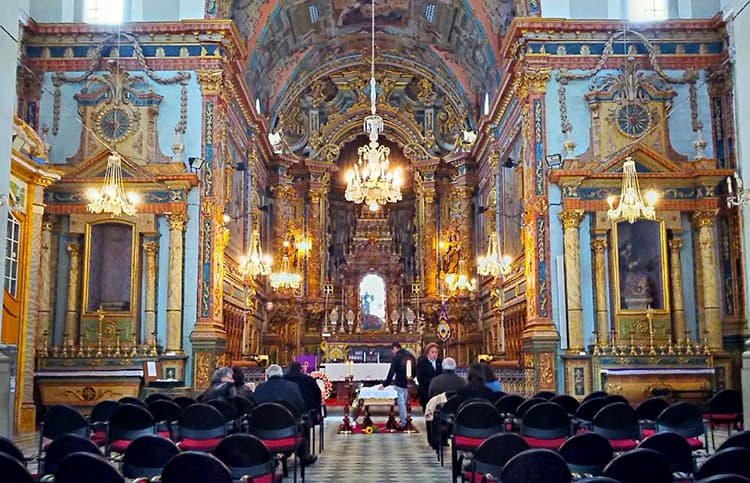 For a small town, there is an impressive number of temples and religious institutions located in the city of Tavira – 36 in fact!
These churches range from Gothic to Renaissance styles of architecture, some ornately painted while others are decorated with the famous "azulejos" tiles.
My favourite church in Tavira is the "Igreja da Misericórdia", a church built between 1541 and 1551 – it is also considered the most important Renaissance building in the Algarve.
5. Go Back in Time
In the town's historic centre, you will stumble upon the Castle of Tavira, which consists of two square towers, an octagonal tower and three walls around it.
The castle originates from 2000 BC, during the occupation of the Algarve by the Moors.
Tavira was an important city during this time because of its fishing and fish salting industry.
6. Cross a non-Roman 'Roman' Bridge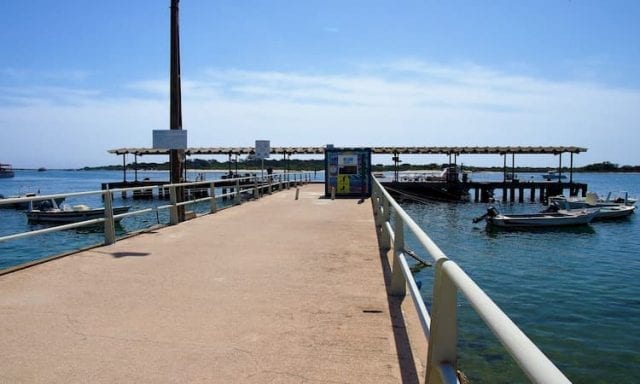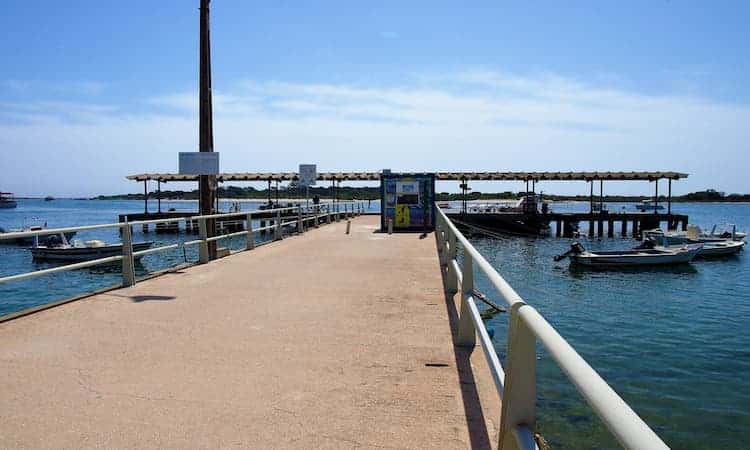 Well, its name sure fools us all, but the Roman Bridge in Tavira actually has no Roman origin.
It was built when the city belonged to al-Andalus, the Islamic Domain of Iberia, in the 2nd half of the 12th century. But because of its arches its been named the "Roman Bridge".
7. Visit the Astronomical Observatory
The old water tower built around 1931 has been renovated and converted into a unique tourist attraction – The Tower of Tavira. Its main attraction is its installation of the first Camera Obscura in the Algarve.
This is composed of a rotating mirror and two magnifying glasses fixed to the end of the apex of the roof of the water tower, capturing live images of the city and its surroundings.
In real time the observatory sends you on a 360-degree voyage, showing you everything that is happening outside the tower.
This is a must-do in Tavira and only costs €3.50.
| Discover other amazing beach destinations with Where to Spend Your Algarve Holidays: The Best Cities and Why
Don't Forget to Eat and Drink Wine
Tavira is a small town so these sites can be explored over a few days.
Your evenings can be spent alfresco dining in the historic centre, indulging in freshly caught fish and locally produced wine.
Many specialities of Tavira include tuna, swordfish, red mullet and stone bass, which are often served with rice, salads and chips.
Eating out is super affordable in Portugal, with food, drink and transport significantly cheaper than most other European holiday destinations.
The city is also less commercialized than the central Algarve and therefore, even cheaper again!
| Before you venture into the Portuguese cuisine, check out Guide to Authentic Regional Cuisine.
Tavira Restaurants
D'Gusta – An authentic Portuguese restaurant serving up the best of seafood and Mediterranean dishes. The lime cheesecake is the perfect finish to any meal.
Rota dos Sabores – Another great local restaurant, serving up a variety of mixed grilled meat and fish dishes. Be sure to try the signature dish "Rota dos Sabores", which is steak dressed in a coffee sauce!
Little India – Spice up your food platter, with some excellent Indian cuisine in Tavira, and the best curries in town.
La Petite France – A French and Mediterranean restaurant with a great outdoor terrace. The duck and caramel mousse are excellent choices.
Daiya Cocktail and Sushi – Probably one of the best sushi restaurants in Portugal, the team here do Japanese food right! Make sure you're hungry!
Tavira Hotels
Planning accommodation can be a difficult process, but we're here to help. The most popular hotels in Tavira are:
Maria Nova Lounge Hotel
From €100/night, this hotel is located at the highest point of Tavira, featuring modern rooms and panoramic views. You can check out their prices here.
Hotel Rural Quinta do Marco
From €140/night, Hotel Rural Quinta do Marco is centrally located and surrounded by tranquil grounds, features a swimming pool and children's activities. Take a look at the hotel premises and prices here.
Quinta do Caracol
A peaceful hotel with a swimming pool, courtyard, and traditional Portuguese design. Prices start at €105/night, you can book it here.
Pousada Convento de Tavira
From €190/night, located in the historic centre in a renovated 16th-century convent (my favourite!). You can find it here.
Ozadi Tavira Hotel
A contemporary design hotel with modern decor, swimming pool, Turkish bath, library and more – a very boutique of Tavira. Prices start at €80/night. Book it here.
| Discover other amazing beach destinations with Where to Spend Your Algarve Holidays: The Best Cities and Why
Is Tavira Worth Visiting?
Besides churches, castles and towers, active travellers will find numerous cycling paths, hiking routes, golf courses, and plenty of waterways for kayaking in Tavira.
Families or mature holidaymakers seeking a relaxing destination will enjoy the unhurried atmosphere here. If travelling with kids, be mindful that there aren't too many kid-friendly activities like in Faro or central Algarve.
I recommend this city to travellers taking each day as it comes, free of time restrictions and who want to experience authentic Portuguese culture and cuisine.