Ever heard of Vilamoura, the largest resort town in Portugal's southernmost Algarve region perfect for a relaxing holiday in the sun?
Well, if you haven't, then this is the article for you so you will know how to spend an ideal vacation in Vilamoura.
Is Vilamoura the place for you?
The 3 best hotels and holiday resorts in Vilamoura
If you have decided to spend your next vacation in the Algarve and more specifically in Vilamoura, then, one of the most important decisions you have to make is to choose the hotel or accommodation that is right for you, your partner and/or your family.
The early bird gets the widest choice
Making up your mind early on is key!
Keep in mind: The Algarve is a very popular holiday destination and particularly in the summer months of July and August, accommodation usually sells out quickly. So if you want to have the widest choice, we strongly recommend that you evaluate your options early to avoid disappointment.
Below you find some of the best hotels and holiday resorts that Vilamoura has to offer:
Crowne Plaza Vilamoura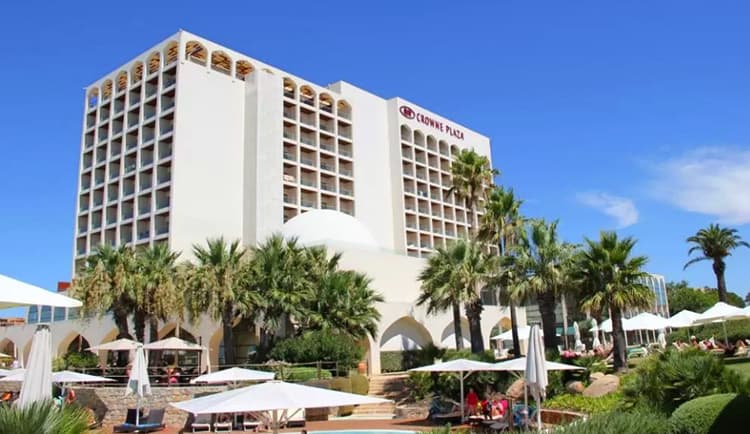 Our first recommendation is the Crowne Plaza Vilamoura situated in Vilamoura's centre just a few minutes' walk from the Marina and a short drive from five different golf courses in the region.
The nicely decorated rooms feature a light-coloured interior and all have balconies with a stunning view of the beach and the sea: The perfect place to relax with a glass of wine after a long day at the beach or on the golf course.
Hotel facilities
In terms of activities and facilities, the hotel has an outdoor pool with a direct sea view.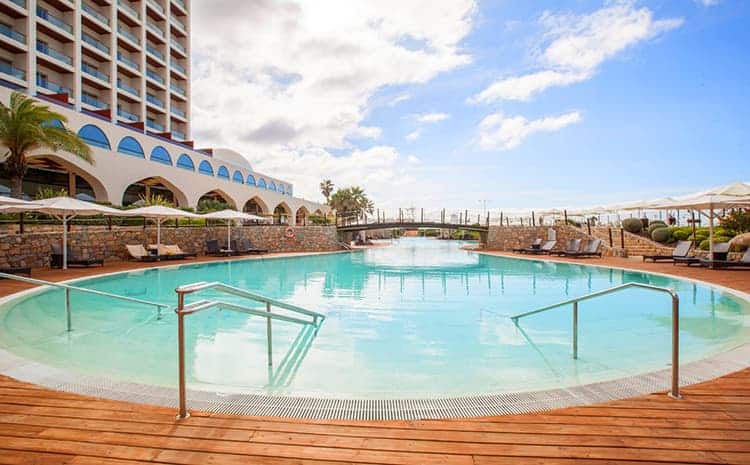 Those looking for absolute relaxation are also covered: The Almond Tree Wellness Spa of the Crowne Plaza is the perfect place for a massage that will enable you to relieve all the stress that you accumulated in recent months.
On the other hand, the Cataplana restaurant will serve your culinary desires and is a great place to have dinner, as their menu features a wide range of options, including lots of regional and international choices.
Moreover, the adjacent Caravela bar with its sea-facing summer terrace offers, besides a wide variety of drinks, also a good range of snacks and BBQ grills.
Finally, if you're travelling with your little ones, then you will be happy to hear that the Peter Pan Kid's Club allows them to make new friends and allows you to spend some relaxation time without your children.
All in all, previous guests of the Crowne Plaza particularly value the modern interior and central location, as well as the very good Continental breakfast, making the resort a great choice for couples and families alike.
Prices start at €165 per night and the best deals can be found on Booking.com here.
Laguna Resort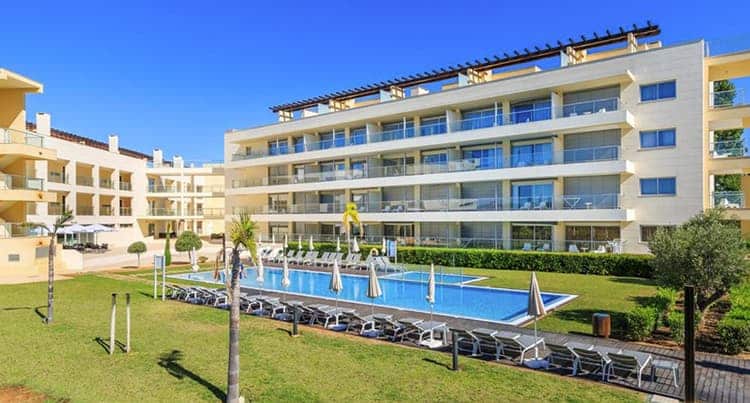 If you're looking to spend your vacation with the comfort of a fully serviced villa or apartment rather than a (simple) hotel room, the Laguna Resort might be the right choice for you.
The four-star resort consists of 13 villas and 24 deluxe apartments. While the villas offer a private garden and a spacious terrace, you can enjoy panoramic views of the coast if you opt for one of the apartments. All villas and apartments come with a fully equipped kitchen, but if you don't fancy cooking (every day), then you can also go to the Laguna Caffé, which features a bar and a restaurant with two terraces.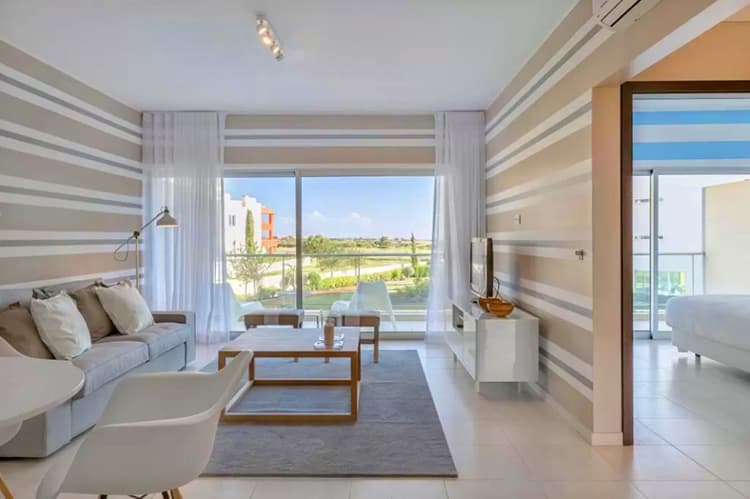 Although located 3 km (under 2 miles) away from the beach, the Laguna resort is placed right next to some of Europe's best golf courses, so if you're into golf then this may be the right place for you.
And if your little ones are coming with you, the Laguna resort has you covered: The seasonal Kid's Club will allow your children to quickly make new friends, while you can improve your golf skills or just relax by the pool.
Overall, the Laguna Resort, with its relaxing and quiet atmosphere, provides a refuge from today's hustle and bustle, so you, as a couple, family or group of friends, can really find some peace, quiet and relaxation here.
Prices start at €63 per night (for two people but they have apartments for up to six people). Have a look at the options on Booking.com here.
As Cascatas Golf Resort & Spa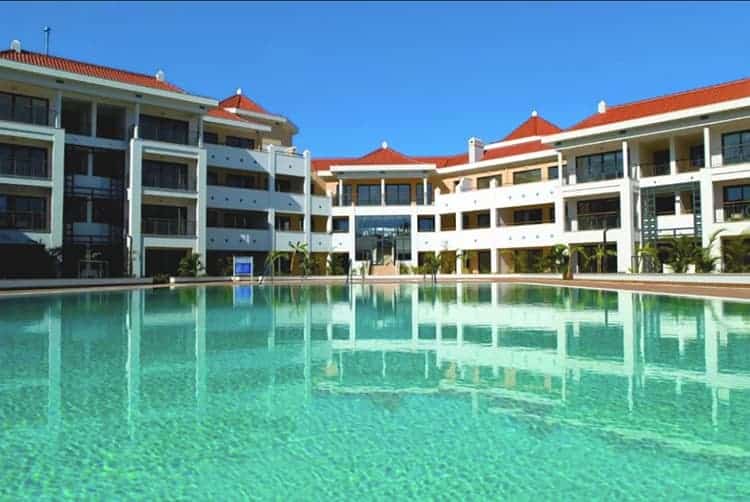 The As Cascatas Golf Resort & Spa is another great choice for golf enthusiasts as the resort has its own private golf course.
But don't worry, golf is by far not the only thing you can do here. Firstly, there are six swimming pools (both indoor and outdoor), as well as an extensive gym and spa area for you to stay in shape.
Getting to the Marina and the beaches couldn't be easier. There is a complimentary shuttle service that can take you to the As Cascatas Beach Club with sun lounges and a cocktail bar, the Marina with its various restaurants, bars and nightclubs, and Vilamoura's other golf courses.
Near to the hotel there are also a lot of other leisure activities on offer, where you could try out sailing, water ski or scuba diving.
Hotel rooms
In terms of the rooms, the resort offers a range of modern and elegant suites that all come with a balcony, a fully equipped kitchen, as well as a large dining and living area. This gives you the option to (sometimes) cook for yourself during your holidays, allowing you to make some substantial savings compared to having to eat out for every single meal.
All in all, the As Cascatas Golf Resort & Spa is perfect for all golf enthusiasts (and those that want to become one), as well as for solo travellers and couples that want to experience Vilamoura's vibrant day and nightlife.
Prices in this resort start at €193 per night and we highly recommend checking out their offers on Booking.com first.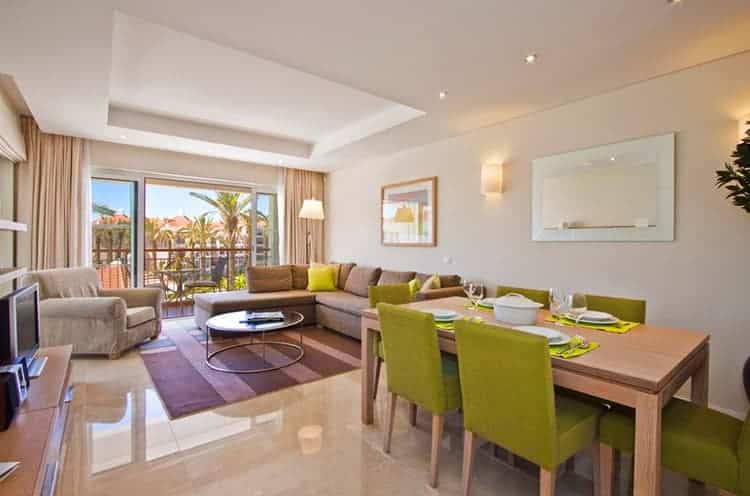 There's a lot more hotels in Vilamoura on offer
While these are our three top accommodation choices in Vilamoura, the resort town has a lot more to offer. As tastes and preferences are different, we recommend that you also look beyond our suggestions and find the resort or the hotel that is best for you.
However, as we stated at the beginning of this article, don't delay your decision for too long. That way you are sure to avoid that your preferred accommodation option doesn't sell out before you make your booking.
Enjoy your vacation!
All in all, you can be sure to having a great time in Vilamoura! Whether you'll go there to golf, spend your time at the beach, go clubbing, relax by the pool or do a mixture of all of those things – Vilamoura has you covered, so sit back, relax and enjoy your vacation!
Is there a hotel in Vilamoura that you like best? Let us know in the comments below.